How to Prepare for a Consulting Case Interview
Gregg Jaclin offers advice for aspiring consultants on how to ace a consulting case interview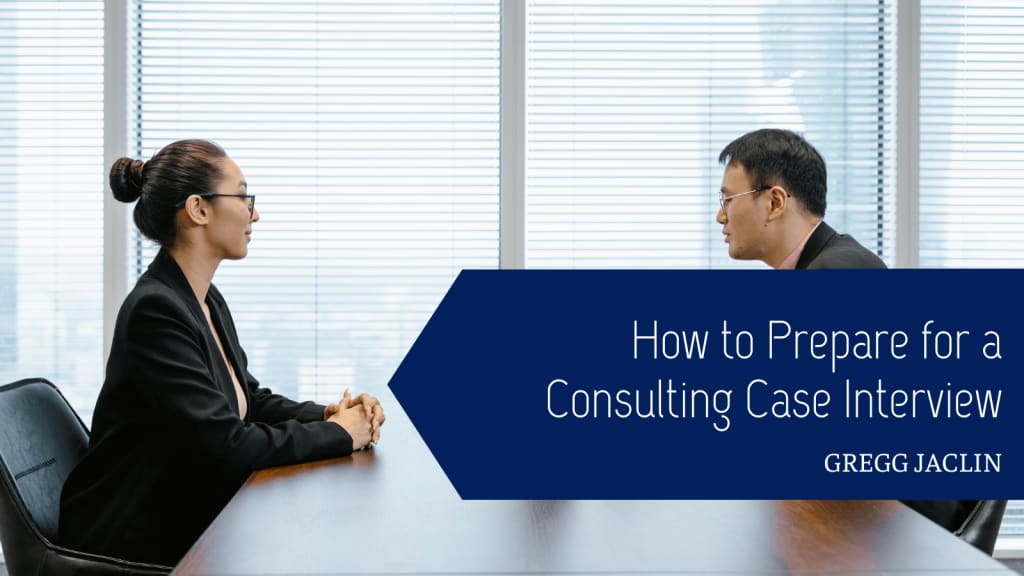 If you're planning on working as a consultant, then you already know what type of interviews you'll be getting. Case interviews are typically conducted in a format where the interviewee is asked to solve a specific business problem. Usually, these types of interviews are referred to as intense and frightening. However, they don't have to be. Instead, they can be very interesting and challenging with effective preparation.
1. Ask Plenty of Questions
Before the interview begins, make sure that you have all of the necessary information about your case. Also, when the interviewer asks you if you have any questions, make sure that you actually have questions to ask.
Step-back questions can also help you distinguish yourself from the crowd. For instance, if the case is about a private equity firm that's considering acquiring a company, you might want to ask a question about whether or not it's also looking at other targets. Most people don't ask this type of question. Doing so will allow you to stand out from the crowd and demonstrate how genuinely interested you are in the issue.
2. Treat It as a Conversation
Besides being able to ask questions, this strategy also helps build a rapport with the interviewer. When talking about the case, you're not trying to test the interviewer's knowledge, but rather, you're trying to establish a conversation that will help you solve the problem. This is because, in this type of interview, you're going to be talking about the issue through a series of questions.
You should also pay attention to the interviewer's subtle cues and suggestions. They can help you think of a new strategy or approach to the problem that you're facing. Having the interviewer's support and encouragement will allow you to develop a deeper understanding of the issue and come up with a solution.
3. Design a Logical Structure
A good structure is very important during a case interview as it allows you to show how you think and develop a plan for the solution. Before you start working on the case, take a minute to think about the issue and collect your thoughts. In the next couple of seconds, you'll need to come up with a plan that will help you navigate through the various issues that the company is facing.
A good structure breaks down the issue into various components. After you have written down your structure, you should also explain it to the interviewer so that they can easily understand how you would like to improve the company's profitability. This strategy can also help you avoid getting stuck in one direction.
4. Study a Variety of Cases Beforehand
There are only a few case types that you'll be given during an interview. These include: starting a new business, developing a new strategy, increasing profitability, acquiring a company, and turning around a struggling business.
Before you start working on the case, take a minute to think about the structure that will help you navigate through the various issues that the company is facing. Although there is no right structure for every situation, planning ahead can help you come up with a strategy that will work seamlessly. Having a good structure can also help keep you focused on the important details of the case.
5. Know How to Manage Numbers
Many people freeze up when it comes to the quant section. However, the best advice is to practice. By writing down your thoughts and formulas, you can see if you need to provide additional information to the interviewer. Having a basic understanding of percentages and how to calculate them is one small thing that will make a big difference in these interviews. After being given a quant question, take a minute to think about the structure and your approach.
6. Research Different Industries
Although you may not know what industry the case you're working on will be focused on, having relevant questions and answers can help you make an impact. One of the most effective ways to practice is to keep a running tab on the various attributes of an industry. This can help you identify the key factors that affect the company's profitability. Also, by keeping up with the latest news in different countries and industries, you can keep up with the changes in the market.
7. Practice Often
One of the most effective ways to practice is to talk through cases in real-time. This eliminates the need for you to read them online or on your own, and allows you to focus on the important details of the case. Doing so can help you develop a better understanding of the case and its structure. You can also simulate the interview environment by giving each other cases.
career
About the author
Gregg Jaclin is based in Princeton, NJ and has dedicated his career to business consulting. He is particularly involved in working with entrepreneurs and focuses on companies looking to launch IPOs and other public equity matters.
Reader insights
Be the first to share your insights about this piece.
Add your insights