How to identify business startup weaknesses and turn them into strengths
In a world that's always changing, companies must learn how to ride the waves so they won't drown.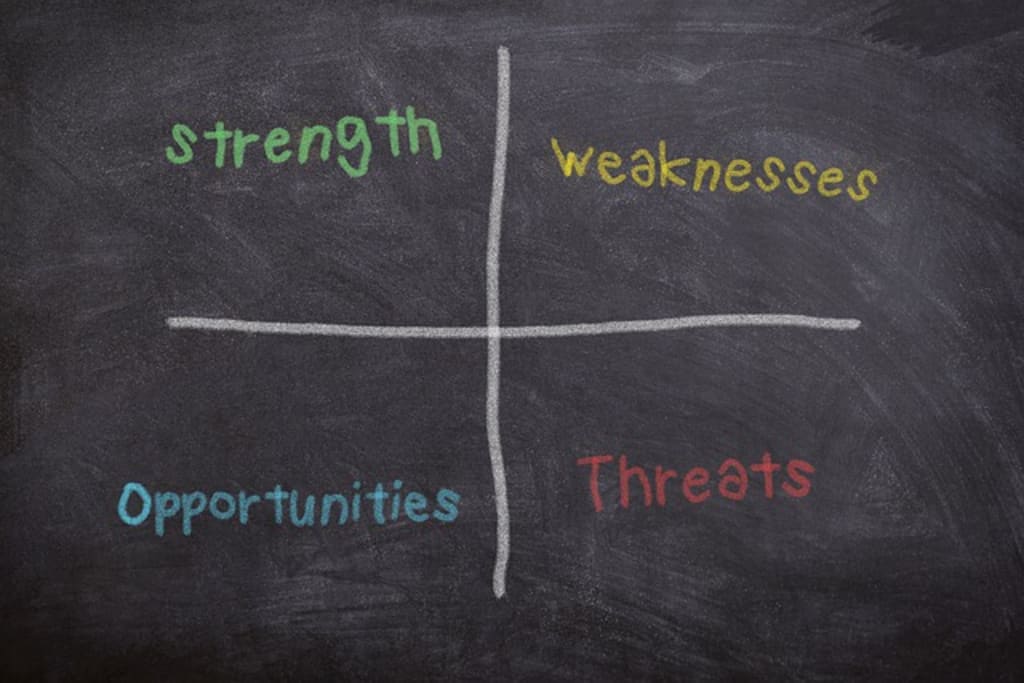 If you're an entrepreneur who wants to make your business the best that it can be, it's time to look in the mirror and think. No other person knows your company more than you do. But, sometimes, we go through the motions and forget to focus on the essential things. Entrepreneurs can be passionate to stick to their vision, and that's great. But, introspection can make you identify the weaknesses that you need to turn into strengths.
For that reason, it's time to maximize your company's potential by doing a SWOT Analysis.
What is SWOT Analysis?
Whether you are a student, an employee, or a businessman, you might have encountered the term SWOT in meetings and planning sessions. SWOT stands for strengths, weaknesses, opportunities, and threats. These four things are crucial to identify before you create strategies, market your brand, and make decisions on where you want your company to go.
Just like staring at your reflection without batting an eye, the SWOT analysis will force you to look at your startup realistically. It includes looking at your performance and your industry as a whole to pave the way for your company's brighter future.
How to make a SWOT Analysis for your startup?
There are many efficient SWOT Analysis templates you can pick out to make things easy for you. But to start, you must first understand what to put into each segment of the study.
1. Strengths:
a. All the positive attributes of your business
b. Best things about your human resources
c. Facilities, technology, and other resources
d. Your most significant selling points
e. Most substantial aspects of your business model
2. Weaknesses:
a. What is missing in your team?
b. Lacking investment
c. Anything your business needs to improve on
3. Opportunities:
a. Upcoming trends in your industry
b. New technology
c. Possible expansion
d. Potential investors
e. Potential new markets
f. Potential new products or services
Threats:
a. Your company's competition
b. Possible reasons for you to lose funding
c. Factors you do not have control over
Tips for making an accurate and useful SWOT Analysis
There's no use in diving into this type of report for your startup if you won't do it well. The value of your work is a crucial part of converting those weaknesses into strengths. There is no place for sugar-coating here because being vague in your analysis won't lead to actual results. So, put yourself in different shoes for a minute and try to critique your startup.
You can apply these quick tips in creating your SWOT Analysis:
1. Be specific in the details that you input.
Whatever you are writing on your paper, make sure you narrow it down. By pointing out things, in particular, it will be easier for you to address issues and highlight essentials.
2. Back up your claims with numbers or factual data.
If you think your startup has a significant Instagram presence, be ready to back it up with numbers. Let's say you have 100,000 followers. That's great. But how does the amount compare to your competitors? If they have millions, that Instagram following might not be a strength after all.
3. Prioritize and rank statements based on importance.
As a startup, it is understandable that you have some struggles, and there can be a lot. In dealing with this, write down everything that comes to mind first. Then, please take a few minutes to review each statement and weigh their urgency and value. This act will allow you to have a better flow once strategy planning coms.
4. Always keep your competition in mind.
Though your SWOT Analysis revolves around your startup, remember that you are not monopolizing your industry and competition is all around you. Every time you write down on each category, compare each statement with your tightest competitors as a way to measure your advantage or disadvantage.
Turn Your SWOT Analysis To A Strategy Plan
The battle does not end when you write the final dot on your paper. Once you finalize your SWOT Analysis, it is time to put them into action. For this next step, many businesses, even giant corporations, use the TOWS matrix model.
By fulfilling these reports, you can establish better strategies that will boost your brand, open more doors for you, and manage drawbacks and risks ahead.
how to
Productivity / Technology / Automation content writer