How to Get Millions of Views on Your Wattpad Novel
Try these steps to work towards millions of Wattpad views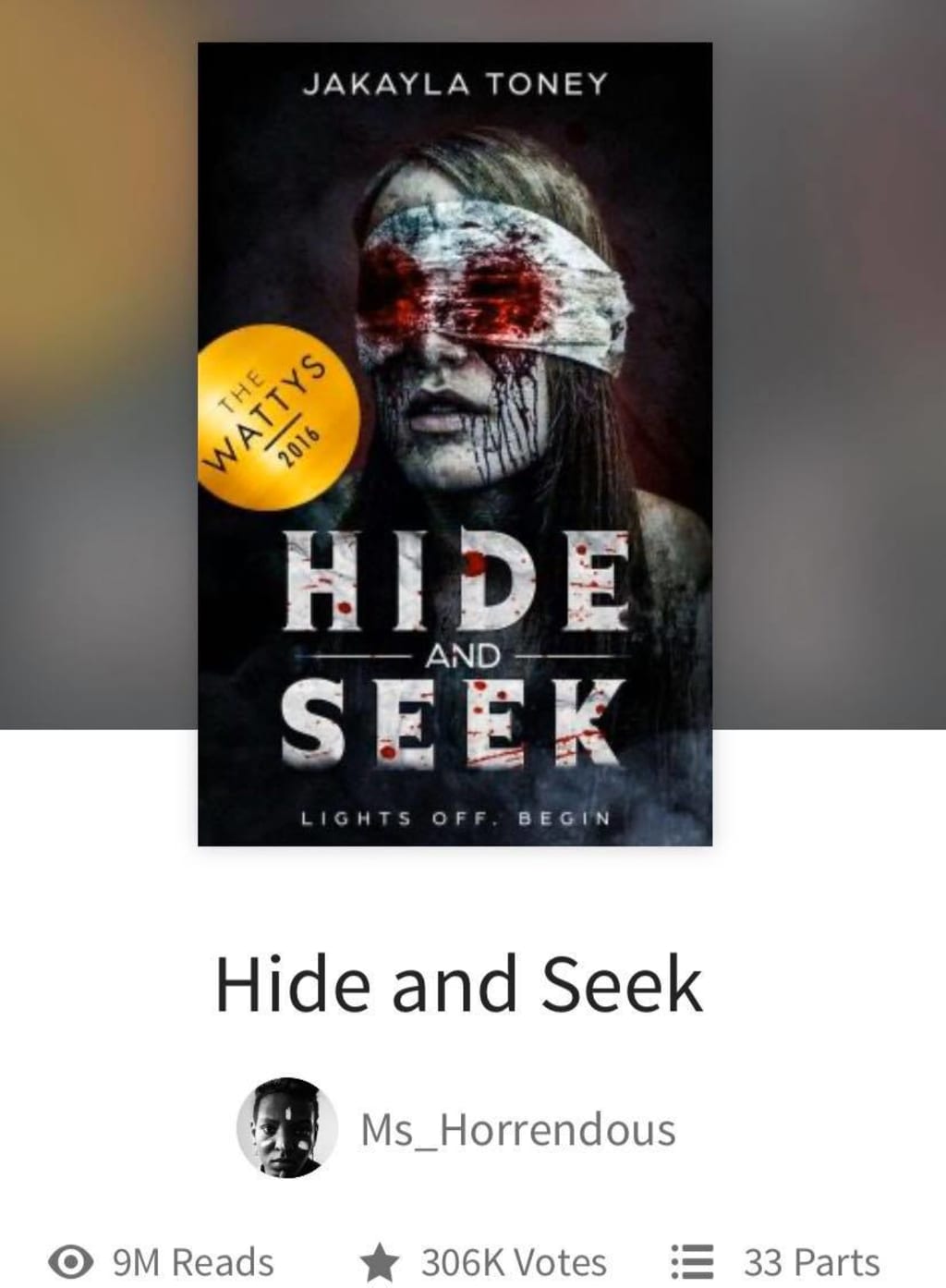 My Wattpad Novel Hide and Seek has 9 million views
Was it easy getting 9 million views on Wattpad? No. That is, until I figured out what my readers wanted. Once I found out who I was writing for and why, my stories exploded and getting views became easy.
The reason you don't have millions of views on Wattpad is because you never had someone walk you through this writing journey and guide you along the way.
Hide and Seek isn't my only Wattpad novel with millions of views. From 2014 to present hundreds of people are still reading my works. Let me tell you what it takes to get your Wattpad novel noticed.
Your Audience
Ask yourself these questions right now:
What genre do I like and would like to write?
What age rank do I want to write for? Kids or adults?
Which group of readers would like to read my story?
If you're new to Wattpad, you probably don't have the answer yet and you need to play around a bit in each genre. That's normal. I'm here to tell you that the genre you have fun writing the MOST is the genre which you should write try at first. Why? Because you're passionate about it and you know most about this genre.
For me, I love horror movies and preferred to read books by Mary Downing Hahn who writes fiction horror novels for young adults. I read all of her books as a kid and teenager. When I started writing I found myself to write about kids and haunted house just like she did in her novels. That was my interest and I know so much about horror. I know nothing about anime, romance, and fantasy. I did try out these genres in the beginning but I noticed no one was interested in my anime or fantasy stories. I wasn't passionate about it and because I was bored writing it, my readers were bored reading it.
Whatever emotions you feel while you're writing, your readers will most likely feel the same. Us readers know when you write a chapter out of boredom or rushed a chapter. It shows more than you think and people don't realize that their emotions play a lot of roles in their stories.
What is your favorite genre?
Appearance
I used to confuse my readers with all the genres I had on my Wattpad page. My profile picture was a ghost but my background picture was of Avatar the Last Airbender. My bio mentioned that I was working on a fantasy, anime, and horror book.
What's wrong with this? Nothing! You can express yourself however you want, BUT when you do it this way, you scare off people sometimes. I wasn't attracting many horror writers to my page like this cause the readers are looking for an author that can give them what they want. Yeah, I can give them a horror book but they would choose someone who's theme is all horror. Someone with a horror background, creepy profile pictures, and lots of horror books to choose from. We love to be spoiled.
What I'm saying is that having a THEME can really change your game. If you write about anime, make that your theme so that when I go on your page I believe you have the type of anime stories I want to read. If I see that you really love anime as much as me, I'm going to linger on your page and get to know you and your stories vs a profile scrambled with a bunch of genres.
Having a theme can play a big role for your Wattpad profile. I hope you consider it. If you want more examples, check out my page and check out the page of the big authors on Wattpad that you follow. You will understand more of what I mean.
Be Welcoming
Here's a tip. Don't be a butthole! No one likes an author or writer that they CAN'T approach or talk to.
Respond to your comments. Your bio can either lure someone to your page or drive them away. Connect with your readers and let them know that you're here to entertain their wonderful minds. Show them that you're someone that will respond to comments and messages.
My audience is clear that I will respond to them, comments, and messages. It takes me a minute but I get to them eventually and I let them know that even though I get a large volume of messages, that I'm here and I see the support they're showing.
Respond to hate comments nicely. There's no perfect writer. Even the best writers have editors so don't give in when someone says your story sucks!
Your readers do you a favor when they check out your work. They support you and you get further because of their support. Return the favor. Trust me, they will stick with you forever.
Active VS Non Active
There are going to be times where you can't stay active on Wattpad. Trust me, I disappeared for a year once.
The more books you have on Wattpad the better. I don't know about you, but I love having a good set of books to choose from. If someone falls in love with the first book they've read of yours, imagine how they will feel about the other 5 stories.
If you can't keep updating stories, I recommend writing with a smaller word count. I did this. I used to write 2000 words per chapter then I couldn't commit to it so I lowered the chapter words. 1000 was okay, but I have a kid and full-time job along with a part-time. So, I started writing 500-700 words. This was very easy for me and helped me keep my audience active on my page. This is a very useful tip.
Book Covers
Think of your favorite novels. Did the cover capture your attention? Most likely it did! The cover is the first thing people look at when they go to your Wattpad page. It is so so so important to make sure your Wattpad book cover has a title and username or author name that shows clearly on the book, along with a clear pictures.
If someone on Wattpad is looking for a good story to read and they see a random cover with no title on it-high chances they might overlook it and look for something more appealing to their eyes.
I contributed an article on book covers for the book, "The Writer's Guide to Wattpad" here in this link: https://www.amazon.com/Writers-Guide-Wattpad-Comprehensive-Sustaining/dp/1440352933
I hire a professional who creates my book covers for 5 dollars on the website Fiverr.
No money? No problem.
Use Canva.com! I'm going to give you some amazing tips for covers so stay with me here.
Canva is a free website that has its own section specifically for Wattpad Book Covers. They're easy to make and if you need a short simple tutorial, you can find it on my TIKTOK (Mshorrendous) I post Canva covers videos and how to make them.
Here are some professional and FREE images that you can use for free:
Unsplash: https://unsplash.com/
Pexels: https://www.pexels.com/royalty-free-images/
Free Photos: https://freephotos.cc/
Free Images: https://www.freeimages.com/
Canva also has free images to use as well! Along with over 50 fonts for you titles!
There are other book cover making websites but Canva is simple, professional, and free.
I'm not asking you to make professional photos, but to at least give your audience a cover that has a title and username with a nice picture. Trust me, it's attractive.
The Story
In the beginning stages on Wattpad you probably don't know why you're writing a story. We don't ask ourselves what people will take from our stories.
When I wrote my novel Hide and Seek, I wrote to express my fear of darkness. The actual emotions I felt in the dark are the ones I described in the story. My story Hide and Seek didn't have a point to inspire people, however, I wanted an audience that related to my fears to read the story. I was giving my audience something to relate to. My main character wasn't afraid of the dark, but whenever she was in the dark with the ghost trying to kill her, I could express real fear in my story which freaked out my readers. They connected with me. They had someone to relate to.
Do you want your story to inspire others? Do you want to establish a connection with your readers? Is there a story that the world should know about? I promise you, once you really dig deep inside and find out why you're writing, you'll be more hungry to tell that story. No matter what genre you're writing in.
The Description
After you win over your readers with your amazing cover, give them a story description that they don't hear all the time.
What we don't want: "A girl died in her basement and haunted the house of the new owners."
What we want: Abigail was murdered by her father in Green Mill House in 1982. When the new owners accidentally throws out her ashes, she returns to Green Mill House to finish what she started.
What's the difference? One is way more captivating than the other and it's a probably a new story concept that you haven't heard before.
I always try to come up with amazing story concepts for my novels so I can appear different and stand out more.
Look at your descriptions and think: Have I heard this a million times?
Entering Wattpad Contest
I'm not just talking about the Wattpad contests on the wattpad profile. When I was a new writer, I found contest like:
The Horror Awards
The Short Story Awards
The Best Cover Awards
There are literally hundreds of contest on Wattpad and they are great ways to start growing your audience by winning and getting noticed. The good news is that normally, new writers are in charge of some of these contest and sometimes they have hundreds and thousands of followers. If you enter these contest and win, you can easily be noticed by different types of writers and readers.
Before writing Hide and Seek, I always entered contest in the Avatar the Last Airbender and anime world in 2015. I got a little base that way and met tons of friends from these contest.
If you're feeling bold enough, enter a Wattpad contest. The only way you truly loose is if you don't take the risk.
Lastly...Interact
Find a critique and writing partner. You will easily feel discouraged when writing for the first time so if you can find a Wattpad buddy, do so! One person kept me wanting to write Hide and Seek when everyone else just hated on my grammar. Now look...9 million reads. I'm not doing so bad.
Also, if you suck at grammar try www.grammarly.com It saves my life. I'm dyslexic, so I know the struggle of having good grammar.
Interact! Interact! Interact!
Wattpad isn't the only platform. Share your works in groups on Facebook. Share them on Twitter and Instagram.
Comment. Tell people who you are and what you write. If you stay closed in about your books, no one will find them.
Yes, it's scary to reach out for people at first but I promise once you find connections with others, you'll become more comfortable.
I have an anxiety disorder and reaching out to people was and still isn't easy for me. However, I believe in my work and I believe I had a cool story to tell. I connected, networked, asked for critiques, and built an amazing readership on Wattpad. I know with some time and practice and maybe a few fails, you can do this. I didn't have any guidance like what I'm giving you guys now. I've been writing since 2014 and now it's 2020. I have a strong readership on all of my platforms now. You can do the same faster than I did now. Try it out today!
If you you like what you read please feel free to leave a like so this article can reach all aspiring writers, not just on Wattpad. I freely coach and mentor new writers on Wattpad all the time. You can reach out to me on my social medias where we can talk one on one about your book. I'm devoted to helping new writers with no cost.
IG: Ms_Horrendous
Wattpad: Ms_Horrendous
Tiktok: Mshorrendous
Any tips will be appreciated and used to create more helpful content on my page :)