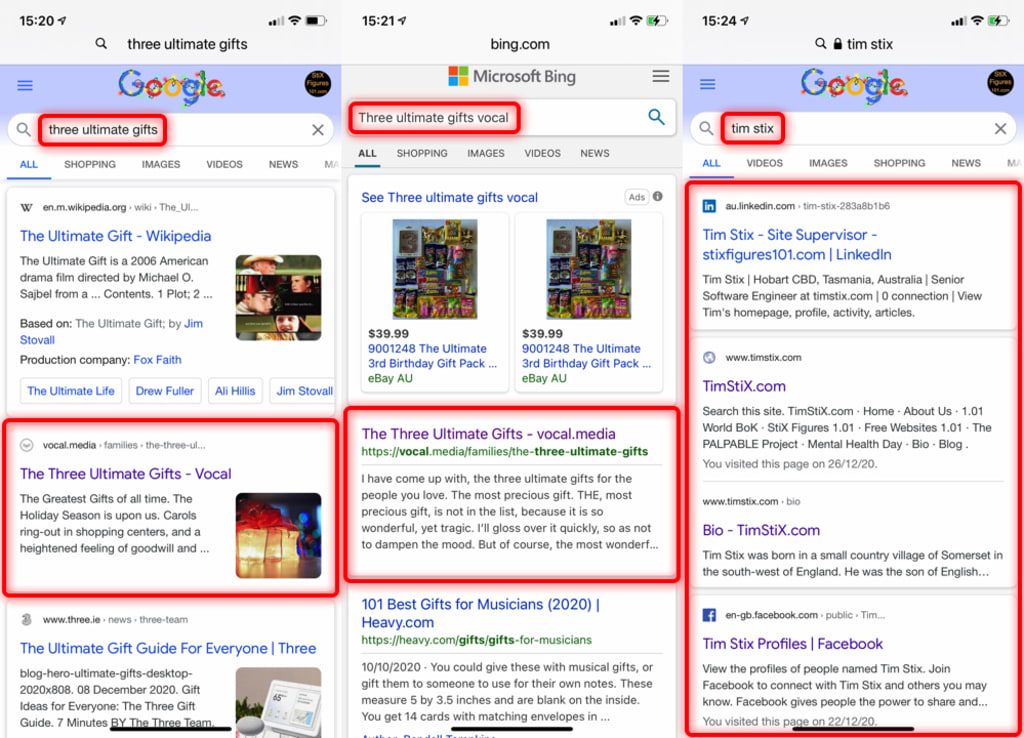 A high-position listing for The Three Ultimate Gifts
A high-position Listing in Google
Admit it. Getting a high-position listing in Google is what we, Vocal Authors, all want. We are all, aiming for that number one spot.
But how do we achieve that?
I could bore you to tears with SEO and Networking etcetera, but that is not what this Article is about.
What you really want is:
Forget the technicalities and jargon, just tell me how to get a high-position listing, in as few words as possible.

I don't want to hear about engagement, crawl budget, SERPs, backlinks, long-tail keywords and algorithms.

Just tell me THE SECRET!
So here is the Secret that helped me get, The Three Ultimate Gifts a high-position listing.
But don't tell anyone else, because then everyone will do it, defeating your advantage.
The Secret
Sorry to disappoint you, but THE SECRET is … there is no secret.
But keep reading and I will reveal the techniques that I use. Call them Secrets if you like, but at the end of the day, it is about having a plan, a strategy, or a process.
If you have lots of money, then engage an SEO team. They will more than likely, get you hundreds of listings. But we are just poor Authors, are we not. Very unlikely to have that sort of cash, to splash around.
So how did I get a high-position listing?
If you have a large network or group following you on Social Media. Share as much as possible and ask them to re-share. There is a small chance that it will snow-ball and go viral.
But I don't have a large network. And most of my followers are uninterested, or too lazy to share. So that is a closed avenue to me.
I do post on Facebook, Twitter and Instagram, but the best platform for me so far, is Linkedin. I don't get re-posts, or many reads at all. But is has brought in a little traffic.
I am aiming to enlarge my Social Media presence, with Tumblr, Pinterest and Quora Digest. I have heard that Pinterest in particular, can garner you some reads. But it all takes time. I am working through the process, while still allowing time for writing.
The real secret is, that just writing and publishing an Article on Vocal, will give you an opportunity to be listed. Even without doing ANY promotion.
Vocal is a known platform, and Articles are indexed by Search Engines automatically.
Where the high-position listing opportunity arises from, is Ranking.
Ranking
So, what is Ranking?
Ranking is kind of like, street-cred' or more importantly Google-cred'. Both of you, the Author, and your Article.
While ranking, to a large degree, is mainly luck for us plebians, without a marketing budget. You can, swing the scales in your favour, a little, with a touch of strategy.
The major source of Google-cred' is Backlinks. I promised that this was not an SEO Article, so let's just call them references or simply links.
Every time a Website links to your Article, you build up cred'. Hence, why you are encouraged to share as much as possible. Every link is another point, in the cred-scale.
Personal Cred'
Personal-cred' is no different. Every link is another point. I have spent the last few months trying to build a web-presence. It is now starting to bare a little fruit.
If you type "tim stix" into Google, you get quite a list of references to me. Starting from the top position.
I will be writing an Article on how I achieved this, in the future. So maybe that, could be considered, one of the secrets.
Article Cred'
I could use SEO jargon again and talk about keywords and long-tail keywords. But that will more than likely be boring and put you to sleep.
Maybe I will go into that in the future, but for the purpose of this article, it is important to choose an interesting Title and Sub-heading for your Articles.
When choosing a title, type the key word, or key words into Google, and look at the suggestions in the list displayed below. You may see something that pops out, and helps you choose a title, that can be indexed successfully.
So, a clever, memorable, indexable, Title and Sub-heading, is another secret.
Final Thoughts
So how did The Three Ultimate Gifts get a high-position listing?
Was it:
• A high number of links? No.
• Personal-cred'? Highly unlikely !
• Article-cred'? Most likely .
Hang on! I don't mean it was a brilliant article. Although I put a lot of effort into the writing and was quite proud of it.
No. It was the Title.
The truth is, I lucked-it with a good title, that was indexed but didn't have much opposition.
Except that Movie! DAMN!!
Tim Stix December 2020.
Tim Stix is a Software Engineer with over 20 years' experience designing, developing and maintaining Web Technologies and is the Developer and Site Administrator of www.101world.net and bok.101world.net.
Tim StiX is The Sober Bard on Vocal.
About the Creator
Tim StiX alias Tim Styx. Manic Master of The Internet of Things and The Sober Bard.
www.TimStiX.com
Reader insights
Be the first to share your insights about this piece.
Add your insights