How To Get Google AdSense Approval Fast
Google AdSense Approval Requirments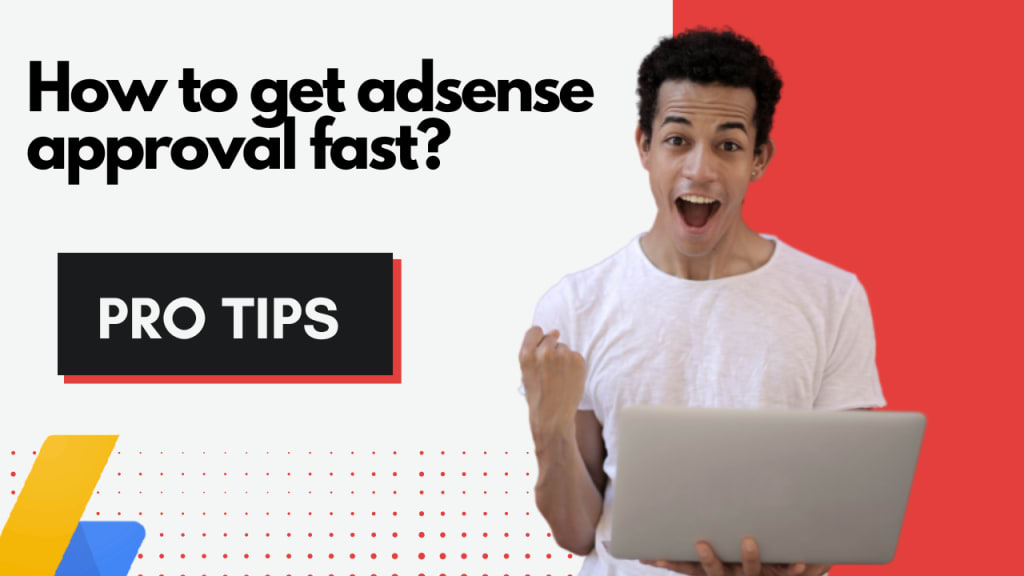 Most new users don't know how to apply for Google AdSense in a way that will guarantee hassle-free AdSense approval.
The biggest problem for a new blogger is that he wants to monetize his blog, and the best ad network in terms of monetization is Google AdSense.
Yes, if you do not get AdSense approval in that case, then, apart from AdSense, there are many ad networks with the help of which you can earn money from your blog or generate earnings through affiliate marketing.
But in the early stages, such bloggers who have not yet earned any money from their blog should at least trust that yes, money can be earned online by creating a blog. This problem happens with every new blogger.
In fact, I also had this problem; in reality, it did not seem that money came to the bank account through a blog, and as I started earning through blogging, I started to understand things step by step.
I also gained a lot of experience and saw the ups and downs, and based on my experience, I will share some tips to get Google AdSense approval fast
Look. What is Google AdSense? Google AdSense is an ad network company, and what is the work of an ad network? He wants that, whatever the blog or website is, the visitors who come to it can be more and more engaged in the ads.
Content
First of all, you have to pay attention to your content and your blog category, and, on whichever topic you are writing blog articles on, write it yourself.
Yes, you can take inspiration from other bloggers to make your article, but you cannot publish the same content on your blog; it is against the guidelines of Google.
Do not use AI, etc., to create content on your blog because there are many chances of plagiarism coming this way; even many people are able to get AdSense through this method. But I do not suggest you do this at all.
If you have to do a long-term online business, from which your good earnings are also generated, then for that you have to follow the right path.
Create content yourself; try to give as much information related to your topic as possible; do not leave any aspect so that users do not get any reason to leave your blog.
Use Google Question Hub, where the queries of people keep coming day by day, and by solving them, you can drive organic traffic to your blog. I am telling you from my experience that the organic traffic on your blog is high. Google can never reject you.
Understand Google AdSense policies very well; focus on what they are saying. Understand them and follow them.
New users always think that they today create a blog, and tomorrow, by writing articles in it, their motive is to send their website for Google AdSense approval, and then they think money starts coming into my account. If you have this mentality, then first change it.
There is a process to everything, and if you proceed process-wise, you will never face any problems. So first of all, grow your blog and prepare a brand. I have also struggled a lot with these things.
I also used to get worried that I was being rejected by Google Adsense, and the fault was mine because I was not following the right way.
I took a fresh domain and worked on it for 4 months when a couple of impressions and clicks came to my blog. Then I submitted my blog for AdSense, and within 24 hours I got approval easily.
I had a website that kept getting rejected by Google AdSense, so I submitted it to Ahref, where I discover a tons of mistakes.
I solved some errors, especially the red ones; I did not solve all, but I solved 1-2, then I submitted the application to AdSense again.
And the next day, my website was approved.
Now you have to understand from this that you must submit your site to Ahref, because sometimes AdSense gets rejected due to errors too.
Important Pages
Your blog or website should have such pages as "Policy," "About Us," "Contact," "Disclaimer," "DMCA," and "Terms and Conditions."
The advantage of all these pages is that when a member of Google AdSense visits your blog, it checks everything, and when they feel that yes, this person is real and that it is really serious about its work, a good impression goes to him.
If you follow all these things, look, there is no need to bet in a hurry. Go ahead with ease, and for 3–4 months, forget about AdSense, grow your blog, build organic traffic, solve the queries of the people you are going to get in places like Quora and Google Question Hub, and answer the public.
And also use Google Trends, where everyday topics are trending and on which your blog will be able to grow.
When organic traffic starts coming to your blog, apply for AdSense, and Google will never be able to reject you because it also wants to run its ads on the website that has traffic.
Conclusion
Although there is no requirement for Google AdSense to have traffic, I have personally felt that Google AdSense shows a little quicker response on sites with traffic. So understand this thing: you will never be rejected.
If you have any questions, then ask them in the comments, and I will try my best to answer them.
I previously wrote a post on this subject called "How to Get Accepted by Google AdSense," which will give you a little more knowledge.
Reader insights
Be the first to share your insights about this piece.
Add your insights