Glastonbury ... A creative mecca
Innovating community in a 21st century world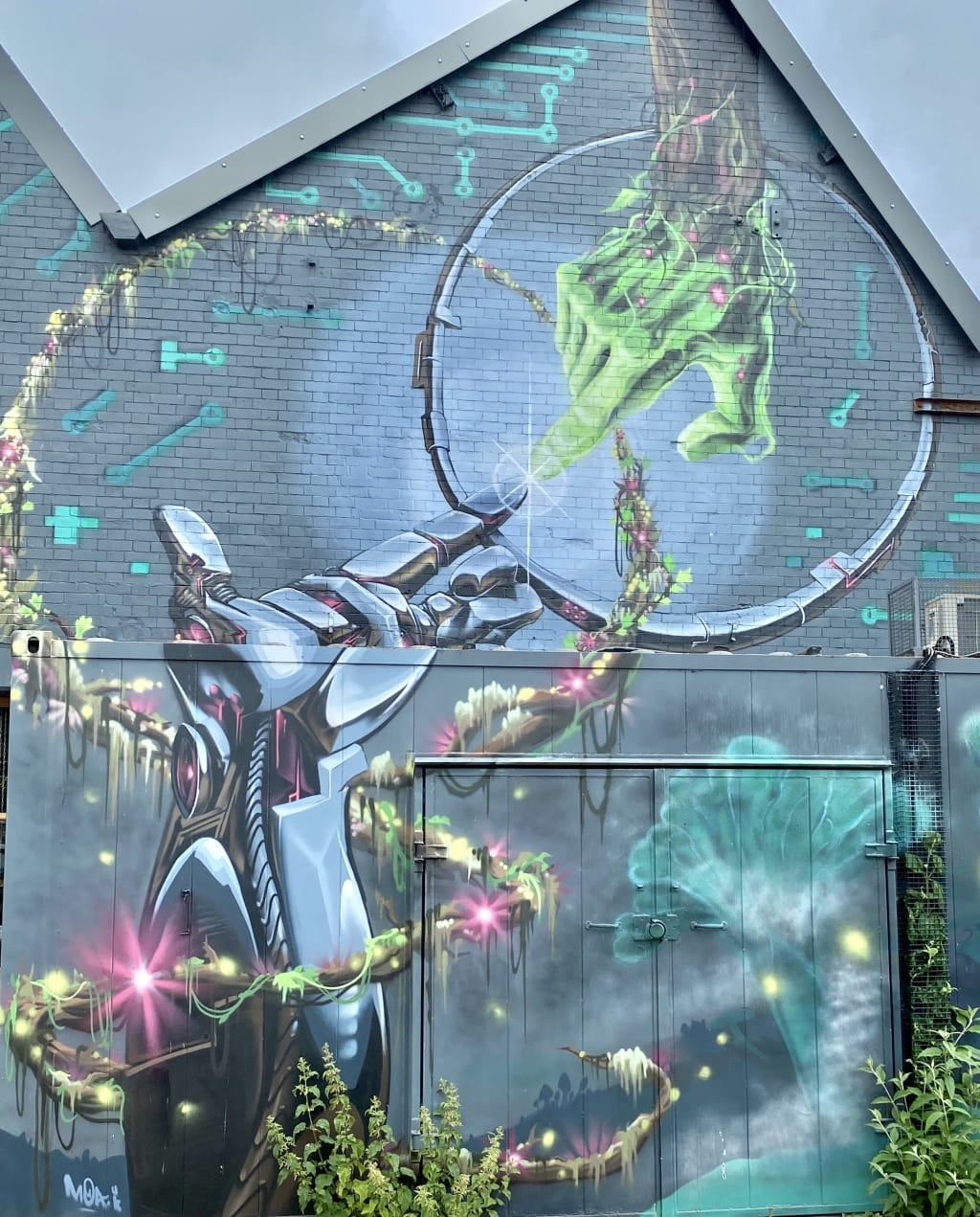 This mural from the Glastonbury Mural Trail is of technology meeting nature.
Oh how I love Glastonbury. It's my favourite place in the whole wide world. The energy is powerful there. Magic abounds. Mystery swirls through the nooks and crannies of ancient sites. And creativity dwells completely unleashed there, unfettered by the traditions of normal society. For Glastonbury is innovating itself into the modern era as a creative mecca, building itself into a community many will want to visit, live in and model their communities on. Let me show you what I mean.
ART: First, there's the Glastonbury Mural Trail where local artists are sponsored by local businesses to paint on walls donated by local residents. The 4 below plus the one featured above are just 5 of the over 50 spectacular murals spread throughout this town. A free map is on offer from the Tourist Information Centre for those who want to view them all.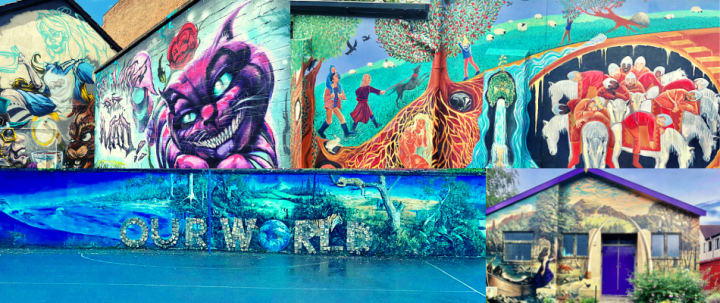 MUSIC: I doubt there's ever a time (except perhaps during lockdown) where you can walk down the High Street without being enchanted by musicians, chalk artists, jugglers, dancers and more. For Glastonbury, music is more than the famous music festival by the same name. In addition to the street performers, there's the Night at the Abbey featuring a number of area bands and the Glastonbury Extravaganza with a main stage artist each year.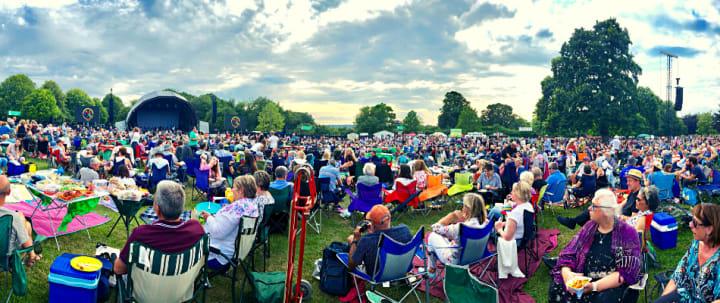 EVENTS: There are so many out of the box creative events that go on in Glastonbury ... the Fairy Fayre, Goddess Conference, Dragon Days, Frost Fayre, Living Art Body Painting Festival and Winter Carnival just to name a few. It's wonderful to watch people turn out for these in brilliantly expressive Glastonbury attire.
PHOTOGRAPHERS: Great photographers abound in Glastonbury, some with High Street shops and others sharing via Facebook and Instagram. It's quite normal to see a drone circling above the Tor these days. Even the Town Crier wanders the streets with his drone ready to capture the brilliance of Avalon in its full creative glory.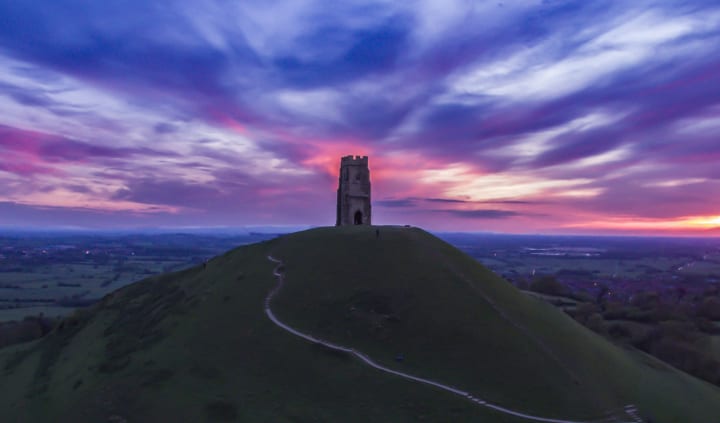 BUSINESS: The Glastonbury High Street is like no other I've ever seen. With the exception of a few supermarkets and the pharmacy, every shop in town is filled with magical creations ... from StarChild Oils to Stone Age Crystals to Wildwood to the Mystic Garden Gallery. Also there is the best organic food shop I've ever experienced shopping in. Other entrepreneurs have created innovative businesses ... like Matt Witt's Walk to the Trees, Tor's Tour of the Tor and Vicki Steward's Normal for Glastonbury blog, book & network.
EXPRESSION: Glastonbury is a place of unleashed expression. As you walk down the High Street on any day you may find yourself face to face with a goddess, a fairy, a star trooper, a priestess, a wizard. It's quite acceptable there to express your passion freely and colourfully. In fact I would say that colourful is an apt description of all that Glastonbury is.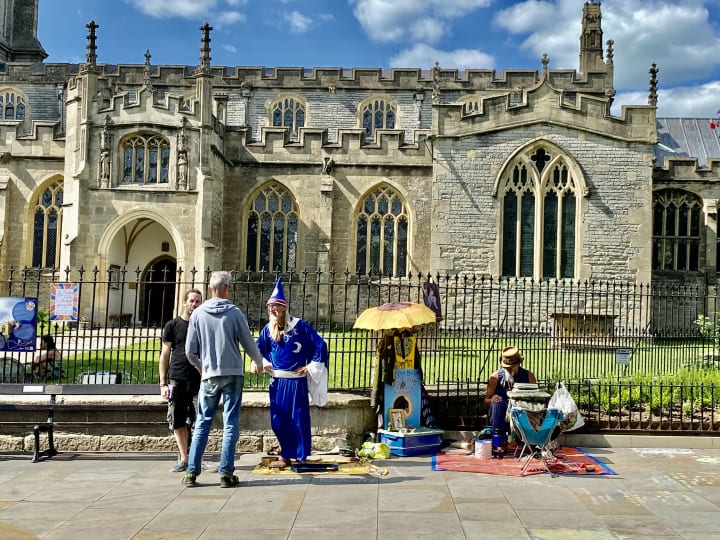 FREE FOOD: Then there's the Glastonbury Fridge Project where donated food from local supermarkets and extras from people's gardens are stored in a central location for anyone to access for free. It's stocked and cared for by local volunteers. Once a week the town also provides a free hot meal in front of the music store for those who are homeless or in need of a good meal.
GREEN: The Glastonbury Town Council, as of the last election, is comprised of a majority of Green party members. In my view, Glastonbury as a town is most definitely oriented towards anything that supports ecology, environment, community, climate and connection. Somerset is an agricultural and tourist area with almost no air pollution. From the top of the Glastonbury Tor you can see for 20 miles.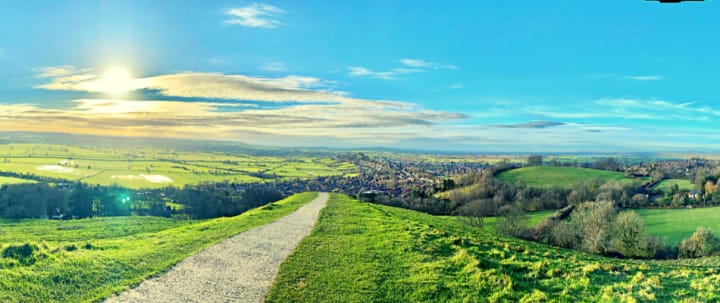 FAITHS: There are over 70 practising faiths in Glastonbury and it seems to me that they pretty much all get along. It is a place where diversity is celebrated and acknowledged. The freedom to find your own connection to whatever you're seeking seems built into the very fabric of the town.
Glastonbury is literally the Isle of Avalon of the myths of old. As you drive over the hill coming from Bristol to Glastonbury and you get that very first view of the Tor from afar, you can feel the energy change and the air vibrate with something tangible and exciting. It is purported to be the burial ground of King Arthur, the resting place of the Holy Grail and a spiritual mecca for many. It is full of delights of the old like the Abbey Ruins, the Chalice Well Gardens and the White Spring. It is flooded with magical stories of many people's epiphanies there. But it is also ripe with innovative creation as artists, musicians, photographers, dancers, poets, bards, writers and creators of all kinds find a place where they are received with great delight and open arms.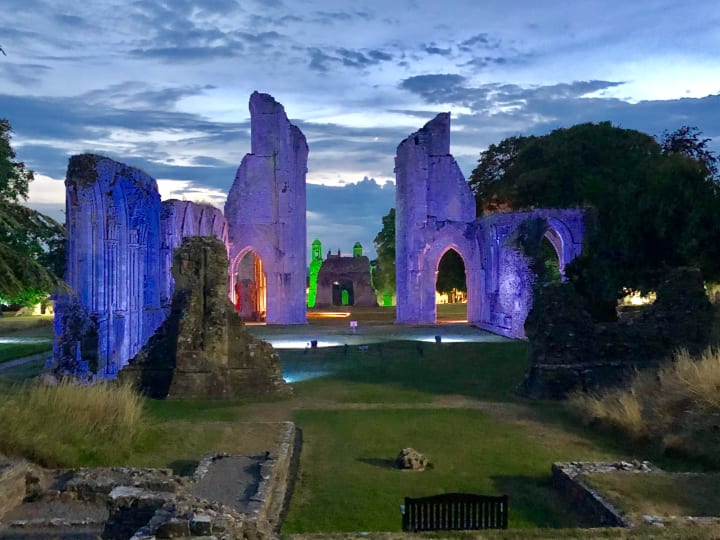 Note: All the photos were all taken by me with deep respect and admiration for all the artistic creators that dwell in Glastonbury.
travel
About the author
I love writing & have written a book called 'The Genius Game' (one of 10 books currently published). I love empowering people to unleash their brilliance into the world. Discover more about me at https://www.soleiragreen.com/
Reader insights
Be the first to share your insights about this piece.
Add your insights