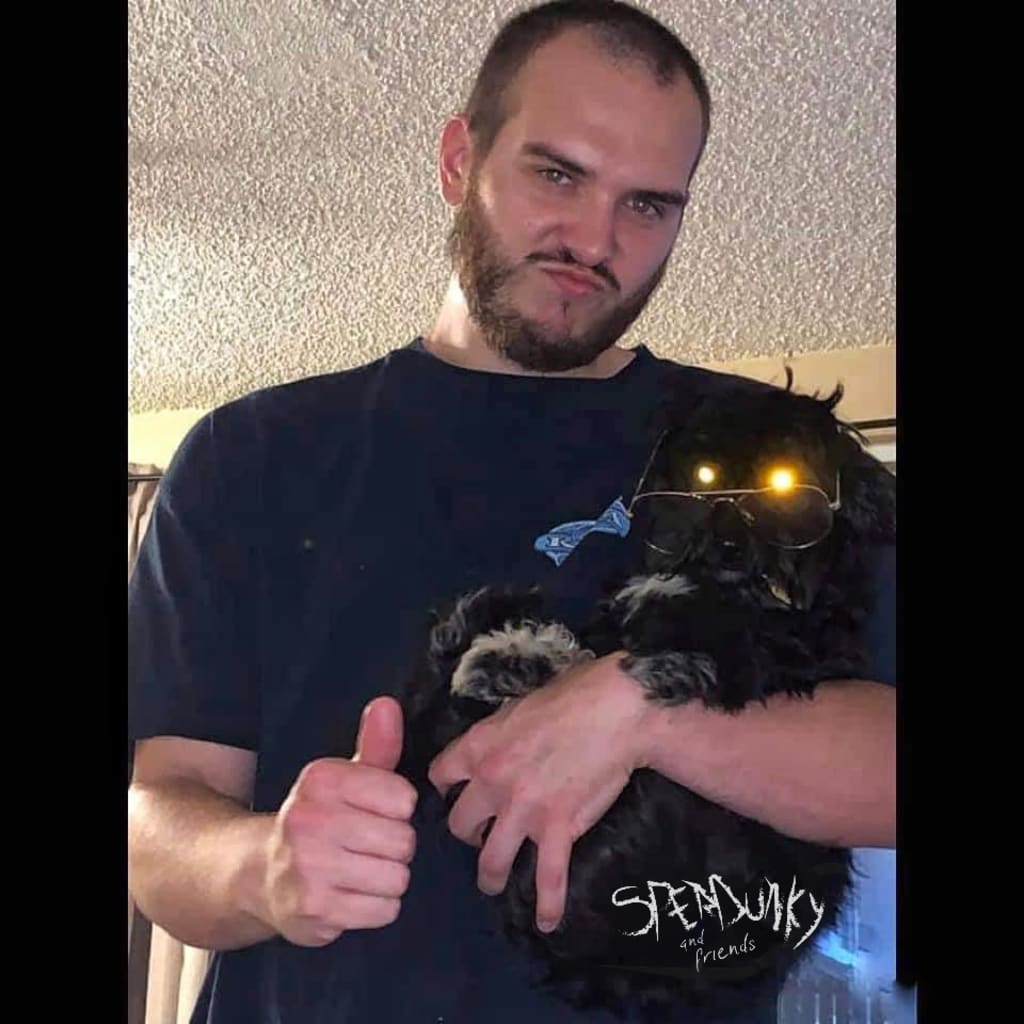 Milo with Glasses.
You may be wondering what a Sperdunky is, chances are you're the real Sperdunky and you very secretly deep down already know that. It tears at your soul everyday, you're depressed about it. You think to yourself "why can't I admit that I'm a gosh darn Sperdunky. Everyone can see it except for me. I must be poor and smell bad." Sperdunky is a term you know the meaning to you just aren't familiar with the spelling. Sperdunky is a jokey title me and a close friend came up with one late night almost eight years ago now (2013). It doesn't really mean anything, but it also means so many things. we've come up with a few contextual scenarios where the term 'Sperdunky' could be used. (Examples Below). I refuse to go into any further detail.
Lately, I've been going by Sperdunky online, you can find me on Instagram, or YouTube where I have two channels, Sperdunky and Sperdunky Media. Sperdunky is my personal page that I've been using for years and is where I will, from now on, post complete official works such as music videos. Sperdunky Media is where I will be posting Game Development Vlogs and Original Animation Projects and collaborations. Life has been crazy, depending on when you read this, I have been absent from the content creation world. I have been working on new stuff here and there, but haven't quite felt the need to share everything. During my hiatus I got engaged, married, and am now expecting a child. These may sound like excuses and they are, that's why I've started this "journey" as the *you know whos* would say. This is an experiment to hold myself accountable and to keep track of my creative work.
My current projects in progress vary in size and complexity. It won't make me any money or fame, these are just things that I like to do, however I am hoping to market myself a little more and get some kind of footing to set up a video game studio. That is the plan just so you know. So when it comes up later don't be weird about it. I am working on a demo right now called "Ocean Dream Asylum". The Demo is a condensed game that will portray elements of a planned story and environment. You are a young boy lost at sea and you come across a mysterious island next thing you know you're in an underground labyrinth and it's kind of like hell. You start to realize that the way you play the game has consequences every puzzle and problem has a list of solutions. Starting this Saturday (November 7th, 2020) I will begin a two week challenge project for myself and the North Forest Team.( We are still starting out ) The end result is supposed to be a platform we game with one level and decent art style that will serve as a gender reveal for me and my wife's baby. We have some funny ideas for it so keep a lookout for that. (Subscribe!)
As a bonus I am currently working in the level design and world building departments of the Coral Team (a Halo Fan Game). I will share more about that when I can.
Anyways, Sperdunky out.
Sperdunky/ Hayden Howard
Following are a few examples of how to use the term 'Sperdunky';
Situation One: Affirmation
Scene: Interior. Dark Mine Shaft. Stinky body odor.
Guy1: *is minding business while mining*
Guy2: *aproaches guy1* "Take a look at this, boss." *holds up large busty diamond 💎*
Guy1: *takes the large astounding diamond♦️ shining his head lamp on it* "...Sperdunky! It's beautiful"
Situation Two: Dismissive.
Scene: Exterior. City Limit Ranch. Fresh wheat smell. Fresh cow shit smell.
Man: *walks up to his pick up truck holding something heavy and loading it into the bed of truck*
Woman: *looking at Man* "Won't you be my Unky? "
Man: "Get oughta Here, Sperdunky!"
Thanks for Stopping by!