Dumbbell Rack Ideas for Residential And Commercial Gyms
Buy Best Rack For Your Gyms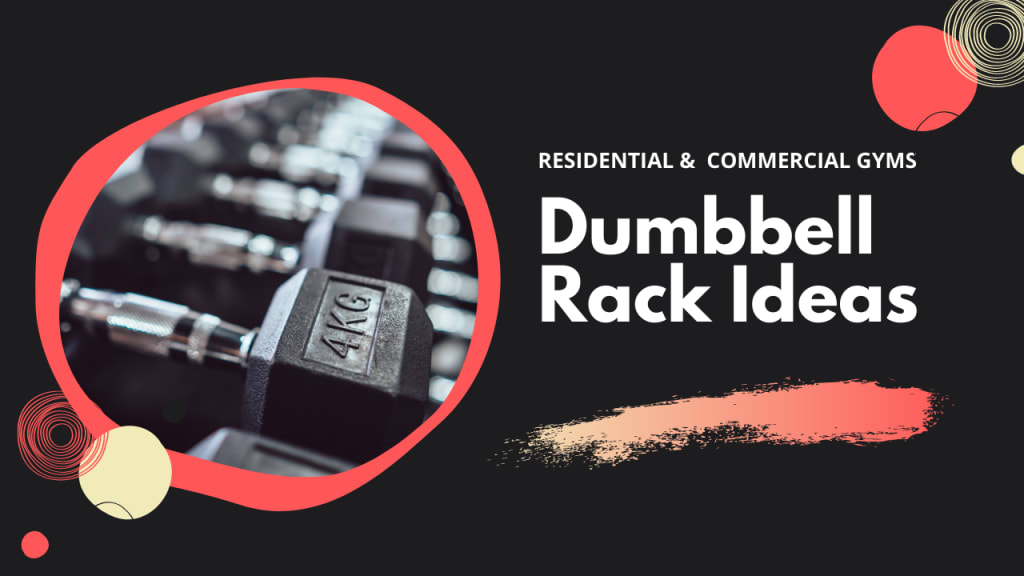 The dumbbell rack you see in the gym typically has a set of dumbbells ranging from 0.5 kg to 100kgs. The dumbbells are arranged in chronological order from top to bottom in a rack which makes it easy for people to choose according to their preferences. These racks include different types of dumbbells like rubber dumbbells, urethane dumbbells, neoprene dumbbells, adjustable dumbbells, and spin-lock dumbbells. Different types of dumbbells serve different benefits. So, if you are based in the UK and searching for a dumbbell rack to organise your neoprene dumbbells set or any other dumbbell set, this article will help you to know everything about a dumbell rack so that you can make a well-informed decision.
What is a dumbbell rack?
A dumbbell rack is a piece of equipment that accommodates the dumbbell of different sizes and weights in an organised way so that everything is in a proper displayThe most common types of dumbbell racks are; triangular or pyramid in shape. With this shape, you can arrange the dumbbell chronologically in weights from up to down. Storing dumbbells in an organised manner makes your gym look tidy and does not confuse you daily about its placement post-workout.
Types of dumbbell racks
There are different types of dumbbell racks. Each dumbbell has a different outer structure and accommodates the set of dumbbells in their unique way.
Vertical
Vertical rows limit your bending and ease the picking and placing back of dumbbells. The heights of vertical dumbbell rows limit your constant bending. It is versatile enough to be used in residential or commercial gyms, but it is generally used for small spaces. You can also choose it as your floor space to work out. Take care to not add a lot of weight to your rack as it can topple over if you stuff it up with a lot of dumbbells.
Horizontal
The horizontal dumbbell rack saves space as equally as vertical does. It can hold heavier weights and bigger-sized dumbbells. These racks won't give you headaches and make dumbbell organising easier for you.
Staggered
If a dumbbell workout is a part of your routine and you experiment with a lot of exercises, then a staggered dumbbell rack is a better option for you. It will help you store sets of dumbbells sufficiently. The structure of the design is sturdy enough to not collapse easily. The rack safely accommodates all the dumbbells of different sizes and weights. It might require a lot of space so ensure that your gym is spacious enough to accommodate this rack.
Tree
A tree-shaped rack offers a fancy look to your gym and allows a good space to place enough pieces of dumbbells. Here you get to decide whether you want it for barbells, dumbbells, or weight plates. A tree rack carries smaller weights in which you can add neoprene dumbbells or light dumbbells to the rack. Tree racks are quite stable and available in a variety of materials, styles, and weight capacities.
A-Frame
A-frame falls among the most common and preferable one and among the consumers. It resembles a vertical rack and acquires limited space. This is a good option for small home gyms. The unique thing is that they are structured as an alphabet A which makes it attractive as well. These A-frame racks are not very sturdy and light in weight which makes them easier to move. The notches on the rack are staggered and easily accessible to hands.
So, these are some of the racks to choose from. You can choose the one that accommodates dumbbells of different weights and sizes. Make sure that the size, weight type, and material you choose are durable and would serve you for a longer period of time.
Now that you know about different rack types, you will be able to visualize how it will look in your space. . A rack will not only help you organise your space well but it will make things easier for you..
business
Petra Wagner is a writer by passion and profession. Her love for writing isn't restricted to any specific niche. She loves pouring out her thoughts on any given topic. Be it beauty, real estate, law or digital marketing- she can ace it all.