Customized Software Development is Better Than Off-the-Shelf Software - Here's Why!
We incorporate a collaborative approach in our custom software development processes to ensure that developed software is agile and fulfills existing business needs for faster ROI.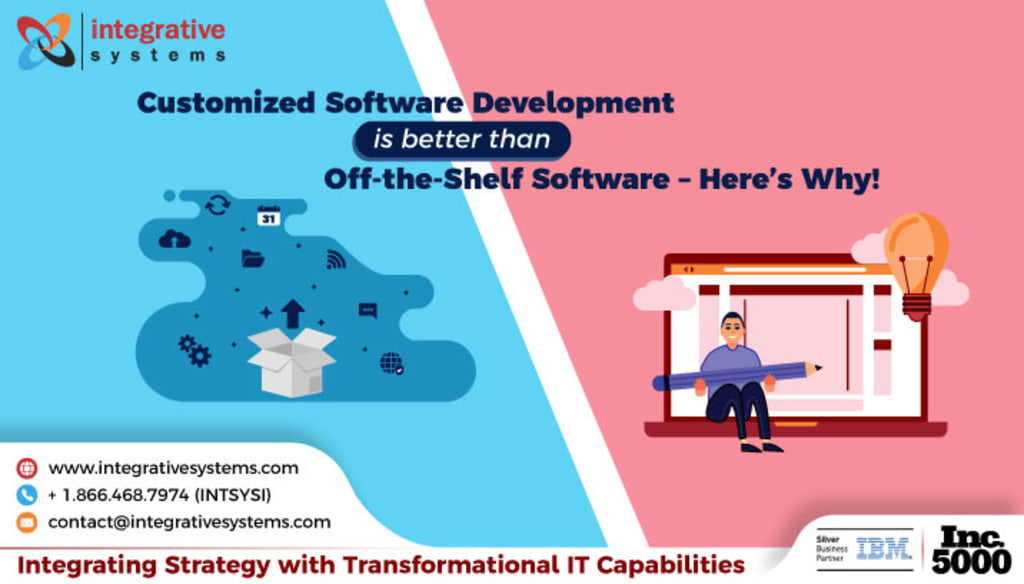 Choosing between customized software development and off-the-shelf software is a massive dilemma for business leaders.
Customized software has its perks to offer such as:
Custom-tailored to specific requirements
Seamless support
Scalability
And, on the other hand, Off-the-Shelf software has its benefits to ponder, such as:
Buy and put to use immediately
Trusted by a lot of users, already
Built on proven processes
All-in-all it's a hard call for the business leaders to make.
If we think from a neutral perspective, both customized software and off-the-shelf software solve a purpose and are doing the due diligence at par.
Then, how to choose what's right for your business?
Let's look at the granular level comparison to get better insights.
Let's begin!
Streamlined Business Processes
Moreover, regardless of industry and domain, businesses share some standard business processes. Finance & Accounting, Human Resource Management, Inventory Management, Supply Chain Management, and Customer Service; are some of the standard business functions.
When we look at standardized business functions and there is not much deviation in how they are carried out, Off-the-Shelf software appeals to be a better option.
Of course, it's a no-brainer for a business leader. Why would someone choose to beat their head up behind a customized software development company for software development? Isn't it easier to pay and get ready-to-use software aligned to standardized business processes?
With that outlook, Off-the-Shelf saves the day for the leaders.
Now, let's tweak the perspective.
Let's assume that you invest in Off-the-Shelf software. Years pass by and arises a situation where you need to customize your Off-the-Shelf software and add some new functionalities.
Have you ever imagined how hard that nut will be to crack?
Here, we are not saying that those ready-to-use pieces are not customizable. The point is, at what cost and how soon?
Customized business solutions offer you a real competitive edge here.
These solutions are custom-tailored to your business processes, considering your domain. You are enabled with the capacity to make customizations as and when you feel like it.
And, that's the superpower that every business leader would appreciate having!
Scalability
With the ever-changing business landscape, no one can predict the amount of elasticity required from a business solution. Features and requirements that seem irrelevant at the current moment may become inevitable in the coming year. It's spontaneous!
A visionary leader always prefers to invest in a business solution that offers flexibility and scalability.
Considering Off-the-Shelf software, a business can expect flexibility and scalability but you might have to find a label that reads terms and conditions apply.
We are not saying that Off-the-Shelf software isn't scalable at all.
Being a business solution preferred by a marginal user base, it is scalable. But, for sure there are some limitations.
To be straight, Off-the-Shelf business solutions are scalable, but only as per their scope of scalability and not your expectations of scalability.
Whereas, when you go with customized software, you get the liberty to scale beyond what you expect.
When you work with a customized software development company, they estimate your scalability requirements for the coming time beforehand and keep room for enhancements. This indeed allows you the bandwidth to scale without fail.
Access to Automation
What is the prime thought behind seeking a business solution?
Automating the mundane tasks that burn down a major share of manual effort, isn't it?
Automation today is at the core of business solutions. As a leader, one expects the business solution to streamline operations and reduce the excess burden on the manpower.
With Off-the-Shelf software, undoubtedly you get to automate wholesome business processes effectively. The concern here is, not all business processes are the same for all industries. The function may differ, and so does automation.
If you choose to invest in Off-the-Shelf software and expect that it should serve all your process automation needs, just as you expect, it's a little unrealistic.
Automation is only possible when the solution is developed with a thorough understanding of the business processes. And, this can only be achieved with customized software development.
Roping in a good customized software development company to build an automation that resolves the mundane for you could be the right approach out of all others.
Post-Sale Customer Support
When you think of a business solution, there are going to be risks and contingencies. And, you are going to need a helping hand to get out of them, when you don't own the technical expertise.
Let's take it from both ends.
When you choose to go with Off-the-Shelf software, you are paying for a ready-to-use, matured piece of software. There are high chances that the solution has already witnessed the problems that may cross your path. And, there already is a precautionary measure implemented for the risks that may arise
But, not all days are the same and contingencies may show up in disguise. Yes, there is extended customer support, but bandwidth is worth questioning.
When you choose to go with customized software, you are paying for a completely customized software solution with extended customer support.
Custom software development companies make sure that they analyze the risks beforehand, and plan for them in advance. And, the best part is you get access to active customer support.
Now, as we have been through both scenarios, here's a major striking difference between the support services we get from the vendors.
Off-the-Shelf software is preferred by hundreds of users, and you are one of them. When you raise a concern the team works on it, and by the time you get to hear from them, you lose a lot at your end. You can't expect them to prioritize you over the others.
In the case of customized software, when you work with a customized software development company, you get to work with a dedicated team and have access to dedicated customer support. You can expect to be prioritized by them.
Closing Notes
Customized software offers you a competitive edge in the ever-changing business environment. It helps you streamline your business processes, offers your seamless flexibility and scalability, lets you automate the mundane, and provides active customer support.
If you are willing to build customized software for your business, reach out to us and we will be happy to help you.
Reader insights
Be the first to share your insights about this piece.
Add your insights