5 Reasons to use Microsoft Consulting Services to ramp up your Business
Microsoft consulting services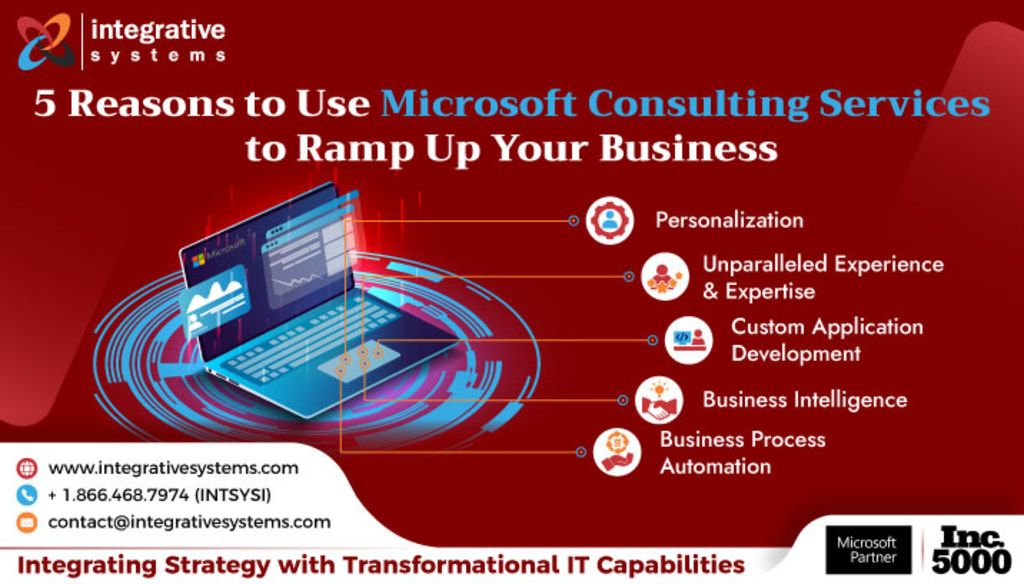 How are you keeping your business current in this cut-throat competition?
- Relying on the latest technology?
- Getting the top talent to work for you?
- Analyzing the gaps between your approach and competitors' approach?
To be honest, you should be doing this all, even faster, because your competitors are doing the same too!
With data and technology the business dynamics have turned upside down and you should be leveraging it the most to be at the top of your game.
Having a unique product/service is not enough today. What are you doing differently that appeals to your customers? How strong and reliable are your customer retention strategies? How fast are you reaching out to your customers? These are some of the essential data points that you have to consider to create an impact besides a top-notch product/service.
Technology has been helping small, medium as well as enterprise-level businesses in achieving their business goals. May it be operational efficiency, marketing strategies, or overall business growth, technology has been a great companion for businesses.
IT consulting services have been of great help for businesses, irrespective of their shapes and sizes. Microsoft has evolved as a reliable consulting services provider.
When a business leader connects the dots and puts up clear business objectives, roping in Microsoft consulting services to develop customized business solutions or drive business transformation is indeed a great move.
With IT Consulting holding a 20% market share, the consulting industry valued at $205 billion continues to grow at a CAGR of 4.1% annually.
With that thought, let's understand how Microsoft professional services are reshaping the business landscape.
Personalization
A business leader knows a business in and out. Then, what is the quest about?
It's the perfect business solution.
The quest for the perfect business solution starts with a business analysis of challenges and business objectives to be accomplished. When you rope in Microsoft consulting services, you get to leverage great expertise and identify crucial business problems with the root cause.
Microsoft consultants analyze quantifiable unique business problems for your niche and help you build a solution that solves the purpose.
The personalization you get to have is one of the prime benefits to vouch for when you choose Microsoft professional services.
Unparalleled Experience & Expertise
Microsoft is a renowned name in the IT consulting industry and thus it has got great experience in working with different domains and niches, at varying complexity levels.
When you work with a Microsoft consulting services provider, you get to leverage hard-earned expertise to build cutting-edge business solutions.
Experience and expertise enable Microsoft professionals the ability to analyze and identify crucial business challenges with ease. And of course, while building a solution, experience is the best tool for risk mitigation.
And eventually, you can expect seamless and hassle-free maintenance and support post-deployment. That's the stability that Microsoft professional services carry.
Custom Application Development
When you think of a business solution, what do you think is most crucial in terms of building a secure application?
It's the technology stack!
When you choose Microsoft for your software development initiative, you have a wide pool of technologies to choose from, depending on your business needs.
You may need to develop a web application or a website, a desktop application, or a mobile app, Microsoft has a wide range of software development framework that enables you to customize your business solution, the way you want it.
Microsoft's SQL Server, Azure, and .NET are a select few development services that make you capable of building applications of any scale to meet your specific business objectives.
Business Intelligence
Changing customer behavior has been a crucial problem that businesses are facing, worldwide. Understanding customer behavior, and their expectations and adopting practices to reduce customer churn could be effective.
But, how can you achieve this?
With Business Intelligence - Growth hack the changing customer behavior!
Microsoft professional services include tools like Microsoft Power BI which can put you way ahead in your game. You can take charge of your data and make the most out of it with the power of business intelligence and data analytics.
Microsoft Power BI enables you the ability to convert data insights into actions. To list a few, you get access to intuitive customizable dashboards that present data in a feasibly digestible format, you get visualizations that ease your hassle to make effective decisions.
You don't have to indulge in an extensive heap of data to make crucial decisions, now. Get a Microsoft Power BI consultant for yourself and make the most of your business intelligence initiative. Power BI consultants keep current with the latest updates and use each of them to your advantage.
Business Process Automation
Attaining optimum efficiency with business processes is still a dream for a lot of businesses.
Business Process Automation can resolve this issue for you, forever.
Microsoft consulting services can be leveraged to optimize mundane business operations, cut down the redundant manual errors and automate processes. Microsoft consultants make an effort to trace down your operational inefficiencies and help you set up a roadmap to growth.
Microsoft consultants not only help you identify and automate mundane operations, but also optimize the resources and human efforts.
With a clear definition of business processes and well-articulated business process automation, your business achieves the set objectives beforehand and grows in the right direction.
Closing Notes
Microsoft professional services enable you with capacities that can help you scale your business to the next levels and achieve business objectives with flying colors. If you are looking for a 360-degree business transformation with Microsoft consulting services, feel free to connect with us.
Reader insights
Be the first to share your insights about this piece.
Add your insights