Credit Card Debt In America Reaches an All-Time High; Surpasses $1 Trillion Again
The History of the Plastic and America's Infatuation With Debt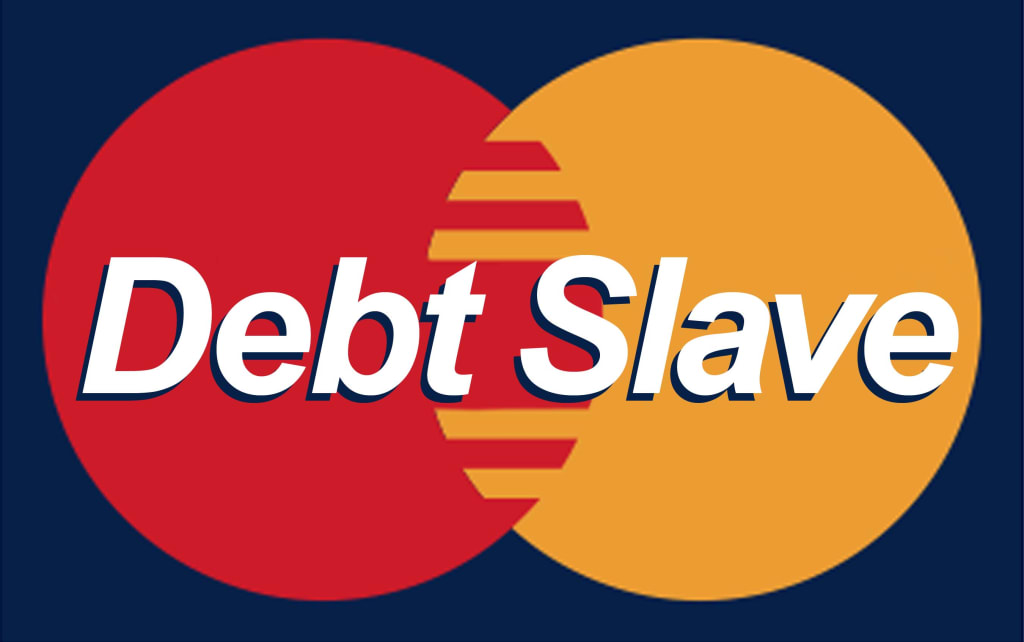 Since the owners of the consumer credit giant call their label MasterCard, who are the slaves?
Consumers in the good old United States of America have reached a sad milestone in their "buy now, pay later" spending culture.
A ton of media coverage in the national financial news sector has been focused on the most recent report released by the U.S. Federal Reserve earlier this week. One phrase used throughout the Fed's report was "outstanding revolving credit," or credit card debt in layman's terms.
The Federal Reserve's best economists and statisticians in the business came up with a gargantuan figure for June of 2017, which spelled out the total amount of collective credit card debt among America's consumers. The mind-boggling number was $1.021 trillion.
This staggering amount that was incurred as of June 2017 has been classified as the largest dollar amount of credit card debt in U.S. history. The national all-time record for credit card debt has now been broken. American consumers set a previous record of $1.02 trillion in April of 2008.
The Federal Reserve announced the handwriting on the wall by revealing in an earlier 2017 report in the month of April that outstanding revolving credit among U.S. consumers had reached one trillion dollars. Market Watch also reported that credit card debt has been growing at a rate of nearly 5% this year.
Matt Schulz is a senior industry analyst at CreditCards.com, a website that educates consumers about the right way to utilize their spending power by using credit. Schulz spoke with Market Watch about the vulnerability that is presently facing America's consumers in the economy.
"This record [amout of outstanding revolving credit] should serve as a wake-up call to Americans to focus on their credit card debt," Schulz said. "Even if you feel your debt is manageable right now, know that you could be one unexpected emergency away from real trouble," he continued.
Those with short memories may not recall how familiar this dismal situation sounds. However, to the seasoned economist, the Federal Reserve's report earlier this week sounds like an even worse rerun of the prelude, which came prior to the catatonic financial disaster of fall 2008.
Around that time, the U.S economy tanked, the stock market crashed, and the worst financial collapse occurred since the Great Depression of 1929. A culmination of "bubble bursts" are what led to this financial travesty. Insane amounts of debt among consumers are also indicators of these kinds of failures.
The very first credit cards in America were issued in the 1920s. In those days, private corporations, such as hotel chains and oil companies, would grant consumers lines of credit, which could be used to purchase goods or services from other merchants under the company's umbrella.
In 1950, the first universal credit cards were issued to American consumers who wanted to spend their money at interest anywhere they wished. The Diner's Club Inc. introduced this new way of consuming and American Express followed in 1958.
However, the first signs of doom did not become visible until 1970. During this year for the first time in U.S. history, the Federal Reserve started revealing the infancy of the country's credit card debt problem. From 1980 to 2010, the amount of credit card debt per capita increased by nearly 300%.
Once upon a time in America, credit cards were not issued to anyone unless they were a rich person who did not have to worry about missing monthly payments because of "unexpected expenses." But then, the credit score industry wolves came to save the day in sheep's clothing.
Before people knew it, everybody had credit cards and that is part of what led to each recession that went on in America during the 20th and 21st centuries. What the confidence men of the credit score industry do not tell consumers about is inflation and interest rates that will eventually skyrocket.
The Federal Reserve's report from earlier this week did show a sign that Americans have learned their lesson from the subprime mortgage crisis to an extent. Housing-related debt is down since the 2008 crash. However, mortgages still represent more than two-thirds of all the debt held by American consumers.
When it comes to car-related debt, it appears that many Americans have not wished to scale back their love affair with owing money. Nice-looking and dependable cars can be saved up for and bought with cash. However, auto loans are at their highest rate of delinquency since 2010.
Crawling out of debt is hard, but it does not have to be. People have to be vigilant and steer clear of credit repair specialists who charge outrageous fees. Consolidating all debt into one monthly payment is possible. This is a common strategy people use to avoid filing for bankruptcy.
However, consumers have to be aware that they are working with a debt relief agency that will make sure the monthly payment amounts they make are reported to all the major credit bureaus.
Having consumer debt (as well as other unsecured forms of arrears) under control is very beneficial to your professional life. A clean financial slate will help you gain an advantage when you're applying for certain jobs.
Healthy spending patterns often reflect behavior, which is indicative of a person who is responsible. The burden of debt can lock otherwise good people out of the professional well-being they truly strive for.
Being a great business person or employee is all about meeting obligations and exercising integrity. A person's ability to prioritize the things they have to be financially accountable for can be improved through counseling and other forms of meditation.
About the Creator
Mr. Trammell is an award-winning digital media producer, freelance journalist, and author. Formerly, he wrote national radio content for the Michael Baisden Show. He also served as Senior Editor at the Your Black World online news network.
Reader insights
Be the first to share your insights about this piece.
Add your insights