Cost Breakdown - Creating Your Own BEP20 Token
Howmuch Does It Cost To Create BEP20 Token?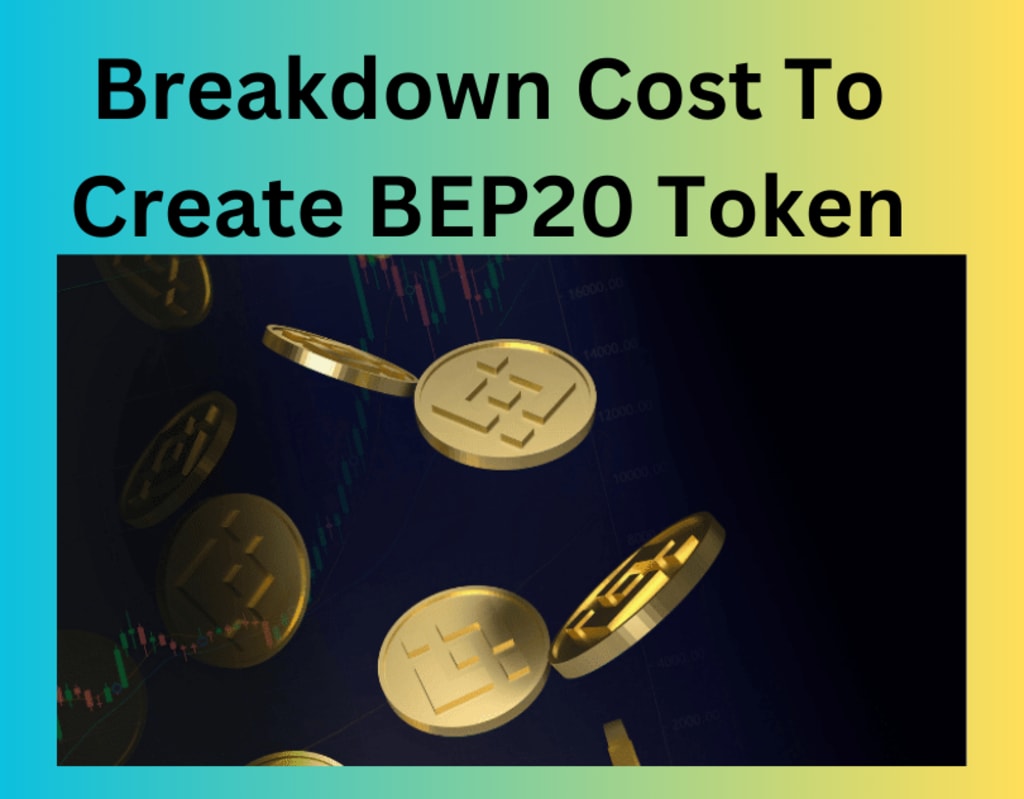 Cost to create BEP20 Token
If you're wondering about the cost to create a BEP20 token, you've come to the right place. Before we dive into the specifics, let's first understand what a BEP20 token is.
What Is BEP20 Token?
BEP20 is a technical standard on the BNB Smart Chain (BSC), a popular blockchain network that supports decentralized applications (dApps) and smart contracts. BEP20 tokens are used to represent digital assets, such as cryptocurrencies, unique collectibles, or even loyalty points.
Why is the BEP20 Token Popular?
The BEP20 token is the perfect tool to kickstart your business, offering the fast and secure funding you need to get off the ground.
Designed specifically for the BNB Chain, the BEP20 token is the go-to solution for businesses looking to take advantage of the growing blockchain and cryptocurrency landscape.
Not only does the BEP20 token offer unparalleled ease of use and flexibility, but it also provides significant benefits for both business owners and investors alike.
For business owners, the BEP20 token offers a fast and efficient way to raise critical capital without needing to go through rigorous traditional funding channels.
Meanwhile, investors benefit from the transparency and security of blockchain technology, ensuring that their investments are protected from fraud and other risks.
So if you're looking to take your business to the next level, don't settle for anything less than the best. Kickstart your business today with the power of the BEP20 token development.
Now, let's return to our original question:
How much does it cost to create a BEP20 token?
The answer depends on several factors, such as:
1. Technology
You'll need a basic understanding of blockchain technology and smart contracts to create a BEP20 token. If you're not a developer or don't have technical knowledge, you may need to hire someone.
2. Design
Your BEP20 token will need a unique name, symbol, and logo. Hiring a professional designer depends on the complexity of the design and the designer's experience.
3. Development
Developing a BEP20 token involves coding and testing smart contracts. The cost of development services will depend on the complexity of your project and the hourly rate of the developer you hire.
4. Audit
Before launching your BEP20 token, it's essential to have it audited by a third party to ensure that it's secure and free from vulnerabilities.
5. Launch
Once your BEP20 token is created, you must launch it on the BNB chain. The cost of launching includes paying for network fees, marketing, and listing fees on exchanges if you want to trade your token.
Overall, the cost of creating a BEP20 token can range from $5000 - $8000, depending on the complexity of the project and the services you require.
Knowing the development cost could raise your interest in determining the right method to develop a BEP20 token. Then, let us proceed to the next section
Where To Get BEP20 Token Cost-Efficiently?
If you are willing to create a BEP20 token for your business, hiring a reputed BEP20 token development company is the best option for you.
Based on my research, ZAB Technologies is one of the best crypto token development companies. Their experienced developers can help you to create BEP20 tokens with advanced features at an affordable cost. By developing a BEP20 token, you can be a successful entrepreneur in the crypto marketplace.
So, get connected with their team of experts to taste success in your business.
Whatsapp: +91 77085 29089
Skype: live:contact_86571
Mail ID: [email protected]
Telegram: https://t.me/Zabtechnologies
Reader insights
Be the first to share your insights about this piece.
Add your insights