Companies That Control the Food Industry
How the companies that control the industry make our food choices are a paradox.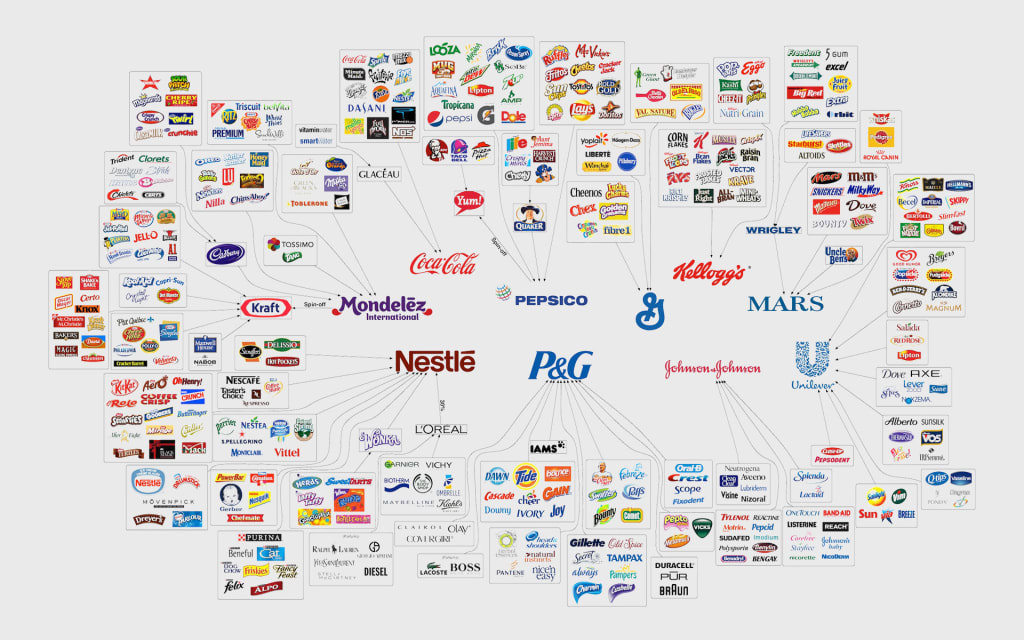 Have you ever wandered the aisles of a large supermarket and been in awe at the sheer number of different food items available? The choice is often astounding; how many different kinds of dried pasta does one need? You may be forgiven for thinking that all these different brands of the same item shows diversity and good, healthy competition. Dig a bit deeper however and the dark truth appears. The food industry is actually run by a small monopoly of huge, global companies. It would appear that as we increase our choice with regards to the foods we buy, we decrease the number of companies that control the food industry.
Who Are These Companies?
The food and drink industry is a substantial industry, employing around 1 billion people worldwide. This equates to roughly one third of the world's workforce. Yet, for such a large employer, there are only a handful of players. In 2013, Oxfam International produced a report entitled "Behind the Brands." It focused on 10 of the largest and most influential food companies in the world, stating that the top 10 companies that control the world's food are:
Nestlé
PepsiCo
Coca-Cola
Unilever
Associated British Foods
Danone
General Mills
Kellogg's
Mars
Mondelez
Oxfam concluded that these corporations "are so powerful that their policies can have a major impact on the diets and working conditions of people worldwide, as well as on the environment." In 2013, each of these companies had revenues in the tens of billions of dollars, five of them had a minimum of $50 billion in assets and four had over $6 billion in profits. The food variety and choices we have are dictated to us by a small number of companies.
Northern Hemisphere Greed
These companies are all located in the world's northern hemisphere, in either America or Europe. Interestingly though, 80 percent of sugar comes from sugar cane which is mainly grown in southern hemisphere tropical countries. Global production of sugar now stands at around 180 million tons a year, with Brazil alone accounting for 25 percent of world sugar production. Almost all snack food contains sugar, yet most profits from growing it go straight to the rich northern hemisphere and the companies which control the food industry.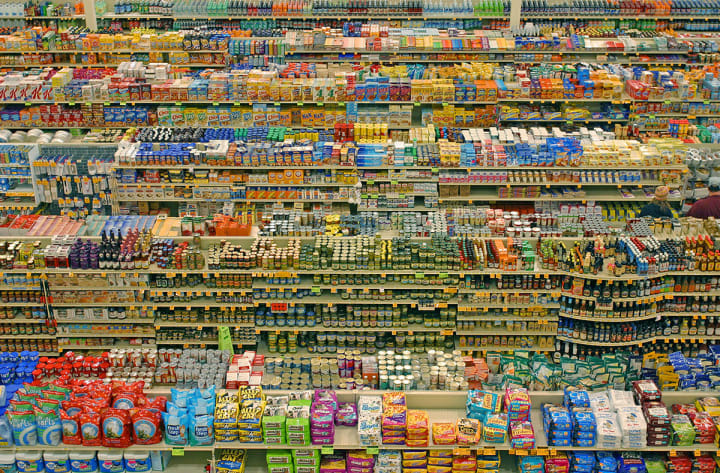 Why So Few Companies?
There is heavy competition in the food industry, so by merging and buying up smaller companies, larger companies get to maintain and sometimes increase their share of market presence. It makes economic sense for companies to merge; It gives greater purchasing power, drives down production costs, and makes share holders very happy. Merging companies effectively mean a bigger slice of the pie for the parent company. If it can buy a company which offers a similar product in another location, it will now have a presence in a new area and of course, reduced or no competition there.
A Closer Look at Nestlé
Nestlé, the biggest player in the field, had a revenue of $87 in 2015 and owns over 8,000 brands. It owns 22 different brands of coffee, 73 different brands of water, dozens of brands of chocolate, and also owns pet food brands, frozen and chilled food brands, food seasoning brands, ice cream and yogurt brands, and infant food brands, amongst others. It also owns 30 percent of L'Oréal, the world's largest cosmetics and beauty company, whose brands include The Body Shop, Garnier, Maybelline, and Lancôme. It controls approximately 60 percent of the baby food market in Latin America and 91 percent of the milk powder market in Brazil. There are around 600,000 farmers in 80 countries who are contracted by Nestlé. The buying power of companies like Nestlé is such that few companies can compete and we are left with a few companies that control the food industry.
Dirty Practices
By having so few companies that control the food industry, practices with regards to the environment, working conditions, child labour, and pay are often not great at best, to downright atrocious. Nestlé has been criticized for using GM ingredients in its products, for its purchasing policies with regards to cocoa and coffee (it, along with just two other companies, roasts 40 percent of all the world's coffee) and also for the repression of trade unionists in Colombia. None of these companies could be called ethical and the environmental impact they have is huge.
Taste the Feeling
Coca-Cola is the world's largest beverage company, having over 500 sparkling and still brands including Diet Coke, Fanta, Powerade, Minute Maid, Sprite, and Del Valle to name but a few. It is the number one provider of sparkling drinks, ready-to-drink coffees, and juices and juice drinks. On the company's web site it states that "through the world's largest beverage distribution system, consumers in more than 200 countries enjoy our beverages at a rate of more than 1.9 billion servings a day." This is actually pretty impressive considering that there are only a total of 195 countries in the world. That must be the Coke side of life. The company has also had allegations of ethical issues at its bottling plant in India. Communities nearby complained about the passage of sludge as fertilizer which caused both health and environmental damage and depletion of water levels in an already arid area, water that was needed for irrigation purposes. Levels of pesticides were also found to be much higher in the soft drinks in India than is permitted in the US, leading to the company being accused of having double standards. The bottling plant has since closed. Interestingly Coca-Cola's products are banned in the state of Kerala, India.
General Mills and GMO
This is a large American company, owning brands such as Häagen-Dazs, Betty Crocker, Bisquick, Gold Medal, Cascadian Farm, Cheerios, Green Giant, and many others. Based in Minnesota, it had a revenue of $16.6 billion in 2016. It employs 39,000 people and was the third-largest food consumer products company in the United States in 2015. It is not the most ethical of companies when it comes to labelling ingredients, fighting bitterly against labelling genetically modified ingredients and is reputed to have paid into a fund for the Grocery Manufacturers Association (GMA) to fight such labelling. The case was lost and General Mills announced that GMO will be labelled through out the US. Other large corporations such as Coca-Cola and Kellogg's were also opposed to this labelling, showing us once again what really matters to the companies that control the food industry.
Is It Natural for a Loaf of Bread to Keep Fresh for Over a Week?
Mass food production needs a prolonged shelf life. In order to have this, additives and chemicals are added in large quantities. A study in the BMJ Open Journal concluded that ultra-processed foods make up 57.9 percent of daily energy intake in the average American. Ultra-processed foods are defined as formulations of several ingredients and includes foods such as breads, soft drinks, fruit and milk based drinks, cakes, biscuits, pies, basically anything not natural looking. All these contain additives; flavorings, colorings, sweeteners, and emulsifiers, which are detrimental to health. These corporations can get away with producing such unhealthy foods because there is a clear lack of competition; they have swallowed it all up, meaning that the food we eat becomes increasingly dictated to us by a handful of companies that control the food industry.
About the Creator
Just another 20 something trying to break the glass ceiling one blazer at a time. Get your own coffee...
Reader insights
Outstanding
Excellent work. Looking forward to reading more!
Top insights
Compelling and original writing

Creative use of language & vocab

Easy to read and follow

Well-structured & engaging content

On-point and relevant

Writing reflected the title & theme
Add your insights