Britain's Got (No) Talent
What it's like to be a production assistant on a TV talent show.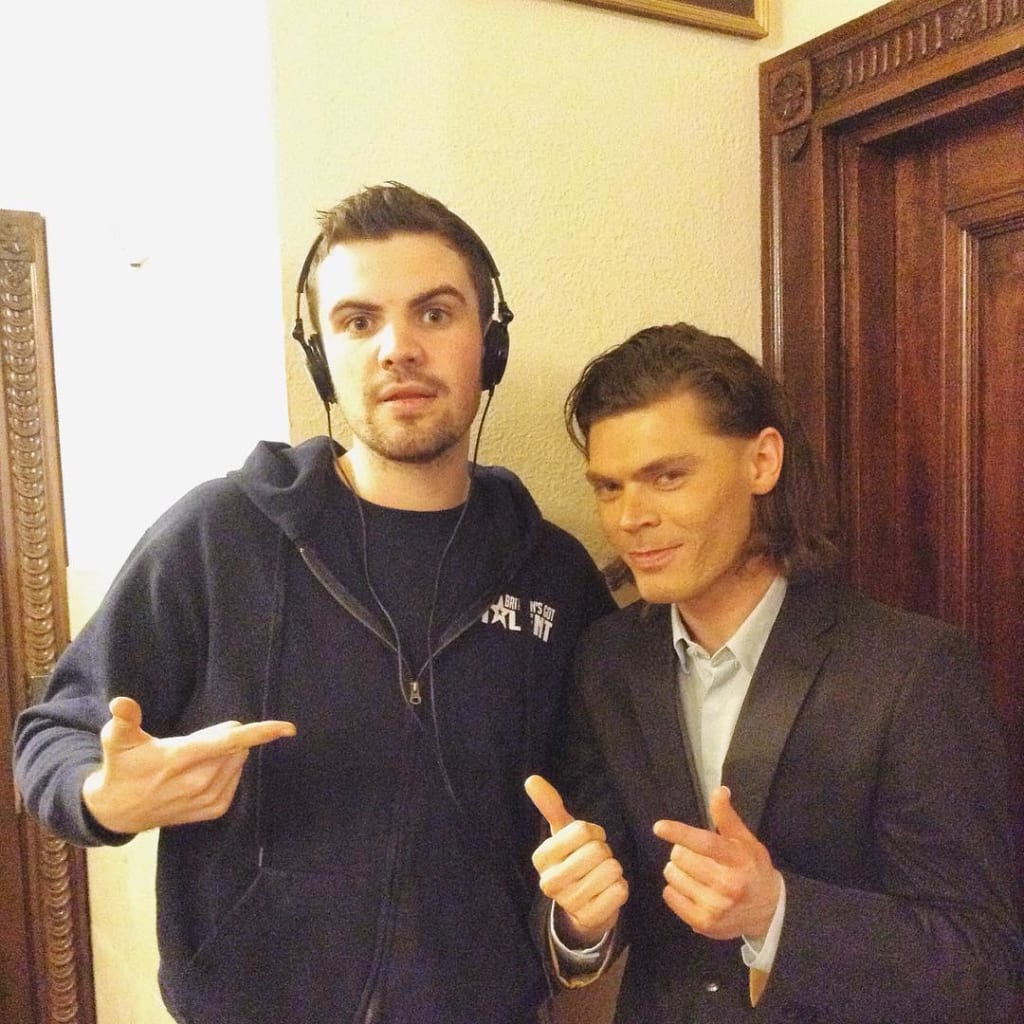 Me and Aron Dale, Cornwall's premier Harry Styles impersonator.
Six years ago, I took a gap year. My plan was to eat an abundance of local delicacies, work a crazy job, get hammered with barefoot hippies and regularly wake up face first in a pool of my own vomit – I was, of course, moving back in with my parents in England.
While snipping stems and slinging pots (placing pots, no slinging was proven conclusively at the tribunal) at a local plant company to earn a few quid before a big move to America, I threw my hat in the ring for a glamorous job in television. The position would take me to community centres and lifeless entertainment hubs across the UK on the much-loved variety show, Britain's Got Talent.
I rocked up to Birmingham National Exhibition Centre at 8am for my first day and quickly realised that at 25, I was among the oldest production assistants in attendance, other than a woman in her 50s who mistakenly joined the crew while trying to apply for a cleaning job (I've looked into it - she's now chief executive of ITV).
The crew were divided into utter noobs and former noobs. The utter noobs like myself were given Britain's Got Talent hoodies to set us apart from the general public, who just so happened to be arriving in their droves.
If you don't know who the general public are, visit a local newspaper's comments section on Facebook.
My first task was to tell people where to sit down in a large room, and I have to give them credit here - most of them were capable of doing this with minimal instruction.
"How much longer?"
"We've been here for 12 hours."
"You lot are clueless."
"I am Russian plate spinner."
"Has anybody seen my rattlesnake?"
These were just a few of the comments we received over the many hours that followed.
"Soon, I'm sure."
"So have I!"
"No we're not. You are."
"Brilliant."
"Sir, pull your trousers up. I'm calling security."
Finally, they started to filter out of the room to perform. Simon Cowell, Amanda Holden, David Walliams and Alesha Dixon were safe from the hoards of keen Brummies behind the secure gates of their respective mansions, for now, and the contestants were instead tasked with performing in front of noob graduates who (in the business) you may know as producers.
When the clock hit 9pm, the last auditionee wandered wistfully to the nearby train station, whistling songs that fell flat, accompanied by disgraced ventriloquist dummies stuffed in the bottom of black bin bags and wearing sequin dresses covered by oversized parkas. Day one was a wrap after 13 hours. Only the entire series left to go.
As the competition progressed, so did my career on the production assistant ladder. Making the leap from seat assignment 101 to interviewing contestants and scribbling their sob stories into a grubby iPad.
"When my husband died in mysterious circumstances, I decided it was time to get back into mime thanks to the hefty kick back I received from the life insurance policy I had taken out."
"The arrow did hit Mom in the face, but it went straight through her cheek and out the other side. We laughed about it afterwards. Well, she didn't because she couldn't move her mouth for six months."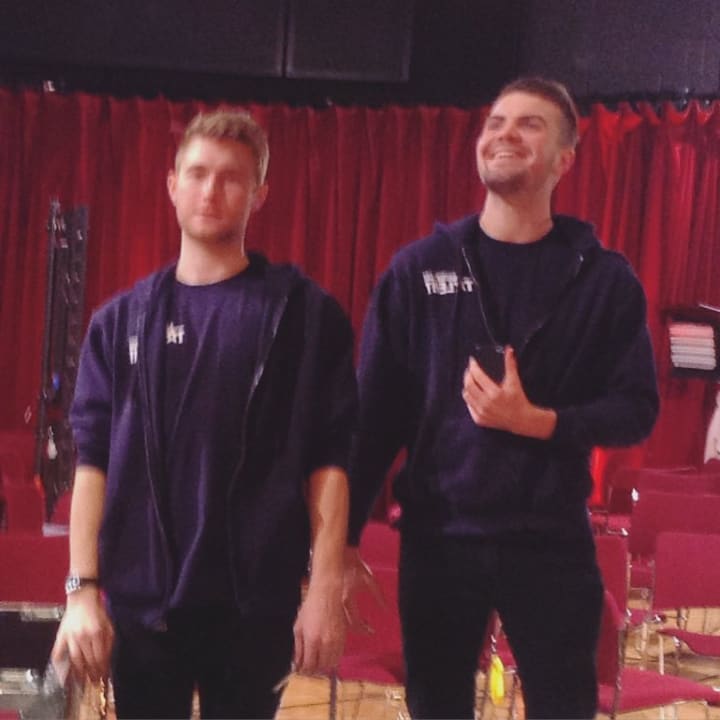 In London, Liam (another utter noob) and I were paired up to guard the bottom of the stairs from the general public. We were given no weapons, only our wits. A mother and two small children walked past, stopped and stared at the big "Britain's Got Talent" sign next to us.
"Is Simon Cowell real?" The younger of the two boys (about five) turned to me and asked.
"Of course he is. He's not like Santa Claus!"
The mother scowled and dragged the children away.
The next day, while eating a plate stacked high with free buffet food; the producers, sound engineers and cameramen all descended on the room.
"Where is that kid with my avocado sandwich? I can't eat this shit every day or I'll gain a stone!" One particularly unapproachable producer said.
"Go and get me an avocado sandwich," the sound engineer said to me with a smirk.
"Not likely, mate."
"You won't make it far in this business with that attitude. Everybody had to get somebody an avocado sandwich at some point."
"I don't want to make it far in this business. Especially if it means getting people avocado sandwiches."
I stuffed a delicious brownie (the catering was exceptional anyway, so absolutely no need to send somebody to get an avocado sandwich) in my face and walked out of the room. With chocolate bursting in my cheeks like Bruce Bogtrotter, I ran into a fresh faced runner in the corridor holding an avocado sandwich tightly in her hand. I snatched it from her grasp and held it aloft.
"You know, you don't have to give her that. Just say no. Just say no!"
She snatched the sandwich back.
"What are you on about? This is my lunch. And you just spat brownie at me. Weirdo."
Soon enough, we began filming at big theatres in London, where I made lifelong friends with the real talent like Stephen Mulhern who nearly ran into me on a flight of stairs, Simon Cowell who walked past me with his entourage backstage, one of whom was carrying his ash tray, and Ant and Dec, who caught me staring at them and asked if I was lost. I wasn't. Great bunch of lads, the lot of them.
One of the grand theatres we visited was the Royal Alexandra Theatre in London. Shelby, my soon-to-be American wife, had returned from the completion of her Master's Degree in Germany and joined me in the city, where she rode on a bus with a very large backpack doing the most adorable impression of an American tourist. Meanwhile, I was meeting a real impressionist - Cornwall's most prominent Harry Styles impersonator, Aron Dale, who was dumped out of the X Factor a couple of years previously. We ended up chatting for about six hours while I was once again placed on guarding a door duty.
When Aron finally buggered off home, I helped film the slo-mo segments where contestants walk off down the street with a mournful piano track in the background hopeful that their lives are finally looking up and everything will be different from then on.
I suppose I could have filmed my own montage, perhaps skipping off down the street, arms linked with Cornwall's most prominent Harry Styles impersonator, Aron Dale. Instead, we just hopped on a Megabus back to Worcester (Shelby and I, not Aron Dale, although he probably would have come if I'd asked).
The competition moved to the live stages and I was one of the select few utter noobs to be invited back to help out. My status of utter noob to be upgraded to regular noob, but we were already on the way to America by then. I guess nobody will ever know who won that crazy competition in the end.
This series of Britain's Got Talent came under fire in the press after a whistleblower production assistant (it wasn't me, honest) pointed out that 14 hour days and minimal breaks was probably frowned upon by working standards. The avocado sandwich debate was not covered in these articles. I plan to expose the practice in the tabloids as soon as they return my calls.
Cowell or Scorsese? Check out my experience with the other pocket rocket below to find out who would win in a fist fight.
pop culture
Writer of things that my mom says are funny.
Receive stories by Billy Francis in

your feed