Book Editing
My Other Passion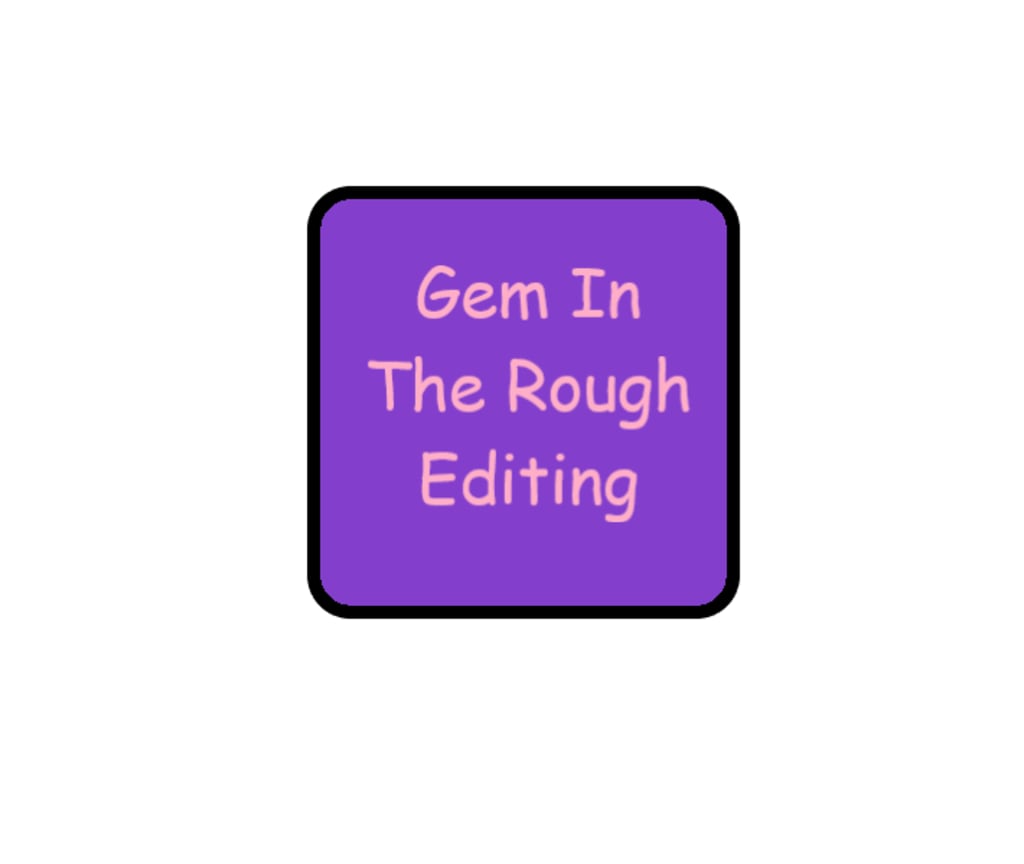 The only logo I have right now
Passions. Activities we love to do.
They are something quite unique to each individual. And while all of us on Vocal have a passion for writing, whether it's a budding flower, a revived flame, or we're seeking ways to improve ourselves, no one's writing is the same.
However, many of us have multiple passions. Some are talked about through published stories in the various communities on this and other writing platforms, while others are kept secret.
Many of these passions earn us some money, whether it's a full blown business, freelancing, and just something done on the side to our main jobs.
And that's how it should be. The saying, 'do what you love and you never work a day in your life' couldn't be more true in my opinion, especially when I read the stories here.
Although I don't keep this a secret per say, it's not something I've talk about incessantly either. So for this piece, I'll be telling you about my editing passion.
For starters, I didn't always know I wanted to be an editor. In fact, it wasn't until about six months ago I realized I liked helping people work out the kinks in their writing.
I'd already published my first and second book, which I was and am proud of, but didn't know where to go from there.
One day, I decided to buy a book on proofreading and copy editing (Proofreading and Copy Editing for Dummies, in case you were curious), since it interested me.
I was hooked pretty quickly, signing up for different email list which discussed proofreading and editing. I even took an online course.
But I wanted to do more with my editing skill. And in order to do that, I needed more editing skills
I took more editing and writing courses while signing up for different freelance sites (Freelancer and Upwork).
The first months were difficult. Like every other job, employers prefer those with ratings and reviews. I didn't stop though. Then about a month ago, I finally got a break with a publisher on Freelancer.
So far, it's going great and if it goes my way, this will become an ongoing professional relationship and job, which hopefully will lead to other work.
I also had to discover my editing niche, which aren't much different than writing niches. Although it took me a little while, I figured it out quickly enough.
Since I'm a self-published fiction author on Amazon as well as here and Medium now, I decided my focus would be towards indie authors who may not have a big budget, but want a quality edit.
Not saying I won't help other, more experienced authors, but new authors, especially if they're self-publishing, need more help and guidance, which I'm happy to provide.
And a few weeks ago, I published my website, Gem In The Rough Editing. Figured if I was going to be an editor, I needed a platform all my own.
So why am I telling you now?
Well, the members only challenge was the perfect way for me to mention my new editing business without sounding promotional, which isn't what I'm trying to do, although I do want business, haha.
And if I'm going to be honest, I don't even care about winning the challenge all that much. I know, probably an odd thing to say all things considered, but I just wanna talk about my business.
Because damn, I'm pretty proud of myself and am excited to see where I go next!
Thanks for the read! Tips, hearts, and shares are always loved. If you want to check out my site, here's the link, gemintheroughediting.com
how to
About the author
Author and editor trying to improve myself, hopefully helping others along the way.
My Twitter @AmethystC99. I'll follow you back.
gemintheroughediting.com is my editing site.
Reader insights
Be the first to share your insights about this piece.
Add your insights