'Boiler Room' Still Makes Traders Sweat
Before there was 'The Wolf of Wall Street,' there was the iconic film 'Boiler Room.'
Revisiting Boiler Room after watching The Wolf of Wall Street is like being lied to after a horrific accident. Both movies are based on Jordan Belfort's misadventures at the Long Island penny stock scam factor Stratton Oakmont but that's about where the similarities end. Boiler Room is the movie for those outraged at Wolf's lack of redemption. It's the happy ending version of a tale that really has no happy ending. But it still is not too bad, even if their version of Belfort, named Michael Brantley, is played by a mealy-mouthed Tom Everett Scott. He shows up every half hour or so before skulking back to his office. Not a very bad boy compared to Leonardo DiCaprio's whoring, coke-snorting Belfort. Instead, the focus is on a conscience-stricken junior broker, played by Giovanni Ribisi, who acts as a sort of audience surrogate. In this sense, Boiler Room is rather traditional. No morality here. The really bad guys get punished, and the audience is left feeling righteous.
Those who work in boiler rooms are participating in scams that routinely break SEC regulations and bilk investors out of huge amounts of money. Boiler room employees are the ultimate high-pressure salesmen. They do all their work on the phone, promising untold riches, confiding ultra-confidential "tips," and preying on the investor's greed and fear of missing out on a great opportunity. "No" is not in their vocabulary, and the only way to get rid of them is to hang up on them. Ultimately, the commodity they are offering tends to be worthless - some of the companies they sell stocks in don't exist. Boiler room brokers have two goals on any given day: make as much money as possible and avoid being arrested.
Insider's Perspective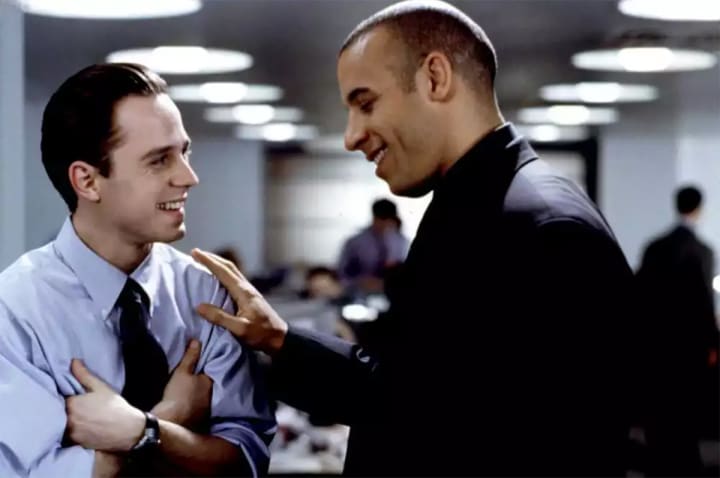 First time writer and director Ben Younger crafted this screenplay from an insider's perspective. In addition to interviewing for a job at a boiler room firm and seeing some of its operations, he spent countless hours speaking to brokers, who, on the condition of anonymity, provided him with as much information as he needed. Thus was born Boiler Room, a quintessential story of turn-of-the-century greed and redemption. And, while I can't vouch for the verisimilitude of the movie's setting, it feels plausible. The attention to detail allows Boiler Room to achieve the same sort of insight into stock brokering that Glengarry Glenn Ross offered into sales. In fact, this aspect of the film is what makes Boiler Room a compelling movie-going experience. The characters and plot become secondary to the setting and atmosphere.
There are times when Younger displays his inexperience as a filmmaker. In one scene, for example, his choice of shots - as series of close-ups of Nia Long and Giovanni Ribisi - becomes repetitious. For the most part, however, such mishaps are minor, and the strength of the subject matter, not to mention our fascination with it, easily overcomes them. There's a familiarity to the attitudes and ideas encountered here. As Seth notes, too few of us want to work hard for our money; instead, we seek the quick, easy path to excess. Also apropos, however, is an old proverb: "If it seems too good to be true, it is." And that simple adage encapsulates a philosophy that no one in this film has learned.
Casting Calls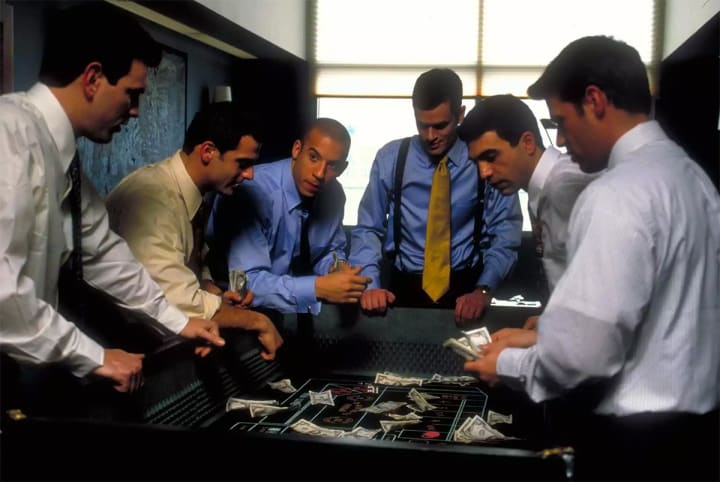 For his cast, Younger has reeled in a number of Hollywood's hot and happening young actors. Giovanni Ribisi, known for The Mod Squad, is given the opportunity to play an adult role, but, at least for Boiler Room's first half, there's an odd sense of coldness and detachment in his performance. It's hard to accept this version of Seth as fitting in with the rest of the J.T. Marlin crew and becoming one of their brightest stars. More convincing are Vin Diesel as Chris, a senior broker who takes a liking to Seth, and Nicky Katt as Greg, Seth's envious mentor. Then there is Ben Affleck, whose riveting supporting performance recalls Alec Baldwin's mesmerizing cameo in Glengarry Glenn Ross. Also appearing are Tom Everett Scott as the head of J.T. Marlin, Scream's Jamie Kennedy as another broker, and Taylor Nichols as a man whose dream of owning a home causes him to fall prey to one of Seth's scams. Essentially, Boiler Room is one of those films that one can look back upon and realize that it would become the launching point of some great career opportunities in the future for the cast. They may be onto bigger things, but nothing may be better than their combined work in this Ben Younger classic.
Giovanni Ribisi, cast as Seth David, is a attracted to the lure of quick money in Boiler Room. Most recently, Ribisi in can be seen in Seth Green's television show Dads, where he played the character of Warner Whittemore. He also has three movies that were released in 2015 release, including Results, an independent romantic comedy, which premiered at the Sundance Film Festival. On June 16, 2012, Ribisi married English model Agyness Deyn and filed for divorce in January 2015. Ribisi is an active Scientologist and participated in the gala opening of Scientology's Psychiatry: An Industry of Death museum in December 2005. Between 2005 and 2008, Ribisi played Ralph in multiple episodes of My Name Is Earl, earning a 2007 Emmy nomination for his performance. He also appeared in Jon Spencer Blues Explosion's music video "Talk About the Blues". One of his biggest hits was in September 2008 when he appeared twice on the HBO comedy series Entourage.
Maybe the most recognizable name from this cast, Vin Diesel, is a senior stockbroker who takes a liking to Seth. Diesel's most recent work was in Fast and Furious 7, the latest addition to the Fast and Furious series. He has also recently serve as the voice of Groot in Marvel's Guardians of the Galaxy. Science fiction fans love him as the character Riddick in The Chronicles of Riddick trilogy. Diesel has also starred in films such as xXx and Find Me Guilty. His voice acting work includes The Iron Giant, the video game spin-offs from The Chronicles of Riddick franchise, and Guardians of the Galaxy. He wrote, directed, produced, and starred in a short film titled Multi-Facial and the feature-length drama film Strays. He is the founder of the production companies One Race Films, Racetrack Records, and Tigon Studios. Diesel's first film role was a brief uncredited appearance in Awakenings. He then wrote, directed, produced, and starred in the short film Multi-Facial, a short semi-autobiographical film which follows a struggling actor stuck in the audition process. The film was selected for screening at the 1995 Cannes Festival. He made his first feature-length film, Strays, an urban drama in which he played a gang leader whose love for a woman inspires him to try to change his ways. Written, directed, and produced by Diesel, the film was selected for competition at the 1997 Sundance Festival, leading to an MTV deal to turn it into a series. He was then cast in Steven Spielberg's 1998 Oscar-winning film Saving Private Ryan on the poignancy of his performance in Multi-Facial.
In Boiler Room, Nicky Katt is cast as Greg, Seth's envious mentor. However, is one of the few child actors that has been able to find consistent work in Hollywood over the years. He first appeared in ChiPs in 1977 at the age of seven. Since Boiler Room, his most notable movie performances were in Grindhouse as Joe and in Sin City as Stuka. His most notable role, however, came on Boston Public as Harry Senate. Katt was born in South Dakota. He has co-starred in many movies and received critical praise for performances in The Limey and SubUrbia. Katt often plays unsympathetic characters, such as an irascible motorhead in Dazed and Confused with Ben Affleck, an ill-fated racist child rapist in A Time to Kill and an embittered business rival in Boiler Room. He was also originally cast to star in the ABC Spring 2006 replacement series The Evidence but was replaced by Rob Estes. Katt was a child actor as well, appearing as Marc Singer's son on the TV series V. He also lent his voice in gaming as the voice of Atton Rand in Star Wars Knights of the Old Republic II: The Sith Lords.
It was slightly controversial to even cast Tom Everett Scott in Boiler Room after his role as Guy Patterson in the 1996 cult favorite, That Thing You Do! His performance as Michael Brantley was nuanced and authentic, which would be a direct reflection of his career since. But if you are a fan of Scott, you can see him on SyFy's Z-Nation, or in some of his recurring guest roles on shows like Sons of Anarchy, Law & Order, and Southland. His iconic role of Detective Russell Clarke in the seven episodes of the first season of Southland and at the start of the second season, he became a recurring character appearing in three of six episodes. In the third season of the series, he has continued to appear in selected episodes.
The real scene-stealer is Ben Affleck, whose riveting supporting performance recalls Alec Baldwin's mesmerizing cameo in Glengarry Glenn Ross. His latest role is to reinvent the character of Batman so that the Justice League series of stories can be brought to film. For a good laugh, however, you might want to catch Clerks II. Or if you are more interested in seeing his serious side, he is in movies like Daredevil or the Gone Girl. Both of these movies show just how versatile he happens to be as an actor. Affleck began his career as a child actor, starring in the PBS educational series The Voyage of the Mimi. He later appeared in Dazed and Confused and various Kevin Smith films including Chasing Amy and Dogma. Affleck gained fame when he and childhood friend Matt Damon won the Academy Award and Golden Globe Award for Best Original Screenplay for Good Will Hunting.
About the Creator
New Yorker in his forties. His counsel is sought by many, offered to few. Traveled the world in search of answers, but found more questions.
Reader insights
Be the first to share your insights about this piece.
Add your insights