Best Youtube channels to learn graphic design. Part 4.
Here's a list of the best YouTube channels to learn graphic design, as a complete beginner. Today's lesson: Adobe Illustrator.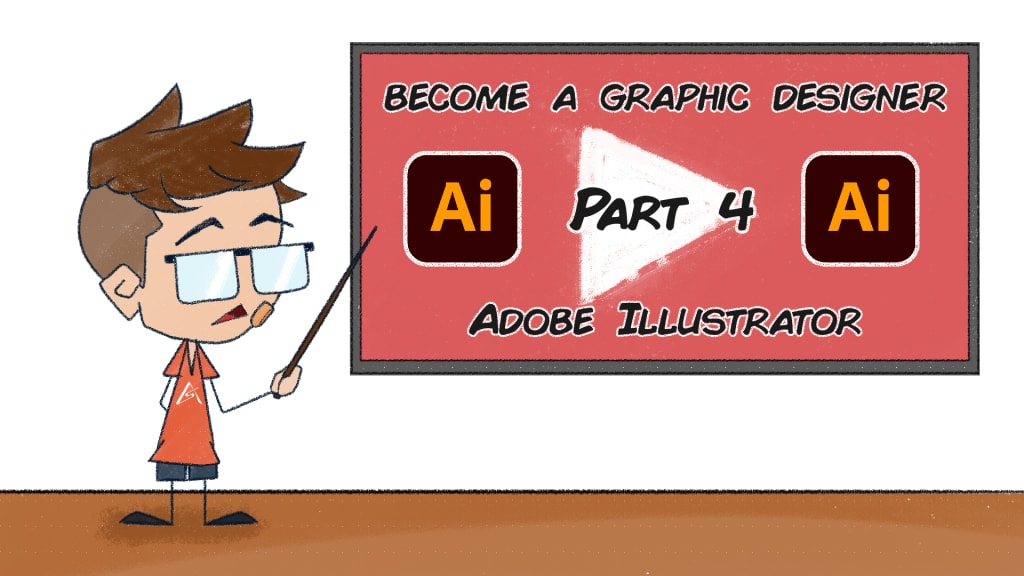 Illustration by the author. :)
Hello there!
This is part 4 of a series, where I share with you the ultimate list of Youtube tutorials for anyone who is looking to dig into graphic design.
Articles structure.
To keep things simple and organized, I divided this entire subject into 5 different parts, so you as a complete beginner to this field start with some basic knowledge and move onto more complex stuff along the way, without being assaulted with too much information at once. Here are the upcoming articles:
Part 1 — Graphic design basics
Part 2 — Marketing and branding for designers
Part 3 — Learn Adobe Photoshop
Part 4 — Learn Adobe Illustrator (You are here)
Part 5 — Learn Adobe Indesign
Let's go!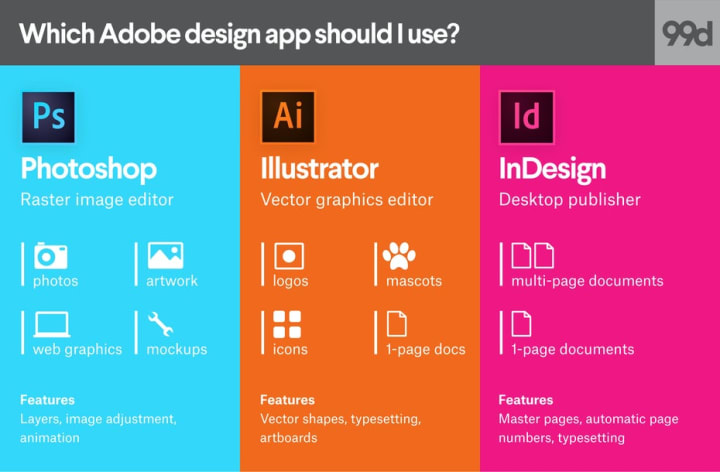 Today we are discussing Adobe Illustrator and as you can see in the image above from 99Designs, this program is mainly used for branding and logo design. In contrast to Photoshop, here you'll be working with vectors. Even if they sound scary, the best part about them is that you'll be able to scale your design without damaging the quality of your work.
Best playlist for absolute beginners: Gareth David Studio.
As I mentioned in my previous articles, the reason why I recommend these old tutorials (don't worry, this one is only from 2014, hi-hi) is the ability of Gareth to perfectly explain everything that it's going on the screen.
This playlist is PERFECT for anyone who hasn't opened Illustrator yet.
Doesn't matter how old you are, how good your English is, or how much experience you have with a PC. In this playlist, you'll find 19 well-structured videos that cover everything, from the interface to what each button/function can do. Gareth also provided some exercises files to follow along with him as he explain the process.
But… the tutorials are so old! What I'm going to learn from them?
I did this mistake when I was young. For a really long time, any tutorial or article that was even 1 month old, I will just throw them away.
Till I realize that I was actually throwing away valuable information. Try every resource that comes into your hands, till you find the one that works for you.
As for the programs, over the years, Adobe just added things and moved some options, but they DIDN't remove anything, nor did they drastically change the interface. So you can very easily follow these videos to help you get started in Adobe Illustrator, even if you have an older version.
At this point, you won't do any complicated illustration or brand identity, because you need to get accustomed to the program. So don't worry if you think you miss some features just because the videos are old. Just press play!
Illustrator marathon with Envato Tuts+
This is from 2020, and it's a very well explained and structured 3+ hours video to help you get started with Adobe Illustrator. You can find source files to follow along and timestamps in the video description to easily navigate the course.
Advanced Illustrator tutorials from Envato Tuts+
Even if I give you tons of resources to learn from, I try to stick to the same people or Youtube channels. Everyone has their unique style, and this way, if you started with a particular channel, in the future, you'll understand things easier, because you adjust to their style of explaining and presenting.
Create beautiful patterns with Nobu Design
I bet that at some point you probably saw a bag, t-shirt, mug, or poster with an intriguing design and wondered how it was made. Nobu has already 92 videos about this subject and the models can be applied to everything that you want. Remember what I said earlier about the vector capabilities?
So if you want to open your Print on Demand business or just search for some inspiration, this is the perfect channel for you. You can also watch it anywhere because the is no voice-over, just some written instructions on the screen.
Create beautiful illustrations with Dom Designs
Remaining in the illustration sphere, this playlist is for those who are interested in vector art. In each video, Doms will walk you through the entire process of vectorizing. From the initial sketch to the final result.
What should I do now?
You could start by smashing that little heart icon. Then if you never opened Illustrator before, I advise you to start with Gareth videos. But if you are a little more advanced, just move down the list, and choose one of the links you this it's suitable for you.
Good luck and I will see you soon with the next part!
Goodbye!

Pss... I originally wrote this article on Medium: https://ali-stoica.medium.com/best-youtube-channels-to-learn-graphic-design-part-4-7064fbc7898a
About the Creator
Hi, I'm a UX Designer, with 3+ years of experience in graphic design. Here I share my experiences and tips to help people break into this creative field. Nice to meet you!
Reader insights
Be the first to share your insights about this piece.
Add your insights