Best Youtube channels to learn graphic design for beginners. Part 1.
Here's a list of the best YouTube channels to learn graphic design, as a complete beginner. Today's lesson: design basics.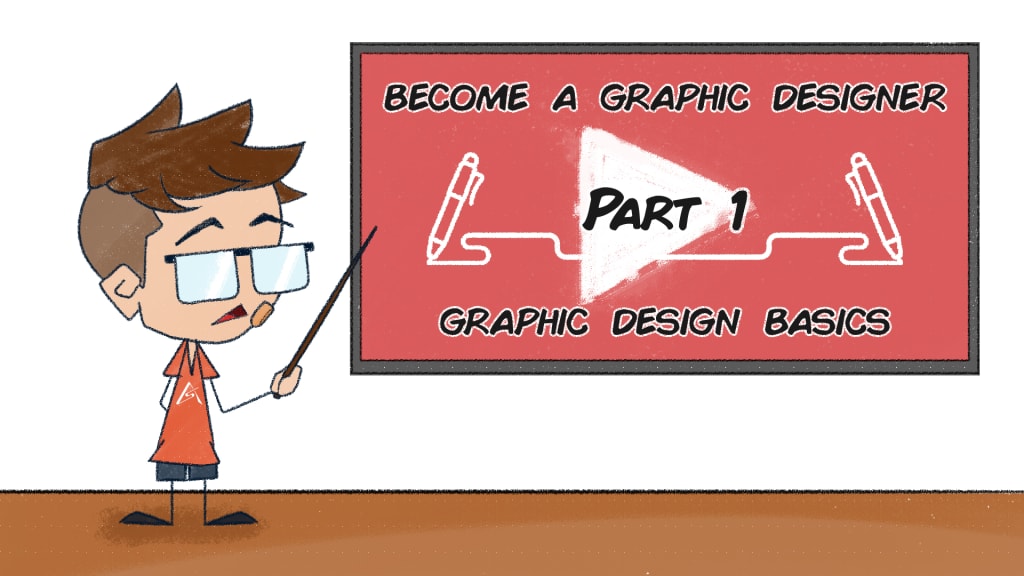 Illustration by the author. :)
Hi there! Thanks for stopping by!
My name is Ali, I'm a UX designer, with 3+ years of experience working as a graphic designer in print and advertisement production. Now, besides switching careers, I'm helping people like you to enter the graphic design field.
Most of the things I know about design I learned from Youtube. Over the years I watched countless tutorials and pack them into libraries to create my arsenal of knowledge. Today I want to share with you the channels and tutorials that I consider to be the best fit for anyone who is looking to dig into graphic design.
Articles structure.
To keep things simple and organized, I divided this entire subject into 5 different parts, so you as a complete beginner to this field start with some basic knowledge and move onto more complex stuff along the way, without being assaulted with too much information at once. Here are the upcoming articles:
Part 1 - Graphic Design Basics (You are here)
Part 2 - Branding and Marketing
Part 3 - Learn Adobe Photoshop
Part 4 - Learn Adobe Illustrator
Part 5 - Learn Adobe Indesign
Let's go!

Why Youtube?
First because is free. Second, because is enormous. Third... I already mentioned that is free?
Leaving the joke aside, as someone who just started, I don't recommend you to jump in all of the Skillshare or Udemy courses. It's not worth it to start spending money at this point, given the fact that you probably don't even have a complete picture of what graphic design is in the first place.
All the information that you need at this moment is already on Youtube. You just need some patience and probably some popcorn. You'll learn later why.
What to learn first?
Jumping directly inside Photoshop or Illustrator may be daunting, but being a graphic designer doesn't only revolves around the programs.
Everyone can learn them, they are the easy part.
When we think about design in general, our minds go directly to the finished product. T-shirts, logos, advertisements, games, illustrations, and so on.
But how do we get to the finished product in the first place? What do we need to do?
To become a good designer, you first need to understand what design is and what are the process involved to bring a design to life, transforming them into a finished product. This means that before even thinking about what programs should you download, you need to start research about design theory.
Yup. Good, old, plain theory, that will make you feel like you got back to school. But learning about lines, contrast, and color will help you understand more easily why you need to make certain decisions when you design something.
As well as what you are about to get into. Graphic design isn't an easy field, just saying. :)
Best place to start: Gareth David Studio.
This is by far the best playlist for anyone who is interested in graphic design. You don't need to have any particular knowledge or have a strong understanding of English. Gareth put so much thought and effort into every single one of these videos, that even a toddler could effortlessly understand what he's saying.
Yes, these videos are from 2016, but just like the books that you'll be recommended to read that date from 2002, the information inside is still very accurate. Because the core rules of design, the design theory, are timeless. Doesn't matter in which year we are, lines will always direct our eyes, elements arranged together will give us the sense of group.
He has tutorials for everything, from design theory to Photoshop, Illustrator, and so on. You will see me recommend him everywhere because he is so good.
And that's pretty much for today!
Why only 1 resource?
As I said above, I want to keep things simple and organized. By giving you a small number of resources in every article, it will help you digest the information much easier. You won't feel overwhelmed and want to give up.
But don't worry, I still have 4 more articles to make you change your mind and see you off to medical school. :)
What should you do now?
First, open the playlist and sacrifice 10 minutes to watch the first 2 episodes, so you'll have a basic idea of what are you walking into.
Then, if you liked it, there is a little heart icon around that you could smash.
After that, it's up to you if you want to continue or not.
If you'll choose the first option, I will see you soon with the second part!
Cheers!

Pss... I originally wrote this article on Medium: https://ali-stoica.medium.com/best-youtube-channels-to-learn-graphic-design-part-1-33d62a4a3898
About the Creator
Hi, I'm a UX Designer, with 3+ years of experience in graphic design. Here I share my experiences and tips to help people break into this creative field. Nice to meet you!
Reader insights
Be the first to share your insights about this piece.
Add your insights