Best Youtube channels to learn graphic design. Part 3.
Here's a list of the best YouTube channels to learn graphic design, as a complete beginner. Today's lesson: Adobe Photoshop.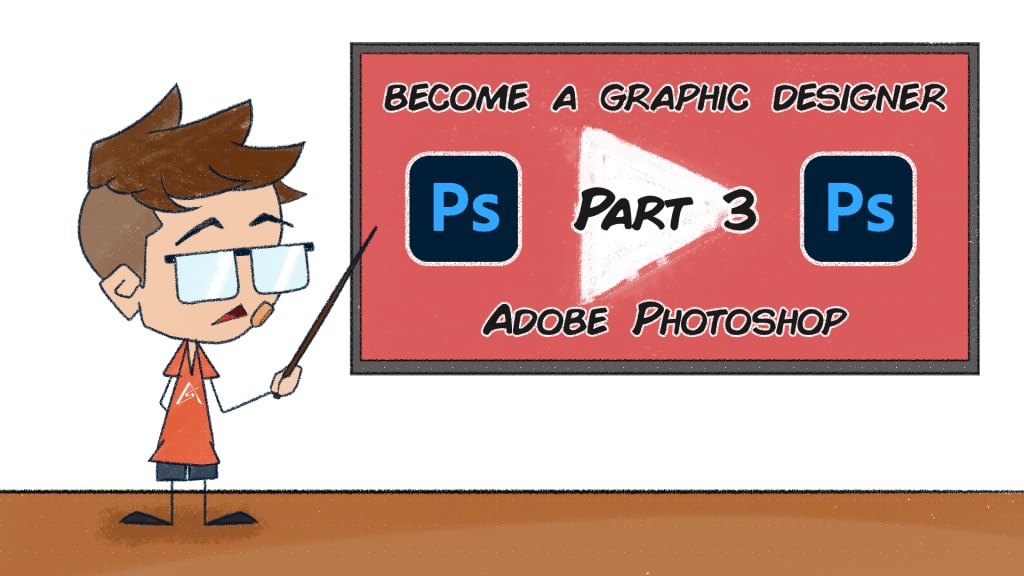 Illustration by the author. :)
Hi there! Thanks for stopping by!
My name is Ali, I'm a UX designer, with 3+ years of experience working as a graphic designer in print. Now, besides switching careers, I'm helping people like you to enter the graphic design field.
Most of the things I know about design I learned from Youtube. Over the years I watched countless tutorials and pack them into libraries to create my arsenal of knowledge. Today I want to share with you the channels and tutorials that I consider to be the best fit for anyone who is looking to dig into graphic design.
Articles structure.
To keep things simple and organized, I divided this entire subject into 5 different parts, so you as a complete beginner to this field start with some basic knowledge and move onto more complex stuff along the way, without being assaulted with too much information at once. Here are the upcoming articles:
Part 1 - Graphic Design Basics
Part 2 - Branding and Marketing
Part 3 - Learn Adobe Photoshop (You are here)
Part 4 - Learn Adobe Illustrator
Part 5 - Learn Adobe Indesign
Let's go!
If you manage to check out the articles from above (thank you, by the way, it means a lot) you probably saw that this field isn't as funny as it seems. It's a really hard and competitive domain. Well paid, yes, after you work your ass off. There are thousands of things to memorize and master to become a graphic designer.
But, let's take just one step at a time, shall we?
With what program should I start?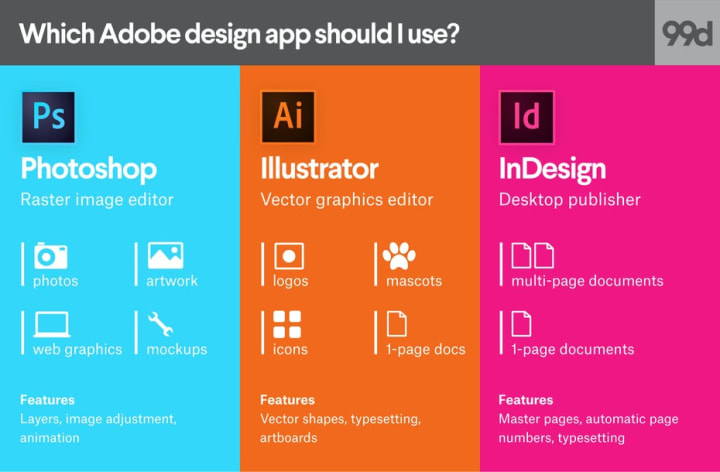 As a beginner graphic designer, you'll need to know your way around these 3 programs: Adobe Photoshop, Illustrator, and Indesign.
This is the order you should learn them. I choose to use this picture from 99designs because it illustrates perfectly what each program it's used for, mainly. You will start editing some images in Photoshop, then you'll move into vectors in Illustrator for illustrations and logos. After that, you'll create books, brochures, flyers in Indesign.
But why Adobe? It's so expensive…
Yeah, I know, so my wallet…
But they are in business since 1982 and their products are used worldwide. Although many competitors appeared over the years, every company will ask you to know Adobe Suite Programs on top of everything else.
Let's start with Photoshop!
This program is mainly used for editing photos. From cute drawings to insanely photo manipulations, you can create anything here. It can also be used for: professional illustration, pixel art, game design, GIFs, little animations, web design, and so on.
Below, I'll leave you a structured list of tutorials you should follow, to help you get started. From complete beginner to specialized tutorials.
Enjoy!
Best playlist for absolute beginners: Gareth David Studio.
As I worked on these stories, I decided to include David in every single one of them. Even if the tutorials are old (don't worry, this one is only from 2014, hi-hi), it's David's ability to perfectly explain everything that it's going on the screen that makes them stand up.
This playlist is PERFECT for anyone who hasn't opened Photoshop yet.
Doesn't matter how old you are, how good your English is, or how much experience you have with a PC. In this playlist, you'll find 34 well-structured videos that cover everything, from the interface to what each button/function can do. Gareth also provided some exercises files to follow along with him as he explain the process.
As for their age, over the years, Adobe just added things and moved some options, but they DIDN't remove anything, nor did they drastically change the interface. So you can very easily follow these videos to help you get started in Adobe Photoshop, even if you have an older version.
At this point, you won't do any crazy compositions, because you need to get accustomed to the program. So don't worry if you think you miss some features because the videos are old.
Photoshop marathon: EnvatoTuts+
This is from 2020, and it's a very well explained and structured 3+ hours video to help you get started with Adobe Photoshop. You can find source files to follow along and timestamps in the video description.
In-depth tutorials about Photoshop functions.
Let's see, you already know a few things here and there, but now you just want to change the color of your mother's dress, or create some stunning compositions.
Just like the Gareth channel, Piximperfect specializes in everything Photoshop-related. From 1-minute trick videos to in-depth tutorials about portrait retouch or image composition. He explains everything very clearly and his videos are fun to watch.
Create cinematic compositions with Nemanja Sekulic
Just like the others, Nemanja is amazing, I learned so many things from here, from how to create frosty hands to panda posters. He takes crazy ideas and brings them to life!
What should I do now?
You could start by smashing that little heart icon
Then if you never opened Photoshop before, I advise you to start with Gareth videos. But if you are a little more advanced, just move down the list, and choose one of the links you this it's suitable for you.
Good luck and I will see you soon with the next part!
Goodbye!

About the Creator
Hi, I'm a UX Designer, with 3+ years of experience in graphic design. Here I share my experiences and tips to help people break into this creative field. Nice to meet you!
Reader insights
Be the first to share your insights about this piece.
Add your insights