Art In The Garden
Creativity and Community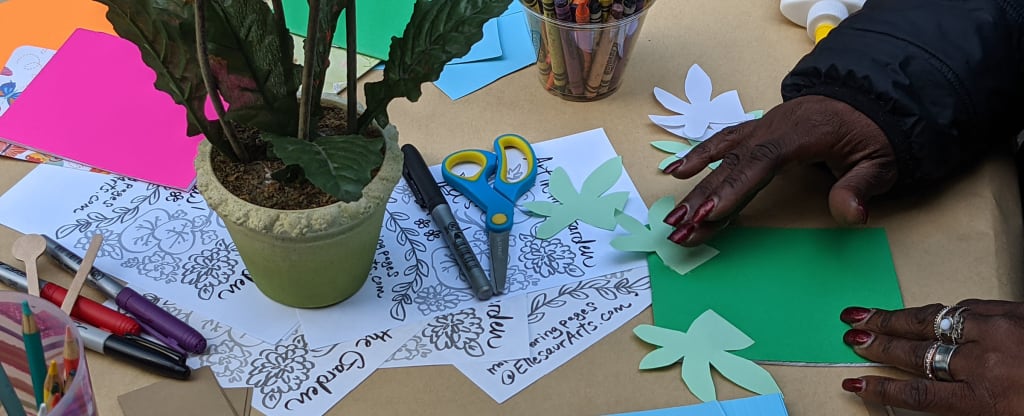 Art workshop in our local garden
Especially when I move to a new neighborhood, I try not to walk home the same way twice. New York City has so much to share on every block, whether it's tasty restaurants or obscure architectural details, convenient dollar stores or cute stray cats. It helps to notice where the closest delis are and how late they stay open, what's happening at the art center or library, if the nearby bar has outdoor seating this season, which side of the street boasts the smoothest sidewalks in case I ever need to roll a suitcase around (and which cracked ones make the most interesting photos), how busy the laundromat is right now, when a new business will be opening, beautiful murals or graffiti to admire, and where I can get a dramatic view of the sky.
One day, between two buildings, I found a teeny-tiny public park: our local community garden. The weather was too cold, or it was too late at night for the gate to be open, or I was rushing home from work to eat dinner... but I kept making a mental note to remember where it was and return to enjoy it sometime. Eventually, while frequently sweeping trash off the sidewalks around my building, I met my spry elderly neighbor from across the street, who opens and closes the garden each day. He walked me over, and told me all about it. Then awhile later, when I joined a neighborhood group where people arrange to give things away to each other, they announced weekly Saturday morning gatherings in the garden, to clean and plant and weed and meet the neighbors. Especially during covid concerns - when I needed to set new routines, and outdoors was the safest way to see people - this became part of my flow. Whenever I could, I kept those mornings available, tried to show up and support, be intentional about neighborliness, gladly participating in a space accessible to anyone and meant for everyone.
As I visited the garden on Saturday mornings, I envisioned coming back there on weekend afternoons, and perhaps during the week if/when my unpredictable schedule allowed, as a relaxing place to breathe and draw. Being a freelance artist with gigs to fill in, my calendar rearranges itself at a dizzying pace. But ideally, if I could somehow find or strategize the time, sitting outdoors and simply drawing sounded... sounds like a dream.
Having done a number of art workshops for kids comic cons, and set up interactive areas in art exhibits to connect creativity with community, the next thought was obviously to invite my neighbors to draw there with me. My overactive idea-generating brain quickly expanded this concept into what else was needed or could possibly be done at the garden. Spruce up their fading signage, online gallery of everyone's drawings, maybe even create an activity sheet or guidebook of plants - free as both a printed handout and digital file. But as always, I knew my limitations too well.
At the time, my employment was too unpredictable, my finances too sunken, even my basic needs of rent and groceries too tenuous to make any reliable commitments that weren't a tangible job or chance at paying work. And if I couldn't peg down my own schedule, it was impossible to make promises to anyone else. Though itching to act, I was reluctant to speak much about what I wanted to contribute in my heart, knowing it might ultimately be empty words, and never be feasible in reality.
But I didn't give up quite yet. I kept this vision in mind, began to strategize, and discovered a community arts grant to apply for. They were giving it out to many artists of New York City who struggled because of covid, and who could uniquely engage the public with community arts. Propose a project, no strict qualifications, just see it through. Unfortunately, I misread the timing on Round 1, was told I qualified for but did not win Round 2, and then.... after three months of trying, on the verge of eviction from my art studio... "congratulations!" I got the grant, at the very last chance.
It still took some time to get all the pieces together, for funding to come in and supplies to be collected. Most of the summer had passed already, and the start of the school year meant upcoming holidays like Halloween could compete with weekend dates. It wasn't meant only for families, but should be welcoming and compatible with their schedules. Also, I was concerned about the nearing cold weather - would there be any flowers left?
Like many conventions and art fairs I have been part of, one can never be quite fully prepared, but you do everything possible up until that day. Beforehand, I finally took some time in the garden with a few friends, both to properly relax and create images for the posters. I designed a coloring page with pre-drawn flowers for any reluctant artists, and collected all kinds of paper and coloring supplies and crafting tools for the more adventurous ones. There were still flowers and fresh plants in the garden, but I also had a place setting of colorful artificial flowers for each table, reference pictures, and floral wrapping paper for inspiration. Some of it came from the grant funds, some given freely by a local arts organization, some contributed by the neighborhood group, some reused from one of my many jobs, some sourced from my supplies at the now-rescued art studio. Thinking through details, I had a bottle of sanitizer for each table, and started putting flower stickers on them too.
Most importantly, is setting a date and showing up. Being present for whatever happens. Opening a space where community can flourish. While it may have been a very small event, I could see the good growing from it. Despite my efforts to manage single-handedly, it was truly made possible by my neighbor who brought a reliable team to clean before we arrived, by my sister who helped set up, a friend/co-worker who stepped in to assist, roommate who took photos and made chalk drawings out front, and the participants who made it a reality. It was encouraging to see the range of people it reached, multi-cultural, old to young, with many walks of life. Mom with a young boy, who heard about it on the neighborhood group. They stayed to draw and color for awhile, even turning the sticks (that I had demonstrated could become flower decorations) into stick puppets. Another stopped to ask "how often we do these?" and suggested connecting with the school next-door. A single professional woman who happened to be jogging past, and sat down to recreate the detailed pattern of a leaf. Lady from the homeless shelter down the street, who made one of the most elaborate projects, collaging paper cutouts - that she shaped like a potted plant - onto the cover of a small notepad. While I might show them a few ways to get started, I most enjoyed seeing everyone tap into their own creativity. And while they created, it sparked friendships, and generated some very meaningful conversations.
For the grant, I met their requirements. For me, it was one event, but also the first step to more. It prompted contact with the local civic association, and the arts group across the street. It raised the possibility of seeing if the school wants to do more, approaching the homeless shelter, and partnering with a local cafe that has a similar heart for community arts. Actually doing the workshop sprouted some new ideas too, like keeping art supplies in the garden shed, as easy to reach as a shovel. And why not other gardens?
Starting this New Year of 2022, we're still in the cold of winter, but spring is coming soon. I look forward to drawing in the garden again. My neighbor already called me this week, about making a new sign. And maybe this will be the year even more dreams come true.
About the Creator
Visual artist & writer immersed in drawing, illustration, and creative experiments @EllesaurArts.com
Community arts in NYC/LIC Queens and online, NaNoWriMo "The Ellesaur"
Love participating in challenges to motivate new work!
Reader insights
Be the first to share your insights about this piece.
Add your insights