Argie worldcup phenomen
How differently we relay on a sport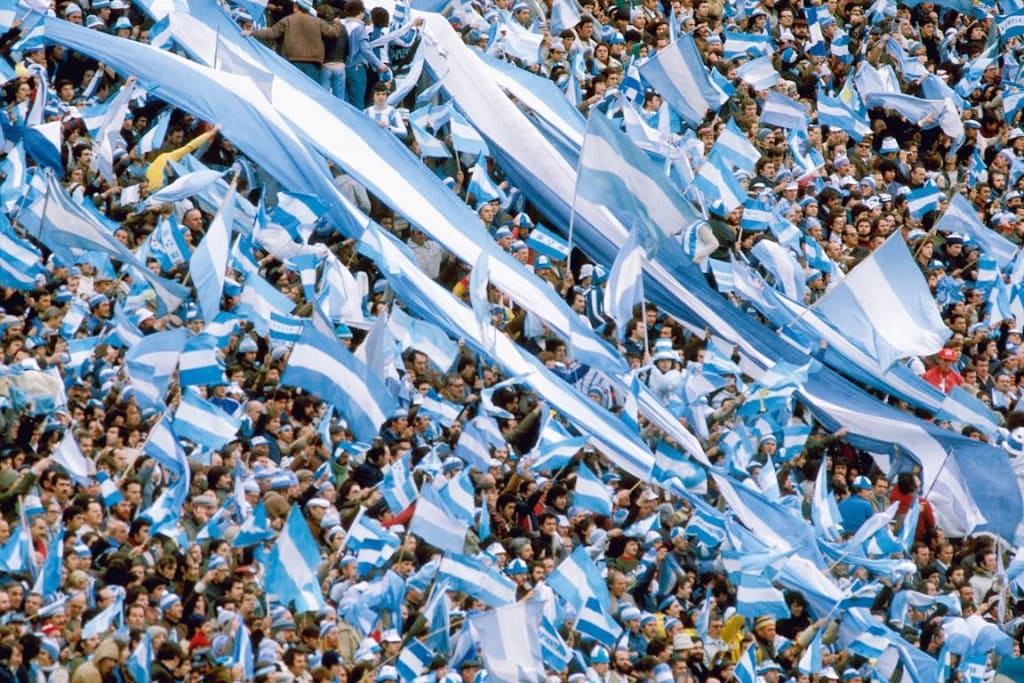 Here are some numbers in case you don't know how we live our futbol passion (I refuse to write s*ccer or f*otball):
There are 48 million habitants in the country.
November 2022 showed an inflation increase of the 6,5% making the anual inflation 88% so far.
Even with this crazy percentages, reporters assure that 40.000 argentineans are already in Qatar and after the last game against Poland, flight searches from the southamerican to the arabian country increased 170%.
Argentina won two worldcups. One as the event's host in 1978 during the last military goverment with a great team but an awful environment. The second one in Mexico 1986 with a brilliant Diego Armando Maradona leading the country and his amazing teammates to the reivindication not only sport but social wise.
I was born in 1991, in USA 1994 I was too little to remember Maradona being guided to the famous "Me cortaron las piernas" (my legs were cut).
France 1998 is my first memory. I was in first grade, the games were during the school time and not a single parent would pick us up so I remember painting lite blue and white flags with my friends and watching the games with the teachers.
Anyways, since then I remember each and every Worldcup. Where I saw the games, what was I doing during that entire month, how I felt after every elimination.
This being said, this current 2022 Worldcup finds us, argentineans, once again with an enormous illusion. Because that is how we are, no matter what. We love wearing our country colors and singing (well, maybe even shouting) our country songs, the officials and the made up ones.
A day that Argentina plays is a day that the country literally stops. People won't speak about anything else, shops will close, schools will receive kids to watch it there (if parents decide to take them) and if you walk the streets during the game you will feel like it is an abandoned place.
If Argentina scores a goal, is a unique and amazing feeling. One entire nation breaking their throats in just a sound. It is honestly unbeleivable.
We cry, we shout, we get angry, we are absolutely happy, we experience the greatest joy. We are just crazy about it.
In my experience traveling and meeting people, southamericans share this feeling. And it is beautiful.
I was in Sydney when Australia beated Peru and left them without Worldcup. It was so sad. Not one australian was aware of it while peruvians were devastated.
The USA is showing the world what quality of athletes and money can do, we all have to be careful with this team. But regarding their fans....I am currently living this tournament in California and trust me, they don't even care about it.
I am lucky enough to have bosses that even though they don't get my passion, they respect it and show interest about how Argentina goes. After every game they know they'll receive an email from me requesting my next day off.
For people to keep trying to understand how we work with this sport, at home we already have spots for each of us to watch the game, no one can change it after they worked against Mexico and Poland (of course they were not the same against Arabia). There is a designated person to take care of the mate (argentinean most traditional drink). I cook the medialunas (croissants) before the game starts and each of us have a lite blue and white piece of clothes. This includes hats, shirts and flags.
Many times I've been asked WHY? Why getting so passionate when it is just a sport? Friends, I can only laugh as an answer. Honestly, even if any argentinean tries to explain it to you, you will not get it. We are born with it, and only us can understand it.
About the Creator
Borned and raised in Patagonia, Argentina. I've been travelling the world chasing happiness and adventures for almost 10 years. I'd like to share life facts and couriosities with you!
Reader insights
Be the first to share your insights about this piece.
Add your insights