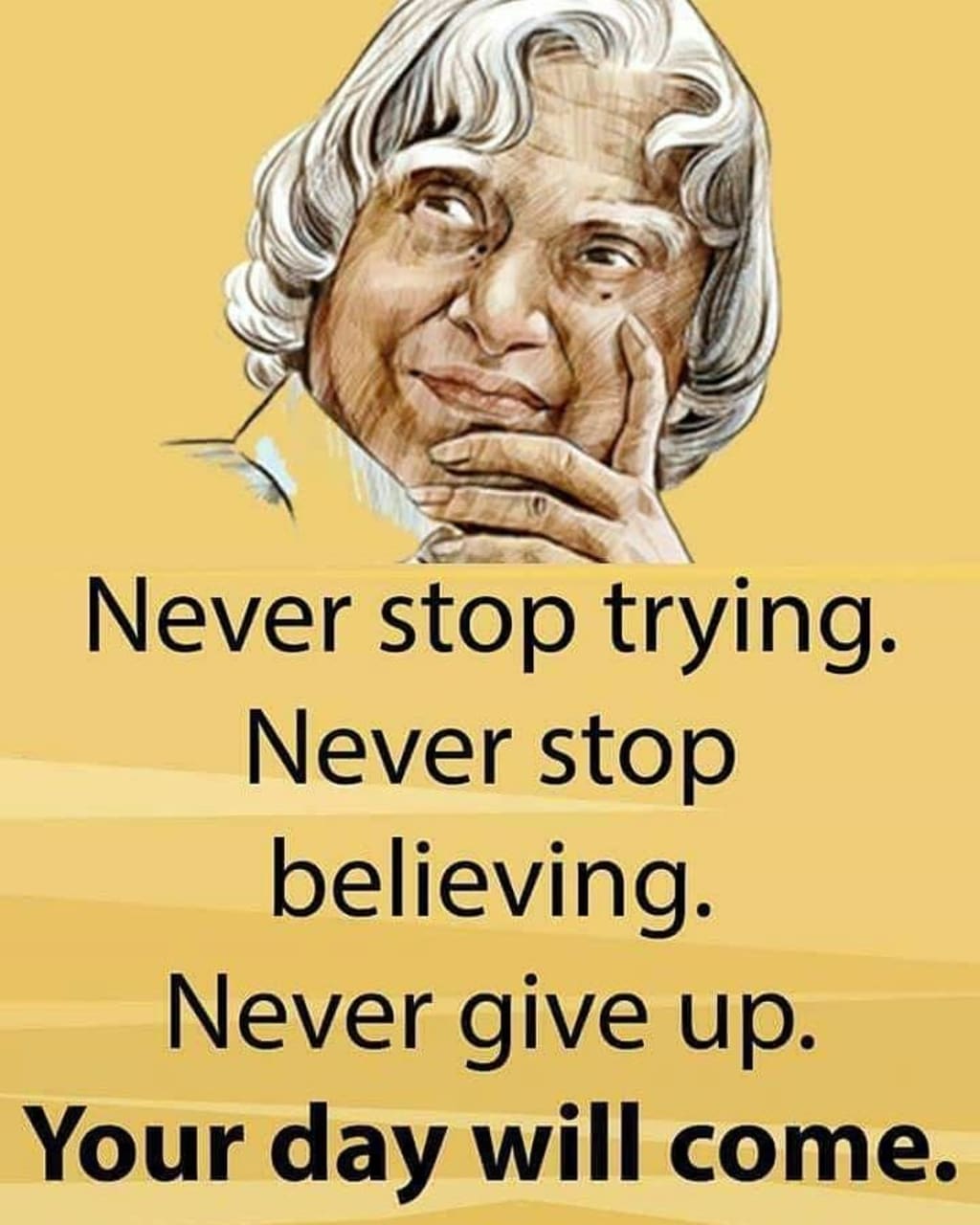 Dr. APJ Abdul Kalam: A Man of Vision, Inspiration, and Service
Dr. Avul Pakir Jainulabdeen Abdul Kalam, popularly known as APJ Abdul Kalam, was a renowned scientist, author, and former President of India. Born on October 15, 1931, in Rameswaram, Tamil Nadu, Kalam's life was a remarkable journey of passion, hard work, and dedication towards serving his country and inspiring millions of people worldwide.
Kalam was born into a humble family of boat owners and grew up in a small house with no electricity or modern amenities. However, he was a curious and intelligent child who loved to learn and explore the world around him. His parents encouraged him to pursue education, and Kalam went on to earn a degree in Physics from St. Joseph's College, Tiruchirappalli, and a degree in Aerospace Engineering from Madras Institute of Technology.
After completing his studies, Kalam joined the Defense Research and Development Organization (DRDO) as a scientist and worked on several crucial projects, including the development of ballistic missile technology. His exceptional skills, dedication, and leadership qualities soon caught the attention of the government, and Kalam was appointed as the Chief Scientific Adviser to the Prime Minister in 1992.
During his tenure as the Chief Scientific Adviser, Kalam played a pivotal role in India's nuclear program and helped the country achieve several significant milestones, including the successful nuclear tests at Pokhran in 1998. He also advocated for the use of technology and innovation in various sectors, including agriculture, healthcare, and education, to promote the country's development and progress.
Kalam's contributions to science and technology earned him several awards and honors, including the prestigious Bharat Ratna, India's highest civilian award, in 1997. However, Kalam's achievements went far beyond his scientific accomplishments. He was also a gifted writer and author of several books, including his autobiography, "Wings of Fire," which chronicled his life and career.
Moreover, Kalam was a beloved and respected figure who inspired countless people worldwide with his vision, humility, and kindness. He often spoke about the importance of education, hard work, and service to others, and encouraged young people to pursue their dreams and work towards building a better world.
Kalam's legacy continues to inspire and influence people even after his passing in 2015. His birthday, October 15th, is celebrated as "World Students' Day" in his honor, and his life and work continue to be a source of inspiration and guidance for people across the globe.
One of the most significant contributions of Dr. APJ Abdul Kalam was his advocacy for the use of technology in improving the lives of people in rural areas. He believed that technology could play a critical role in addressing the challenges of poverty, lack of access to basic amenities, and other socio-economic issues faced by rural communities.
As President of India from 2002 to 2007, Kalam continued to champion the cause of rural development through various initiatives such as the PURA (Providing Urban Amenities in Rural Areas) program. The program aimed to provide basic amenities such as healthcare, education, and infrastructure in rural areas through the use of technology and public-private partnerships.
Kalam's vision for a developed India was not limited to technological advancements alone. He believed that the country's progress was contingent upon the development of its youth and their active participation in shaping the country's future. As a result, he dedicated a significant portion of his time and efforts towards engaging with young people and encouraging them to pursue their dreams and work towards the greater good.
Kalam's passion for education and youth empowerment was evident in his interactions with students and his numerous speeches and lectures delivered across the country. He often stressed the importance of education in shaping an individual's personality, providing opportunities for growth, and contributing to the development of the nation.
In conclusion, APJ Abdul Kalam was a true visionary, leader, and inspiration to millions of people worldwide. His life and work were a testament to the power of education, innovation, and service to others. Kalam's legacy will continue to inspire and guide generations to come, and his contributions to science, technology, and society will forever be remembered and celebrated.
Reader insights
Be the first to share your insights about this piece.
Add your insights