Antique Golf Theme Challenge For The Fun
I need photos to complement my blog articles on antiques and collecting, "NOT THIS TIME!"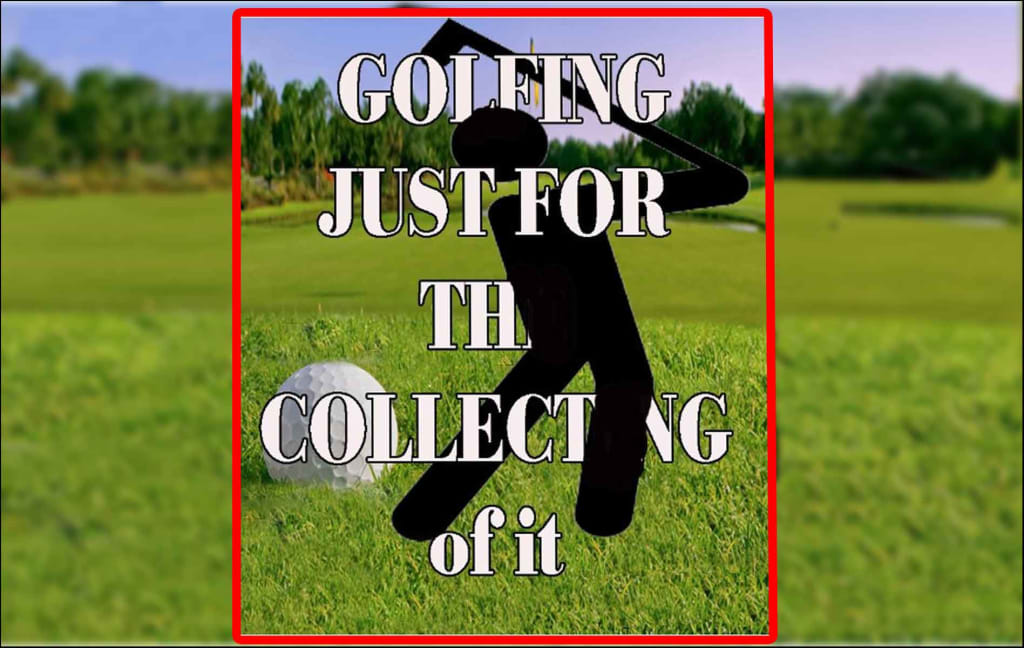 The "Antique Golf Theme" in the header description is kind of self-explanatory but the theme Challenge, well, that's something I think could be fun and exciting for people to try.
And it goes like this!
When writing an article about antiques or a collecting theme for my weekly blog post, I need photos to complement my written material. Even though there are many places to find free photos I still believe it's better to take your own photographs. (Borrowing copyright material quite seriously frowned on today)
My day started this way, my theme for Saturday's blog was "Anything that was Golf Memorabilia related"
If it's antiques I'm writing about, I go to as many antique stores, malls and flea markets to take my award-winning photographs. If it's a blog post on Transportation, I go to the places that best suit my post for those types of photos.
That's where my camera and I do our magic.
But what started as a photo shoot for golf-related anything for my blog, turned into something different, a "Golf Related Theme Challenge." I call it.
This is the fun part of wandering through an antique mall, is having a purpose. My original intent was to take photos from those jam-packed rented cubicles full of good stuff.
But now it's turned into, how many Golf related items can I find? It's a theme challenge; I challenge anybody to, it's fun and a cheap afternoon out for anyone.
Silly Joke to break the mood…. Famous baseball player Babe Ruth said . . . It took me seventeen years to get 3,000 hits in baseball. "I did it in one afternoon on the golf course" --- I thought it was funny! ---
Back to the serious part of the article
The question is: can you train the eye just to spot golf balls from Bob Hopes National PGA Tournament and leave the rest of the collectibles alone? I think yes and this is the reason why.
My journey with collecting started with one antique cast iron bank. And then there were two! Anybody that has collected anything remembers the first initial spark of excitement. Without realizing it; now you got the bug.
I visited the automotive swap meets, flea markets even garage sales. I got so enthused with banks collecting I could smell the presence of them hiding, someplace, anyplace. I know you're here!
So I know firsthand that you can train the eye to spot any collectible item you fancy and then you too can take the "Antique Golf Theme Challenge"
So what started as a photoshoot turned into something different?
I took my own Antique Theme Challenge and left my camera at home --- well, I lied. I left it in the car, just in case I changed my mind again.
I could and did take my own challenge. My body senses got so refined after a bit, I could smell collectors golf balls hiding, I could sense that wood shaft golf club of the 30s tucked in the corner in an out of the way spot.
I know you're here little pertty!
I look high and I look low under shelves and on the floor. What is meant to be a worthless item to the unaware vendor could be a find for a person when their sole reason in this world is to find anything golf-related.
In case you're wondering, there are golf-related ashtrays, special collectible wood or plastic golf T's with advertising, Photos with Arnold Palmer crudely printed on them. There are special tournament golf shirts that they only produced a few of. Lee Trevino open classic unused entry tickets. Signed trophies and --- the list goes on.
And surprise, surprise, most collectors are avid golfers themselves.
Those people that collect golf-related items have a ten dollar name associated with them like "Golfophilist" well maybe that's not totally true, but if a coin collector is called a "Numismatist" then, Golfophilis is a "golf-related collector." "You won't find it in the dictionary but that's my story.
Did you know a "Deltiologist" collects picture postcards?
"David the Deltiologist" "I like it!"
But the challenge doesn't have to be a golf-related theme; it could be anything of your choice. Just pick one. Go to your favorite antique mall, flea market, take your kids, drag the whole family if you like. Spend a fun afternoon looking for that one theme of your choosing. You'll be surprised how much fun that can be!
If nothing else, taking the challenge in an antique store will take you down memory lane. fun places you haven't visited for a long time. You too might find a few crocodile tears running down your cheek from those fun years gone by.
And the bonus part, these places don't charge anything for browsing. Well, I lied again. The bigger antique shows might charge a small admission, "Not too shabby though, 3 hours of fun just browsing."
Take the theme challenge; you'll thank me one day.
"I know you're here," I say to myself. You could almost smell them hiding under something, maybe behind that Royal Dalton figurine, or on the floor, nobody looks down there. "Did you know that most people only check items at eye level?" They never look up and, they never look down.
From the belt around your waist to your eye level is today's scientific thinking.
In photography, the number 1 rule is "LOOK AND SEE." Well, I just applied that saying a different way!
I know it sounds like I'm a novice and know very little about collecting, but I hate to differ. For many years we have been into collecting antiques and memorabilia.
Like mentioned, my original journey started with one antique cast iron bank from the 1800s. And then there were two! And then there were three."
Another Joke to lighten the mood.
American professional golfer Sam Snead jokingly said: "These greens are so fast I have to hold my putter over the ball and hit it with the shadow"
Extra Note from Author
That day of the challenge was supposed to be a photoshoot for my Saturday blog. I didn't take any award-winning photographs but I did find a lot of Golf theme collectibles.
For example; Harry Vardon Trophy in 1937, two shoehorns with golf-related advertising, jewelry, scoreboards from PGA Tournaments, an autographed trophy from the Bob Hope US Open. And, another late 1800s cast iron coin bank that I wasn't looking for.
"I know you're here," I say to myself. You could almost smell them hiding under something, maybe behind those 60s pop concert posters.
Antique Theme Challenge, it's a fun day out with a purpose.
The last joke of the day; American professional golfer Sam Snead jokingly said: "These greens are so fast I have to hold my putter over the ball and hit it with the shadow"
Hope you enjoyed this article.
If you found this story entertaining or resourceful, make sure to click that clap button. That way I know you enjoyed the story or didn't! As always, thanks for reading! Please FOLLOW ME for the next interesting article, I have more, "collecting cars, finding gold at a swap meets, barn-find stories."
And don't forget to check out my website for … more! Sixpaque.ca & BlogginginCanada.com
career
I'm a truck mechanic by trade, a Canadian blogger by night. Some of my articles sound and might have the feel that this guy has been around the block, well, I feel I have.
Receive stories by dave Wettlaufer in

your feed