An Overview of "The YouTube Formula" by Derral Eves
Unlocking YouTube's Algorithm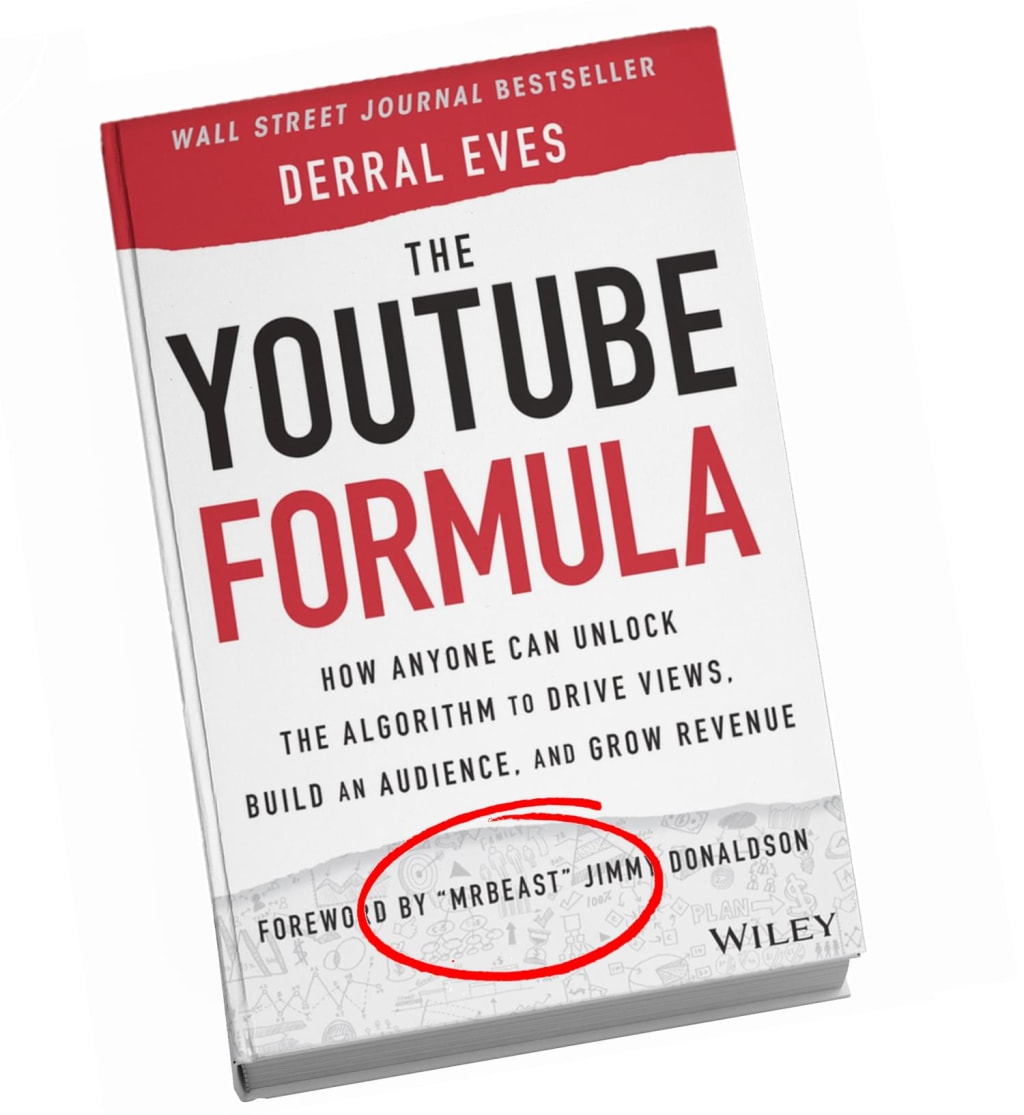 The YouTube Formula
The YouTube Formula, by Derral Eves, provides insights on unlocking the algorithm to drive views, build an audience, and grow revenue on YouTube. It became a Wall Street Journal Best Seller in February 2021.
In addition to the book, Derral Eves hosts VidSummit each year, the world's #1 YouTube data conference. The conference brings together some of the biggest names in the industry to share their insights and strategies for success on YouTube.
Background
Derral Eves is a well-known name in video marketing and YouTube. He has helped over 25 YouTube channels develop and execute their content strategy to reach over a million subscribers each, including the Harmon Brothers and The PianoGuys.
His company Creatus has generated over 54 billion views on YouTube for channels it has consulted with.
Diving Into the Book
The book starts with an introduction by Derral Eves himself, who talks about how anyone can use the power of YouTube to reach the whole world, no matter where they live or their circumstances.
He encourages readers to create great content they're passionate about and find their audience by speaking and listening to them.
Part I
The first section of the book focuses on understanding the YouTube platform. Eves first delves into YouTube's origin story and explains why learning that history is essential.
There's also a discussion of how YouTube developed the Partner Program: content creators could be compensated via ad revenue sharing. And how AdSense was the origin of that model.
He then moves on and explains how YouTube works, what its algorithm is, and how it ranks videos. It also provides tips on optimizing your videos for search engines and using keywords effectively.
Part II
In the second section, Eves discusses creating great content people want to watch. He explains how to come up with ideas for your videos, how to structure them effectively, and how to make them engaging for your audience.
Eves also discusses monetizing your channel and growing revenue on YouTube. He explains how you can make money from your channel (hint: it's not just Google AdSense). He covers advertising revenue, sponsorships, merchandise sales, and more.
Conversely, Eves discusses why many channels have failed over time (burnout, lack of focus, not getting the correct feedback, etc.).
Part III
The third section focuses on using The YouTube Formula to build an audience on YouTube. Eves explains how to promote your channel effectively using social media platforms like Facebook, Twitter, Instagram, etc., and other marketing techniques like email marketing.
He also delves into essential topics like:
Identifying your audience
Researching your competition
Content is king
Feedback is queen
Creating clickable thumbnails
Crafting better video titles
Capturing your viewers' attention
Optimizing, launching, and promoting your video
And much more.
The book includes case studies and information from successful YouTube creators.
ADDED BONUS: Eves also offers his YouTube Formula bonus online companion course to readers for free.
One of the Many Hot Tips
The YouTube Formula has many "gold nuggets" (actionable tips).
Here's just one:
On YouTube, it's necessary to experiment and test different video types, but once you find one that does well, creating another video of the same type as quickly as possible is crucial.
These videos are then added to a collection you will continue to upload. Not every video you create must be added to this bucket, but the more you add, the more the bucket grows and attracts more views, increasing the number of ideas for the other videos.
This "double-down on what works" concept is effective not only for YouTube but for content creation in general. I can testify without a doubt that it works.
Summing It Up
The YouTube Formula is perfect for any content creator, entrepreneur, social media strategist, and brand manager who hopes to see actual commercial results from their work on the platform. It's a must-read for anyone who wants to succeed on YouTube.
In short: If you have a YouTube channel (or plan on starting one), this book will make you money.
With its practical tips and comprehensive overview of everything you need to know about YouTube, it's no wonder why Derral Eves is considered one of the top video marketing strategists in the world today.
➡️Click here for more information about The YouTube Formula on Amazon.
Disclaimer: This article contains an affiliate link. If you purchase through that link, I may earn a small commission at no extra cost to you. Thank you for your support!
Additional Disclaimer: The original version of this story was published on another platform. Link to original version: https://medium.com/smart-money-hustles/an-overview-of-the-youtube-formula-by-derral-eves-e4b7ec03c288?sk=5e5f0a2e8d6c87046058691244f5757a
About the Creator
Attorney, writer, and content creator. I write about passive income, affiliate marketing, AI tools, legal issues, content creation, books, and side hustles. I live in New York City.
See more at www.bestmoneyhustles.com
Reader insights
Be the first to share your insights about this piece.
Add your insights