7 ways a Power BI Consultant can help you attain 2x Business Growth
Power BI consulting services for 2x business growth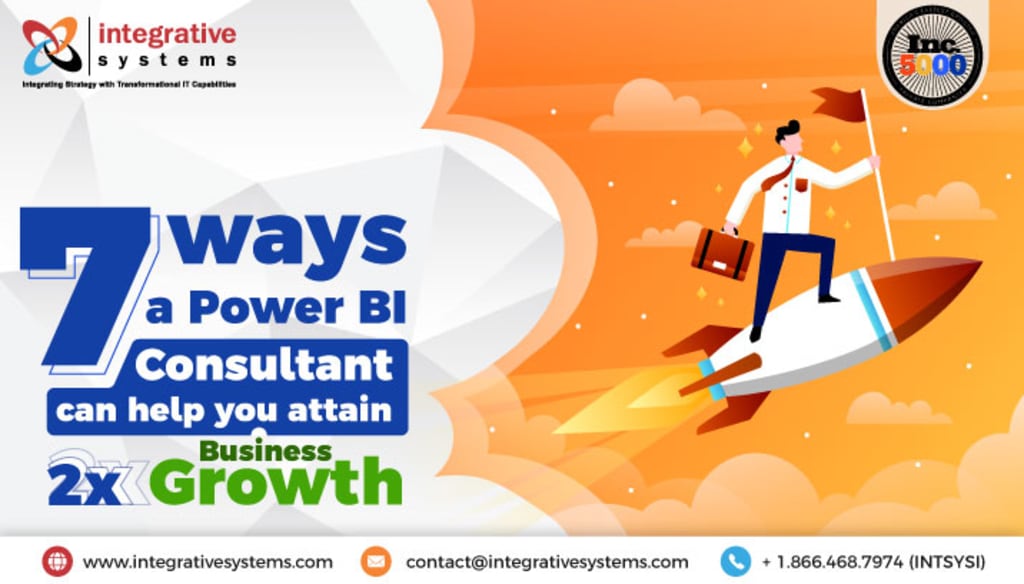 What do you think is the most crucial thing that a business leader does for a business?
Makes effective decisions that can add up to the business growth!
And, how do you think that can be achieved in the cutthroat competitive business era?
With the help of effective data insights and powerful business intelligence tools.
A powerful business intelligence tool not only boosts the data analysis capabilities of an organization but also empowers strong business decisions.
Better business decisions backed by core data propagate business growth.
And, as a business leader, you are just one decision away from unwinding this crazy potential that business intelligence can bring to your business, hire a reliable power BI consultant to get the rock moving.
Why should you choose Microsoft Power BI?
Today, if we are asking this question to ourselves then we are in the wrong position!
The question should be, "Why should you not choose Power BI?"
Ease of use, robustness and top-notch security, interactive dashboard, sharing at a click of a button, cost-effectiveness and what not!
There are tons of reasons to choose Microsoft Power BI as compared to other BI tools available in the market. There is nothing easier and simpler than Microsoft Power BI to set up and implement.
And, if you decide to get a power BI consultant to help you with your business intelligence initiatives, trust me you are going to make the most out of it.
Let's unwind the benefits of getting a power BI consultant as an extension to your in-house data or IT team.
Domain-specific Expertise:
When you decide to avail the power BI consulting services, make sure you have this clause for domain expertise.
A power BI consultant with strong domain knowledge and work experience in the same domain as you are in can be highly resourceful for your BI initiatives.
They already understand your business, business functions, and the requirements that you set to achieve with them, better!
With the apt approach, they shall help you set up a well-organized BI solution to help you resolve your business problems around the data.
Advanced-Data Analytics
When you choose to move ahead with Microsoft Power BI, it's indeed a great initiative.
Why?
- Its a self-sufficient BI tool and similar to Microsoft Excel when it comes to usage
- Easily adaptable and doesn't require any intensive training
- Doesn't require much tech awareness to build simple dashboards
All in all, it's an easy-to-use tool to take out, slice, and dice data to get better insights for quick business decisions.
When it comes to a little deeper and critical data analysis, a helping hand in the name of a power BI consultant fits just right.
When you opt for power BI consulting, you get to leverage tool-specific knowledge and acquire even better data insights before making crucial business decisions.
No compromise on Data Security
May it be any business, Data is a real asset today. And, even the thinnest threat to data security can bring everything down.
Power BI extends a solid grip over the data and its access rights to people who liaison with it. It's called Row Level Security which allows you to control software's access and assign role-based access to only those to whom you want to permit access. This ensures data integrity and security at the report level.
There is another feature called "content pack" which allows you to control the visual modification ability of the members of your team.
The right power BI consulting services partner with the apt knowledge of building secure BI solutions can help you attain a robust and dependable BI solution for your organization.
Keeping up with the updates
You are stepping a powerful first move by making a decision to adopt a power BI solution for your organization, certainly!
Do you think it would be a good idea to stick to the obsolete versions of Power BI for months and years?
Not really, right?
Microsoft releases updated versions for Power BI every month; loaded with new data models, new connectors, visuals, and a bunch of features. Yes, of course, your in-house data team would put in every possible effort to cope with every update that pops in.
On the contrary, when you choose to work with a Power BI consultant, they help you make the most out of every update that is rolled out by Microsoft. Being a power BI professional it's a part of their routine to keep up with the upgrades and you at the receiving end get to embrace the benefit of it.
Have your back while Scaling up:
Having an in-house data team is a great privilege and a Power BI consultant can help you leverage it to the fullest.
How?
When you rope in a Power BI consultant, they not only bring the expertise and experience but also a lot of added expertise such as business analytics, database development, and data modeling.
While your in-house data team takes on the core operations and the technology part, you can leverage the power BI consulting authority to build stronger data models and develop intuitive dashboards.
Custom-tailored Dashboards
Custom fits are the best, undoubtedly!
How about custom-tailored dashboards for innovative and interactive visuals?
Yes, it's quite achievable with Microsoft Power BI.
Now, you can customize dashboard visuals with the help of your BI developer. This is achievable due to Microsoft sharing the codes to resolve the visualization issue.
Do not miss out on putting this special requirement up while choosing the power BI consulting services partner. This is pure liberty to use to your advantage and build BI solutions tailored to your niche-specific requirements.
Get Clearer Insights
No matter what is the size of your organization, no matter if you are a start-up or a fully established enterprise; you can't deny the fact that better insights can help you make better decisions that can add up to the business growth!
In the year 2020, the internet generated approx 2.5 quintillion bytes of data each day.
94% of business and enterprise analytics professionals say data and analytics are critical to their organization's digital transformation programs (MicroStrategy, 2020).
A Power BI consultant will help you organize the scattered data and build impactful visuals to draw better insights. You will be in a position to make better and clearly informed business decisions.
Conclusion:
As a business leader, it's always expected from you to have a far-fetched vision.
Investment to bring in the right Power BI consultant would pay you back in unexpected ways. With the help of a BI solution, you would not only make better business decisions but also paddle your way forward towards 2x business growth.
We, at Integrative Systems, have the right talent to help you with Power BI app development, data reporting, and visualization. Our experts have the in-depth knowledge to handle the platform and extract the most fruitful results for your business.
Get in touch with our experts at [email protected]
Reader insights
Be the first to share your insights about this piece.
Add your insights