20 Entries for the Vocal+ Fiction Awards (2021)
A Complete List of My Entries for the Challenge
Below are my 20 entries for the Vocal+ Fiction Awards challenge (2021)! Included are the links, playlists (if applicable), and brief summaries for each. Many were initially created for other Vocal.media challenges prior to the announcement of this challenge, but they were equally qualified for it! I wanted one cohesive list for all 20 pieces!
A Day Taking Care of Someone Who Can't Take Care of Himself
My first post on Vocal.media, this piece was created for the 2021 "Little Black Book" challenge. I was admittedly rusty when it came to punctuation around dialogue, but have opted to leave it as is as a statement to how far I've come in the time since it was written. It is also a story close to my heart; the ending is fictitious in order to meet the requirements of that initial challenge, but the details of the routine are largely based on my own experiences as secondary caregiver to my younger brother with a multitude of special needs. The main characters' meal at a restaurant is interrupted, and the older sibling must contend with the challenges of caring for her brother after their parents pass away. When the restaurant owner offers to drop off their planner, the sister expects it to be a quick, awkward exchange - not the sweet and thoughtful one that occurs!
A Night of Beauty at the Quarry
Initially created for the 2021 "Dream Date" challenge, this piece comes in at about 2,000 words, has no playlist, and features some mild humor. Written in first person, the main character shares some wine with a fellow after a day digging in the dirt on a trip to various fossil sites throughout the states. While digging the date, the real find lies just beneath the surface.
An After-hours Tour for Two
My second entry created for the 2021 "Dream Date" challenge, this story sees a first date with a museum curator after dark. Sipping wine between exhibits, the duo visits the taxidermy displays of wildlife, the shimmering splendors of gemstones, and the awe-inspiring remains of the prehistoric past. Made with the Denver Museum of Nature and Science in mind, which I have greatly enjoyed visiting throughout my life.
A Young Man is Ready to Brave the Sea
Created for the 2021 "Fair Winds" challenge, this short sees a young man tending to the skittish animals of his hosts' home during a storm. It is only when a visitor appears with a newspaper that he finds the reason behind the suddenly solemn moods of his hosts.
Neuro Encapsulated
Initially made for the 2021 "Doomsday Diary" challenge, though it actually sat in submitted limbo for over 11 days! Supposedly the playlist link didn't work, though the story was never declined and I never saw an email, but either way, it sat. I don't know if it was even considered for the challenge, as the judging had pretty much closed by the time I reached out. I'd forgotten that most stories are approved or declined much sooner and had waited, figuring story traffic must have been high and that being patient was the way to go. Lesson learned - reach out if a story has sat for days. I was still pretty happy with how this one turned out.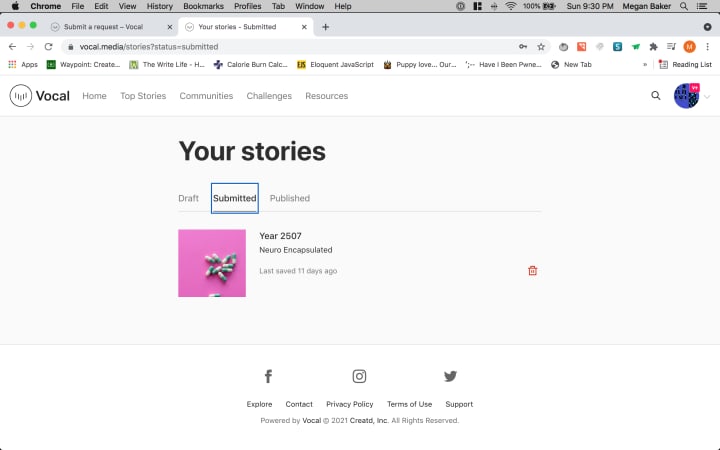 Any case, this story finds the main character, Neuro, hiding out in a Bunker-pod after society collapses and tranquilizer supplies dwindle. Her former partner, Hypno, searches for her with ill intent. As he tries to smash his way into the pod, Neuro tries to conserve her few resources, until she is forced to make a run for better shelter. As Hypno draws near once more, she is forced to make a difficult decision in order to reach safety.
A Class Reunion at a Favorite Haunt
Made for the 2021 Summer Fiction Series challenges, this entry qualified for all 8 challenges by including all 8 prompts! It was also a Top Story on Vocal.media's main page at the time, where it netted around 250 views; it is still my most viewed story to date by a significant amount! As it was the only entry to contain all 8 prompts for the Summer Fiction Series, it is the only story of mine to be included in the "Old Barn" challenge.
A class reunion takes place at an old, favorite haunt - the old barn just outside of town. As characters reconnect and catch up, mayhem breaks loose, and the party quickly scatters. Not all is lost, however; there is a coveted cake and much laughter to be had! Come see what all the fuss is about in "Mischief at the Barn"!
Now Serving Cake, Coffee, and Poison
This entry covered 7 of the 8 Summer Fiction Series challenges, following on the heels of "Mischief at the Barn" and focusing on the "Death by Chocolate" challenge. This short sees two women discussing the poisoning of one's lover by the roommate he was cheating on her with over cake and coffee. Not everything is as it seems, however, as the betrayed woman finds out. The cheaters get their just desserts; non-tippers are just the icing on the cake.
An Underwater Performer Lends a Pregnant Shark a Hand
Created first and foremost for the 2021 "Deep Dive" challenge, I couldn't help but try to make this entry fit for the remaining 7 Summer Fiction Series challenges going on at the time as well! The result is a mostly coherent short with a slightly wonky ending - but that last picture is a laugh riot!
Rachel is an underwater performer - a woman playing the part of a mermaid at the local aquarium. While trained to hold her breath upwards of several minutes, she is pushed to her limits when she tries to rescue Sandy, the tank's pregnant ragged tooth shark. Check it out and take a look at the, "not a bull shark" doodle! A quirky, fun write!
The Family Prankster Strikes Again!
Created largely for the remaining 6 Summer Fiction Series challenges, this piece was focused on the "Brown Paper Box" challenge, though it also qualified for the "Deep Dive" challenge to boot! The main character is dismayed to find a plain brown box on her porch - the calling card of her prankster cousin, Tom. She's overdue for a prank; just what is in the box this time?
A Man Remembers the Dream that Led Him to His Wife
Focusing on the "Golden Summer" of the Summer Fiction Series challenges, this story also includes the other remaining prompts as well. A sadder, more somber piece, it sees a man recalling the dream he had that led him to his wife, filled with snow, a dress made of marigolds, and the Northern lights. Not everything is as it appears, though, and the reality is bittersweet.
Teens Tangle the Meanest Bull in 300 Miles
Taking the "Raging Bull" of the Summer Fiction Series by the horns, "$500 on Bruiser" sees teens racing the meanest bull in 300 miles - through a corn maze. Because what else would bored teens do for a $500 prize pool? Months later, one of the teens finds the same bull in deep trouble, and rushes to help the animal out before it's too late.
A Promising Site Reveals a Remarkable Find
Also focusing heavily on the "Raging Bull" and remaining SFS challenges, this story takes us along for another fun dig! After scouting the area and deeming it promising, archaeologists begin digging. As the earth is cleared away, a most remarkable find is revealed! Just what scene do they unearth, straight from the Pleistocene?
A Man Reflects on the Day he Met His Aging Companion
Bringing the focus to the "Green Light" challenge included in the Summer Fiction Series challenges, "Laser Cat Jack" takes us back in time to the Christmas the man met his black cat, Jack. Lovelorn and miserable, the teen wants nothing to do with his new kitten. The then-kitten Jack has to work for the teen's affections, and pinpoints his way into his heart! The laser beam points this way, so come chase it!
A Teen Helps His Peer Break the Ice
Crossing onto the "Frozen Pond" challenge of the SFS challenges, this short sees teens at a party receiving a frantic text from a classmate in need of help. Only one seeks to help the other boy, and he finds his classmate in quite a predicament. The two spend the long, dark hours of the night chipping away at ice, much to their teacher's surprise the next day.
Brothers Represent the Dual Symbolisms of the Pear
Finishing out the SFS challenges with the "Pear Tree" prompt, this story can be either a follow-up to "The Icebreaker Assignment" or a stand alone. In it, brothers are teased by relatives about a past incident involving a pear tree. One is fed up with the long-standing jokes, and the other relishes in it. Each takes on one of the dual symbolisms of the pear.
Something Predatory Lurks in the Water
Created for the 2021 "Foggy Waters" challenge, this piece sees two divers searching a lake for the body of a missing man. Finding a previously unknown tunnel in the lake, they find more than they bargained for. Something predatory hunts in the cold waters, and it has luminous eyes fixed on them.
Justice in the Jungle
Pulling double duty for the "Foggy Waters" and "Scarlet Macaw" challenges, this short takes us into the jungle. A man and his relatives mourn the death of his nephew, thought to have been killed by a jaguar. However, he and his family begin seeing the teen's spirit, and the state of it indicates he was not killed by a jungle beast, but murdered.
Furthermore, the cover image (same as above) is likely a leopard, not a jaguar. However, with the title including the eyes, I wanted a photo that focused on the eyes of the big cat. And these eyes certainly stand out - so much so, that I continually came back to it after 20 minutes of trying to pick a photo that stood out more! All that said, this is one of my personal favorites for fiction pieces I created in 2021 - I've been happy with how this one turned out!
The Tragic Plight and Nighttime Fright
Focusing on the 2021 "Scarlet Macaw" challenge, this piece follows a day in the life of scarlet macaws waiting for their eggs to hatch. Poachers have long decimated their nests and numbers, so a pair seek out a special treat for their mates before the eggs hatch. They return to their worst nightmare, but hope is not completely lost.
Scavengers of Opportunity
Created to be either a follow-up piece to "Year 2507" or as a stand-alone piece, this short story sees Neuro seeking to raid other bunkers for supplies after she's spent nearly a year locked inside her own. Seeking more tranquilizers and nutrient powder to see her through for longer, she finds more than she expected to on her way back to her shelter.
A Bag of Marbles Sees Karma Come Full Circle
Fun fact: I wrote the first initial pages for this piece nearly a decade ago when I found my own bag of marbles tucked away in my closet. My dad always tells me about how, after he gave me the marbles, his cousin asked for them back because some might be worth something. Since it doesn't really fit any other large pieces I'm working on outside of Vocal.media, it seemed appropriate to turn it into a fiction short for this challenge. After all, it's just been collecting dust all these years - it was time to get it rolling!
Betty has hit a rough patch: she's been let go from her job and her lover has broken up with her for the woman he's been having an affair with for a year! When she tries to sell some items to make ends meet, she winds up taking some of the marbles gifted to her by her grandfather years ago to a pawn shop, hopeful for enough cash to float on as she seeks new employment. When her ex lover spots her there and tries to make a scene, he winds up getting what he deserves!
Thank you for reading! I hope you consider checking out some of my works - fiction or not!
list
A Colorado native and secondary caregiver to her younger brother with special needs, Megan enjoys her adventures in World of Warcraft, various types of documentaries, and making homemade items for the critters and people in her life!