18 Essential WooCommerce Plugins for Your Online Store
Ecommerce is growing constantly and for online shoppers and internet merchants, borderless eCommerce is becoming a successful choice.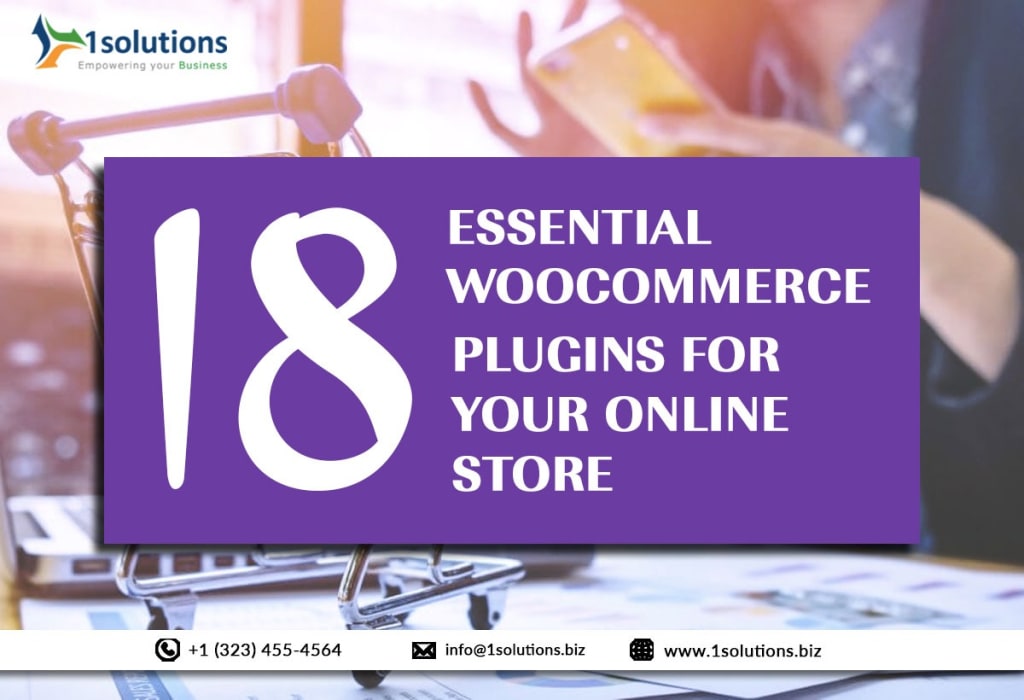 There are many professional eCommerce website service platforms like Shopify, Magento, Volusion but out of these WooCommerce is fairly popular among startups and small retailers.
WooCommerce is a WordPress-based open-source platform that offers an easy set of online stores. One of the great things about WordPress is that there are always plugins available that allow you to do more with your website.
WooCommerce is a robust platform in and of itself. However, there are certain limitations. If you want to create a fully-functional online store, you'll need the assistance of some of the top WooCommerce plugins.
When it comes to WooCommerce plugins, there are hundreds of solutions available to help you expand its capabilities and increase your store's performance but not all of them are essential.
Here are 18 essential WooCommerce plugins for your online store:
1. WooCommerce Cart Notifier
The WooCommerce Cart Notifier plugin notifies you when someone adds something to their cart on your store, so you can follow up with them and close the sale.
2. WooCommerce Checkout Field Editor
The WooCommerce Checkout Field Editor plugin lets you customize the checkout fields on your store, so you can collect the information you need from your customers.
3. WooCommerce Custom Order Fields
The WooCommerce Custom Order Fields plugin lets you add custom order fields to your checkout page, so you can get the information you need from your customers.
4. WooCommerce Customer/Order CSV Export
The WooCommerce Customer/Order CSV Export plugin lets you export your customer and order data to a CSV file, so you can analyze it or use it in another system.
5. WooCommerce Dynamic Pricing
The WooCommerce Dynamic Pricing plugin gives you more control over how product prices are displayed in your store. You can set different prices for different customer groups, or vary the price based on the number of products that are ordered.
6. WooCommerce Google Analytics Integration
The WooCommerce Google Analytics Integration plugin lets you integrate your WooCommerce store with Google Analytics, so you can track your store's performance and see how customers are interacting with your store.
7. WooCommerce Gravity Forms Product Add-Ons
The WooCommerce Gravity Forms Product Add-Ons plugin lets you add extra fields to the Gravity Forms product form, so you can collect more information from your customers.
8. WooCommerce Memberships
The WooCommerce Memberships plugin lets you create membership levels and restrict access to certain areas of your store based on those membership levels.
9. WooCommerce Order Status Manager
The WooCommerce Order Status Manager plugin lets you manage the order statuses on your WooCommerce store, so you can easily update the status of an order based on the customer's actions.
10. WooCommerce PDF Invoices and Packing Slips
The WooCommerce PDF Invoices and Packing Slips plugin lets you create PDF invoices and packing slips for your WooCommerce orders, so you can print them out or send them to your customers electronically.
11. WooCommerce PayPal Advanced
The WooCommerce PayPal Advanced plugin lets you use advanced PayPal features on your WooCommerce store, such as split payments and partial refunds.
12. WooCommerce Product slider
The WooCommerce Product slider plugin lets you add a slider to your product pages, so your customers can easily browse through your products.
13. WooCommerce Product Variations
The WooCommerce Product Variations plugin lets you add variations to your products, such as different colors or sizes. This makes it easy for your customers to select the right product options for them.
14. WooCommerceQuantity Breaks
The WooCommerceQuantity Breaks plugin lets you set quantity breaks for your products, so you can offer discounts when customers purchase multiple items.
15. WooCommerce Sales Tax by Country
The WooCommerce Sales Tax by Country plugin lets you set different sales tax rates for different countries, so you can charge the correct sales tax on your products based on the customer's location.
16. WooCommerce Sequential Order Numbers
The WooCommerce Sequential Order Numbers plugin lets you automatically generate sequential order numbers for your WooCommerce orders, so you can keep track of them easily.
17. WooCommerce Subscription Downloads
The WooCommerce Subscription Downloads plugin lets you sell digital products that are automatically downloaded to the customer's computer after they subscribe to your subscription plan.
18. WooCommerce UPS Shipping Method
The WooCommerce UPS Shipping Method plugin lets you use the UPS shipping system on your WooCommerce store, so you can easily ship your products using the UPS service.
TAKE AWAY
You can choose from a variety of e-commerce platforms, including WooCommerce to set up your online store. Hiring a professional WooCommerce development company will make your job much easier.
However, you may construct an effective online store by combining it with some of the other wonderful plugins that people have created to increase its functionality.
From managing your products, eCommerce store SEO, an email list with Mailchimp to developing new products with Fancy Product Designer, WooCommerce plugins can help you do it all.
These are just a few of the many WooCommerce plugins that are available. These plugins will help you set up and manage your WooCommerce store, so you can focus on selling products and making money.
If you're looking for more WooCommerce plugins, be sure to check out the WooCommerce Plugin Directory, or search for "WooCommerce plugin" in the WordPress Plugin Repository.
The WooCommerce plugin directory is a collection of all the best WooCommerce plugins, and it's updated regularly with new plugins and updates to existing plugins.
You can browse the WooCommerce plugin directory by category, or search for specific plugins.
business
About the author
Atul Chaudhary is a passionate blogger and covers digital marketing, web designing and development topics. He is the founder of New Delhi, India based web agency 1Solutions. When is he not working,
Reader insights
Be the first to share your insights about this piece.
Add your insights