From "Omni" to "Reboot" to "Futurism" to "Vocal"
One man's journey through the multi-verse of Vocal incarnations - an interview with Brent Millis - AKA Made in DNA - for the Vocal Social Society.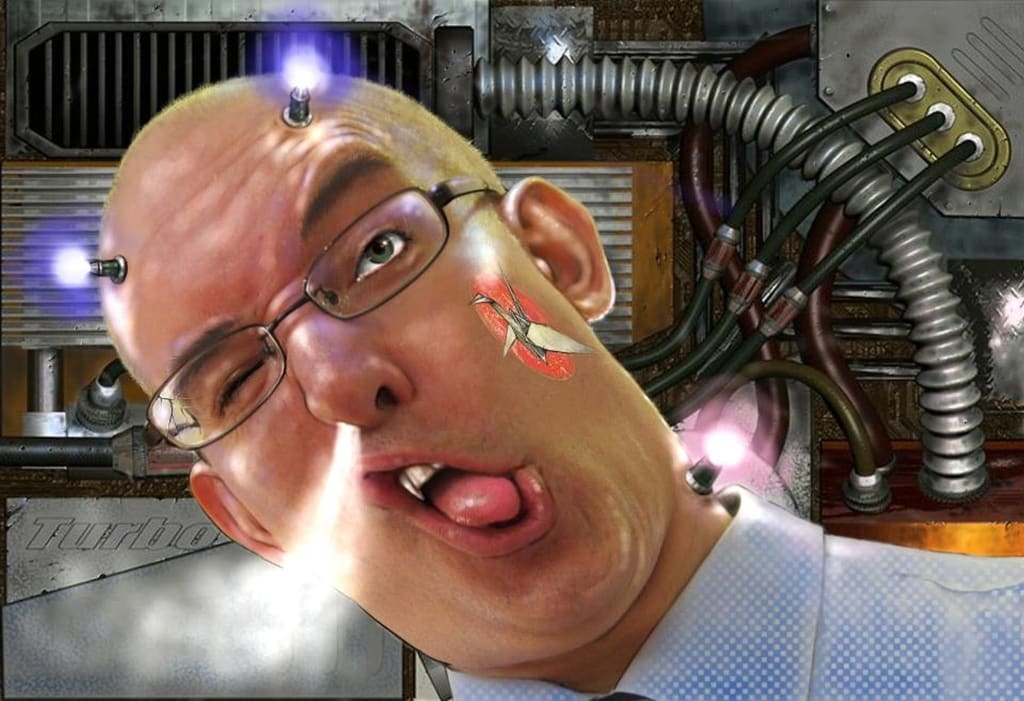 A couple of weeks ago this conversation took place on the Facebook group Vocal Social Society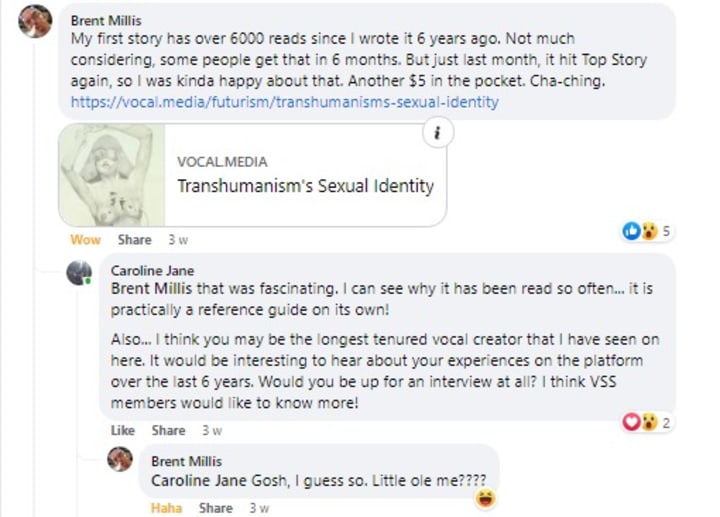 So here we are... Discussing the Vocal spectres of past, present and future with Brent Millis... the inimitable Vocal Creator Made in DNA
How did you 1st discover Vocal?
I discovered Vocal well before it was even called that. When it was just starting out, it was called Omni and Omni Reboot (after the URL). This was back in 2013. A lot of my social media friends were really excited about it.

I was a huge fan of Omni Magazine in the 80s and 90s, and I knew I wanted to be involved if possible as I was heavily into erotic sci-fi at the time (I still keep my hand in the game, but now I post more mainstream sci-fi).

If you are not familiar with the magazine or its zany creator Bob Guccione, you may want to do a VERY DEEP dive into the following Verge article.... (see below)

While it doesn't go into what exactly Omni was going to become, it is a treasure trove of background information.
Interviewer's Side Note:

IF you haven't got time for a VERY DEEP dive... here is the introduction from the fascinating article by ADI ROBERTSON for The Verge, published on 8th August, 2013:

"In 1998, classic science fiction magazine Omni closed up shop. Created in 1978 by Penthouse mogul Bob Guccione and partner Kathy Keeton, it had published some of the biggest names in science fiction — William Gibson, Robert Heinlein, and Orson Scott Card, to name a few — and given scientists like Freeman Dyson and Carl Sagan a platform with a freewheeling, irreverent bent. But after shepherding Omni into online-only format in 1996, Keeton died of breast cancer, leaving the magazine adrift.

Today, though, Omni is coming back — and with it, questions about how our vision of science and science fiction has changed since its launch. Omni's resurrection comes courtesy of Jeremy Frommer, a collector and businessman who acquired Guccione's archives earlier this year. Inside a warehouse full of production assets lie thousands of Omni photos, illustrations, and original editions, which Frommer plans to release as prints, books, or collector's items. But he wasn't content with mining the past. Instead, he hired longtime science writer Claire Evans as editor of a new online project, described as an "Omni reboot."
Tell me about Omni Reboot?
If you search http://omnireboot.com it takes you to the Futurism community on Vocal.

In its early form the reboot felt like it was destined to be a gonzo collection of sci-fi and science articles (much like the original magazine). I started work on my first title for them back in late 2013 after contacting Mr. Frommer (still have the email correspondence). Second drafted it in January 2014 and sent it in. It was accepted and published in July (as I re-read through all the email).

Originally titled "Omni Orgasm" it was a non-fic post on transhuman sexuality which got reposted here and there (or so I am told by folks who reached out to me after publication).

The dashboard, profile, stats and all that (which we have on Vocal today) was non-existent.
Here is Made in DNA's original 6000+ reads article... it is as enlightening as it is educational. Made for Omni Reboot - the precursor to Vocal's Futurism Community:
I had to send my article to them via email and let them take care of everything else. To be honest, I do recall it being at the top of the website for quite a while (probably because there was little other content - at least compared to now). But I actually left (much to my chagrin now) the account alone for the longest time after I first published. Response time from the original showrunners was a bit slow - I got the feeling they were really busy. Anyway, when I did return, in 2016, my article (now titled "Transhumanism's Sexual Identity") had gone through not only a title change (to "The Future of Sexual Identity and Transhumanism") but it had been lengthened and I was NO LONGER CREDITED! It was created to "Staff". I was pretty angry, but a nice letter to said staff and it was reverted. Unfortunately by then, it had thousands of hits.
How were they advertised back in the day?
Originally, it was the Verge article (and there are a couple others still around, just do a search for Omni Reboot) that garnered all the attention. Mr. Frommer immediately started a newsletter after that, but it was more about investment opportunities regarding the site/IP, so I quickly tuned out.
What was the subscription cost when you 1st started?
There wasn't one! In fact, I don't even think I was paid for the article. I wasn't in it for the money, just for fun. I'm impressed with the subscription, but now I wish I had gotten in on the founder's level. I think there's a founder's level, isn't there? I remember email/newsletter from Mr. Frommer. LOL. (Enough with the damn email from Mr. Frommer already.)
Did you get many reads?
Yes, I did. That original article (still up) has over 6600 reads. That's more than the rest of my catalogue combined, twice over.
How did you go about marketing your stories when you first started?
I'm afraid I'm very frugal and a bit nervous about spending money on marketing as an unknown author (ie hobbyist). Twitter and Facebook are all I've ever had. This year, I started a newsletter. Hoping to pick up some readers who aren't my mother. (Sorry, Mom.)
How has Vocal changed over the years?
Name (several times, from Omni to Futurism to Vocal), the ability to upload your own work, Quick Edit, etc. I think the biggest change is probably the audience now. I feel it went from being (as I said) a place where the weird and wacky (but extremely interesting) was expected to being more mainstream and even "branded". I don't think this is bad, but when I hit the front page, I wonder if the original audience I first engaged is even still here or if current readers are even interested in my work. (Forgive the self-pity. LOL.) Overall, I think the changes are great, but I still think there are so many more changes that need to be made. Being able to interact with your readers is a big part of the online experience these days and beyond Insights (which is ... okay) there's not much others can do to reach out to you as an author.
What would make the Vocal experience better for you? (More money 💰 ha ha ha)
Hahaha, more money would be sweet for sure. My biggest desire is being able to interact with readers. Engagement drives reads. Once you have stable engagement, it can be smooth sailing.
What stories of yours have the highest reads?
By far, my most successful story is "Transhumanism's Sexual Identity". Other top stories of mine...

The Minimalist Guide to Formatting your eBooks

SUPER SIMPLE steps that will get you a nice looking, SIMPLE ebook without spending anything on software you probably don't already have. Though first written back in 2012, it isn't that dated.
Unofficial Japanese Calendar Anniversaries (Jan-Jun)

a bit of honest, earnest humor about corporate/organization-sponsored "holidays" (including Parking Meter Day!).
Blade Runner: White Dragon Cut

a look at one man's journey (15 years and counting) to recreate Blade Runner from the February 23, 1981 script. This story is currently number three despite the fact that I only wrote it less than a year ago.
Who do you subscribe to and why?
Subscribing is new to me and I only have about 20 people I'm subbed to. Most are folks I've met in the Facebook groups or on social media. Of those though, most are active and prolific in poetry and short fiction. I prefer the quick reads.
Which social media platforms do you use? Why?
I've jumped on a few here and there - LiveJournal, MySpace, Plurk, Tumblr (sigh, RIP), Mastodon (still there). Most come and go, but I've been on Twitter since 2006. In the early days it was fast and furious and there was a lot of love. People posted fiction and manifestos on the MAIN timeline, and you would sit there and read it like it was word from on high. I loved it. Still do, but it's a different animal now. Facebook doesn't really satisfy me in the same way, but my family is there, so I hang to pour over cat, car and casserole photos. (You do what you gotta do for blood.)
Who else do you write for?
I just share work on Vocal for the time being. I have shared in other places, but I figure since I'm doing this for free, I might as well make soda money while I'm at it. For now, I'm happy to post everything for free. Of course, I've self-published on Amazon - amzn.to/madeindna and Smashwords - bit.ly/madeindna2, but I'm well aware that the only sales I'm making are from my mother who will occasionally create a fake account and buy something. I mean, come on, 5-star reviews from Pete Zaria and Rosie B. Eads? My mom. No doubt about it.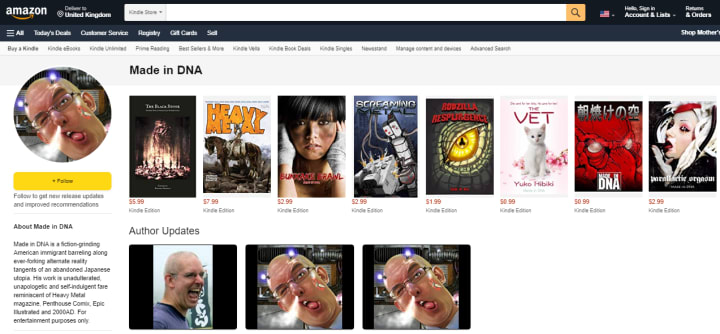 Do you have an authors page or a blog site?
Right now, Vocal: http://bit.ly/OMNIDNA is my homepage. LOL. That Twitter: https://twitter.com/Made_in_DNA) and Mastodon: https://octodon.social/web/@DNA) for those interested in that kinda thing.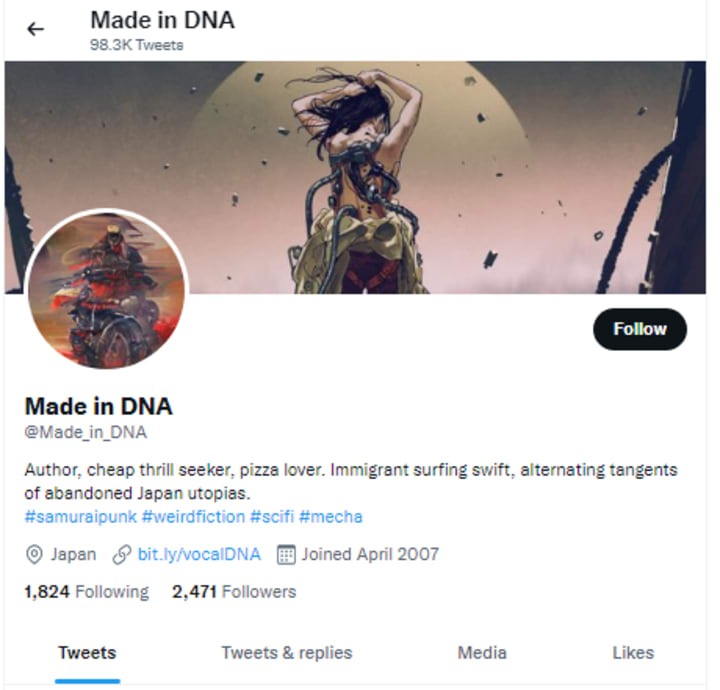 What is the most success you have had as a writer?
Hmmmmmmm. I once was published in Heavy Metal Magazine? Woo! Would like to see that happen again. Hoping to publish a series of standalone novellas. I'm not a super lengthy author. I prefer to write in the 40 - 60K word range. This is also the range I like to read. I know everyone loves a three-book, 1000-page "trilogy" but I don't. I want to read, finish and move on to something new.
What are your thoughts on the evolving creator economy?
I'm all for it. I would like to see more (obviously) money in the hands of the content creators than in those that just provide the grind platforms. At the same time though, I don't believe grind content is worthy of publication (sorry, influencers, but honestly, you'll cluttering up the Internet). It's lowest common denominator content and really we can do better than spending our time staring into the windows of other people's lives. But hey, I'm probably the old fart in the room.
What thoughts do you have on the future of Vocal?
Vocal needs to work on its present self. I don't believe it's quite meeting content creator needs fully. Perhaps work on getting everything smoothed out should be priority number one with them.
***
Thank you Vocal Creator Brent Millis - AKA Made in DNA - for such a candid and enlightening interview.
If you would like to subscribe to Made in DNA on Vocal here is a reminder link to their creator page MADE IN DNA.
Authors
Reader insights
Outstanding
Excellent work. Looking forward to reading more!
Top insights
Easy to read and follow

Well-structured & engaging content

Expert insights and opinions

Arguments were carefully researched and presented

Eye opening

Niche topic & fresh perspectives
On-point and relevant

Writing reflected the title & theme

Compelling and original writing

Creative use of language & vocab

Excellent storytelling

Original narrative & well developed characters
Add your insights