Chat With Les: Smile Happy Arts
Nick Slavik: Youtuber, artist, father & one of the nicest guys you have got to meet!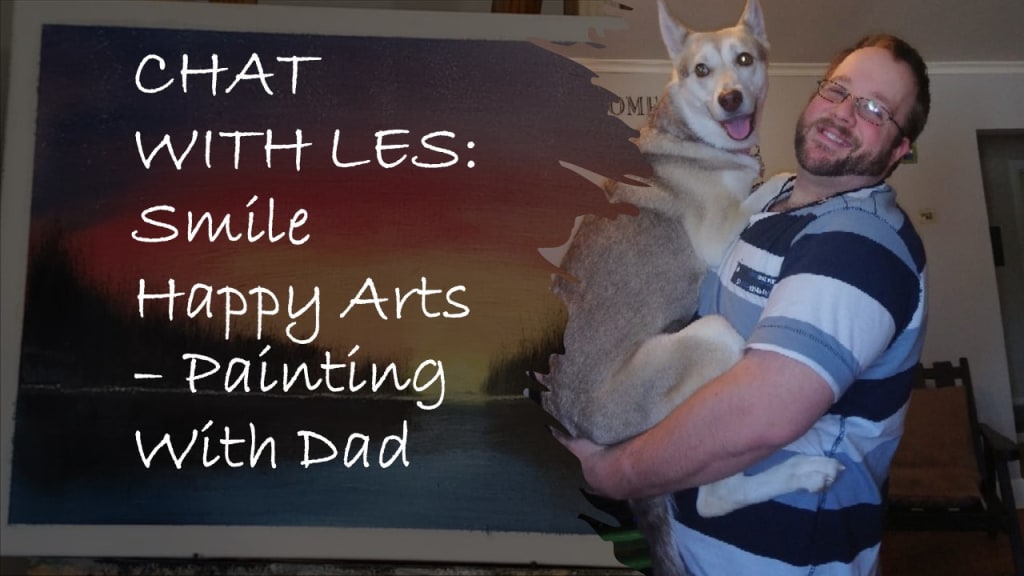 This interview is part of a series of interviews collected for the ongoing column "Chat with Les" by Vocal Media author Call Me Les in the new Vocal Creators Chronicle. The Vocal Creators Chronicle is a free, online magazine. Les is both a columnist and a co-founder. Her column presents candid interviews with people from all backgrounds, and aims to examine the finer points in the lives of those around us, such as Nick Slavik: Youtuber, artist, father & one of the nicest guys you have got to meet!
The Person Behind the Art: Who is Nicholas Slavik? ( aka. Painting With Dad - Smile Happy Arts)
I run the YouTube channel Smile Happy Arts. The name is kind of an inside joke between my wife, Amanda, and I.
After doing a dozen, or so, paintings I decided I'd try doing video tutorials. It's taken off a tiny bit and has been really, really fun to do! I've also done a few episodes showing that oil painting doesn't have to be expensive to do either.
I mostly do my paintings on a Saturday and/or Sunday, that's usually when I have the most time to put towards a painting. Some nights through the week I may have the energy and time to do a painting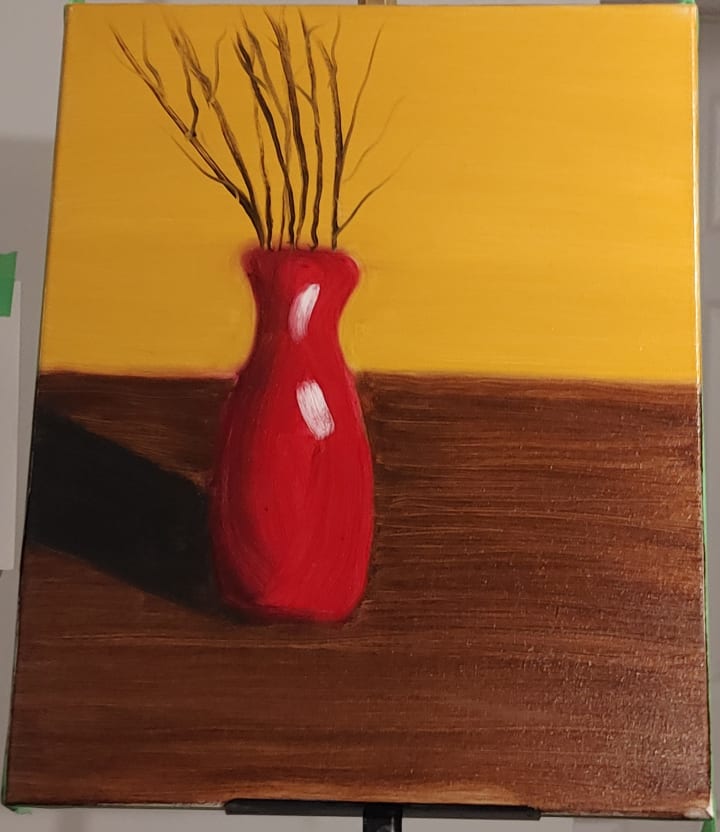 Interview
Q1: What is an average day like for you?
A: An average day for me starts around 5:40a.m. and I give Ocean (our lab mix) her morning cuddles haha I love when the dogs cuddle with me, it's one of those cozy things in life. Then after 5 or 10 minutes of hugs I grab my comforter and put it on my wife, Amanda, before I get up and get ready for work. While getting ready one, or both, of my boys will come out and chat and maybe ask if I can get them some breakfast while I make my lunch and a coffee/tea to take to work with me.
Work runs 7am-3:30p.m. and then I get home around 4 and have a shower. After my shower it's usually me fighting to stay awake long enough to enjoy time with the family! Most times I end up nodding off until dinner is ready, or I'll nod off when Amanda and I are winding down and watching our shows together (it tends to annoy her sometimes lol).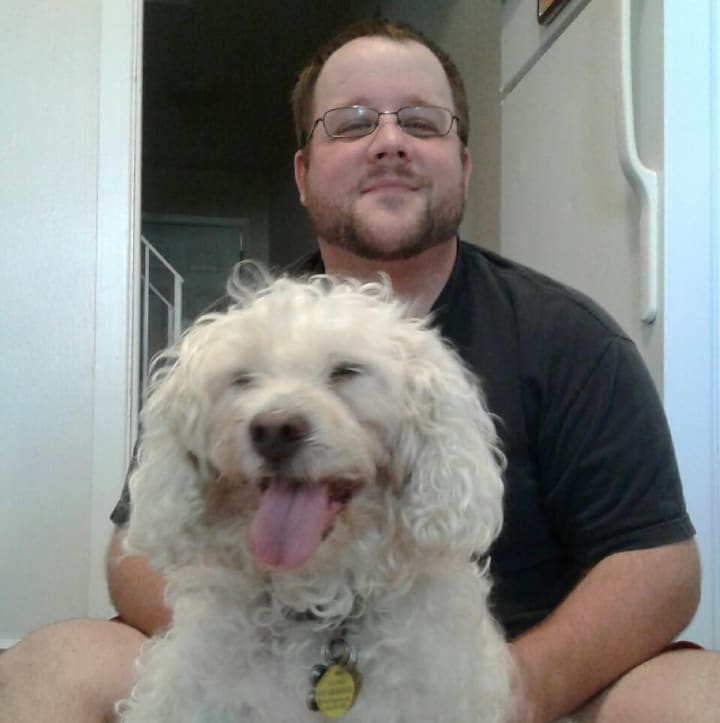 If I have the energy, or I'm feeling inspired, I'll run downstairs and make a painting. But most times I'm watching an episode of Bob Ross or Bill Alexander to get inspired for another painting. It's easier said than done some days. Our boys may be running around and rough housing or asking if I want to see something in one of the games they play or YouTube videos they watch (not any of mine though haha). Usually while watching shows, if I'm awake enough to do it, I'll boil the kettle and make a cup of green tea, or herbal tea to have before bed. I've always been a big tea drinker.
That's a typical day I have :)
Q2: What or who inspires you?
A: Often times it's something by Bob Ross or Bill Alexander. Bob was amazing at landscapes, but Bill Alexander and the Alexander Art team were great at landscapes—florals and still life as well! I've spawned an interest in still life painting from watching Alexander Art videos. Other things that inspire me are the many talented artists on Reddit. I'm very active on the r/Painting sub-reddit or a phrase may have heard. I made a video titled "Celestial Shore" and a video titled "Magic In The Mess". Also, it's just the surroundings of places we've been. There really is beauty and inspiration everywhere! I've really "opened" my eyes since painting!!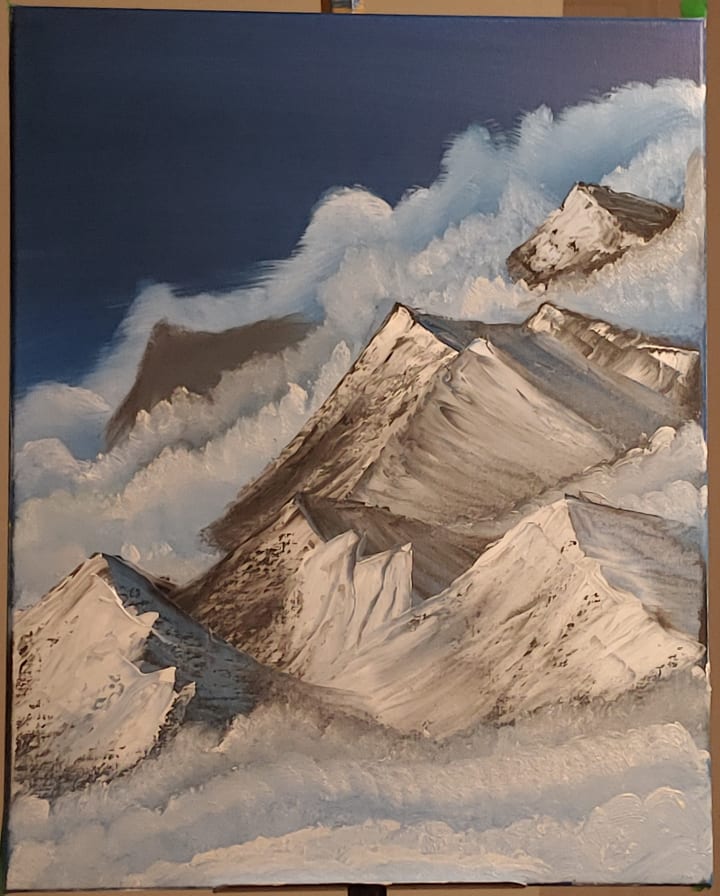 Q3: What's the most interesting thing you've read or seen lately?
A: That would have to be the book The Child Thief. It was written by the author Brahm. It's an amazing reimagining of the Peter Pan story. Based more along the original print of it and not the more family friendly Disney adaptation of it. The book really knows how to set the scene and make you feel like you're there watching it all play out! Maybe it's because I've always had a very active imagination, but I think it's because of solid writing haha the fog sections freaked me out BIG TIME! GO READ IT!!!
Q4: Why do you pursue your career and what is your niche?
A: Well, I work as a general labourer for a living. My art hasn't taken off yet, and it's hard to support a family with no money coming in hahaha (yes, I laugh this much in person too!) But my undertaking as a journey has definitely been my YouTube channel.
I've been "studying" (for lack of a better term) oil painting (alla prima) and started with landscapes. I've also found a big interest in still life and am trying to find ways to do both in the same painting. It can be tough to put on to canvas what I'm seeing in my mind. Sometimes it works, and when it does it works amazingly! But when it doesn't, it's a hot mess!
Q5: What is your best creation?
A: The best piece of art I've made, in my opinion, would have to be my sunset re-creation piece. The original I made had made me feel good, but it definitely could've used improvement. So, a year later I decided to make it again. When Amanda saw it she said, "Oh my god! This is my favourite! This is mine! I'm keeping it!" Hahaha, how can I say no to that?!?! It's now hanging up in our living room.
Painting With Dad - Ep. 11: A Humble Sunset Re-Created
Painting With Dad - Ep.22: A Mega Celebration!!!
Q6: What is your best accomplishment?
A: My greatest professional accomplishment is being able to hold down steady work and provide for my family. We had a real rocky road 11yrs ago and have been able to come so far and stabilize ourselves. I'm always proud my family has a roof, food and clothing.
My greatest personal accomplishment is my family. Cliche, I know. But it's true!! I have a wife that loves me deeply and will move mountains for me, two boys who have amazingly warm and open hearts and a mom (Amanda's) who loves me and a small zoo's worth of amazing and quirky pets.
Q7: How do you pick yourself up after a failure?
A: Usually after a bad fail I will feel embarrassed, silly and down on myself, but I'll also try to laugh it off and carry on. Admittedly, I can get a touch snappy if I'm feeling really down on myself. I make sure to let myself feel the moment, but I try not to wallow in disappointment or defeat. I'm also usually going over in my head everything that lead to the failure and how I won't make that mistake again either. I don't expect perfection, but that also doesn't mean I won't try for it!
Q8: What quotes get you through the hard times?
A: One quote that I've kept with me came from the sitcom Roseanne. David (Roseanne's son-in-law) just had a baby born with medical problems and it was a heavy situation. David had asked Dan (Roseanne's husband) how can he get through it all and Dan had said,
"Son. You just gotta make it to tomorrow. And keep making it to tomorrow. And before you know it, this will all be behind you and you'll see that you did it."
It may not be verbatim, but the message was there. I just try to make it to the next tomorrow.
Q9: What would you like to have remembered about you?
A: How much I've laughed and also how much I've tried to make people laugh. Who doesn't like a good laugh? Oh!!! Also how much I hug! I love hugs!!! Haha (see!?!? Laughing!!)
Q10: If you could have a superpower, what would you choose and why?
A: I would say the power of flight. That would be so cool! It would also save me so much on gas money if I could just fly anywhere I wanted!
Q11: What is one message or piece of advice you would give to your fellow creators?
A: My best advice I could give is this,
"Don't strive to be perfect. Rather, strive to be perfectly imperfect. Embrace the little flaws in your work. It may give it more character and body than you realize." -Nick Slavik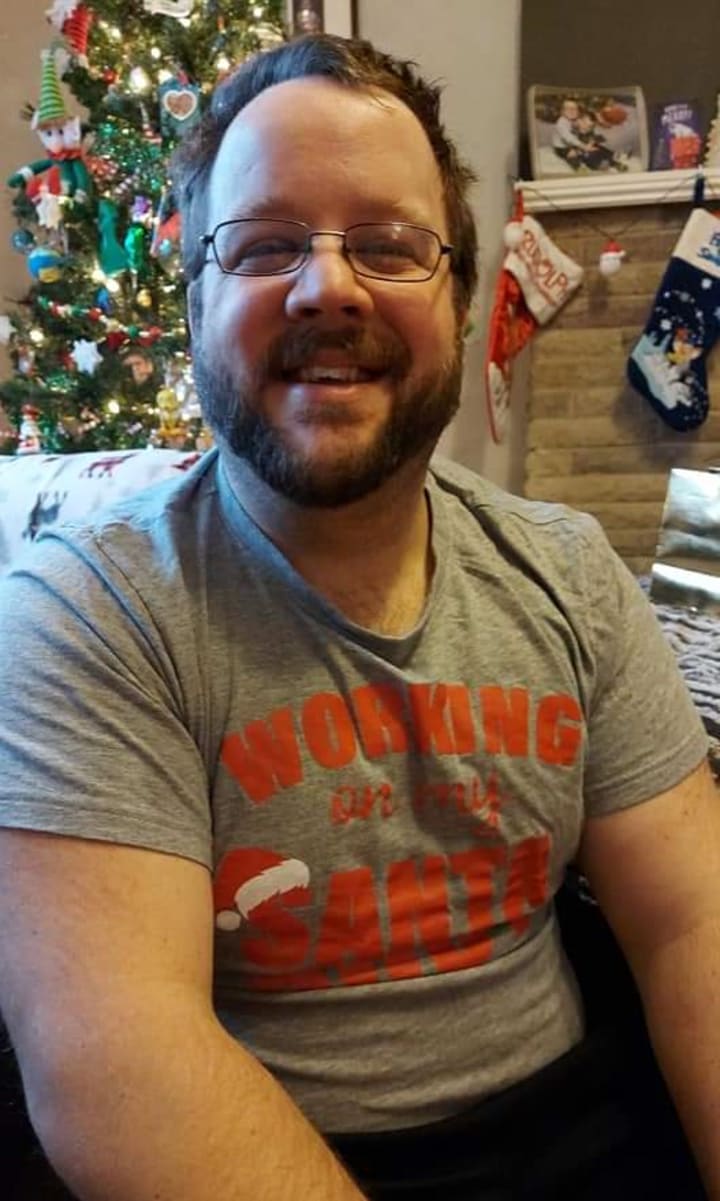 Trivia
Languages: English, very basic French, conversational in ASL and I'm very new to Japanese
Travels: Cuba when I was around 21. It was an amazing trip! It'd be great to go again sometime.
Pet peeves: Too many to list. But a few of them are, poor table manners (more people who chew with their mouths open. No one wants to hear your food!), people who use words/phrases like punctuation (i.e. when someone says "like" every other word, or, "you know what I mean?" Waaaaaay more than necessary) Also, when someone needs to ask a question with a very obvious answer.
Music - Mainly rock/metal, but I've grown to like many different genres as I've gotten older.
Hobbies - Well...painting obviously! Haha But also video games, working out (this dad bod doesn't take care of itself hahahaha), jogging, drumming, naps (naps are the best!)
Movies - I like action movies, comedies, horror films (I'm the only one in the house that does, sadly), psychological thrillers. Not the biggest fan of rom-coms, but I will watch them with my wife because she will put up with my superhero movies
Bad habits - Definitely procrastinating. I put most things off until the very last minute, I'm also impatient more than I'd like to admit, I can be a bit of a smart ass and I can sometimes be a know it all.
Most memorable moments?
Proposing to my wife and then marrying her at my dads house with Ma, dad, the boys, our dog Duke (R.I.P. buddy) and Wayne Gretzsky's cousin as the officiant!
Graduating from North American Trade Schools (welding program)
Birth of my kids (ya, cliche again haha)
Finally deciding to learn to oil paint
Anything fun or silly? - Fun? Silly? Anyone who knows me, knows that's what I live for haha I'm forever acting like a weirdo (at home AND at work) and making some weird song (sometimes fun silly, other times inappropriate silly haha) The dogs don't seem to care much for the songs but my wife seems to enjoy them (most of the time). Also, messing with the kids haha but they've learned to ignore me (my wife has taught them well!)
Night owl/early bird? Early bird, but not by choice lol My days start early through the week because my work day starts at 7a.m. If it wasn't for working straight days, I'd probably be a night owl lol That will soon be changing though. My work day won't start until 5p.m. very shortly (Nov. 22) Les says, Congrats again, Nick!
Finale*
Q: If you had a theme song that played when you entered a room, what would it be and why?
After asking friends and family members this question, I've noticed a pattern. It always landed on something fun and bouncy. The song I think would play would be Rubber Band Man by The Spinners.
It's a very upbeat and funky tune. I can totally see someone playing that when I enter a room! Haha Good choice Beerzie!!!
~~~
Want to support Les as she interviews the world a person at a time?
Buy her a coffee:
Previous Interviews in This series Include:
About Les & Why She Writes Her Column
"Understanding each other is the foundation for many of the great causes in the world. I can't champion them all, but, like Dr. Roshdy states, I can make a difference by starting with one. Telling one person's story, starting small by bringing their passions, frailty, hopes and humor into the world, is a way I can make a difference to many." -Call Me Les
*This question is dedicated to the memory of Les' writing partner, the late Tom Bradbury.
First Published November 18, 2021 by Call Me Les for The Vocal Creators Chronicle.