AHVE (ah-vey) - a euphoric moment or a sudden moment in euphoria
Through his music, artist AHVE, creates a euphoric moment in time.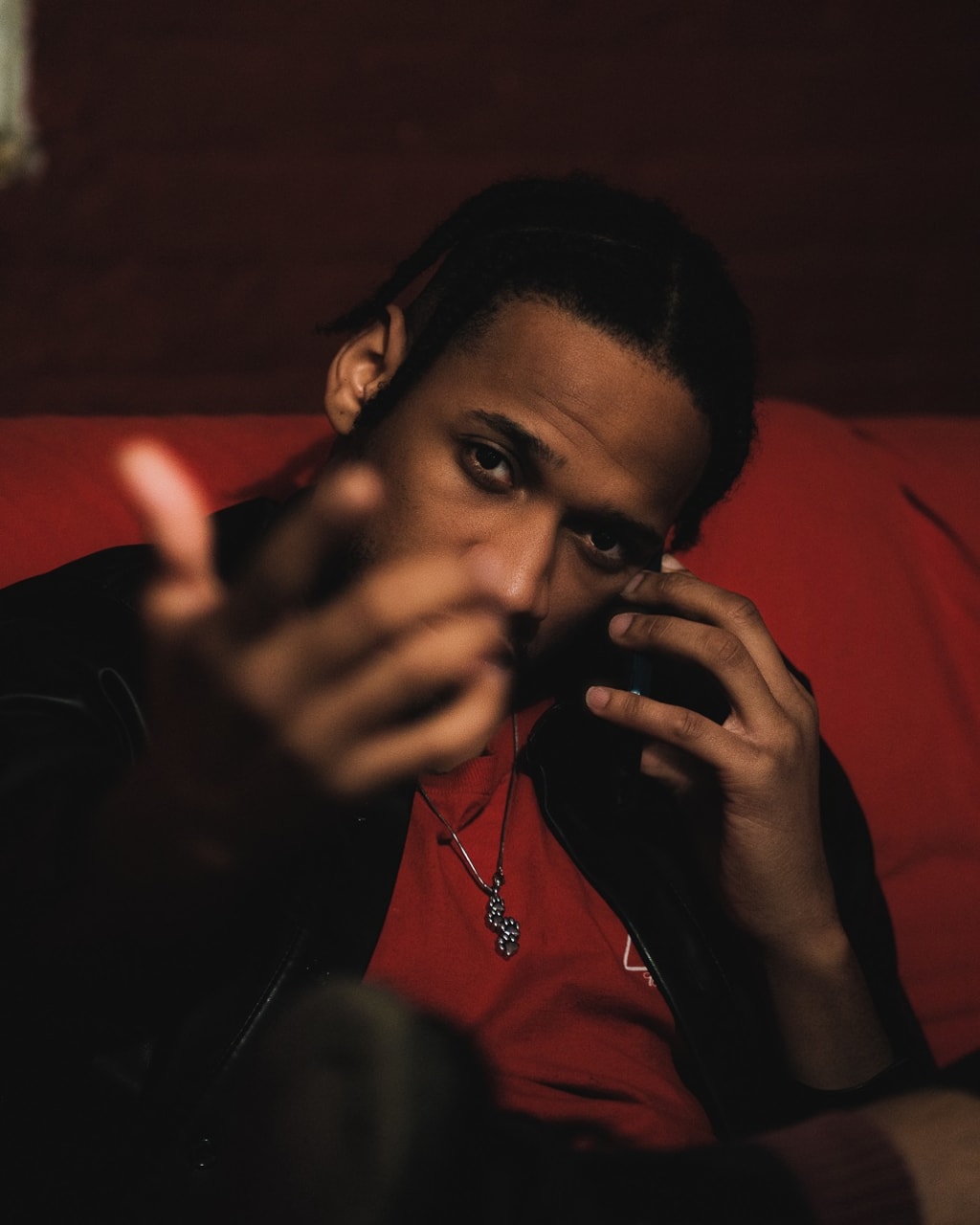 May I ask how you arrived at your artist's name? Give us the scoop
Well honestly, I just made it up. I knew I didn't want to use my government name because I danced professionally for a long time and people knew me by my government name and I didn't wanna get pigeon holed to being just a dancer, so I said I wanted something short and sweet and creative and something I could give life and meaning to as a recording artist.
We create, so I said I'm gonna give life to a new artist. So, I decided to call myself AHVE (pronounced ah-vey) not "Ave" or what Alexa like to say "of", haha.
I didn't wanna spell it Ahvè, that symbol looks wack. So I said all caps and I'm gonna give it meaning. AHVE means a euphoric moment or a sudden moment in euphoria. I feel this is what I do through music, I create a euphoric moment. There may come a time where someone will call themselves "AHVE" just know I was the first artist named AHVE because it actually means "fat finger syndrome" on Google, lol, because people misspell "Have" all the time. I decided to give it new meaning.
How long have you been creating music?
I have been creating music since 2003. I learned that 2pac was a poet in my poetry class in 9th grade and before that I use to write Lil Wayne, DMX and Eminem lyrics down so I could learn the songs before the internet really happened.
Also, back in '05, I had a bunch of homies who went to school for music, and I learned how to sing hanging around them and a little in church. Mainly from the homies tho, some went to Talented Unlimited Highschool in NYC and others went to other art schools. I didn't even know there were school for singing or for music specifically. But I was always fascinated by my friends. They were and are still talented.
What is it about music that makes you feel passionate?
Growing up in the golden era, the 90s and early 2000s I got to experience Micheal Jackson, Boyz II Men, New Edition, Tevin Campbell, Jay Z, Pharrell, Kanye, Joe, Chris Brown "Yo" and Omarion "O" in their prime.
Growing up around amazing Hip Hop and RnB and timeless music has kept me passionate. These days music has changed and their are a select few artist holding it down. I wanna contribute to that.
Do you have a preferred genre?
My preferred genre for me is RnB or what Bryson Tiller has coined "Trapsoul".
Tell us about your latest song, "Selfish"
Selfish was written by me and my bro Da Friend Zone. I have two songs out with him called Lost Possessions and Toxic. He's an amazing artist and songwriter. Last year, we were working on a EP and, to be honest, I remember saying "yo you said you was gonna write me a song" and he said "here" lol and sent me Selfish with the first verse and hook and said "you c0an have it don't even worry about it" and he sent me Selfish and I was like, nah you serious? I was amazed when I first heard it and I knew the potential of the song. I finished the track and a year later here we are.
Do you have any other plans relating to this release? A video?
I'm still thinking about it but as of right now for Selfish, no. For my next release yes. I just wanted to give the people and my fans some new music.
Do you create and release or do you plan each release?
I plan each release.
Are there any challenging aspects to writing and/or recording your music?
For me, some challenges are the amount of music I have been having to get mixed. I tend to mix my own music and send it out for mastering. I have my home recording studio and I just got good at mixing so just getting it all sounding exactly how I wanted. With writing I'd say I'm pretty good at.
How has the reaction to your latest release been?
Amazing! For major artist, they have the help of the label or "the machine" behind them with their releases. I'm independent. In under 24hrs, Selfish, was over 2500 streams and currently over 4500 in 2 days. I think it's doing well for an independent artist who has zero help.
What is the best song you ever released and why?
That's kind of hard to say, because I think each song has its story. If I had to say "Fade Away".
What song do fans seem to favor?
"Toxic" and "Fade Away".
Has your style evolved since the beginning of you career?
Yes, I see growth in the things that I am talking about in my music.
Do you create music for yourself or for fans?
Both. I love the creative side of music and I also know that people listen to music and they can relate. I know music save lives everyday. For me I get to express and share my experiences to the fans. For me it's telling part of my story. Writing music is kinda like journaling in a sense but in a more creative or even humorous way.
What would be your ideal press headline, either now or in the future? In which publication? Why?
"Billionaire RnB artist and Entrepreneur AHVE shares his story of hard work in the recording studios and reaching number one on billboard to his financial success in investing and rise to wealth."
In Forbes magazine. And because I know it's possible. Everyone should aspire to do something great and what people see as impossible.
Do you have a preference… vinyl records, cassettes, CDs, or downloads?
Nah no preference.
Is there an instrument which you would like to learn and why?
Piano. Because, I've always wanted to learn how to play. Singing and knowing what I want to hear while producing music the keys has always been a challenge and I was fix that.
Are there any musicians who inspire you? What qualities do you admire about them?
Michael Jackson has always been my biggest inspiration. The greatest entertainer of all time hands down! I admire his work ethic and passion to music! He was Different!
Would you like to travel to other countries to perform your music? If so, what would be your first stop?
Yes and my first stop Germany! They show my music so much love. Then Brazil! They are the reason "Lost Possession" got some traction. And Tokyo, A choreographer name Erika Nakagawa found my song "Toxic" w/ Da Friend Zone and taught a hip hop class to it. I was this is wild!!!! She bodied it!
Other than fame & fortune, is there something you hope to achieve through music?
I don't even hope to achieve fame. I hope to be financially free and be able live more comfortably and prepare my children.
Are you currently working on any projects we should look out for?
I am working on my first Album, "Late Nights In November" release date TBD but I wanna say June 2022.
Is there something you would like to say, that we didn't cover?
I have my brand Lost Kid New York. I created this in 2016 and I want the world to know we here.
I engineer my own music. Some of the people, a part of my team, my main producer, I work with, is from Greece. His name is Ayo C0aptain, and has been a big part of my production. When it comes to the beats, my cousin JO is also a beast with producing beats.
Me and my guy NVY Jones Lkr have a project coming out this summer as well, look out for that. I work and collaborate with my friends and family. We are the Lost Kids Of New York.0
Reader insights
Be the first to share your insights about this piece.
Add your insights