With a Scissors in My Hand
I create the words to craft my joy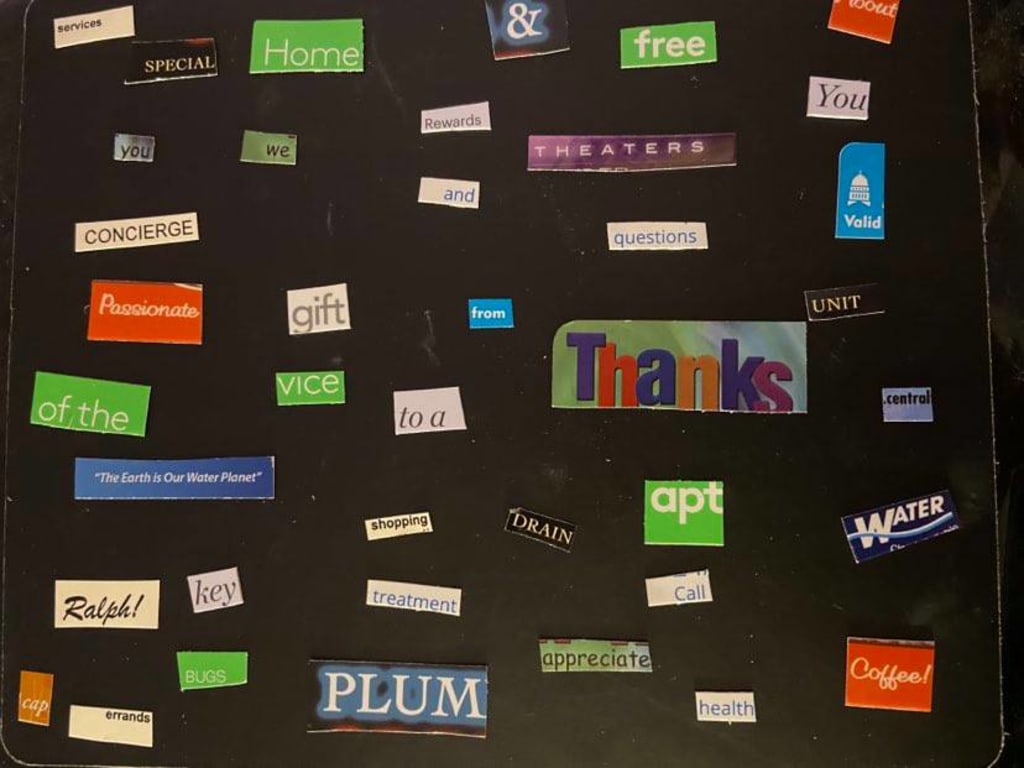 Homemade Magnetic Poetry
I have two passions: Sustainability and Writing.
Reuse, Repurpose, Recycle: these three words are the mantra for sustainability.
Imagination is the fuel for writing.
I have been able to pursue my two passions with one critical tool: A pair of sharp scissors.
Whether brick and mortar or online, magnetic poetry kits are expensive, running from ten to twenty dollars for 750-1000 not so carefully chosen words. But, if you have a refrigerator, have come into possession of those magnetic business cards for plumbers, realtors, insurance agents, salons, restaurants, delivery services, and a plethora of other businesses, and a good pair of scissors, then you can craft your own magnetic poetry kits. I have had hours of joy, snipping out words and colors and shapes from these free magnets and turning them into poetry and other musings.
I actually enjoy attending conferences and expos so that I can pursue the various vendors and pick up the gimme magnets. Often, they are willing to give me more than one. Sometimes, I am genuinely interested in the information on these magnets and will stick them intact to my fridge. Before long, however, the information becomes obsolete or irrelevant, and I feel no guilt in repurposing them into words, words, and more words.
I have a pair of scissors specifically for my task. I am not sure the impact cutting narrow magnetic sheets has on the blades, but I appreciate my stainless steel tool and am glad that I have invested in a quality pair of scissors with a comfortable grip.
I am not a crafty person. I am unable to cut a straight lines, fold paper into origami, or thread a needle and bobbin on a sewing machine. My scissors do not judge me. They don't care if my cut is less than straight, if the words are not centered, and if a letter is snipped off. I can choose to cut out a single word, a phrase, punctuation, or even a face. Sometimes, it is the color of the magnetic card that inspires me, rather than individual words. Below are some of the poetic creations that have come from my nips and snips, thanks to my trusty scissors:
Restructured Settlement
He sleeps on his back in the lower bunk, from the set purchased at the furniture store.
Wearing a second-hand night shirt, he sleeps, his chest rises and falls in slow, deep breathing.
Arms folded, he lies with hands resting on his stomach. Beneath closed eyelids, his eyes move rapidly, like in a sleep study.
The dream's colors are black, gray and white, like the siding on a house.
A woman in a housedress stands beside an ironing board, swaying rhythmically from side to side as she glides an iron back and forth across the surface of the board.
The boy, a preschooler, kneels beneath the ironing board, his arms wrapped around the woman's legs. He is leans back and looks up at his mother's slim figure and scrubbed face.
The day is warm, the air moist and clear.
The man's body sinks deeper into the mattress, the boy's arms hold tighter to the leg.
The mother dips her fingers into a bowl of water and flicks sprinkles of moisture onto the garment.
The iron hits the water with a hiss.
The dream changes.
Time Sharing
Call the concierge and ask where we should go shopping
Ask questions where to buy the best gifts to send home.
After coffee, we will run errands and then find out about the theaters in town.
The freedom I feel is a reward from you and me for we.
Have I told you I appreciate you? You hold the key to my happiness.
Quick, drain your cup and lets go give thanks to the day.
diy
About the author
Mindy is an, editor, narrator, writer, librarian, and educator. The founder of The Authors Assistant published Women of a Certain Age: Stories of the Twentieth Century in 2018 and This is the Dawning: a Woodstock Love Story in June 2019.
Reader insights
Be the first to share your insights about this piece.
Add your insights