Why Dating Kim Kardashian is the Best Thing for Pete Davidson's Career
Even though Pete is hot enough to stand alone.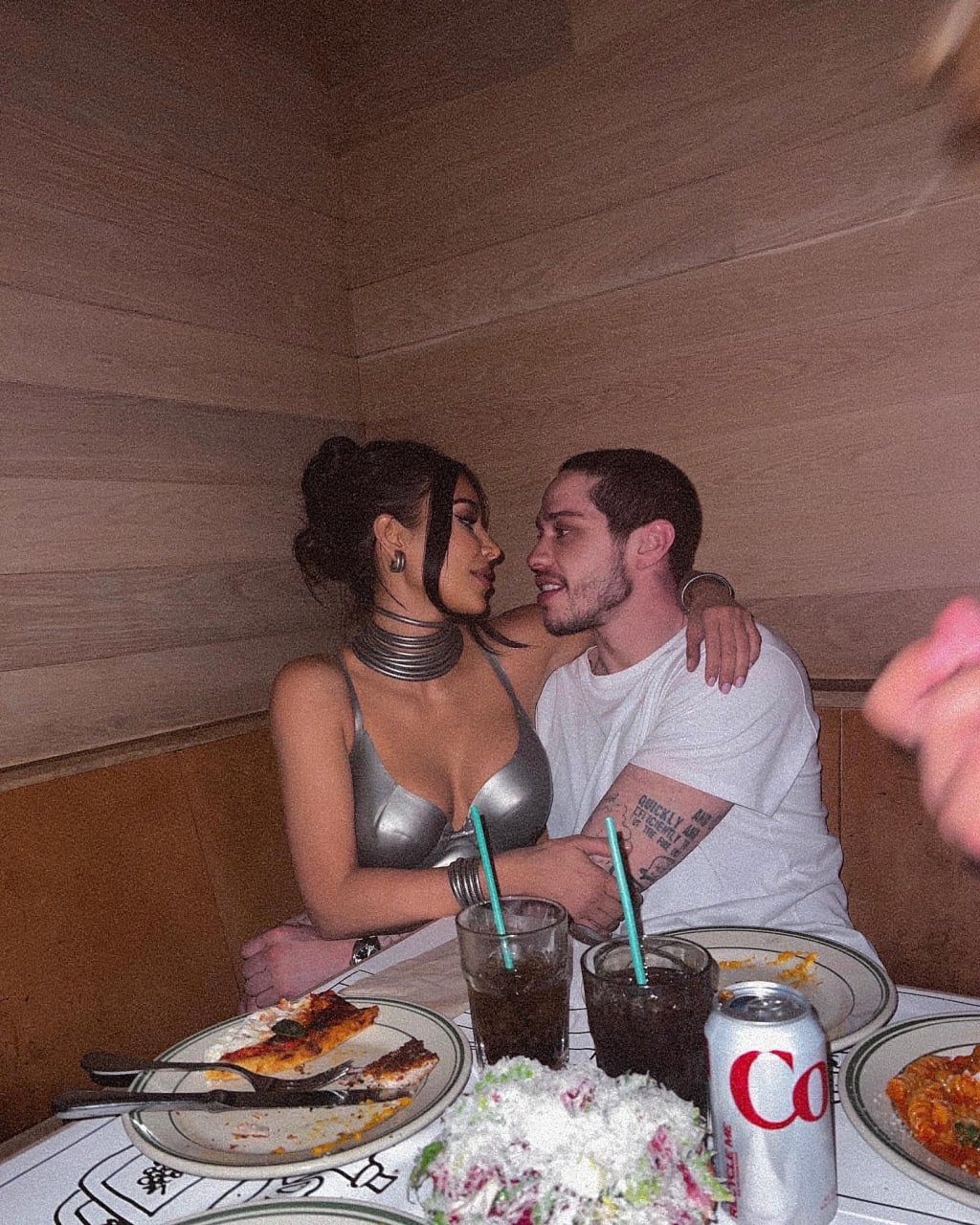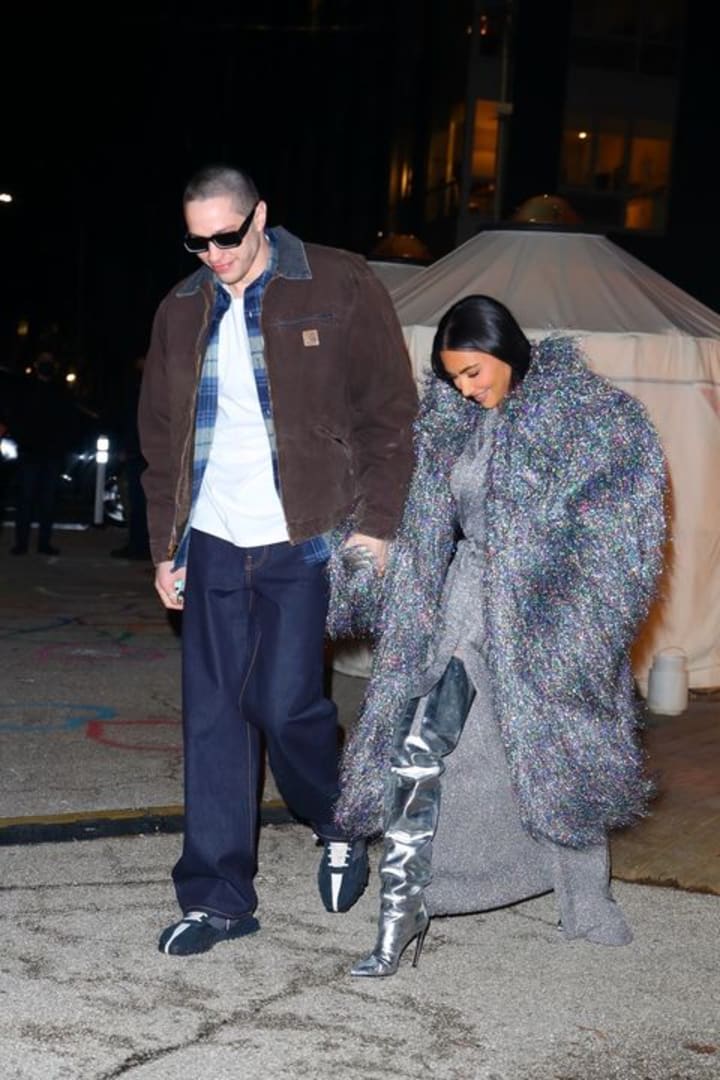 Kim Kardashian and Pete Davidson's relationship is kind of... random... I guess some would say. Business and beauty mogul Kim Kardashian and comedian Pete Davidson have been dating since October of 2021. Some hate the idea of Pete and Kim together, and are desperately waiting for Kim to change her mind on her current divorce between her and rapper Kanye West. Fan's constantly tweet and comment in hopes that their is still some type of spark between the infamous "Kimye" power couple. However, other fans like this new, mellow "vibey" side to Kim, and appreciate the fact that Pete Davidson is with her. However, I think PETE is the one who needs to appreciate Kim. Now, I am not degrading Pete Davidson and his fame- I am simply stating that dating Kim Kardashian definitely gives him a boost on the social latter. I like Pete- He's pretty hilarious on Saturday Night Live, has cool tattoos, is a mama's boy, and is pretty cute in a weird way. But dating Kim gave him that extra push, and here's why:
Ariana Left His Ass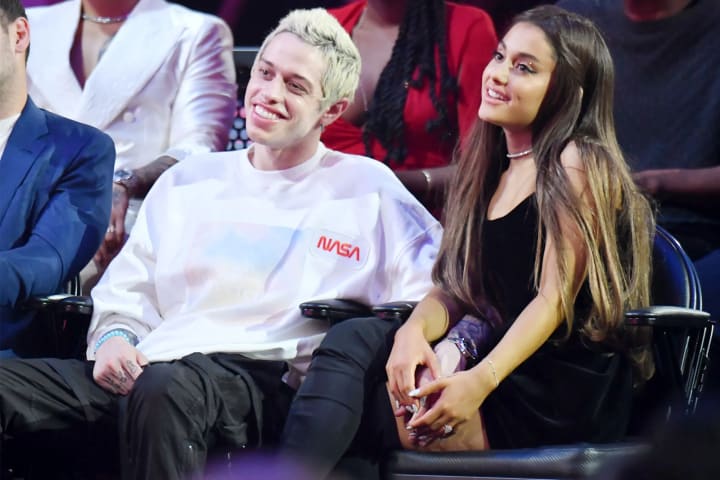 Ariana Grande and Pete Davidson began dating in May of 2018, and they moved pretty fast. Within less then 2 months they were engaged. Some may say it was too fast, some were over the moon about the marriage, some felt second-hand betrayal for both of the stars exes- everyone had different interpretations on this relationship- but it didn't matter to them.
Ariana Grande is probably one of the prettiest and highest paid singer's in the industry right now (if you disagree, you are lying). She has multiple different audiences, ranging from old-school "Victorious" fans, to newer listeners who may know her from "Scream Queens", or just people who listen to regular radio stations. (My dad even knows Ariana Grande, and can probably sing "Thank You, Next"). So while Ariana Grande is targeting all of these different audiences with her acting and singing skills, who is Pete attracting? Sure SNL is funny, but not that many people watch it as often as they used to. And not many people have cable anymore now that Sling Tv, Netflix, Hulu, and HBO Max have taken control of late night television in American homes. You can watch SNL on Hulu, but if you are paying for 4 other TV streaming services, do you really want to pay for a 5th?
Ariana put Pete on the map to a whole other type of audience (I didn't even know him that well until she started dating him, to be honest.). However, the love quickly died out after the death of Grande's ex, rapper Mac Miller. And that was the end of Ari and Pete- and back into the shadow's he fell.
His Movies Were... Ehhh.
Again, I like Pete- so Pete stans do NOT come for me. But all of the movies he has starred in have been "bleh".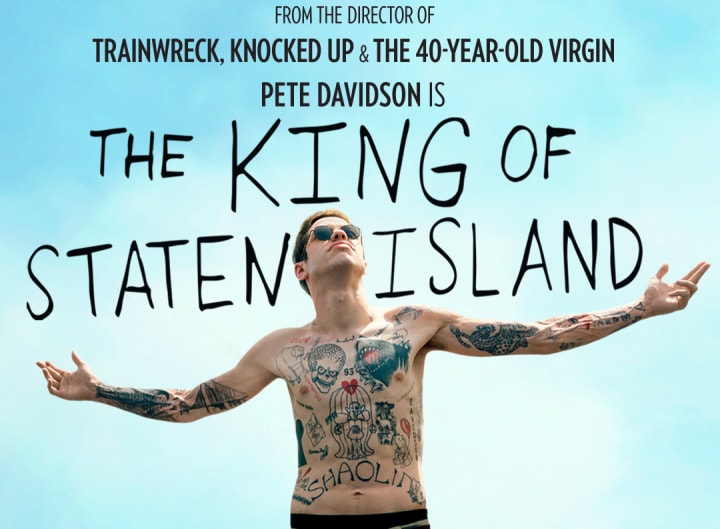 I've seen article's describe Pete's movie "The King of Staten Island" as a waste of time. I don't agree with them- however I think the movie was pretty mediocre. I mean, I loved seeing Maude Apatow and Marisa Tomei, and Pete was really funny playing his character Scott- but there could have been so much more. Maybe I went into this movie with extremely high expectations for Pete- but I'd say he hit just above average.
His appearance in the 2021 "The Suicide Squad" film was extremely short lived- being that his got his head got blown off within 30 minutes of the movie.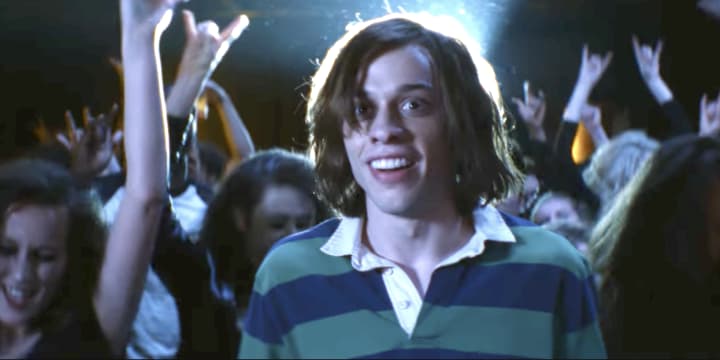 I LOVED the movie "The Dirt", which was a movie written about the famous rock band Motley Crue- but Davidson played the small role of the band's manager. Plus, the writer's and producer's even included a scene where actor Daniel Webber (playing Vince Neil in the movie) stole the manager's (Pete Davidson's) girlfriend. Granted- its only a movie, but damn, does he have shit luck.
So his acting is decent, but if I was him- I'd stick to stand-up.
Machine Gun Kelly Is Busy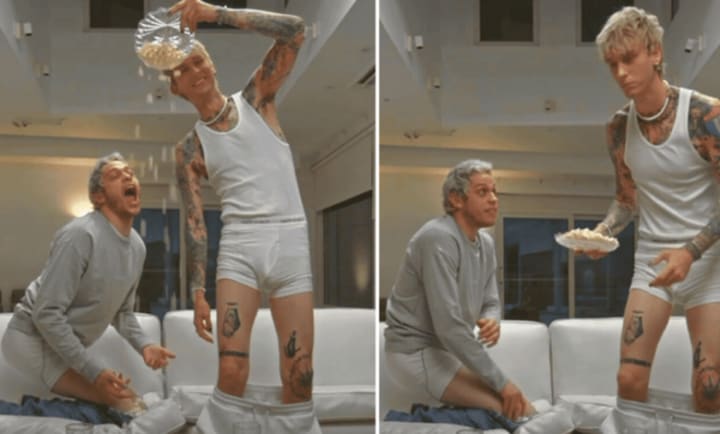 There was a short period of time where artist Machine Gun Kelly and Pete Davidson were considered one of the "hottest pair of best friends". I remember scrolling through Tik Tok over this past summer, fantasizing over video montages of the two of them together. The two BFF's even took over Calvin Klein's instagram page on a live stream and embraced their all white boxer brief's while they teased fan's with their "sexual remarks". In the live, Davidson exclaimed, " I hope everyone's horny at home.", triggering fans and their obsession over the dynamic duo.
But, MGK is busy. He is newly engaged to actress Megan Fox, has a kid of his own, and is constantly traveling around the world performing his latest hits. He doesn't have the time to be Pete's sexy sidekick 24/7. The saying is, "the more, the merrier", and unfortunately for Pete, just one of them standing alone is not going to cut it.
Kim and Kanye PULL Press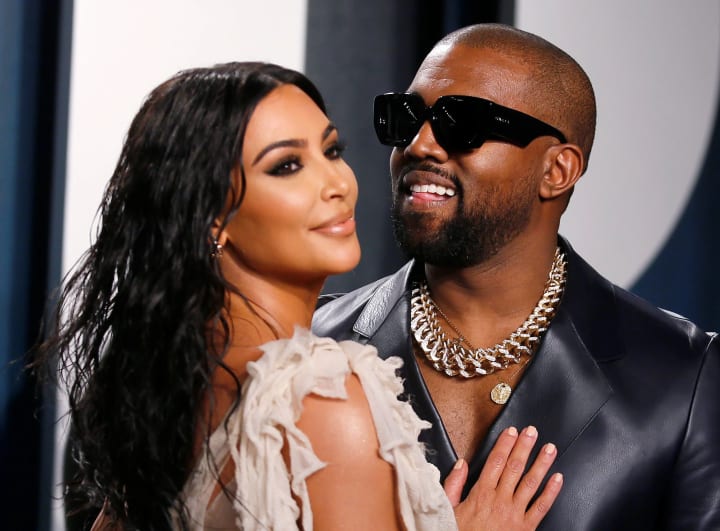 Now- I am sure that many of you are somewhat informed on the latest "Kimye" drama. Kim Kardashian filed for divorce from Kanye West in February of 2021. The two stars have 4 children together, and had original plans to keep their divorce private- until shit hit the fan.
Kanye has been ENTERTAINING both Kanye and Kim fan bases with his erratic outburst on social media. Between the short lived relationship with "Uncut Gems" actress Julia Fox, his recent release of his new song "Eazy"and the music video that came with it, and the influx of instagram post exposing the darkness between the Kardashian family and the rapper himself- Kim has got her hands full!
Here's a quick recap of the final moments of "Kimye":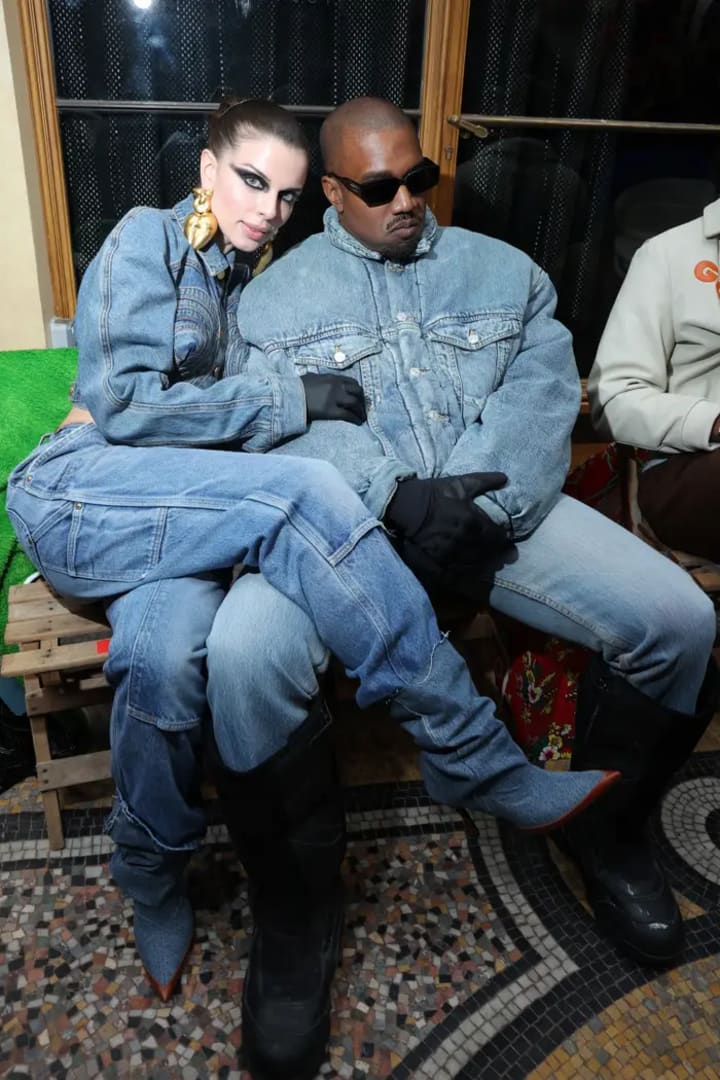 1. Kanye dating Julia Fox: Julia Fox, a woman with many similarities to Kim Kardashian, began dating Kanye West in January of 2022, but recently broke up with him. She was considered a "ploy" by many fans- simply due to the fact that fans believed that Kanye was "retaliating" against Kim and her relationship with Pete Davidson. Fox has also been called Kanye's new "muse". Kim was also considered Kanye's "muse" for the majority of their relationship and marriage simply because Kanye had a strong influence on every step she took- her outfit choices, her business ventures, what she posted on social media; they were all heavily influenced by Mr. West.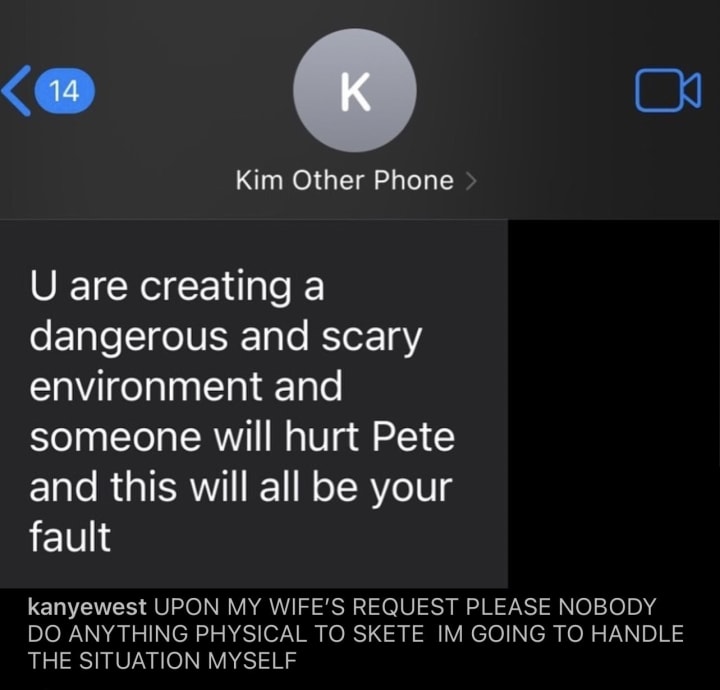 2. Kanye posting on social media: Kanye has been caught posting private conversations between him and Kardashian. He even outed the mother of his children for allowing eldest daughter, North West, to post on the social media platform of Tik Tok. Kim later came out with a post stating that Kanye has been harassing her via social media and text message, and she hoped that their divorce and family matters could stay private.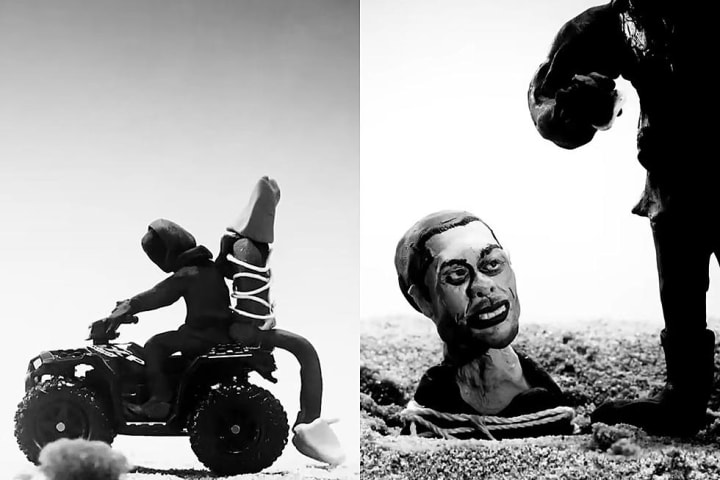 3. Kanye and his new song "Eazy": Mr.West recently released the song "Eazy", which featured rapper The Game. The main lyric that stood out to all fans stated, " God saved me from that crash, Just so I can beat Pete Davidson's ass (who?).". The music video also featured Kanye West kidnapping, beheading, and burying an animated figure that fits all the features of Pete Davidson.
But how does this all affect Mr. Pete Davidson? Because his name has been mentioned in every tabloid since Kanye has gone "awol". Pete Davidson is now known as the man who stole Kanye's WIFE- not girlfriend, not muse, but WIFE. Granted, Kanye and Kim were separated before Pete even engaged with Kim, but the timelines don't matter to the public- or to Kanye.
Some perceive Pete to be some type of "legend" or "badass" for getting Kim Kardashian. I mean, look at her- she's GORGEOUS, has an amazing body, is a legit billionaire who hangs around Jeff Bezos and Elon Musk, and is one of the top google searches on the net. She is Hollywood's staple celebrity.
As a KUWTK stan, I am actually happy to see Kim finally at ease. Towards the last few seasons of " Keeping Up with the Kardashians", her body language spoke volumes. She just looked exhausted. Between taking care of 4 kids, filming a show, photoshoots, her beauty line, and her shape-wear line- a troubled marriage just doubled her stress. I didn't ship Pete and Kim at first- I was a Kimye fan at heart. But who are we to speak on other's and who they date? After all, they are giving us loads of entertainment- so much that people actually fight with strangers in comment sections over it. Pete isn't all that, but him and Kim together are.
celebrities
About the author
🌞 Content Associate at Creatd 🌞
She wouldn't let others define her;
She wrote her own story,
and she lived it
🦋🤍🍃🧿
Reader insights
Be the first to share your insights about this piece.
Add your insights