"When You Walk On By …
… Will You Call My Name?"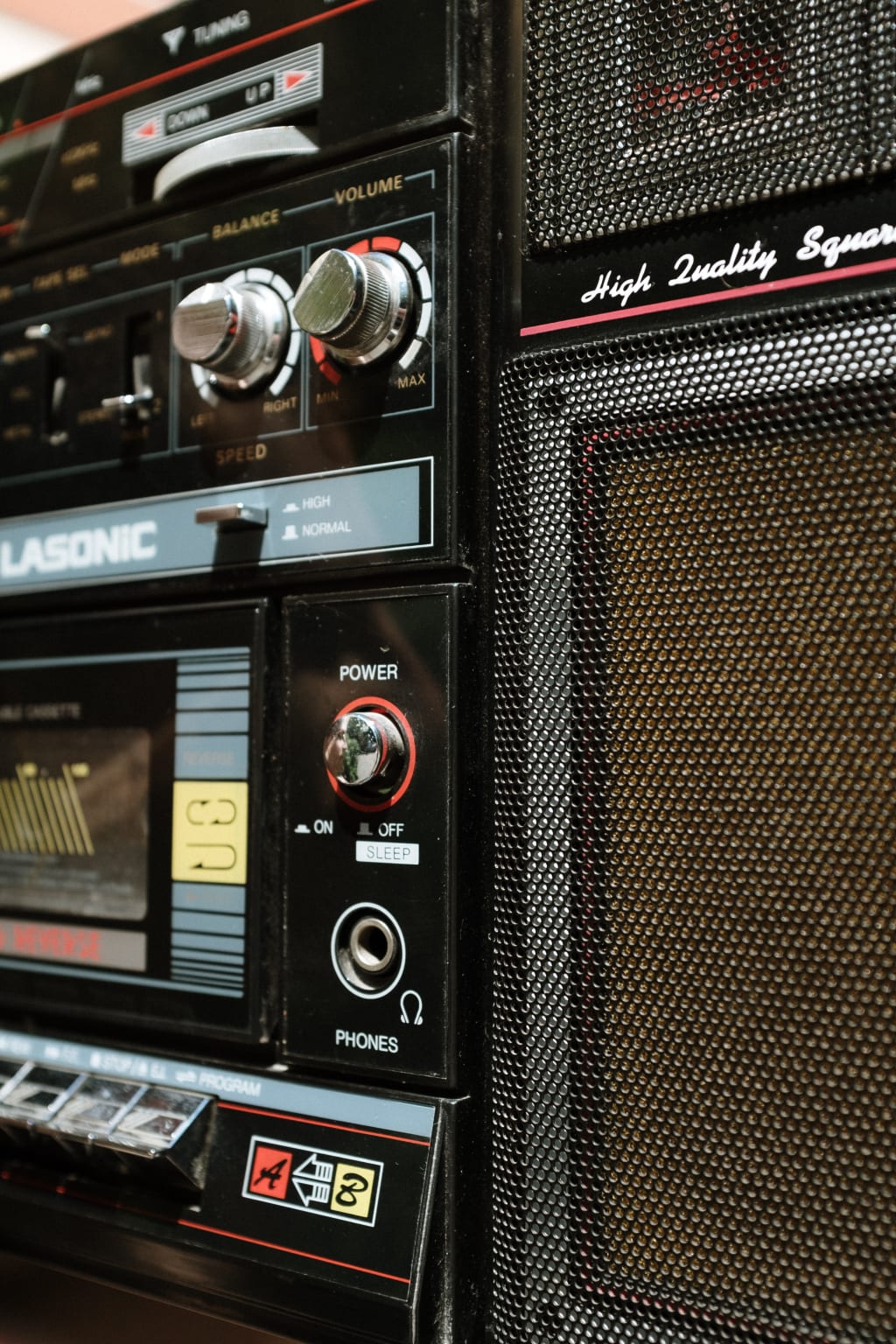 Special thanks to cottonbro on Pexels for use of his photo.
Finger-less gloves, check.
Stylized fanny pack, check.
Esty's my bestie, check, check.
Yeah, you can say that I savor '80s memorabilia, like a determined dog digging for a backyard bone … it's somewhere here in my dusty box of throwbacks.
One signed yearbook – BFF, in scribbly blue pen …
One mildly warped Rebel Yell tape – Billy Idol, you are my Superman …
One Wham concert tee – "Last Christmas" – and every Christmas.
A pic of Duran Duran's Nick Rhodes pecking away at his keyboards – I'm a sucker for a man with a cute smile and a made-up face.
Yes, it's clearly time for a reemergence of some of my fashion favorites:
• Frilly socks with heels like in ZZ Top's video of "Legs" …
• Jennifer Beals' off-the-shoulder sweatshirt a la Flashdance …
• Even a long singular earring instead of two. Madonna, our Perpetual Lady of Fashion, we salute you.
There was something so easily accessible during the '80s that's hard to locate today. Authenticity? Focus? Class notes riddled with curly handwriting? Heart-shaped doted i's? Really, who handwrites anymore? [Sigh] That permanent callous on my middle finger has practically vanished after all these years. Go figure. And my signature? No comment.
Maybe it's our cell phones, or our emails, or even our social media. Undoubtedly, it's the relentless all-pervading umbilical cord connecting us to Mother Tech that's left me restless. I find most online and IRL interactions on the daily leaving me underwhelmed.
"Hey, how's it goin'?" I query.
"Yeah, yeah, good. You?" Phone pings to alert a text. Attention side lined, eyes diverted. That was a full-on intimate exchange between two people. Today, tomorrow, every day. Not at all, S.E.X.Y.
It's 2021.
The year 2020 somehow was glossed over. Soon in the history books, it will be filed somewhere between a full-spread, world-wild pandemic and … the complete restructuring of a new world order – an addendum to include, with all hope, a reprioritizing all things important in people's lives.
Perhaps I'm feeling the effects of quarantining for over a year, or the current upside-down widespread economy. All I know, is one day, angst came knocking at my door and little by little, it wormed its way into my heart. I can even find it hanging outside my place – right over there. And on some days, sitting next to indifference, it wonders … Hey you, why the cold shoulder?
Mid-life bites.
No, I haven't fully relented.
Don't worry, I'm not beelining to buy a penis car or to divorce my spouse or lack thereof. Potential crisis averted. "Gen-Xers Will Prevail" is my new t-shirt mantra – soon to drop ship near you. I tossed my "Nerds Will Rule the World" one out last year during a deep clean.
I digress.
Yeah, sure. I do love some quality Me Time filled with channel surfing; it truly is the definitive answer to my longstanding boredom. In fact, the other night, I stumbled upon Weird Science, one of many beloved John Hughes' classics.
With sweet nostalgia, I think … if only …
[In a parody, freshly brimming with 1980s-style slang …]
I could crawl through my shiny flatscreen TV to join Wyatt and Brian at their raging party. Talk, Talk's "It's my Life" plays on and on. Bras on their heads, my besties are trying to Frankenstein together the perfect female prototype. Hanging back with my Aqua-Netted hair, my black rubber bracelets and my party attitude, I blast Human League's, "Don't You Want Me, Baby."
There, I spot that fetching guy from English Comp, the one I pass notes with in fifth period. Dance over to him. Red leather shiny jacket and acid-washed jeans, he turns around and whoa, he's that hella hot blonde asshole from Cobra Kai. Yep, chill, mind you – there's assholes in this fantasy.
"Hey, you're in my English Comp class, dance with me."
"Most definitely," smiling, drawing me super close, and connecting.
Next thing, we're making out to INXS's "Never Tear Us Apart" in Johnny's fiery Trans Am. I soon realize the time and have to jet. Thank you, Michael Hutchence, you never disappoint.
My friend Theresa wanted me to hang with her tonight. We blare the Smiths in her bedroom, while we prepare for – yes, I'm popular – another party. She dons electric-colored mascara, a bleached blonde soft hawk with shaved sides and a blue rat tail, a half top with a meshed pullover, a mini skirt with leggings and black Doc Martins. She rocks a mashup of '70s punk with '80s pop. Seriously, a bitchin' look and yeah, she knows how to rock it well.
With "Not a Stitch to Wear," she makes me look mad hot. She is my personal Jesus to style; I am her St. Anthony to parties. From her closet, a black leather skirt, an off-the-shoulder cashmere top, soft pink socks and poppin' pink heels. I'm thinking, … this is so next level. She finishes my hair with soft curls and a bit of lipstick cherry. Check me out, Simon Le Bon. We jump into her hoopty and blast Blondie's "Heart of Glass" Next, on my mixed tape, it's one of my faves – the Psychedelic Furs – "Love-My-Wayyyyy."
Parking in front of a sprawling house overlooking the Hills, our hearts drop. Brows raised, it's truly palatial. Freddie's parents are outta town and his house is nearly ransacked. Who's house? "Run's House" … a Run DMC classic is playing followed by "Hey Ladies" from Bestie Boys. A large crowd sings in unison, dances and even beatboxes, while passing around some choice weed. Red cups afloat and house a mess, this place is starting to look seriously crazy.
A yuppie looking dude yammers on with a betty he met at the party. She's looking pretty hammered, like she might even ralph. Her pearl necklace breaks apart, and begrudgingly, she spills her drink on Yup guy. With his khakis and Polo shirt sullied, he's over it.
Yup spots me from upstairs then approaches, "Hey, you're looking hella sweet tonight. Dance with me," pulling me aside.
"True" by Spandau Ballet coos away. In his embrace, he smells of Polo Green. I tell him I want to dance again, since tonight's my birthday. We sway to Soft Cell's "Tainted Love" and he's intercepted by a redhead. "No can do," he politely shakes his head.
"My parents are away this weekend," parking his Porsche.
Inside his house the stereo plays, the Cure's "Love Song," – we inch closer and closer and finally kiss over a lit cake. It's truly a birthday to remember. I wanna freeze this moment in time forever. Play it on an endless loop. Savor the memory when I'm old and gray.
Once we arrive in front of my parents' house, we trade digits. He writes "Jake" below his number and I am forever under his spell. Could this night get any better? I think not.
It's late. Mom and Dad are asleep. Grabbing an Orange Crush from the fridge, I make my way towards my room. It's been a l-o-n-g night. I just wanna veg. While removing my shoes, I hear a rustle from the driveway. Really?
Boombox overhead, Lloyd from English Comp stands below my balcony. Peter Gabriel's "In Your Eyes" serenades. I melt. When he wasn't drawing cartoons of us during class, he was pining away. We broke up last summer. Long live the underdog.
"What are you doing here?" throwing open the window.
"I love you," persistently.
"But, what about our breakup, Lloyd?"
"I don't care, it's you, it's always been you …"
I run down the driveway. Our arms entangle then a long, awaited kiss. In his tan trench coat and white Adidas, he will always be my one and only.
** John Hughes always delivers. Cameron Crowe follows, a close second to him, in the Kentucky Derby of cult classics.
The next day at 7am, I've got plans. A few of us will be there. We all meet up. It's like this thing we kinda got signed up to do. It's an all-day event, where we sit in our chairs.
A cute guy with a flannel shirt, feathered bangs and a pissy attitude catches my attention. No, I can tell – drugs and alcohol aside – he's not a wastoid.
"No, …"
"So, …"
"Yeah, …" he snaps flippantly at authority figures. We sit in disbelief.
He really is an a-s-s-h-o-l-e, that one. After all our time together, who knows? Maybe, I'll wanna make out with him later.
We were even told we'd have to write an essay showing what we've learned today. Our teacher proclaims we are all idiots. It's safe to say – as a basketcase, an athlete, a criminal, a brain and well me, a princess – we all have what it takes to succeed. Each different, yet all the same. In simple terms, we've all grown hella close – maybe, even like, friends. Yeah, totally – like friends.
One foot in, one foot out, I climb back through my flatscreen TV. I ready for sleep, close my eyes. Maybe it's time to put the '80s to bed. Goodnight dear '80s, it's been a sweet ride and you've been hella good to me.