When Women Feel Safe, We All Do
lessons I've learned about women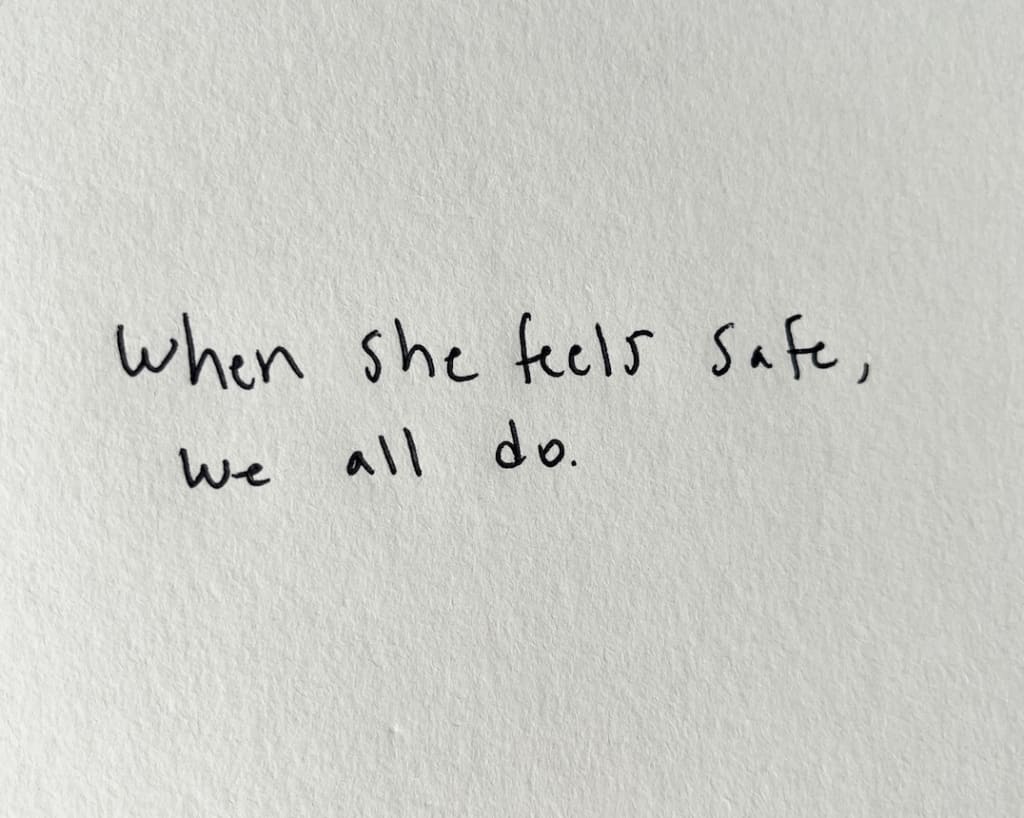 I've had the luxury of being raised by a woman who prioritized teaching me about women.
I realize that not every man has had this luxury, and i want to share her golden nuggets with a sprinkle of my own experience.
As we move into a more socially-conscious era, I look to all of the women in my life to show me the ropes. Why? Because they have been consciously thinking about others, putting others' needs first and posturing* for others in this male-dominated society for quite some time. They are socially evolved.
This piece is by no means an attempt to throw shade at men or our society at large. It is merely a note that I hope can help guide all of humanity in our evolution toward more kindness, inclusion and love.
Read this work with curiosity and an open mind. When you identify something that you have already put into practice, take a second to recognize that as kindness in yourself.
Deep breath in--
and out.
and here we go
one | does she feel safe?
This is your first priority, because without this one handled, the quality of your interaction and her peace of mind quickly deteriorates.
Walk on the outside of her (always). If a car gets too close, it hits you first, not her.
Walk next to her and if anything just a bit behind (never in front). You have her in your field of vision.
Before bed, check (double check) to make sure everything is locked. Yes, even when you 'think' you locked everything
When walking near a woman at night, nonverbally tell her that you come in peace. Women feel 10x more vulnerable than we do in the dark, and when alone
two | drop the facade, pick up the tab
Women aren't looking for a false sense of masculinity. They have the power to heal us.
Show her your emotions. Women instinctively soften when we do.
When you have a kind thought, share it (every time). Don't be too cheesy here--just truthful.
When entering a new environment, enter first. Transmute the awkwardness (for the both of you) with your charming personality.
If you're on a first date, pick up the tab (every time). As the relationship evolves, stay open and vulnerable about your financial situation
When masculine and feminine energy come together harmoniously, it creates an energy unparalleled to what we can actually comprehend.
When a business idea arises, share it with them. 1 - they are incredibly in touch and intelligent and can take it to the next level. 2 - when you let them in on the idea from the start, they feel secure and supportive.
Split up your household duties. She doesn't have to be the only one in the kitchen. You don't have to be the only one in the yard.
When in public, back her up (every time), and talk about what you didn't like behind closed doors. She feels supported when you move as a unit.
Honorable mentions
Let her out of the elevator first (as well as through a doorway)
Be playful (they love that)
Build a relationship with her family (that's just beautiful)
Surprise her (can be as small as a note)
Hold her hand (as often as possible)
I hope what you read impacted you in a way that gives hope and inspires humility in your interactions with others (women and men). We are moving into an era of inclusion and valuing the human in humanity.
This information is sacred knowledge, passed down from the generation above me, and it is an honor to share it with the world.
-------
*posturing: to me, is the act of taking into account the subtle energies of those around you and being conscious enough to work around them (the path of least resistance).
____________________
how to
sharing my slice of heaven
Receive stories by Ricky Sanchez in

your feed