What If It's Us
Sometimes the universe works in mysterious ways.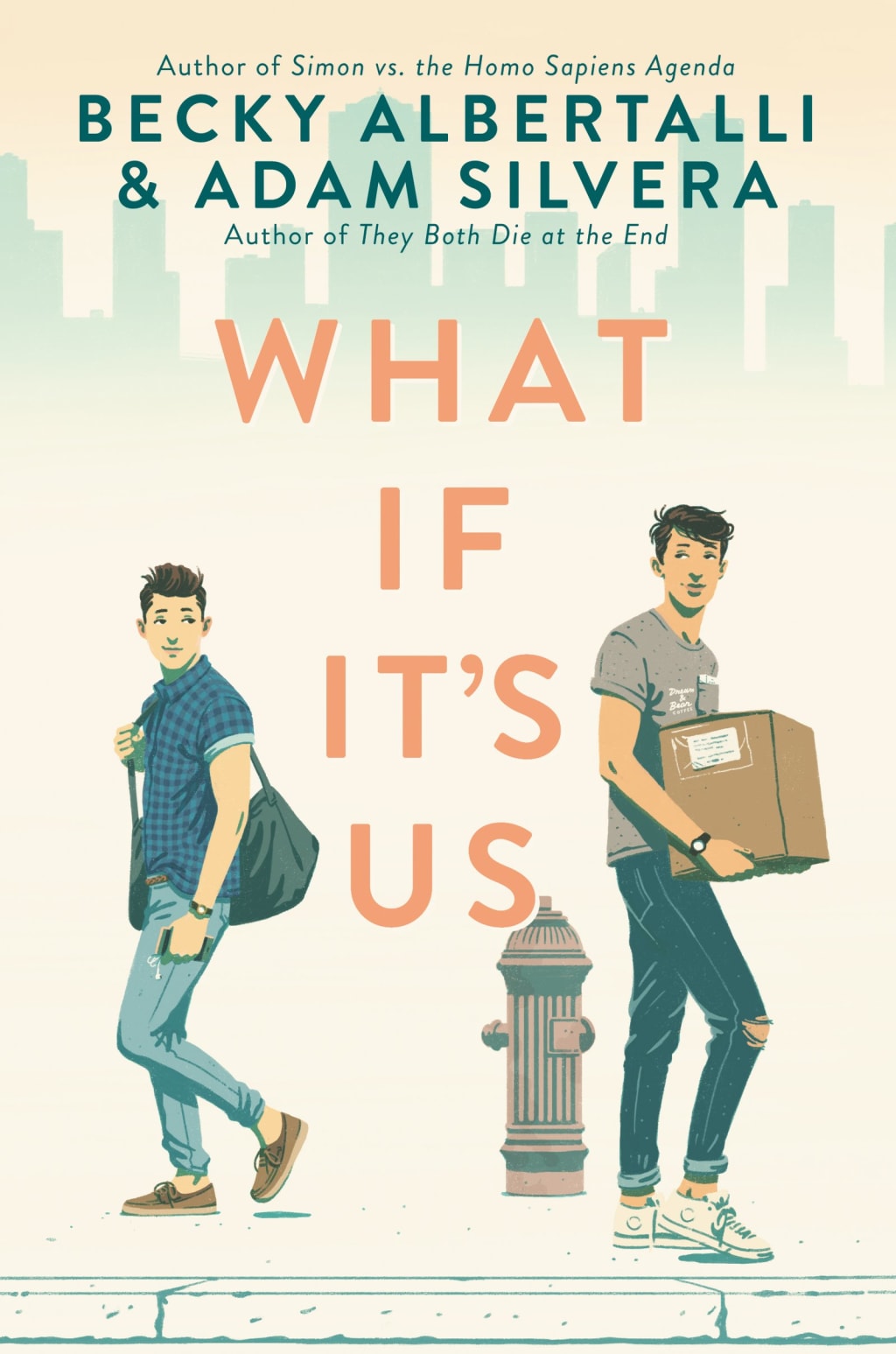 I don't really know where to start with this one because I am still processing the overwhelming feeling of enjoyment washing over me. I could not put this book down! I thought that this book was brilliantly written, fabulously executed, and brought a genius concept to life. Written by two amazing authors, "What If It's Us" is an absolute pleasure to read from start to finish.
"What If It's Us" by the amazing Becky Albertalli and Adam Silvera, tells the story of Arthur and Ben, two teens who bump into each other at the post office, have their meet-cute moment, and then disappear out of each other's lives without so much as swapping names or numbers. As these two go their separate ways, they soon realize that their thoughts can focus on nothing other than the cute stranger they met at the post office.
While both boys begin wondering if they missed out on something great, they both begin thinking about the odds of ever finding each other again. Determining whether the missed connections page of craigslist produces too many stalker vibes, Arthur finally uses expert sleuthing skills and hangs a poster on the bulletin board in the coffee shop that post office boy visits. Ben, unsure of whether this entire thing is a joke or odd coincidence, finds the poster and reaches out to Arthur. After some grilling questions to determine if it's really the boy from the post office, Arthur and Ben decided to meet up once more to see if there is still a spark between them.
As Arthur and Ben navigate the tricky waters of a first date (then a do-over first date...actually, quite a few do-over first dates) they begin to realize that there is something much more complex developing between them then just a summer fling. As their relationship grows, Arthur and Ben have to figure out what they each want from this relationship; Arthur, who has never had a boyfriend, is only in New York City for the summer, and Ben, who recently broken with his boyfriend, is worried about passing summer school (with his ex boyfriend) or being left behind. Neither of them know what the future holds, and neither of them have ever attempted a long distance relationship. Although the universe seemed to make sure these two were brought together, it definitely threw some hundles in their path.
With hilarious characters, charming dates, plenty of drama, and just a touch of some steamy romance, "What If It's Us" is the perfect young adult love story. This book tackles the difficulty of balancing friendship, responsibility, and love--especially as a teenager--and it shows that love isn't always easy. The idea of fate and the universe are huge influences in Arthur and Ben's relationship, as well as their relationships with those around them, and it gives a sense of trust to the reader that things truly do happen for a reason.
Another thing that stood out about this book was the way that it addresses LGBT+, socio-economic, age, and racial stigmas to prove that it doesn't matter who you are or where you come from; people who love you, love you for who you are and have to respect your identity and your choices.
No only is the relationship between Arthur and Ben endearing, but the relationship between Ben and Dylan does an excellent job at showing that straight guys and gay guys can indeed be best friends. Dylan, my favorite character from the book, provides an example of how the bond of friendship is stronger than any sort of bias.
"What If It's Us" just genuinely made me happy. It was a great story that showed that sometimes it's okay to need a do-over, and sometimes the universe puts things in our path for reasons unknown to us, but if we trust in the grand scheme then everything will work out the way it should.
5 out of 5 stars