UK Chancellor Delivers Autumn Statement
Measures Laid Out To Help People Manage During These Difficult Times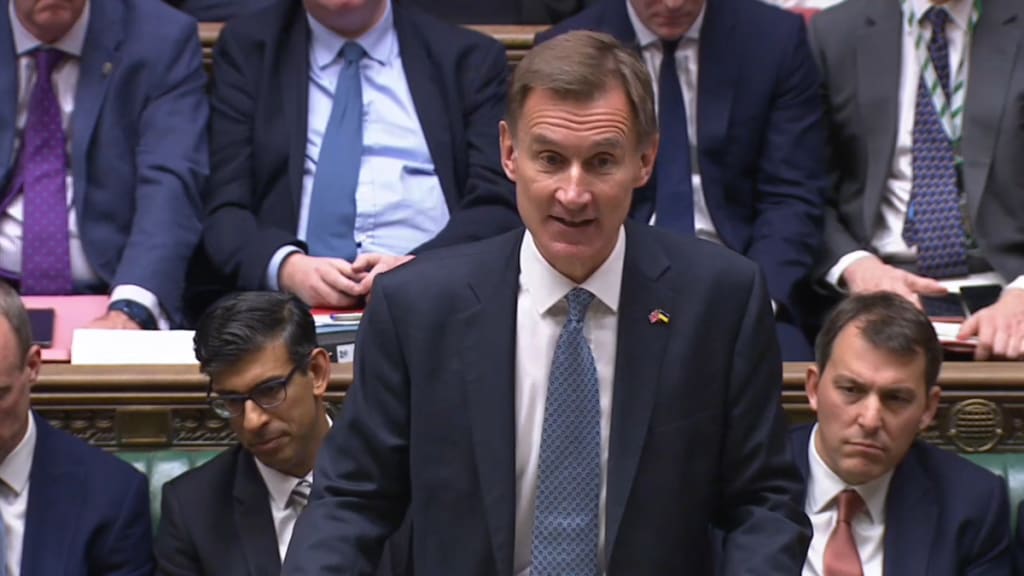 Image: STV News
"UK Chancellor Of The Exchequer Jeremy Hunt has picked the pockets of the entire country."
That was the claim made by Labour's shadow chancellor Rachel Reeves following the Autumn Statement which was delivered today. At a time when energy bills are increasing mainly due to implications of the war between Russia and Ukraine, the general public were looking for what support would be available to them to ensure that they stayed on their own feet during a period of soaring prices on the energy market.
Although the Chancellor had said that pensioners and those who were vulnerable would be protected from any implications in the aftermath of the budget, The Office for Budget Responsibility's forecasts painted a bleak picture, with the UK economy predicted to shrink by 1.4% next year.
The UK is currently in a large recession caused by the Covid 19 pandemic and is predicted to shrink further next year. This will drastically effect the amount of money people have in their pockets and what they have available to afford the every day essentials that they need in their lives. This will leave them struggling and unable to cope unless they receive any extra forms of support that will help them manage in today's modern world.
The Autumn Statement is seen as a crucical test in confidence in Prime Minster Rishi Sunak and his government, following a time when former Prime Minister Liz Truss and former Chancellor Kwasi Kwarteng delivered a disastrous mini budget a few weeks ago which sent stock markets around the world tumbling.
Mr Hunt said while Mr Kwarteng was "correct" to prioritise growth in his mini budget, "unfunded tax cuts are as risky as unfunded spending".
The chancellor said income tax thresholds would be frozen until April 2028, which means millions of people will pay more tax.
"I have tried to be fair by following two broad principles: firstly, we ask those with more to contribute more; and secondly, we avoid the tax rises that most damage growth," he added.
Ms Reeves said by freezing tax thresholds, the Conservatives "have picked the pockets of purses and wallets of the entire country".
"A Conservative double whammy that sees frozen tax thresholds and double-digit inflation erode the real value of people's wages," she said.
"Never again can the Conservatives claim to be the party of economic competence."
The Liberal Democrats described the new budget as measures which needed to be taken to manage the cost of chaos which had been caused by the disastrous mini budget and to help ensure that everyone could manage their independence and live their everyday lives with ease.
A treasury spokesman from the SNP highlighted rising prices as the main reason people were finding it extremely difficult to cope in today's society. There have been certain blocks put on the transport of raw materials which are needed to produce certain food items from the Russia/Ukraine region. This has lead to many shops and supermarkets finding it difficult to cope and ensure that their shelves are fully stocked. This has left consumers with a lack of choice and having to resort to managing with what is left on the shelves.
In other key measures announced by Mr Hunt:
The state pensions triple lock will be kept, meaning pensioners will get a record £780 increase
The household energy price cap has been extended for one year beyond April but made less generous, with typical bills capped at £3,000 a year instead of £2,500
There will be additional cost-of-living payments for the "most vulnerable", with £900 for those on benefits, and £300 for pensioners
The top 45% additional rate of income tax will be paid on earnings over £125,140, instead of £150,000
UK minimum wage for people over 23 to increase from £9.50 to £10.42 an hour
The windfall tax on oil and gas firms will increase from 25% to 35%, raising £55bn from this year until 2028
Reader insights
Be the first to share your insights about this piece.
Add your insights