Traits That All Firefighters Should Have | Marty Lancton
Marty Lancton on the traits that all firefighters should have.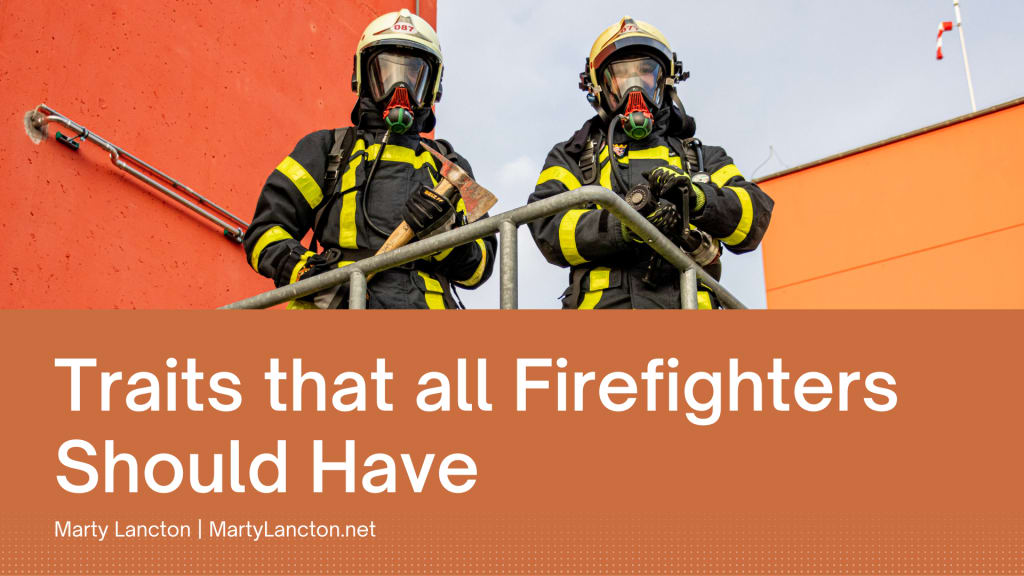 Firefighting is not a career for the fainthearted. It is a calling, and those who pursue it have some special characteristics that make them unique. They are individuals who are always on standby to act when called upon. Great firefighters have some traits that can't be found in ordinary firefighters. For them, firefighting is not all about bravery, perseverance, and honor.
Below are traits that all firefighters should have:
Willingness to learn and adapt
Good firefighters forget about learning once a fire department has employed them. But great firefighters understand that learning is a continuous process. No firefighter is perfect irrespective of what level of training they have attained. When a mistake happens, it is best to learn from it rather than sweep it under the rug.
Patience
Patience is a virtue that every firefighter should strive to have. Being a firefighter involves dealing with emergency and life-threatening situations. A great firefighter can remain calm and sober when everyone else is shouting and getting frustrated. If you exercise patience during tough times, you are likely to encourage your crew to push on.
Empathy
Empathy is the ability to get into the emotional shoes of another person and get out without being affected. Most firefighters are often concerned about rescuing victims without caring about their feelings. Getting into the victims' shoes will help you better understand what they are going through.
Physical fitness
This is an obvious trait for all firefighters. Being physically fit is non-negotiable for any firefighter. Running around, wearing heavy gear, and lifting heavy equipment requires being physically conditioned to do so.
Reliability and trustworthiness
As mentioned earlier, being a firefighter is not a job for everyone. It involves putting your life in danger for other people in the form of rescue missions. What does that mean? It means that a person must exhibit high reliability and trustworthiness. You must always be ready and willing to help when need be.
In a nutshell, there are certain trains that all firefighters must-have. These include physical fitness, patience, and readiness to learn continuously. Having such traits will make you a great firefighter who can always be relied upon.
-
About Marty Lancton
Patrick "Marty" Lancton is a Houston, Texas native and a seasoned professional with over 20 years of experience as a union President and Vice President, business owner, partner, board member, and state-certified firefighter. He's incredibly involved in and passionate about the lives of the first responders, especially firefighters, from all around the Houston, Texas area.
Marty Lancton's journey as a firefighter and paramedic with the first responders began in the year 2000, when he joined the City of Cedar Park Fire Department in Cedar Park, Texas. After three fulfilling years, he then moved to the City of West University Fire Department in West University, Texas. He stayed at the fire department until 2009 before moving to the City of Houston Fire Department, and has remained there to this day.
Marty Lancton has served in a number of positions of authority within the first responders community. For example, since 2015, Marty has served as the Chairman of the Executive Board for the Houston Professional Firefighters Association Charitable Foundation. Not only that, but also in 2016, Marty was elected President of the Houston Professional Firefighters Association, and in 2017, he even joined the State Association of Firefighters as the Vice President for the Executive Board of Directors. Marty Lancton also joined the Texas AFL-CIO as Vice President of the Executive Board of Directors. In 2019, Marty accepted a senior fellow position from the British American Project. Most recently, Marty made huge career advancements by joining the American Leadership Forum and the United States Executive Committee of the British American Project as a Senior Fellow in 2020. To learn more about Marty Lancton, visit his websites!
About the Creator
Marty Lancton is a Houston-located philanthropist and President of the Houston Professional Fire Fighters Association. Learn more about his life's work at MartyLancton.net!
Reader insights
Be the first to share your insights about this piece.
Add your insights