Through The Fire By Nick Klingensmith Book Review
Book Review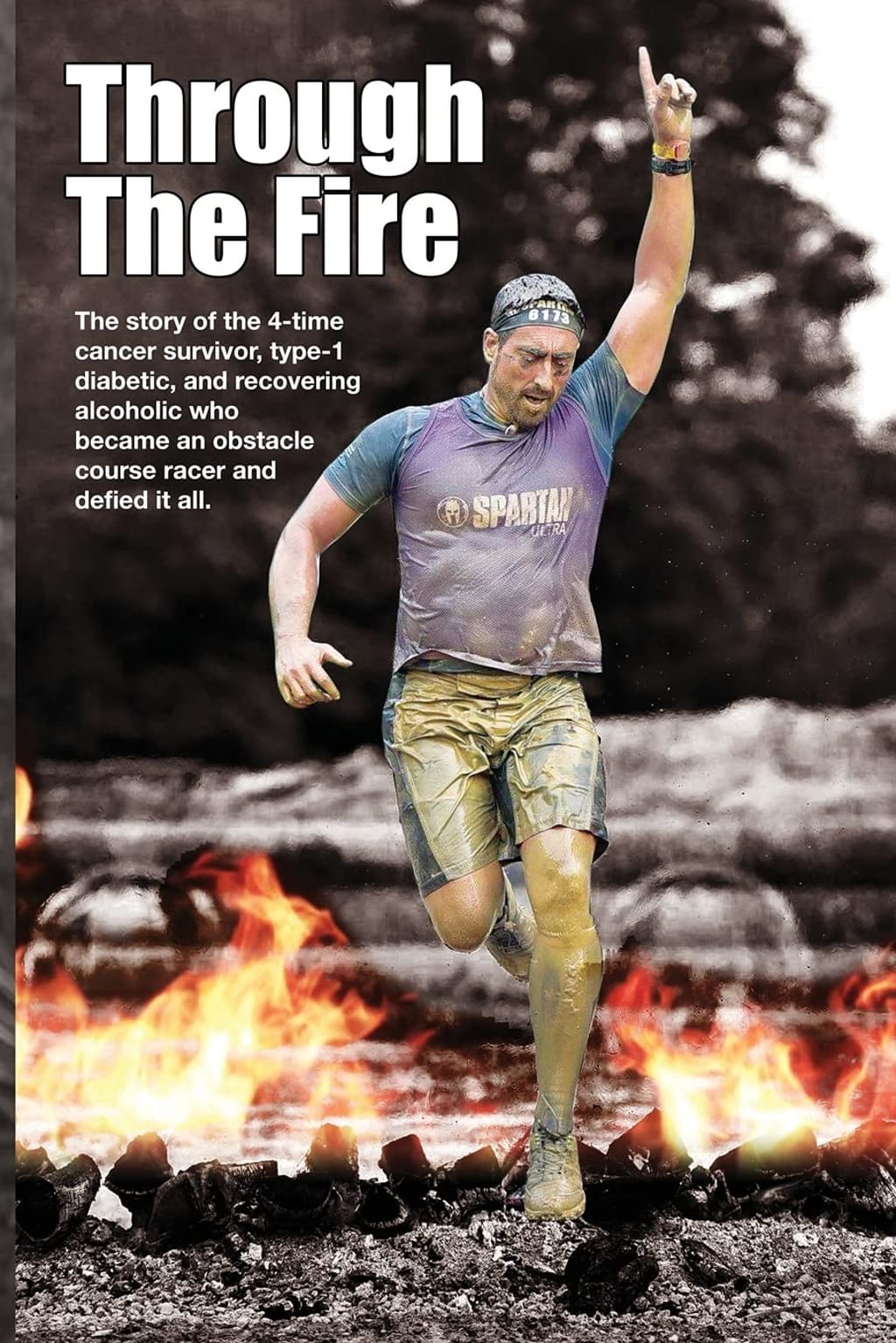 Book Cover of Nick Klingensmith's Book
Nick Klingensmith is an author, athlete, cancer survivor, salesman, diabetic and much more. This is his first published book.
In 2017, my life changed drastically as an individual when I personally found Spartan Race. As a Spartan athlete myself and historian, I was excited to read Nick's story when I first heard about it earlier this year. When I was about halfway through it, I asked Nick if he would mind if I wrote him a critical book review on my thoughts of his book. He agreed and with the release of his hard-covered edition of the book being so recent, it is a good time to release my review.
In his book Nick Klingensmith discusses his personal journey from an out of shape alcoholic, to a Spartan Athlete. It is a raw and real depiction of a man who has been faced with many challenges and hardships, and like a true Spartan, took on those obstacles placed in front of him head-on. Both athletes and non-athletes alike can benefit from the analogy that Nick makes about life and Spartan Racing. Everyone can relate to his struggles whether they are also a cancer survivor or a diabetic or an athlete or just struggling through the hardships of life, making his book a worthwhile read.
His book starts off with a short story about a later race in his Spartan career that occured in 2018. It was the end of a long road for Nick at the time. The 2nd chapter brings us back to the beginning of his story, where he had a wake-up call, getting kicked out of a Las Vegas hotel because of a drunken rage he fell into. It shows us as readers how much Nick's life was in shambles. Nick goes on to tell us further how he hated who he had become. With that hatred came a desire to change his life and he certainly did.
One of the greatest aspects of Nick's book is that it is not in any particular order exactly. It does have chronology to it, but it goes from time period to time period, offering us both chaos and relatability. Life is disorganized, but placed in the right order still tells a good story. Nick skillfully keeps the readers interested and on the edge of their seat, making us want to read on to see what happens next. Due to the out-of-order chronology, he links intertwining storylines in a beautiful weave bringing his readers through several themes within his book.
One theme of the book is Nick's journey of becoming a Spartan athlete and a marathon runner. Another is his struggle with alcoholism at different time periods in his life and how he fell into the trap. His book is also a love story of how he met his wife. Also how he fell in love with himself enough to better himself. Then there is his battle with cancer, multiple times and in multiple forms. Losing family members such as his sister and his mother, how they each impacted him as a person in different ways.
Nick Klingensmith brings us on an emotional roller coaster throughout the book and paints a picture of how it is to live with cancer, diabetes, love, heartbreak, loss, desire, courage, weakness, and alcoholism. Spartan Race gave Nick the strength and courage to defy all of the obstacles life has thrown at him and live his best life. When asked, Nick will tell you his goal is to inspire others to do the same, to live their best life.
After he made the decision to give up alcohol, he put his former life, former self, behind him. This included habits he formed, relationships that were holding him back, and a past that he has to live with, one he is not proud of. It was a dark past that will forever be haunting his present. Recovery is a daily struggle and decision one must make. It would be easy to take all of the hard life has thrown at Nick as an excuse to give up and revert back to alcoholism. Instead he uses his dark past as fuel for racing and to push his body and mind beyond limits both put on him. To quote Nick's own works, "You stop here, you die here." An analogy to living your best life to its fullest, "I don't want to die today."
To Purchase Your Copy of "Through The Fire" Click Here, now available in Hard Copy
AUTHOR'S NOTE
I do not profit from the sales of Nick Klingensmith's book. Nick and I met back in July, 2021 for the first time during a Spartan Race in Palmerton, Pennsylvania. I asked him, "Hey, you're the guy with the magazine article!" He said, "What article? I wrote a book." I decided right then that I wanted to read his book and was not disappointed. As a writer myself, Nick and I connected on a writing group on Facebook and got talking about writing and Spartan Race. Eventually Nick and I ran into each other on October 23rd at the Dallas, Texas Sparta Ultra and stuck together on the course. We kept each other going through the race and through the fire. It was not planned to race together, but I am glad I got the opportunity to experience the race with him. It is my hope that he inspires you as he has me in life and in racing.
I have been writing for a lot of years. I have several stories in the works, and lots of poems. I found Vocal Media in March 2021 and since then have been revising, editing, and creating more poems and stories. I absolutely love writing anything from poems and short stories to history. If you want to reach out to me and learn more you can find me @theodore_the_spartan on Instagram.
Want to read more of my work Click Here. Give me a follow! I only profit off this website through reads, tips, and challenge wins. So read on! Feel free to tip and give a heart to any of your favorites ;)
Thank You For Reading!
~Theodore