The Quilt of Many Colors
A special gift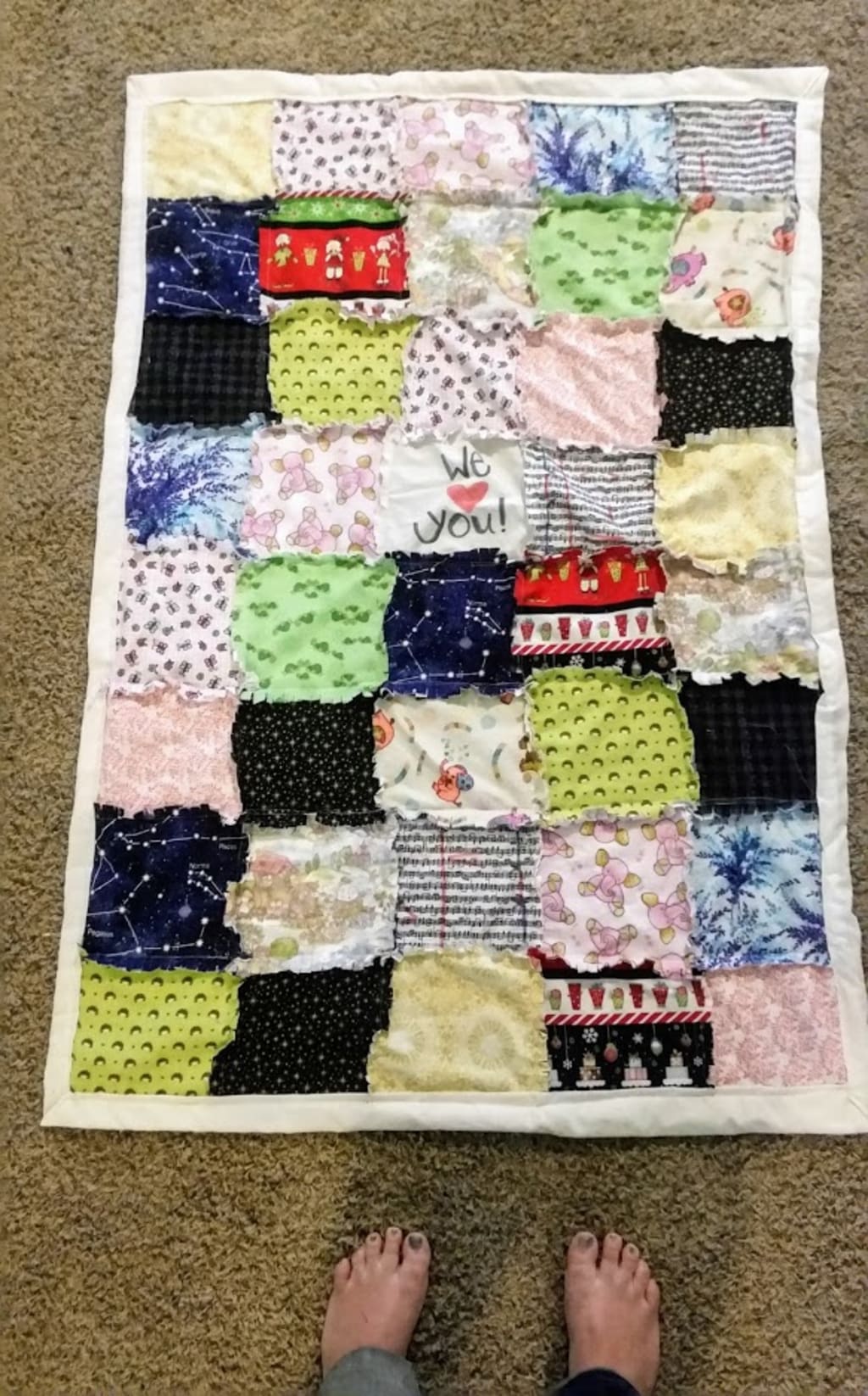 The finished product
I could feel the excitement and intimidation building up inside of me as I carefully measured and cut the dozen or so different fabric swatches into 4-inch squares with my mom's well-loved silver Fiskars. I had never made a quilt before but I was determined. She deserved something special.
Katherine Pedersen was a beacon of light for everyone. She taught each of us with love and patience and had a brilliant mind. She was the kind of teacher that you wanted to make proud; and no matter how much we failed, you knew she was. We all wanted to be like her. I was studying Music Education and remember being beyond nervous during exams in her conducting classes. We were required to stand up in front of the class and conduct the piece we were assigned while being critiqued by those who raised their hands; but her instruction was worth the torture. She was an extremely gifted conductor, violinist, vocalist, actress, dancer, and teacher who we desperately wanted to learn from. On one particular day, she mentioned that my facial expressions while conducting needed work. I tend to be a smiler and didn't have enough diversity or passion when conducting somber pieces. I practiced and practiced in front of a huge mirror until I felt more confident; and it worked! I was so happy to hear that I impressed her with my progress and it definitely gave me the determination to keep practicing. She always had a way of pulling out the best in each one of us.
I can recall one of the first pieces we sang in a university choir with her as our director. It was called "Consider the Lilies" and it's a song that will always have a special place in my memory.
"Consider the lilies of the field,
How they grow, how they grow.
Consider the birds in the sky,
How they fly, how they fly.
He clothes the lilies of the field.
He feeds the birds in the sky.
And He will feed those who trust Him,
And guide them with His eye."
These powerful lyrics are set to a simple melody and remind us that there is much more to life than pain. She used to make the whole room quiet whenever she opened up to us about her own pain. She confided in us that her biggest dream in life was to be a mother and that it broke her heart to feel her body aging while being no closer to motherhood.
Then she met someone.
She met a man who wanted to give her everything she had been longing for. He had children from a previous marriage who she fully embraced as her own which was not surprising to those who knew her. As her students, we were able to see their relationship blossom into something stunning to an outsider's perspective. They got married that summer and some of us even got to sing at her wedding as a surprise. It was such a beautiful event full of love and joy. She quickly became pregnant and we couldn't contain our happiness for her. I remember it was a rough pregnancy for her full of complications and health issues but she never stopped being there for her students.
We were only fortunate enough to have her as our professor for a couple years, as she was adjunct and her contract expired. However, she was there long enough for us to meet her sweet baby girl and she's absolutely perfect. As she was getting ready to move away with her new little family, I had an idea.
That's when I created a Facebook group called "Quilt Project!" and got to work posting.
"Hey guys! So I've had this idea for months now and I'm finally going to make it happen! I would like those of us who have been fortunate enough to work with Katherine Pedersen-Miller to make a communal quilt for her since she's leaving and having a baby! I need 1/4 yard of cotton fabric, preferably flannel, plus $2 for other materials from each person who wants to participate."
I began receiving fabric from my classmates over the next several week as a plan for the quilt came together in my head. I had worked at JoAnn Fabrics throughout high school and during my breaks from college and was ecstatic to use my skills, but I was nowhere near seamstress level in my sewing abilities. This quilt was going to be made one way or another and it was going to be made with love. And thread. Lots of thread.
I was living close to my mom at the time who had a sewing machine and it was nice to have her there for tips and to help unjam the bobbin every 5 minutes. I was way out of my comfort zone but that's a good thing (right?).
Every square on the quilt was chosen for a specific reason by the school mate who presented it and I had so much fun admiring each one as I pieced them together. From the Christmas toy box drive Sister Lord had organized that year to her interest in astrology and even the way specific way she taught us to mark our music; from pink teddy bears and butterflies for her sweet baby daughter to her love of turtles, each memory was represented on the quilt. I carefully layered the cotton mosaic onto the backing material with fleece as the batting in between and pinned each side. I was almost done and it looked perfect! Well, as perfect as I could make it.
After sewing the edges, I began sewing across the top to stabilize the batting which proved to be the hardest part. My stitches were so crooked and bunching up in the back but I did my best to make it a worthy momento of our appreciation for her.
She and her husband were loading the moving truck when I showed up to give her the quilt and they seemed very busy but she stopped what she was doing to make time for me. Her reaction was worth every ounce of work that was put in. Her face lit up with gratitude and she hugged me so tight. I included a card with an explanation for each square and as I apologized for the terrible stitching, she just said "Hey it was made with love and that's all that matters!" We snapped a couple photos to share with those who had contributed and hugged one more time before I left. I was walking on air!
I had no idea that this interaction would come to mean so much more to me in the coming months. I remember the day I got the news. Katherine's husband had been abusing her for much of their relationship and she and her precious little one were in danger. It was time for us students to rally together again and come to her aid. We went to a religious school and were asked to fast and pray to God for her. She needed every bit of strength we could give and we did whatever we could from wherever we were. Many of us checked in with her and talked with each other in group chats, waiting for updates. I was devastated. I prayed harder than I had in a long time and wept. Wept for my sweet teacher and friend who had touched so many lives. Wept for her beautiful toddler, whom we had all come to adore. She was the last person in the world who deserved this.
She moved close to her parents and to try and heal and began to fight in a custody battle orchestrated by her ex-husband simply to stroke his ego, not out of concern for his daughter. We were all in shock and I can only hope that our small tribute to her gave her some kind of happiness in a time when I'm sure it was hard to come by. I am forever indebted to her and to my classmates who agreed to help me with this project. I would never wish for the circumstances that led to my added reverence for that simple quilt but the experience truly changed me. You never know the impact a kind gesture will make. So, no matter how inadequate you feel, follow your instinct and make the quilt.
"He clothes the lilies of the field,
He feeds the lambs in His fold,
And He will heal those who trust Him,
And make their hearts as gold."

Chelsie Speer
I'm 29 years old and from Portland, Oregon but now live in the mountains of Wyoming with my sweet husband and our cat. I come from a large artistic family and I've always enjoyed writing, even though I've studied music most of my life.
See all posts by Chelsie Speer →