The Man Who Made Me
A tribute to my dad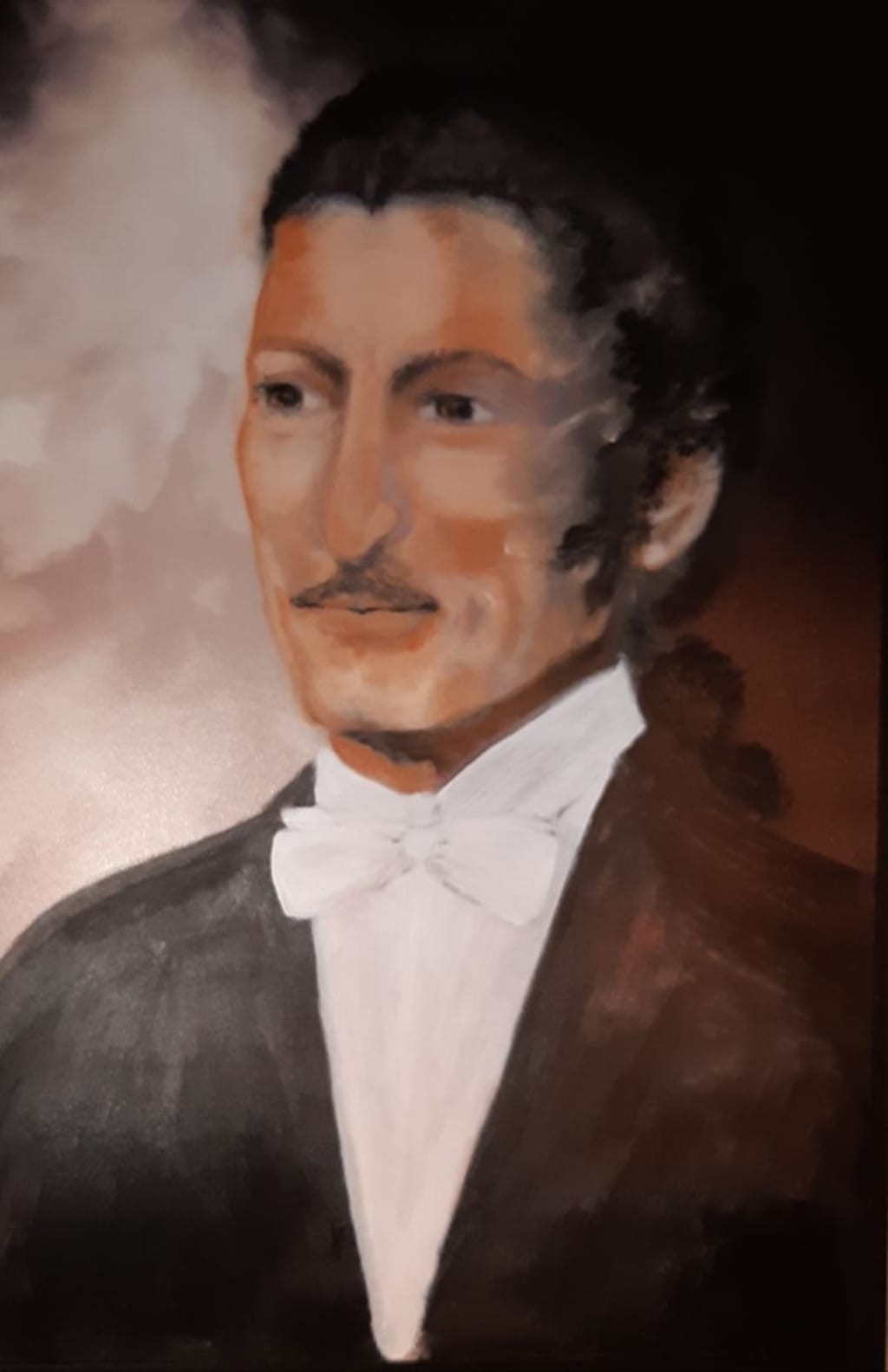 Don Smith
The Man Who Made Me…
I keep my paintings in the spare room and while cataloguing some for my website lately, I came across my old horse racing ribbons and martial arts belts – I had to stop what I was doing for a moment, while remembering the person, the reason, I had such things, stored away with my paintings, and memories…
My father never stopped performing – no matter what he was doing, or what we were doing, he was the entertainer, and popular, and all our friends loved being around him.
I remember the parties, where he'd untie his swished back hair, put false large eyes in his eye sockets, take out his denture (he'd lost his top front teeth in a fight), and swagger around like a clown while wowing everyone with magic tricks – at other times, the jokes never stopped – and at other times, he'd be teaching everyone the latest dance steps…
He actually was a professional magician, I remember watching him working on his props in the garage and testing them until he was certain they would work perfectly – and he looked every inch the part, with hair slicked smoothly back into a tail at the nape of his neck, white shirt and waistcoat, and dark tailed suit – and my beautiful mother of course, was his female assistant – later on in my life, while watching everyone 'oooh' and 'aaaah' at other magician's acts, and look at me wondering why I wasn't impressed, mostly, I'd remember my dad say 'illusions had to be kept secret otherwise they wouldn't be illusions', but sometimes, I couldn't resist telling a few close friends, how they were done…
My parents were good singers too, that's how they met, he was the drummer in a band, and she was the lead singer – I would find out later that when he first met her, he'd told the other guys in the band that he was going to marry her – yes, that's how confident he was – he never had doubts – and although they laughed, telling him that she was a Princess and betrothed to the local Chief's son, and although she didn't like him at first, because she thought that he was too sure of himself, and, she told me later, he was the sort of man that had enjoyed drunken street fighting back then too, that's how he lost his two front teeth – but, he was determined as well as confident, and won her over, never-the-less…
He'd hoped his first born would be a son – unfortunately for him, his first child was me, a female; still, when I was starting to walk, he'd take me to the RSL club where he and his mates liked to play billiards, so before I was going to school, I was already winning at the game…
One day, at about 3-4 years of age, I was watching him paint – a picture of a tree, he told me, but he used every color from bright yellows to dark purples, instead of the obvious, green – I remember (as seen through the eyes of a toddler) telling him that trees were green dad, but to my surprise, he painted the most extraordinary tree that I'd ever seen, on a rocky bank, its reflection mirrored in a – yes, you guessed it, NOT a blue stream, which opened my eyes and taught me to 'think outside the square' and to this day, I myself, love to use the most unlikely colors, when painting pictures…
We lived on a lakeside which always had people boating, skiing and enjoying picnics and games in the summertime – of course, my father used to entertain others with his skiing hijinks but what people cheered at most, was when he'd swim across to the other side – the lake was so wide that he looked like a tiny ant as he climbed the high rocky cliff on the other side, some people even watched him through binoculars - then he'd dive – with a somersault on the way down, of course, back down into the lake and swim back, to the cheers and clapping of everyone else – I remember my mum shaking her head and muttering to herself, 'show off', but her eyes always gleamed proudly at the natural entertainer, when he went up to her and kissed her in front of the clapping crowd, the show off that was her fun, thrill-seeking, loving husband…
At that time, they also used to win dancing competitions – no-one knew that they'd never had any lessons, except me, they confided in me, (they moved to the area when I was about one, so the judges had no idea that they hadn't had lessons) they must have had photographic memories, because they certainly looked just like everyone else on the dancefloor, in fact, being dramatic sorts, they actually seemed to have more grace and flair than the other dancers, as well…
At seven, I think, six or seven, I always have to remember past events either by what class I was in at school and/or where we lived at that time, he bought home a stallion for me. We lived in a village at the time, only a couple of miles out from the small country town where we'd lived on the lakeside, and he taught me how to ride in the surrounding woodlands. I remember being scared of the giant animal at first, but I did not show it, because he had bought the horse for me, and I wanted him to be proud of me - but within only the first few minutes, I loved my beautiful horse, and we both loved to gallop through the woods together – we tried to keep the horse at various nearby farms that belonged to relatives and friends, but it always jumped over their paddock fences and came to our home, so we let it live in the woods and every morning, it would come to my bedroom window, whereby I'd give it an apple to eat, then I'd crawl out onto his back, and we'd go for a gallop through the trees – after which, I'd climb back into my bedroom and get ready to go to school. On the weekends, my father had us enter races at gymkhanas and we always won them all and soon, there were ribbons hanging all over our walls. People at the gymkhanas used to tell my father that he had to 'break-in' my horse, but my father refused – he loved confident animals, he believed that we could befriend animals, and enjoy doing things like racing together, instead of getting rid of their wild spirit, and he also believed that my horse always won because he was wild and would never hesitate while wondering 'oh, should I? Can I? Am I allowed? Or any other doubts that the other 'robot-like', unsure, and obviously somewhat fearful of people in varying degrees, that most tame horses were…
Soon after that, he took me to a bow and arrow club, and soon after that, he took me on a couple of hunting trips with his best friends and their sons – the boys resented me though, because I had, unbeknownst to me at the time, but which I now call an 'artist's eye for detail', and never missed my target – my father could not quite hide his grin, neither could I…
And soon after that, I was sent to a 'Māori' school during normal school holidays to learn how to 'read the signs', and retrieve food from the sea…once, (after a lesson we had to do it on our own), I remember sinking into the wet sand so deeply (up to my thighs in fact) that I got stuck, and as I watched the tide returning, in a panic, luckily, I noticed a tree branch overhanging above me and I grabbed that, to escape what seemed to me to be at the time rapidly incoming giant, roaring waves – and as I managed to pull myself out and climb to safety just in time, it became one of the most thrilling memories of my life…
Recently, I saw a program on television showing how Māori people were being fined for taking food that was too small, and, for taking too much food – as a child, I was never taught to measure or weigh our food, only to bring back enough for everyone, the whole tribe – where I was praised for my skills as a child, I now think that I may have escaped prison for taking even just one large basket (several of which I used to drag up a steep cliff from the sea, one by one, while also trying to 'wave-off preying birds trying to peck at my food – another thrilling memory) of food back up to the waiting tribe…
My father also thought of himself as a bit of a cowboy and he used to enter and win rodeo competitions (which were held in conjunction with the annual show at the showgrounds) – I remember watching (I was the only one in the family that he took to those events, he even had a son by then, but I suppose my little brother was still too small, but he had taken me everywhere with him when I was still in diapers, when he took me to the RSL to play billiards, or maybe he was just used to me being his constant companion, now) as if mesmerized – this amazing person, who seemed to know how to do everything – he had no concept of losing, and as such, he was always the winner – I remember he even won 'the best dressed man' competition (he used to design his own clothes and have them tailor made), the biggest pumpkin, best floral arrangement (he'd decorated a large piece of driftwood with floral art), all at the same show – and I used to watch him practice twirling horsewhips (he never used them on horses, he just loved to whip and snap them around himself like a circus act) – he warned me not to touch them, because they were dangerous, but whenever he was out, I'd practice – he must have noticed the whelps across my face and calves, but he never growled, or forbade me to use them…
As a teenager, he introduced me to Judo – he thought that I was too small and skinny and should have some knowledge of self-defense and once again, like the time he gave me a stallion, although I felt it at first, I showed no fear, and decided to excel at the sport, again, to make him proud of me – he did not know that the boys at the male dominated sport in those days resented a girl being there and would bash me up, hoping that I'd run home crying and not return – but I always did return, every afternoon after school, even after having had a dislocated shoulder, and other injuries, when they used to stay away for weeks while healing, this must have impressed them, because after that, when competing against other clubs, they would fiercely protect me – I felt like I'd become some kind of club mascot, but I didn't mind, it may have taken awhile, but they accepted me, I had earned that right, and soon, the mass of horse ribbons were accompanied by a splash of colorful, martial arts belts…
I sighed as I packed the ribbons and belts away back in the store room, that seems like a very long, long time ago now, and I haven't done horse-riding or martial arts for years - but I feel blessed to have known and had such a fun loving, talented father - but instead of carrying on working on my catalogue for my website, I bought my brushes and paints out, and painted a picture of my amazing father, instead...
fact or fiction
About the author
When I was a young child, I would wake up in the night screaming because of nightmares. As time went on, I realized that I was looking forward to my dreams. They were much more exciting than my real life. So now, I write about my dreams...
Reader insights
Be the first to share your insights about this piece.
Add your insights