The Impact of Exceptional Leadership | Nikolas Onoufriadis
Nikolas Onoufriadis on the impact of exceptional leadership.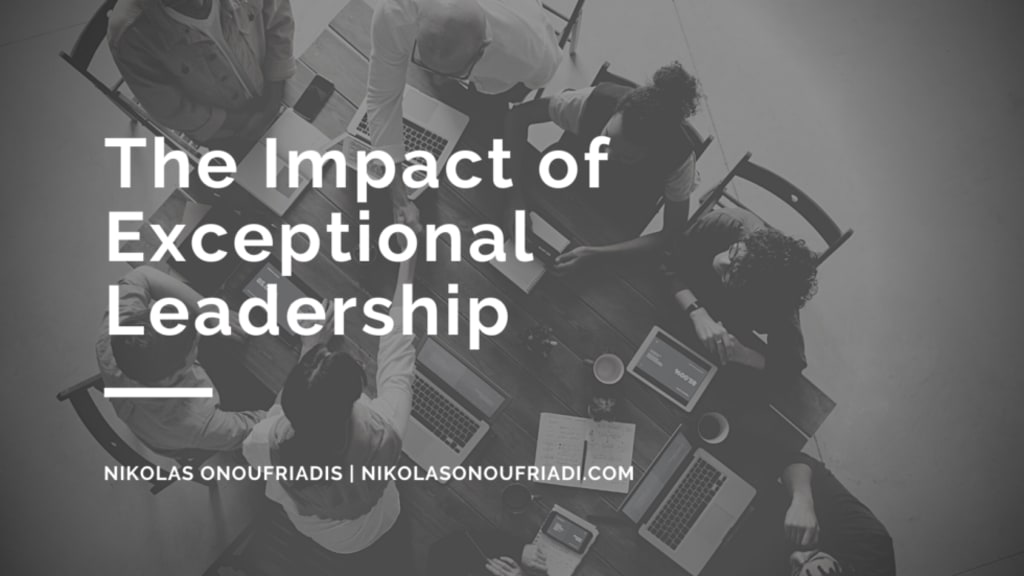 What makes an ideal leader has been discussed extensively in many books and blog publications. In the past few centuries, brute force, intimidation, and power flexing were the guaranteed way of earning authoritative positions. It takes much more than power and influence to successfully steer a personal business, organization, or country to success. This piece breaks down the must-have qualities that aspiring leaders should possess to realize overall objectives.
Subordinating personal interests
Great leaders place the organization's interests before personal interests. Such leaders accommodate other people's interests and embrace teamwork to realize shared goals. Leaders who prioritize personal interests are unlikely to earn trust from junior employees. They're willing to subordinate personal ambitions to realize collective value for the business or organization. Successful leaders recognize the unique abilities of all their junior employees and are eager to support them through their career development.
Successful leaders are approachable
Good managers make themselves available to employees to ensure they remain in touch with the day-to-day happenings in the company. This way, they can troubleshoot potential challenges and address them before things get out of hand. Successful leaders create a conducive environment for teamwork and cross-department collaborations. People in authoritative positions should create working spaces that aid the organization's growth and its workforce.
Hands-on approach
Modern leadership is centered on motivation and setting an example. Good leaders do not hesitate to offer direction and clarity on the organization's mission and vision. They should be strategic planners and be ready to make tough decisions for the good of their organizations. While it may not be practical to oversee every aspect of the business operation, they must be willing to participate and offer guidance in the core planning processes.
Accountability and communication skills
Successful organization heads understand the complexities of risk-taking, especially when considering expansion and product launching decisions. However, they must be responsible and ready to account for each move they make. Organization heads should possess excellent communication skills to ensure everyone is in sync with the overall objectives.
Superb articulation skills minimize the risk of miscommunication which can be costly for everyone involved. Visionary leaders use their positions to inspire those under them because they understand the power of motivation.
-
About Nikolas Onoufriadis
Nikolas Onoufriadis is a native Greek who is currently residing in Boston, Massachusetts. One of the things that sets Nikolas apart from the crowd is his genuine knowledge and understanding of balancing work and self-care. A skilled businessman and conversationalist, Nikolas has conducted business in more than 10 countries in the last 15 years. He's fluent in Greek and English, and conversant in Spanish and German, no doubt helping him during business negotiations.
Nikolas constantly goes above and beyond in whatever he's doing. He not only got his Bachelor's degree in Political Science from the University of Massachusetts, but also got another Bachelor's degree in Psychology from Harvard, making the Dean's list in both places.
Currently, Nikolas Onoufriadis is the Founder and Managing Director of his own consulting firm, Power2U Consulting. Founded in 2015, Power2U Consulting is a business that specializes in management and business consulting, as well as government relations. Nikolas wanted to put the skills that he learned throughout college and his extensive career to work, employing leadership, strategy, management, communication practices, and business growth to the company. Power2U has been successful in tackling complex issues throughout the United States, as well as several countries in Europe, the CIS, and the Middle East. Because of the work that he's doing, Nikolas has not only met with Heads of State, political dignitaries and prominent businessmen, but also gained experiences that he wouldn't have had otherwise by facilitating government and business meetings, participating in critical discussions and negotiations, and organizing targeted events and fundraisers. To learn more about Nikolas Onoufriadis, be sure to visit his websites!
list
About the author
Nikolas Onoufriadis has a track record of helping people succeed. He has two bachelor's and two master's degrees that provided a foundation as a strategist and consultant throughout his 15-year career. Visit his website to learn more.
Reader insights
Be the first to share your insights about this piece.
Add your insights