The Final Portrait (part 3)
Howard Hughes, a femme fatale, and billion dollar painting at a house of ill repute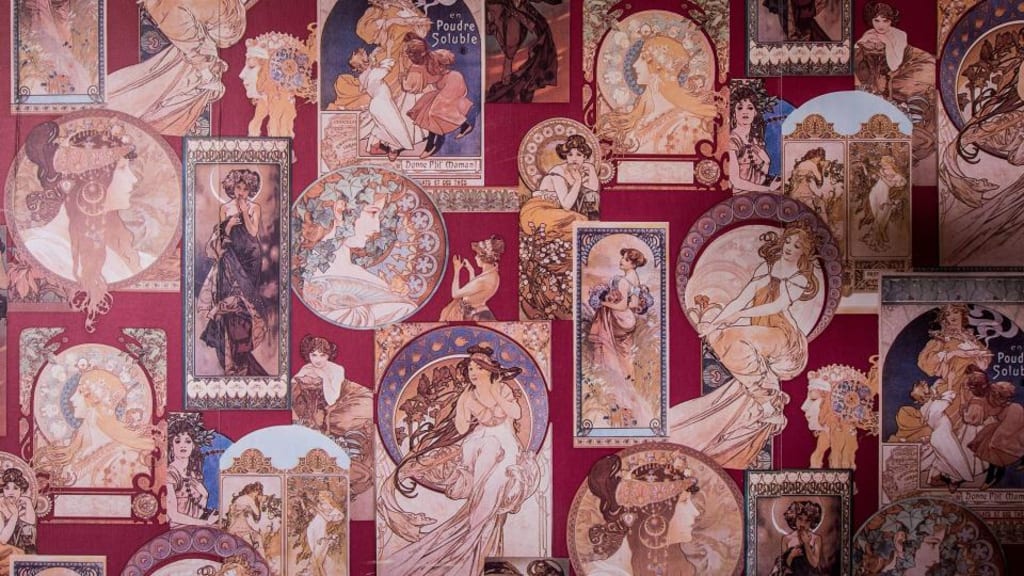 Wall décor at the Cottontail Ranch Brothel
A true Las Vegas story, told in episodes.
Part 3: Artist in the wind
I realized a footnote had taken prevalence. The nude portrait on the wall of a brothel had held the keys to a mystery spanning five decades. An accepted narrative, one that directed the distribution of the estate of America's richest man, was in question.
The painting's subject, the brothel girl called Sunny, was nowhere to be found. The last account of her was after a fire which had destroyed part of the Cottontail Ranch. A columnist in the know at a rural newspaper had heard of the fire in Beatty, about 50 miles south, the day after the blaze. He drove to the Cottontail to find the Madam, Beverly Harrell, whom he knew from other interviews in the years past. He reported that Sunny had caught a ride to Reno after the fire, then flew to Oakland to visit family. The Cottontail was rebuilt, but Sunny never returned.
Prior to Count Deiro's passing, we had discussed what to do with the Cottontail Ranch name, left to him by its new owner. Referencing only a memory, it held perhaps only a nostalgic value now. I had suggested to the Count that we develop it as a lingerie brand. We had good times contemplating the possibilities over wine on a few occasions. Since he had inherited the painting of Sunny, I suggested we honor her image as the logo. Thinking it through, we both realized that rights to a sold reproduction of the image would belong to the heirs of its creator, the elusive artist Henri Shein. We had wondered if there was anyone left to lay claim to it.
Former FBI agent Gary Magnesen, after writing two books and attempting a court case in the interest of correcting the story in favor of Dummar, had exhausted the lead when he determined that Sunny had died in 1988. He had identified her. A divorcee from the Midwest, who came west to Hollywood to become a star, and things didn't go so well. A sad story Bob and I had heard thousands of times, growing up in Las Vegas. Gary found additional photos, and interviewed her grown children. He was convinced they had no idea she was a lady of the evening. With that last attempt, Gary himself had retired from the chase, altogether. Melvin Dummar had died at the end of 2018. With Deiro and the Harrell's of Cottontail Ranch gone too, everyone I knew to have seen Sunny was deceased, retired, or in the wind.
The late Count Deiro was not without his critics, either. Many voices supported the close-knit Mormon contingent of Hughes caregivers - some say captors - who completely surrounded the billionaire in his final years. These accounts would have no such person as a G. Robert Deiro, and no way Hughes ever left the Desert Inn.
One of these, Chuck Waldron, co-wrote and published The Mysterious Howard Hughes Revealed in 2004. It is barely readable for its punctuation errors, and reveals only how little even his keepers knew. The importance placed on trivial topics sounds more like fan culture than biography.
Others who worked for Hughes's Summa Corporation, which later became The Howard Hughes Corporation, had similar dismissals. Their opinions are echoed to a large extent by the latest book about Hughes, written by a Las Vegas curator and historian who runs a major local museum. He pointed out that there were no flight logs, and Hughes would have had no need of Deiro to run his airport, because he "had people for that." The gregarious Count Deiro, who loved a good story and a good time, also invokes the feeling in some that he was one to make it all up for the attention. Some of these detractors pointed out that Deiro seemed to have no secrets, everything was public, and all the better when it was a good story.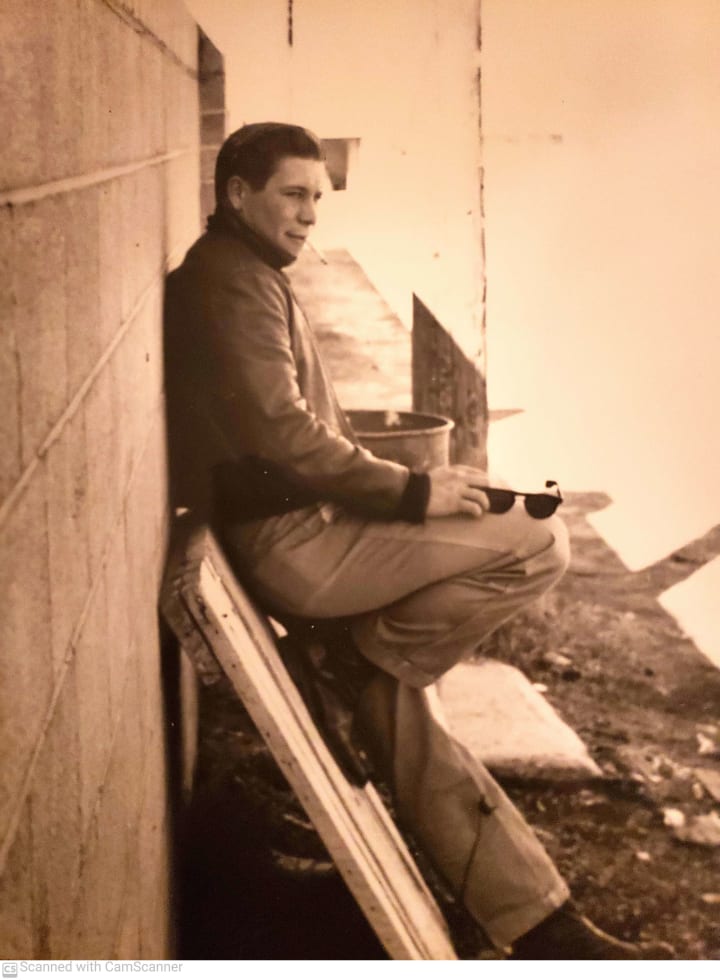 Bob Deiro always replied that the Hughes organization made him destroy his copy of his flight logs when he separated from service. "What, you think they want me walking around with a record of Hughes's proposed SST locations? Or evidence he was chasing a brothel girl? Ridiculous."
He pointed out that his secretary at the time, a Mormon woman hired by the Hughes Tool Company in '67, had corroborated his story, including his position and situation, how and when she would receive Hughes's calls and transfer them to Deiro, what orders Bob was following, flights and more. Deiro said that among these orders, especially after the his last flight with Howard, was the job of entertaining certain people doing business with Hughes, or individuals from whom he valued approval for his projects. Bob said he had traveled to Mexico on a few occasions, and spent many evenings in Las Vegas showrooms and suites, schmoozing one VIP or another on behalf of his debilitatingly reclusive boss.
Hughes was a tremendous government contractor, at that moment being drawn into his most mysterious and probably largest contract. In March of 1968, a Soviet K-129 submarine sank, off the coast of California. The CIA wanted codes and nuclear hardware suspected to be on board. A deal was struck to have Hughes finance an unprecedented deep water salvage ship which the job required, the Glomar Explorer, under the cover of a mining operation. It took six years for this beast of a vessel to recover only a less-important part of the submarine. Over time, quid-pro-quo favors by Hughes for the federal government were escalating. Machiavellian in his need to know every weakness of any adversaries, Hughes arranged ever more meetings, set-ups, surveillance and fact finding missions. Deiro realized he had become something of an operative.
Deiro told me that when he decided to Marry Joan, he knew he had to leave Hughes. The completely unpredictable schedule and less-than-family-friendly activities would be too much for Joan, and he did not intend to lose her. Instead, he told me, he had tightened up his piloting bona fides and gone hunting for new sky work.
He was soon named Director of Promotions for Golden West Air Terminals in Van Nuys, California. The new gig afforded him access to small aircraft often. This became his own golden era, when his marketing responsibilities with the firm allowed him to commandeer a plane, nearly at will. He and his new bride enjoyed the fringe benefits.
There were also those who thought Deiro's title of Count was a fraud, some even said he wasn't Italian at all. But I was no stranger such topics, and already knew these to be fact. Still, there was always someone dismissing his story as it regarded Hughes. Could it all be fake? I could not believe he would bother with such an elaborate ruse.
About six months after Bob had passed away, Joan called me, asking for help with her records. Haunted by memories, upkeep, and a probably a ghost or two, the Countess had sold Villa Kismet. Paulina and I visited her at her new place. We enjoyed coffee, and memories. She gave me a few files full of old records, and told me she was sure he'd want me to see them. Before we left, she had us help her hang several paintings, a few framed commendations, and the like. The last item I hung was a small, simple certificate. I didn't read it until I had leveled it on the wall. Then I noticed the Federal Seal, and the signature by Donald Rumsfeld, Secretary of Defense: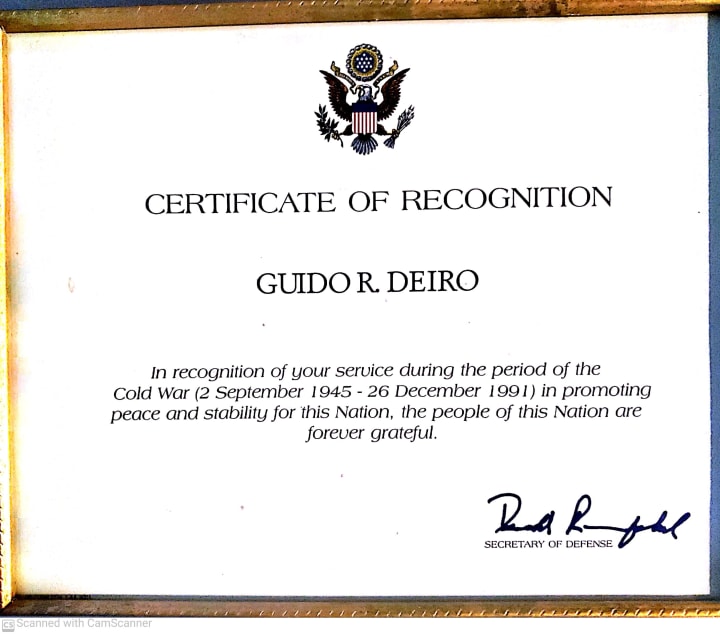 Stunned, I turned to look at the Countess. She was nonchalant, "Isn't it funny? Lots of people thought he wanted attention. He used that fact to draw attention away from the things he actually hid."
She went on to tell me that the CIA had hosted Bob and her in 1968, near Langley, Virginia. They had offered Bob a job, and a nice house on the edge of a wooded area. Joan was advised her husband would be gone for extended periods of time. Management wanted to know how she felt about that. The young bride wouldn't have it. Bob turned down the offer and the couple returned to Las Vegas. He told Joan over and over not to worry about it, he didn't want to be a "company man" anyway.
But secretly, Joan told me, for many years, Bob flew missions for the CIA, usually in the US or into central America. She never knew more than that.
The files she gave me were full of other evidence, supporting everything he had reported about himself, and more. One letter of recommendation in particular, from the Lt. Governor of Nevada, "to whom it may concern," in 1968, put it all in a nutshell: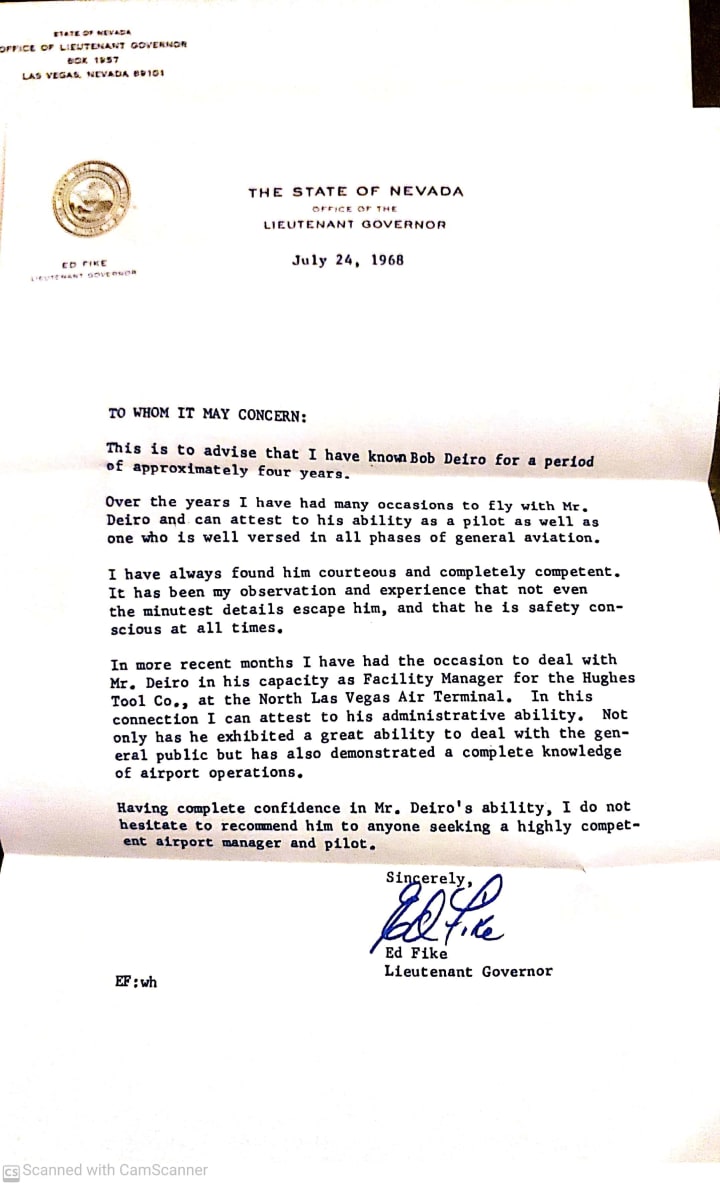 I was struck by the fact that the letter had never even been removed from the envelope in which it was apparently presented, back in 1968. Intriguing photos, articles clipped from newspapers, etc. Some, obvious keepsakes, some not, all were in the files. That museum curator who had been a recent detractor was partly right, Hughes certainly "had people" when it came to his airport in Las Vegas. What that historian hadn't realized was the fact that G. Robert Deiro was that person, all along. It had always been his story. Apparently that author never checked, and Bob didn't think him worth correcting.
A photo of young Deiro in a Las Vegas showroom has him seated with a well dressed crew, including William Randolph Heart, Jr. directly across the table. When that editor and son of the newspaper magnate died in 1993, his obituary in the Los Angeles Times reported, "With Howard Hughes he shared a passion for airplanes and fast cars."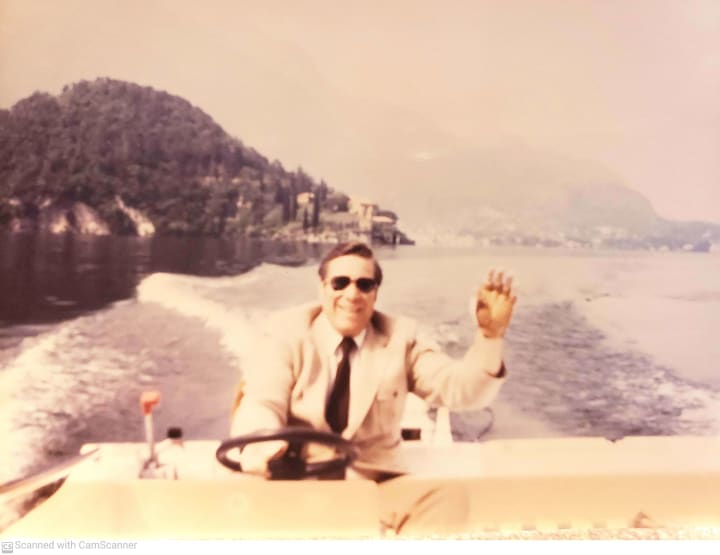 I continued to ponder the artist who had painted Sunny. Hughes himself was known to have assumed several identities in his lifetime. Especially well-documented was his inventing the persona of a photographer in the 1930's, who had some success in commercial portrait photography of starlets, always with an ulterior motive. Hughes had gone so far to cover his tracks as to have an actor photographed in similar attire and hat, officially a portrait of the nonexistent photographer, which was provided to the press. Could Sunny's artist Shein just be a similar alter ego?
The letters of the painting's signature were strangely of a draftsman style, almost block letters. Hughes, in addition to being a pilot and prolific movie producer, was an accomplished inventor and skilled draftsman, so I brought the painting into natural light to study the signature more closely. It now seemed to transform. In the photograph of the portrait, it is quite clearly signed Henri Shein. But in the light of day, it seemed to morph. I suddenly saw it differently.
Realizing I was seeing what Deiro had seen, that day we studied the painting at Villa Kismet, I now knew what he meant, "Art is like a woman, never what she seems at first blush." Never having laid eyes on the original as Bob and I now had, Magnesen had hunted for the wrong name. The signature was not that of a Henri Shein at all. The artist was in fact, Henri Sabin.
Quickly typing him into into a search, a flood of his images poured onto the screen. Gina Lollobrigida, Joan Crawford, Jane Russell, Delores del Rio, Merle Oberon, Brigitte Bardot, Clara Bow, Ava Gardner, Gloria DeHaven, Elizabeth Taylor. Iconic beauties, many in films produced by Hughes, some discovered by him, others the subjects of his infatuation and marriage proposals, all drawn or painted by Henri Sabin.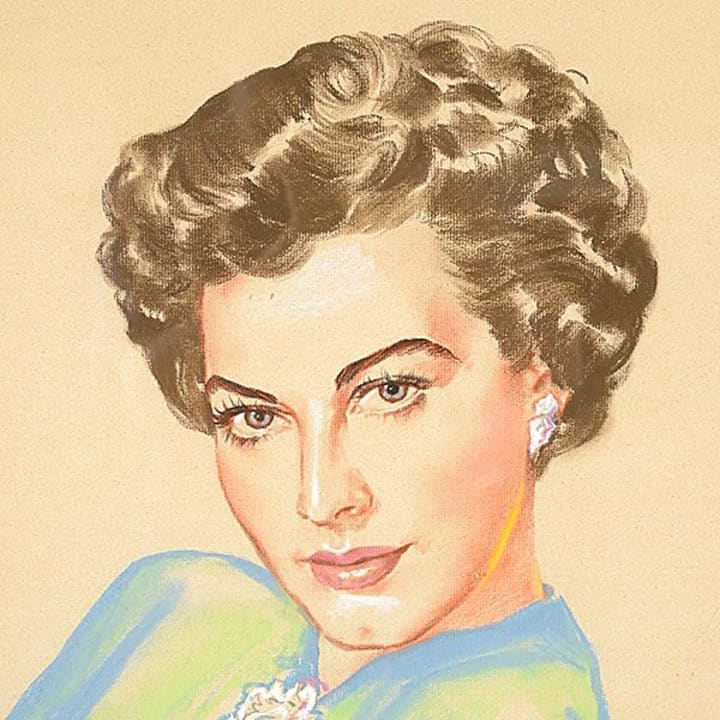 Sabin was a French orphan who was adopted after World War I, by an American family. They knew astoundingly little about him, except that he had been an only child, orphaned in France. He grew up in the US and became a sought-after portrait artist, coming to prevalence in Hollywood in the late 1920's. His pastel sketches of film stars frequented the covers and pages of several movie magazines of the time.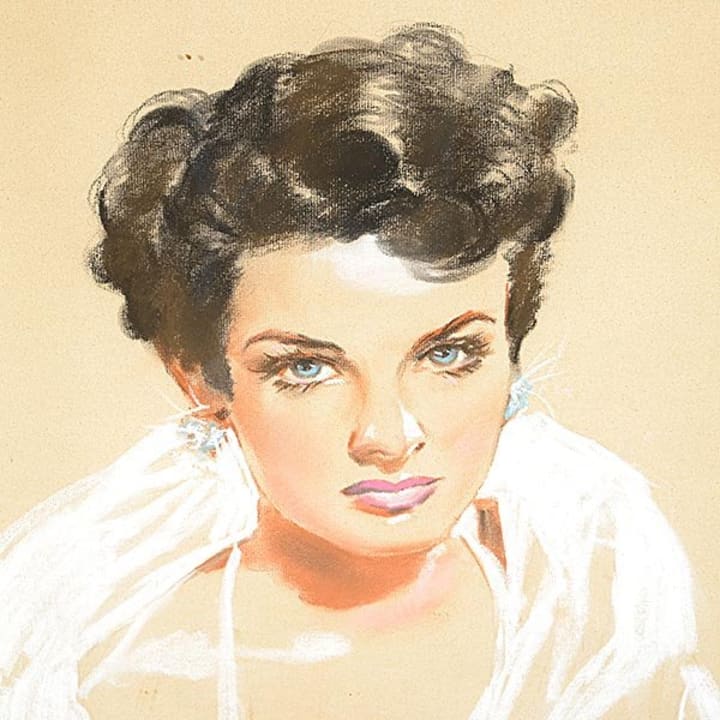 Occasionally, Henri Sabin would be commissioned for portraits in oil on canvas. These also tended to be starlets. The last of his oil paintings are also his last two known works. One is a mysterious clown portrait, rather out of character for the artist and thought to possibly be a self-portrait. The other is a stunning portrait of Brigitte Bardot. Both are signed 1963. Sabin passed away in 1972. There is not a photo of him to be found. Unless the clown portrait is him, there is also no known painting of Sabin.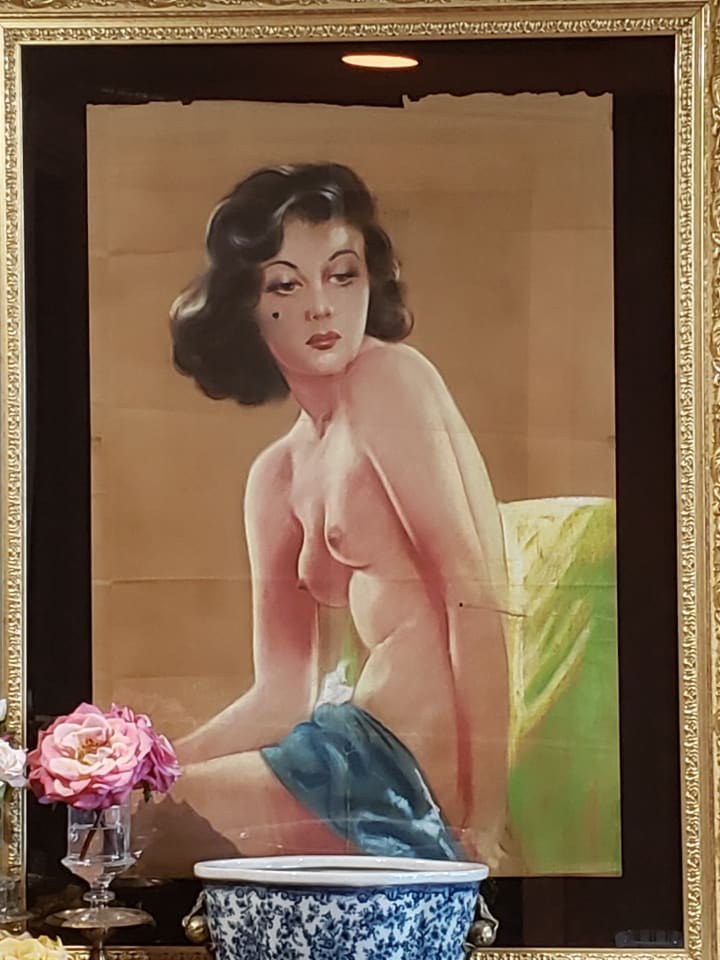 Clara Bow, and the portrait of Sunny, both Nevada residents when depicted by Sabin, were the only two full-body nudes in his portfolio.
I remembered that Gary Magnesen had interviewed a former bordello girl in Ely, Nevada who had said Sunny worked there with her, for a short time in the 1970's, and bragged about Hughes having previously been her customer. She said Sunny claimed Hughes was so infatuated with her that he had a portrait painted of her, and it hung in another house.
Now that very portrait brought a chorus of beautiful ghosts before me, whispering their testimony that Hughes visited the Cottontail Ranch, where Deiro lost him, and Dummar found him.
This would have no effect on Dummar's claim today. That time is long passed. And so, when he studied Sunny's portrait that day a few years earlier at Villa Kismet, Count Deiro had given me only hints, and left the femme fatale with her mystery. A gentleman never tells.
I revisited the question of commercial use of the image of Sunny, as Deiro and I had discussed, and realized the ultimate irony. The owner of the right of reproduction would be the artist or his heirs, if any there be. Except, in the case of work for hire. Rights to commercial use of images created by hired artists remain the property of the hiring party. With regard to Sunny, that party, by all accounts, was Howard Hughes. Therefore, the successor Howard Hughes Corporation would own those rights to the image.
But in claiming those rights, the Howard Hughes Corporation would authenticate the genesis of the painting, thus disavowing the very testimony that granted the billion dollar Hughes estate to the winning heirs. Doing so could open them up to claims by countless parties in interest, who lost out for generations. Perhaps Sunny is more dangerous now than ever.
All those years that the Hughes trial was raging in the courts and splashed across the papers, there was a painting hanging in a brothel on a lonely highway, holding all the cards. Her image still captivates. At once sadness, intrigue, promise, fear.
The last painting of Henri Sabin, a final acquisition of Count Deiro, epitaph of the Cottontail Ranch, Sunny is the final portrait commissioned by Howard Hughes.
"Art is forever, and immutable. Life is temporary, and transient."

- Count G. Robert Deiro
art
About the author
PLEDGES & TIPS SUPPORT THE LIBERACE FOUNDATION FOR THE PERFORMING AND CREATIVE ARTS.
Honorary Consul of Monaco, Chairman of the Liberace Foundation for the Performing and Creative Arts, 50 years in Vegas, Citizen of the world.
Reader insights
Be the first to share your insights about this piece.
Add your insights