The Beauty of Names
My favourite witchy names: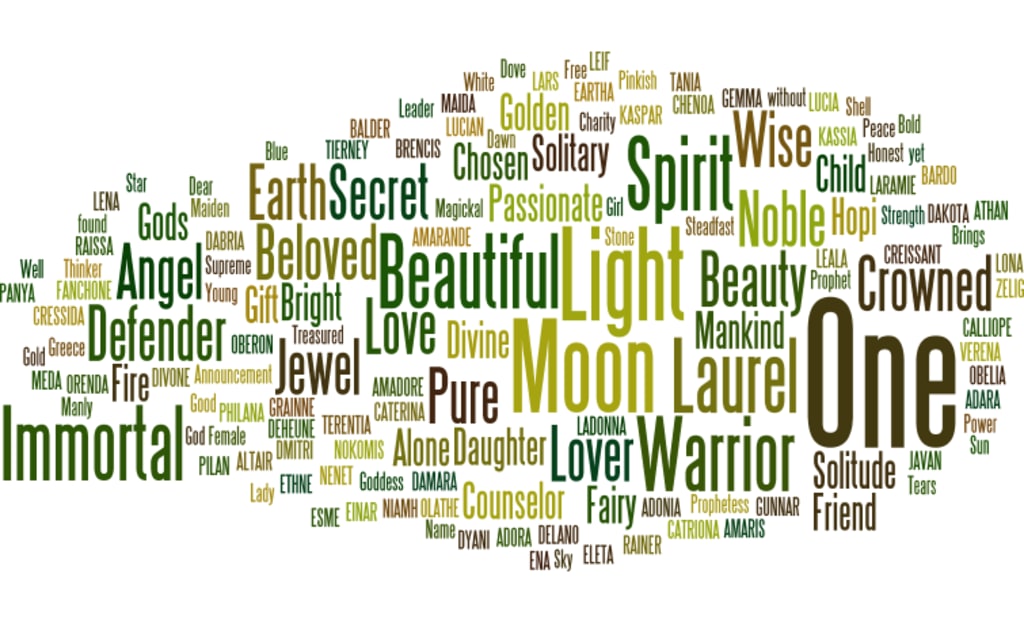 Witchy Names
In writing and world building I name a LOT of things. I'm looking at Witchy names right now. There are SOOOOO many choices!
Here are some suggestions with their meanings.
Female
ADORA ( Fr. Beloved )
ALAINE ( Fr. Dear Child )
ALENA ( Gr. Bright One )
AMADORE ( Ital. Gift Of Love )
AMARANDE ( Gr. Immortal )
AMARIS ( Eng. Child Of The Moon )
ANGENI ( N.A. Spirit )
AQUENE ( N.A. Peace )
AZURA ( Eng. Clear Blue Sky )
BONAMY ( Fr. Good Friend )
CALLIA ( Gr. Beautiful )
CATORI ( Hopi Spirit )
CATRIONA ( Celt. Pure )
CHENOA ( N.A. Dove )
CRESSIDA ( Gr. Gold )
DIVONE ( Celt. Divine One )
DYANI ( N.A. Deer )
ELETA ( Fr. Chosen )
ENA ( Celt. Fiery; Passionate )
ENOLA ( N.A. Solitary )
ESME ( Asax. Kind Defender )
FAYE ( Fr. Fairy )
GRAINNE ( Celt. Love )
KACHINA ( Hopi Spirit )
KASSIA ( Gr. Pure )
KENDRA ( Asax. Prophetess )
KIMI ( Algon. Secret )
LEALA ( Fr. Loyal One )
LONA ( Eng. Solitary One )
MAIDA ( Eng. Maiden )
MEDA ( N.A. Priestess )
NATANE ( N.A. Daughter )
NENET ( Eng. Goddess Of The Deep )
NEONA ( Gr. New Moon )
NIAMH ( Ir. Bright )
NOKOMIS ( Daughter Of The Moon )
ORENDA ( N.A. Magic Power )
ORELA ( Lat. Announcement From The Gods )
ORIANNA ( Lat. Golden; Dawn )
ORIEL ( Fr. Golden; Angel Of Destiny )
RAISSA ( Fr. Thinker )
SAGE ( Lat. Prophet )
SOLITA ( Lat. Alone; Solitude )
TERENTIA ( Gr. Gaurdian )
VALA ( Eng. Chosen )
VERENA ( Ger. Defender )
Males
ACELIN ( Ger. Noble )
ADONIS ( Gr. Manly Beauty )
AIDAN ( Celt. Fire )
ALTAIR ( Gr. Star )
ATHAN ( Gr. Immortal )
BRENCIS ( Lat. Crowned With Laurel )
CAEDMON ( Celt. Wise Warrior )
DELANO ( Fr. Of The Night )
DMITRI ( Gr. Lover Of The Earth )
EINAR ( Scan. Warrior; Leader )
EOIN ( Wel. Young Warrior )
KEENE ( Celt. Wise )
KOEN ( Ger. Honest Counselor )
LARAMIE ( Fr. Tears Of Love )
LEIF ( Scan. Beloved )
LUCIAN ( Lat. Man Of Light )
MADDOCK ( Wel. Generous )
OBERON ( Ger. Noble )
ZELIG ( Ger. The Blessed One )
It's funny that when you choose a name for one of your characters you start to feel more of what they are about and who they are.
For example, when I choose the name Koen for a male witch, he becomes a young prophet who has visions of the future. He shares them honestly and counsels his followers as best he can. He owns the meaning of his name and becomes more of what he is.
When I choose the name Terentia for a woman, she becomes a strong, quiet witch who watches and observes the people and places around her. She uses her magic to build and change things for the better. Therefore in my world she lives up to the meaning of her name and becomes a guardian for her people.
After awhile I start to feel these characters and see in my head more about what they look like, the things they like and don't like, the things they will do and not do, the lengths they will go to to protect their loved ones.
I don't know if this is how it works for everyone who writes stories but it's how it works for me. Sooner or later the characters I care about tell me who they are.
Let's begin with the ladies:
KIMI ( Algon. Secret ) Kimi keeps a dark secret (perhaps she works toward the dark side of things).
LEALA ( Fr. Loyal One ) Leala works hard to keep the peace amongst her contemporaries and falls hard when her trust is broken.
LONA ( Eng. Solitary One ) Lona is a wee bit cranky and prefers to work alone, though occasionally she does appreciate a good party and some socialization.
MAIDA ( Eng. Maiden ) Maida is a very shy lady and is slow to open up to other people. She is slow to trust.
MEDA ( N.A. Priestess ) Meda is strong, powerful, independent and a leader. She is VERY happy to be in control.
The gentlemen witches in my world are prophets, so each of them respond differently to their visions:
ACELIN ( Ger. Noble ) Acelin receives visions but only shares the ones that improve the world. The harsh ones he keeps to himself.
ATHAN ( Gr. Immortal ) Athan chooses to take a potion that makes him immortal so he has seen cities rise and fall in his time. He doesn't take as many things seriously now. Life is short and always changes. He also keeps the harsh visions to himself. What will be, will be.
BRENCIS ( Lat. Crowned With Laurel ) Brencis likes to stir the pot, therefore the harsher the vision the more he will share it.
CAEDMON ( Celt. Wise Warrior ) Caedmon picks and chooses which visions to share but in his wisdom he knows that it is important to share good and bad equally.
This is how MY head works. Do they seem like characters that would be interesting to you?
That was actually just a list that I saved but the witches and prophets in my worlds have different names. My favourites are:
Witches:
Annika
Alcina
Eris
Edelle
Jadis
Ommin
Prophets:
 Dashiel
 Niam
 Osran 
Anan 
Jasion  
Caton
Tade
To this point I love Annika, Alcina and Jadis and my favourite prophet is Dashiel. However, I'm just beginning the journeys of my characters so I'm SURE there will be many more!!
It is fun trying to figure out who they are! :)
list
About the author
I've gone through many things in my life and I simply want to find a moment now and then to share the struggle, the journey and some of the achievements (though I am VERY slow). I keep on keeping on.
Reader insights
Be the first to share your insights about this piece.
Add your insights