Stripping with Scissors
Adventures in Upholstery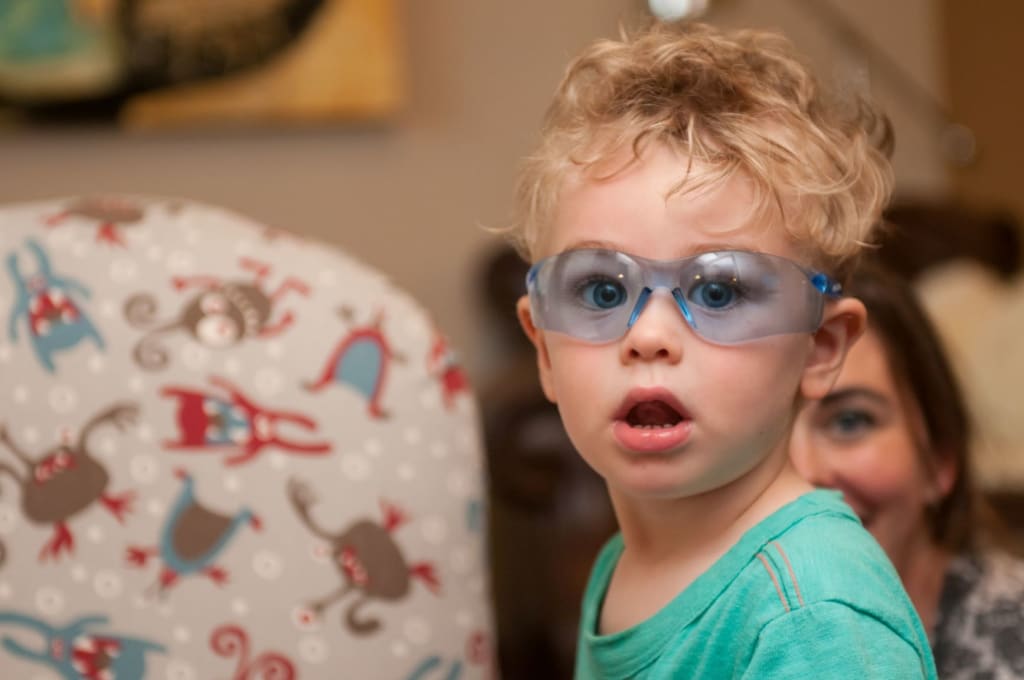 Safety first!
Confession: I've been stripping for about eight years.
Stripping down furniture, to be precise. It's funny; before I dove into the singular joy and challenge of upholstery, I thought strip as a verb was the sort of thing one definitely did WITHOUT children around. (And to be fair, the tack-pulling IS better left to adults!) But as they learn their warp from their weft, their bias from their grain, their tacks from their nailheads, my kids and I are learning more than a fun skill. We're learning about recycling and reuse, about how to care for the environment, both the household one and the one whose air we all share. With each project we do together, we gain a sense of achievement, of ownership, and a knowledge that we're capable to create and recreate almost anything our minds can imagine.
The Monster Chair was my rite of upholstery passage. To tell its story, we have to go back to 2013. Our family had just made an international move. Our temporary apartment was bare and sterile. Oh... and I had a newborn and a one-year-old who needed me 24/7. Life was chaos and I was desperate to make this generic place feel like home.
The only way I knew how to do that? Make something.
In my sleep-deprived state, I decided the best craft I could immerse myself in was one requiring a staple gun, hammers, and a pair of sharp scissors. I'd never upholstered anything before, but I watched a few YouTube videos and checked some books out from the library. Armed with just enough knowledge to be dangerous, we made a trip to Goodwill.
On our first visit, we discovered a plaid monstrosity. It was reasonably comfortable to sit on, but the fabric was faded, full of holes, and completely NOT our style. I did like the chair's simple lines. And its price: $8.99. Perfect for a first upholstery project.
You should know something about me. When I do something, I go all in. There are no trial runs. There is no throw-away first attempt. I hate waste, whether that's time, effort, or materials. Also? I'm cheap. So when I stuffed this chair into my trunk and strapped my babies into their car seats, I was committed. I would turn the monstrosity into a comfortable monster. Without burning a monster-sized hole in my wallet.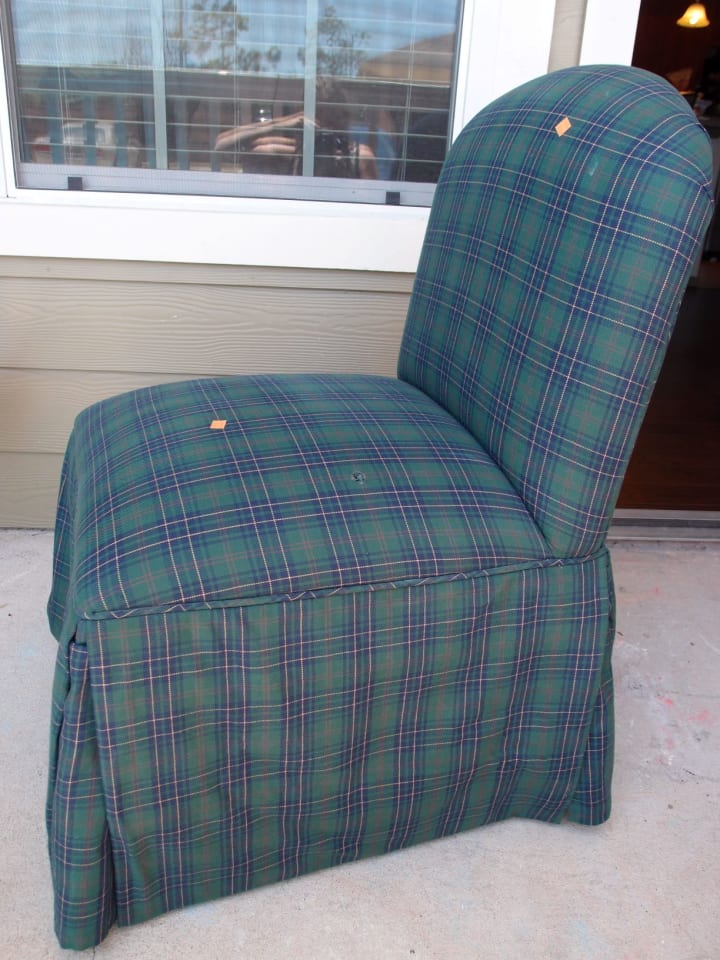 Our next stop was the fabric store. I knew exactly what we needed. At the time, my son was dealing with some deep-seated monster fears and fascinations, as toddlers tend to do. What better way to help him overcome any trepidation than with a chair entirely covered in them?
Me: "Momma is taking all the fabric off and when it's naked, what are we going to do with it?"

Son: "Monsta abric."

Me: "That's right, monster fabric. And then what will it be?"

Son: "MINE!"
So with an investment of less than $25, I set to work. The first steps were all undertaken outside. Just in case there were unwanted visitors. Who hasn't heard the horror stories of pythons in sofas, bedbugs hitching a ride, and etc?
I hadn't invested in good tools at the start, so I didn't own a staple puller. I began the job with a flat-head screwdriver and a pair extremely cheap scissors. It did not go well. The flat tip of scissors did slip under the staples, but I worried I was setting myself up for a trip to the emergency room. (And THAT was not in the upholstery budget!) Eventually, I realized that jewelry pliers were the perfect size and shape. Their smaller tips slid under the staples like a dream. I was able to carefully remove all the fabric and piping.
Careful removal was important, because I was trying to reutilize every part of the original chair that I could. By not tearing or cutting the fabric when I stripped the chair, I was able to use the pieces as patterns. After ironing the old fabric, I traced it onto the monster print fabric. Then it was time to bring out the shears!
My extremely crafty mother taught me to never allow paper to touch the blades of my fabric scissors. A well-loved pair of orange-handled shears were the one excellent tool I owned. The most important for the job, since I had not bought enough fabric to allow for mistakes. My cuts needed to be crisp, clean, and perfect.
Which they were.
We flattened the original tack strips, made replacements as needed from strips of breakfast cereal boxes. I learned how to use a piping foot. And then, just in time for Mother's Day, a cherry red pneumatic stapler arrived! It made attaching the new fabric a breeze. My son wore his eye protection as he helped tap the final pieces into place. And when he was seated atop his monster throne...I think we both grinned with joy and pride.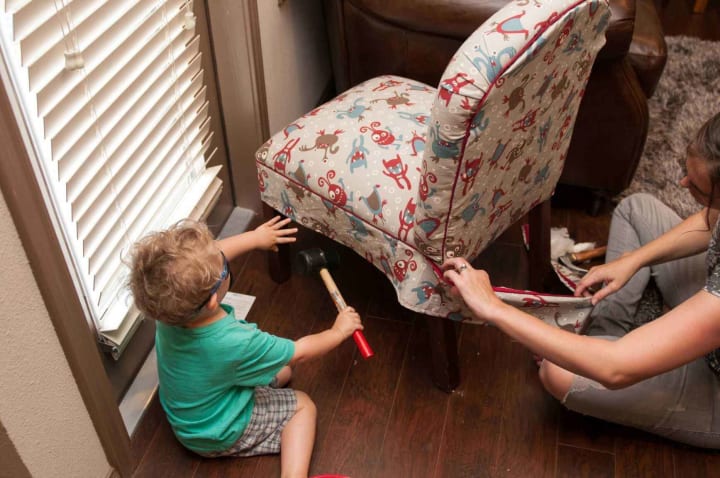 Since then, I've taken my scissors to a pair of pink velvet Ikea curtains, transforming them into a wingback chair. We've made a headboard with deadstock fabric, cushions for dining room chairs, refurbished a vintage seat in happy yellow birds, and more.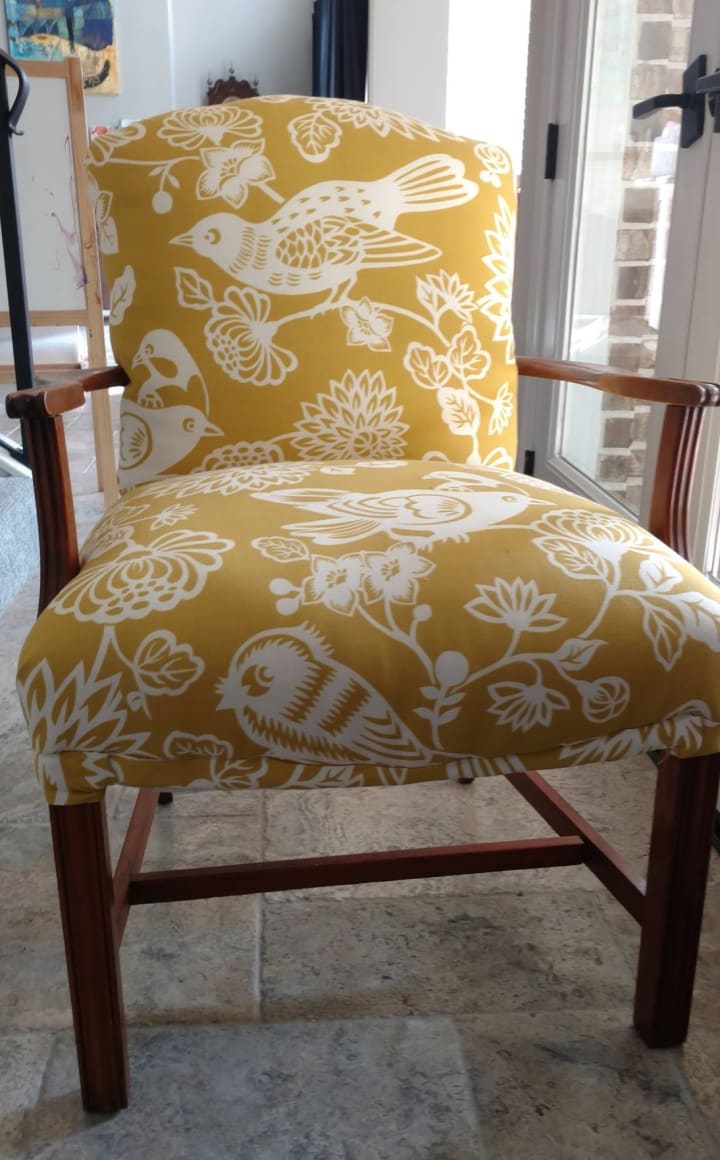 Remaking things brings me a lot of joy. And seating. But now I've got more chairs than I know what to do with, so it might be time to turn those scissors and skills over to another craft. Or perhaps it's time to turn the monster into something more appropriate for a boy rapidly approaching the tween years. Who knows?
What I do know: I'll be keeping my scissors sharp for whatever new project comes our way. And when the kids are old enough, I'll get them their very own pair, so they too can have one excellent tool that can set them off on an adventure, whether that be upholstery or fashion design or something else entirely. If I'm lucky, they might even ask me to tag along!