Shikhar Dhawan
Shikhar Dhawan is an Indian cricketer who represents the country in international cricket. On the domestic level, Shikhar plays first class cricket for Delhi. He is also an integral part of the Delhi Capitals in the Indian Premier League.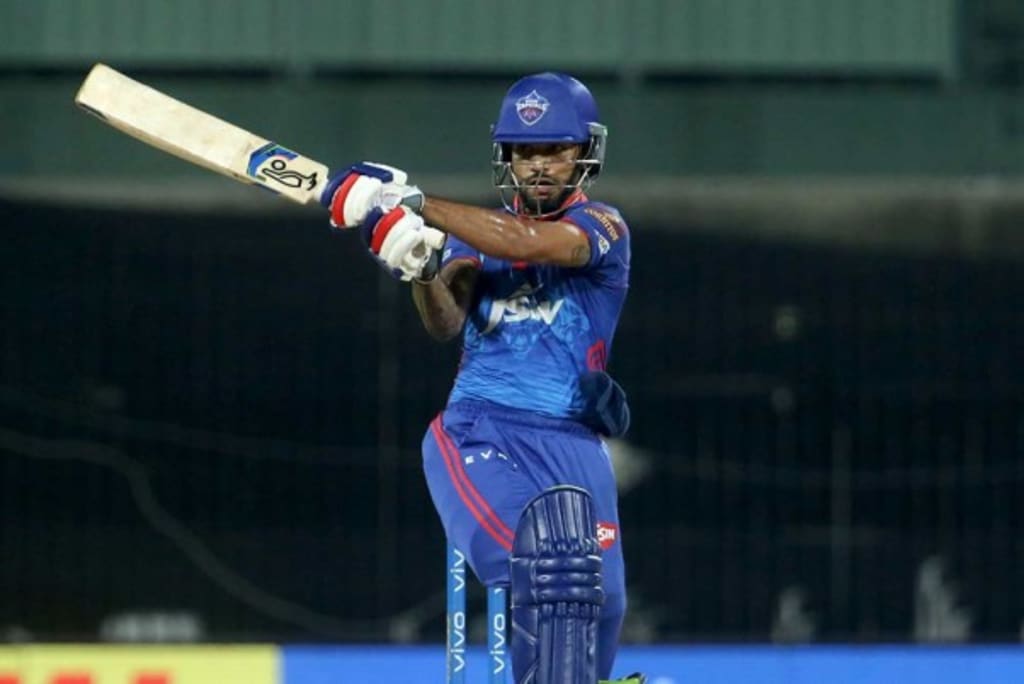 Shikhar Dhawan : Career
Domestic Career
Dhawan started his professional career with Delhi Under-16s in the 1999/00 Vijay Merchant Trophy. He was the leading run-scorer of the 2000/01 Vijay Merchant Trophy next year. These two incredible seasons paved his path for India ACC Under-17 Asia Cup. Averaging 85 in the Asia Cup from three games, Dhawan was subsequently drafted into the Delhi Under-19 team in October 2001, for the Cooch Behar Trophy, and then again in October 2002.
With brilliant performances, one over the other, Dhawan became the star of Indian Domestic cricket at a very early age. He then played for North Zone Under-19s, the CK Nayudu Trophy, Cooch Behar Trophy and even captained the Delhi Under-19 team. In 2004 Under-19 World Cup in Bangladesh, Dhawan finished as the leading run-scorer of the tournament with a total of 505 runs from seven innings
Dhawan made his first-class debut for Delhi in November 2004. Dhawan finished as Delhi's leading run-getter that Ranji season with a total of 461 runs from 6 matches. In the 2005/06 Challenger Trophy in October 2005, Dhawan played for India B and had his first disappointing series in a long time. After that, Dhawan played for North Zone against Zimbabwe Cricket Union President's XI and for Board President's XI in a three-day match against the touring Sri Lankan team.
He also represented India A in the EurAsia Cricket Series in April–May 2006. Thel 2006-07 Ranji season was special for Dhawan for he was made captain of the Delhi team for the Ranji One-day Trophy in February 2007. Dhawan was a part of the victorious Delhi team who won the 2007–08 season. He then played exceptional cricket across tournaments till his career hit the rough patch in 2010 when India A was touring England. His poor form turned around in the limited-overs triangular series involving England Lions, India A and West Indies A where scored 166 runs from 4 innings at an average of 41.50 and a strike rate of 130.70.
He was then selected Rest of India squad against the defending Ranji champions Mumbai in the Irani Cup in October 2010. His performance in Irani Cup earned him a spot for India Blue in the Challengers Trophy, which was a bittersweet tournament for him. But it did earn him a national call-up. Following which Dhawan was in and out of the Domestic cricket as he slowly started to become a national team regular.
He played Ranji for Delhi in 2010–11 Ranji Trophy. It was a poor phase for Dhawan and he struggled with form in Duleep Trophy, Vijay Hazare Trophy and Deodhar Trophy. It continued in the West Indies, and Dhawan was unable to find a place in the Indian squad that toured England. But Dhawan redeemed himself with his domestic exploits. The 2012–13 Ranji season was probably Dhawan's last for the foreseeable future as he became an integral part of the national team
IPL Career
Shikhar debuted in the IPL with Delhi Daredevils in 2008. He made 4 half centuries and was third-highest scorer for the team. However, the management decided to trade him to the Mumbai Indians for Ashish Nehra. He has played for Mumbai Indians in the next two seasons of the IPL. Dhawan was bought by Deccan Chargers for $300,000 in the fourth season.
Dhawan was appointed captain of the Sunrisers Hyderabad team before the 2013 Champions League Twenty20 tournament. But he was replaced by Darren Sammy as captain in the 2014 edition of the Indian Premier League. The 2015 season of Indian Premier League was disastrous for both Dhawan and the Sunrisers. They, however bounced back to win the tournament in 2016. Dhawan was retained by Sunrisers Hyderabad for the 2017 Indian Premier League.
ODI Career
Dhawan made his first international selection in October 2010, for a three-match ODI series against Australia. Dhawan made his international debut in the second ODI at Visakhapatnam on 20 October. Dhawan had a disastrous debut as he was bowled off the second by Clint McKay. Dhawan's ODI career didn't kick off even in his second series of the career which was against the West Indies.
Dhawan played his 100th ODI against South Africa team, and also scored his 13th ODI century. By doing so, Dhawan became the first batsman for India to score a century in his 100th ODI. Dhawan started opening the Indian innings with Rohit Sharma in the 2013 ICC Champions Trophy, and the gamble turned out to be a huge success. Dhawan's opening partnership with Rohit Sharma is the second most successful opening partnership for India after Sourav Ganguly and Sachin Tendulkar.
T20 International Career
Dhawan made his T20I debut in June 2011 against West Indies on 4 June at Port of Spain. He opened the innings and was dismissed for a 11-ball 5. But Dhawan has come a long way as far as T20 cricket is concerned.In 2018, Dhawan scored the most runs in T20Is by any cricketer. He scored 689 runs in the calendar year and was also named in the ODI and T20 Team of the year 2018 by Cricbuzz.
Test Career
Dhawan made it to the Indian Test squad in February 2013 for the four-match series against Australia. Dhawan took over Sehwag from the third Test and made at Mohali on 14 March. Dhawan scored the fastest century by any batsman on Test debut. He reached the milestone in just 85 balls. Dhawan was finally dismissed for 187. Dhawan did not bat in India's second innings as he suffered a hand injury while fielding during the fourth day. The injury later turned out to be a fracture in his left hand which didn't allow him to play the fourth Test at Delhi and ruled him out for six weeks.
On 14 June 2018, against Afghanistan cricket team, Dhawan became the only Indian and sixth overall batsman to have scored a century before lunch on the first day of a Test match.
Shikhar Dhawan : Family
Shikhar Dhawan was born on 5 December 1985 in Delhi. His parents were Sunaina and Mahendra Pal Dhawan. He was schooled at St. Mark's Senior Secondary Public School in Paschim Vihar, Delhi. In 2012, Dhawan married Ayesha Mukherjee. The couple dated for four years before tying the knot. Ayesha was from Melbourne and was an amateur boxer. The couple were introduced to each other by the Indian spinner, Harbhajan Singh. Ayesha was a mother of two daughters from her previous marriage. In early 2014, the couple gave birth to a son.