Representatives of Joy
Lottery Winner Confronts a Shady Businessman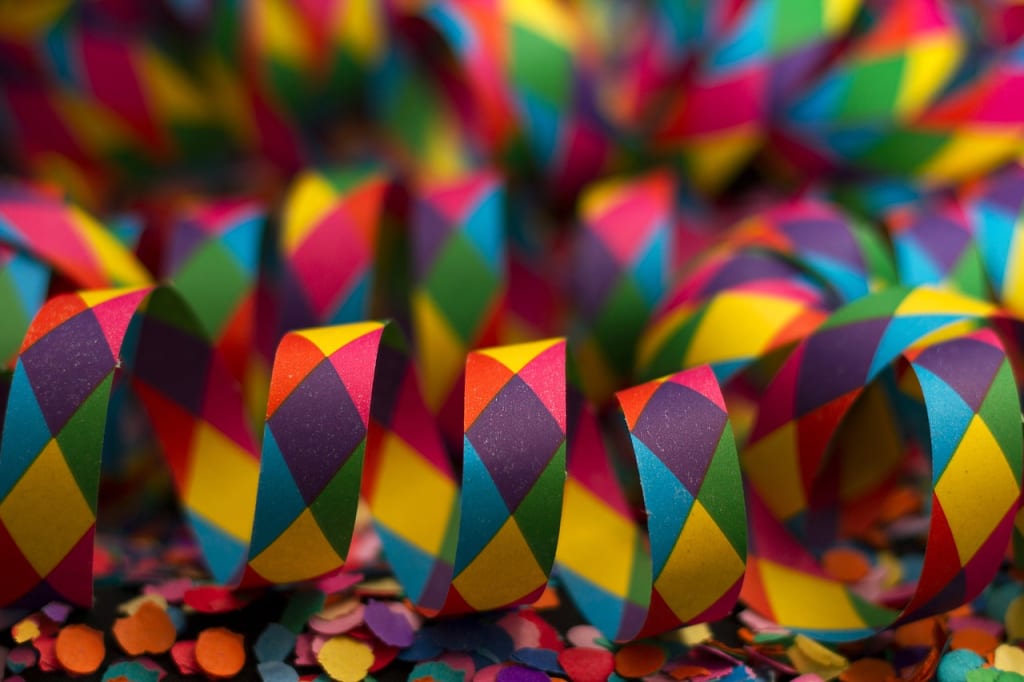 Confetti and smiles appeared. In the Newark, Delaware convenience store where 72-year-old Myleesha Bunting had purchased the winning ticket. Swarms of news cameras and spectators descended upon her. Video and photos captured the moment where Myleesha won over $800 million dollars, before taxes. Television reporter, Donnette Sands asked her what was she going to do with the money.
"I'm going to take care of my health and better my mind." Myleesha said.
A businessman named Colton Cobb saw the whole thing just a few paces from Donnette and the winner. He ventured over to where Myleesha and Donnette stood.
"You said what, now? You're just going to take care of your own selfish needs? What about the downtrodden?"
Donnette poked the microphone in Cobb's face as if he were supposed to take a bite from it. "You are the big textile guy, "Cool Cobb." Please, let's hear your take," Donette said.
"Of course. I'm Colton Cobb of Wilmington, Delaware. I own Colton Fabrics, Inc. And I'm just wondering how this greedy creature won't concern herself with all the pain and suffering going on in the world."
Donnette placed the microphone under Myleesha's chin. "It is not my problem that there are people who suffer. I frankly don't care about them. For the majority of people who do experience downfalls and are actually destitute, the solution is political freedom. The economy has to be freed up in order for them to see the light of prosperity."
Donnette shifted the microphone back and forth amongst the lottery winner and the fabrics CEO. Cobb cleared his throat.
"Miss what you don't understand is that most people will never be in the position to give large sums of cash to those who need it most."
"Those who need it most are the entrepreneurs, the builders, creators, and makers not takers like yourself."
"I will have you know that I've garnered close to a billion dollars myself."
"Yes, and if I'm not mistaken, that money was from your father who started his enterprise while running moonshine in Sussex County."
"Behind every great fortune is a great crime. So what? I'm legitimate now."
"But you're not whole. You see, you run out and buy the latest jewelry, cars, homes, and if your money wasn't so dirty, I would applaud all of that. But I think that it is for my own sake that I take care of my cancerous tumors, my hypertension, my diabetes, and my diminishing eyesight. Once all of that is taken care of, I will focus on my masters and doctoral degrees. That's wealth to me."
Donette asked, "Why are you here anyway?"
Cobb wiped his mouth with the back of his suit jacket. "I couldn't let a chance go by where I would let this heathen who has no concern but for the welfare of herself, continue unchecked."
"Whom else should I consider? The beggar on the street corner? The emaciated baby in Africa? The politician seeking donations for his corrupt campaign? Whatever you do with your money is your business. And just like, by virtue of chance that I won this lottery, I can use these funds at my discretion."
Cobb looked down for a long time with the microphone close to him again.
"There are causes that will uplift the peoples of not only Delaware or the United States, but the world. We must be altruistic in our approach whether it's for Jesus, the environment, or some social cause, we must put our money in those directions if humanity is ever going to survive."
Donnette's producer signaled for her to cut to commercial but she just waved it off knowing that this was good TV.
Myleesha looked up with a smile. "If you want to praise the Lord, or help a sea turtle reach the ocean, or build structures housing the mentally retarded, that's your business. That's not what I'm going to do with my earnings. I'm focused on myself and my values only."
The balloons and streamers still looked like bursts of color and representatives of joy juxtaposed against a rather heated discussion. Cobb left the store in a huff. Myleesha continued to smile.
literature