Random Thoughts on Norm Macdonald and Jim Breuer (But Mostly Norm Macdonald)
No one asked me to talk, but screw it. Here it is.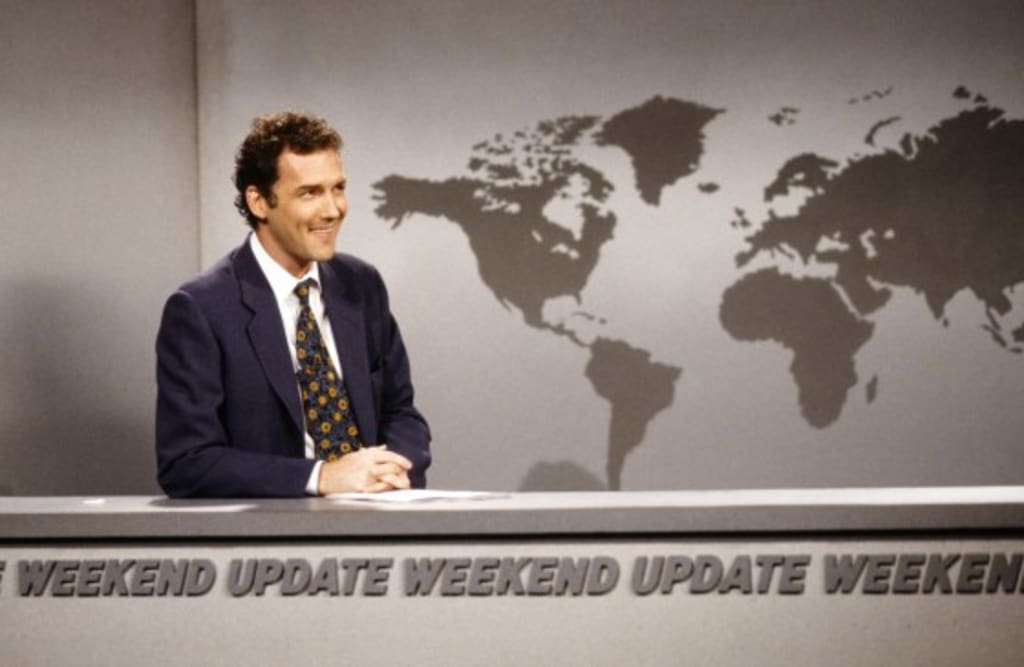 Norm Macdonald at the Weekend Update desk in 1997 (photo bty Mary Ellen Matthews)
I am writing this on September 14th, 2021. Earlier today, it was announced that Norm Macdonald, Saturday Night Live alum and stand-up comedian par excellence, has passed away at the age of 61. This news has devastated the comedy world, with many of Macdonald's fans and fellow comedians taking to social media to pay tribute to one the industry's most influential artisans. But I think there's one person who may have been hit particularly hard by this tragedy: Macdonald's fellow SNL alum Jim Breuer.
Breuer had recently made headlines for cancelling performances at clubs requiring proof of COVID vaccination—basically pulling a reverse Patton Oswalt, which I'm pretty sure is illegal in Utah. For the past few days, he had been the subject of national attention—some ragging on him, some praising him...but mostly people have been ragging on him, including many of his fellow comedians. Either way, for the first time in God knows how long, people all over the country were talking about Jim Breuer.
Imagine his shock when he opened Twitter today…
"Alright, let's see what people are saying about me today."
He opens the app.
"Oh...fuck."
Of course, people tend not to be able to pick when they die. I doubt very much that Norm Macdonald was scrolling through Twitter, saw Jim Breuer trending, and thought, "Hey, you know what? Now might be a good time to die! Just to fuck with him." For one thing, Macdonald was not one to take death lightly. He discussed his feelings on death every once in a while in his stand-up, and admitted to having a healthy fear of it. For another thing, Macdonald was just too smart to do that kind of thing. There are a lot of dumb reasons to die; stealing attention away from Jim Breuer has to be near the top of the list—Top 50, at least. You don't need to shuffle off your mortal coil to steal attention away from Jim Breuer. Norm Macdonald certainly didn't. Macdonald could just inhale or exhale and steal attention away from anyone. Hell, if he did both right now, we might even forget about Afghanistan!
"Holy shit, Norm is risen! He's alive!"
"Who had money on Norm Macdonald being the second coming of the Messiah?"
To be fair to Jim Breuer, I am positive that he is just as devastated by the news of Macdonald's death as the rest of us are, and national attention is the last thing on his mind. I'm absolutely certain that Breuer is nowhere near so egotistical as to look at Norm Macdonald's death and think only of how it might affect his career. He's more likely mourning the loss of a dear friend right now than the loss of publicity.
Norm Macdonald was one of the most brilliant comedians to ever grace a stage. He was beloved by many, and influenced countless other comedians, myself included, with his inimitable deadpan, give-no-damns style. My condolences are with Macdonald's family and all the other people that loved him. Yes, even Jim Breuer.
celebrities
A comedian. I may have made a huge mistake.
Receive stories by Frank Macaluso in

your feed