Pink Pillowcases
And Friends Who Care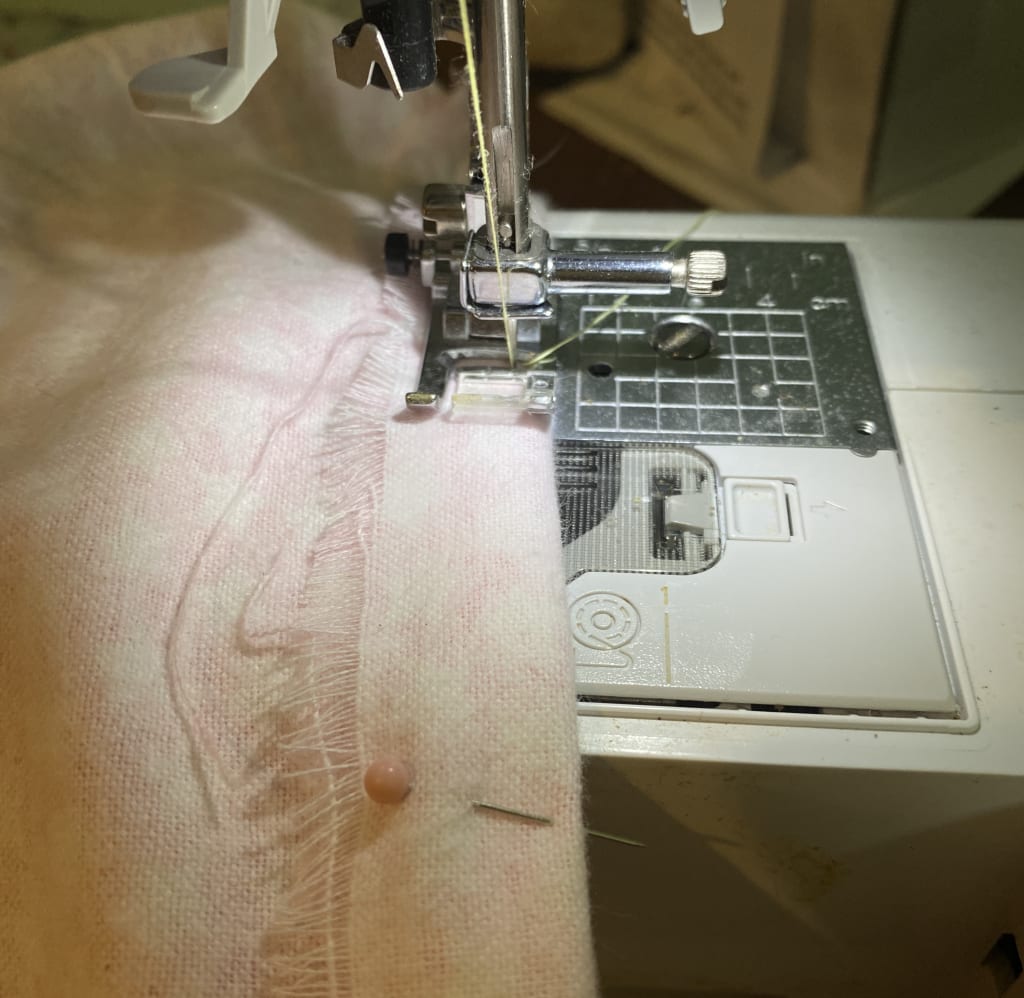 Sewing My Pillowcase (the fabric is pink with white stars, my friends helped me pick it out)
I have to admit that I'm writing from a place that I don't typically write from. Usually any writing piece you see from me will be meticulously thought out, but this one isn't and I'm trying to be okay with that.
You see, I saw this challenge a few days ago and I had the strangest experience upon seeing it.
I mean, I sew things! I love to sew! I use scissors all the time! To cut fabric, to snip thread. This story, out of any, should be an easy one to write!
Except it wasn't. I just didn't have a story in me.
Or so I thought, anyway. Fittingly, it was my friend's insistence that I enter this challenge that was the catalyst of inspiration.
I started to think about what a pair of scissors could mean to me, what my sewing hobby meant to me. And most importantly, what my friends mean to me.
It was my grandma who first got me interested in sewing, she has an old fashioned sewing machine, one of the ones built into a table. It doesn't really work, but as a child I was fascinated by it. So she bought me a tiny battery operated one and gave me some scrap fabric to sew together. And taught me to hand sew.
I would use safety scissors to try and cut the fabric, roughly getting a couple of mis-matched circles cut out with frayed edges and sewing them together.
Sometimes I even tried using those "silly scissors" the ones with shapes that cuts paper into neat little designs. It was a bit heartbreaking for a six year old to see that they didn't quite have the same effect on fabric.
I was rightfully in awe when I got my first pair of actual fabric scissors. The ease with which they cut the fabric and didn't leave rough edges amazed me. I had so many plans for what I wanted to make! I'm Autistic so one of my first thoughts was of cutting out all the scratchy tags from my clothes and sewing over the holes that would leave. I was extremely excited for the relatively simple task.
But by then I was around the age of twelve or so… and things were getting worse and worse at school. And my undiagnosed depression started doing what depression does, stealing my passions and interests.
Things I wanted to sew were left un-sewn, my battery operated sewing machine left to corrode, my scissors set aside.
I have to admit that my first thoughts, when seeing a challenge that asked for scissors to be one of the focus points, weren't great thoughts. They were very negative and very sad ones. And that's one of the reasons I almost passed this challenge up.
I thought: "Oh, I can't go into this challenge writing something sad! No one will want to acknowledge that scissors can also be weapons."
But anything can be a weapon if the circumstances allow for it. Scissors, pencil sharpeners, sewing needles, words.
They can all be too sharp sometimes; can cut far too deeply.
And, like a pair of fabric scissors, depression and bullying and self loathing ganged up against me and glided easily through all of my aspirations, cutting them away, making it difficult for me to see any reason to create.
And sometimes, to exist.
But lately, lately something new has happened in my life. Friends. I found a wonderful group of friends. Friends who have used words like thread to stitch things back into my life. Love and acceptance and belonging. And inspiration and plans for the future. Passions and aspirations and hobbies. Sewing.
I spoke to them about sewing. About how, recently, my grandma had gotten me a fancy electric sewing machine as a gift, an attempt to help me escape depression's grasp.
And I had my friends help me pick out fabrics for projects that I suddenly felt like working on once more.
And when one of my friends sent me pictures of a jacket she wanted that wasn't being made anymore, I started researching patterns on how to make it. How to make two of them, so we could match.
This writing challenge is meant to be about how happiness comes from creating. And it does. I've been significantly happier lately while creating. I love going to a fabric store and feeling all the different textures, the weights of the fabric, how they give and pull and stretch.
I love the little tips and tricks you pick up, as you sew, I love seeing how far I've come and how I can improve my craft. I love seeing my creations come together, quite literally.
I love watching other seamster's online, Gunnar Deatherage, Micarah Tewers, and, very dear to my heart because she's disabled like I am, Annika Victoria.
But it's not just the "creating" that makes me happier. It's the source of inspiration that fuels my happiness, that reminds me that my passions are worthwhile.
It's my grandma, supplying me with sewing machines and knowledge.
It's my friends, setting up a donation fund for me to get an embroidery machine and an overlocker.
It's my friends asking me what I'd like as a gift and getting me three gifts instead.
It's my friends helping me to afford fabric and helping me research the moth shaped buttons that we want on our matching jackets.
It's receiving a brand new pair of fabric scissors in the mail.
It's their insistence that I enter a contest about a hobby that I was afraid I wasn't passionate enough to write about.
It's their insistence that I will win, because they love me and are supportive of me and they will always be in my corner.
My hobby is sewing and scissors are an invaluable tool that helps me create wonderful and beautiful things that I am passionate about.
But this challenge is called "create your happiness" and my happiness is created by the love and support I received from my grandma and my friends.
I don't have to create that, it is freely given and in abundance. And I get to stitch it into jackets and plushies and embroidery hearts.
For my part I really don't expect to win, but it sure would make those matching jackets easier to create.
art
About the author
Reader insights
Be the first to share your insights about this piece.
Add your insights