Pastor, Nude Model, Con Artist
Nikole Mitchel has Repackaged Prosperity Gospel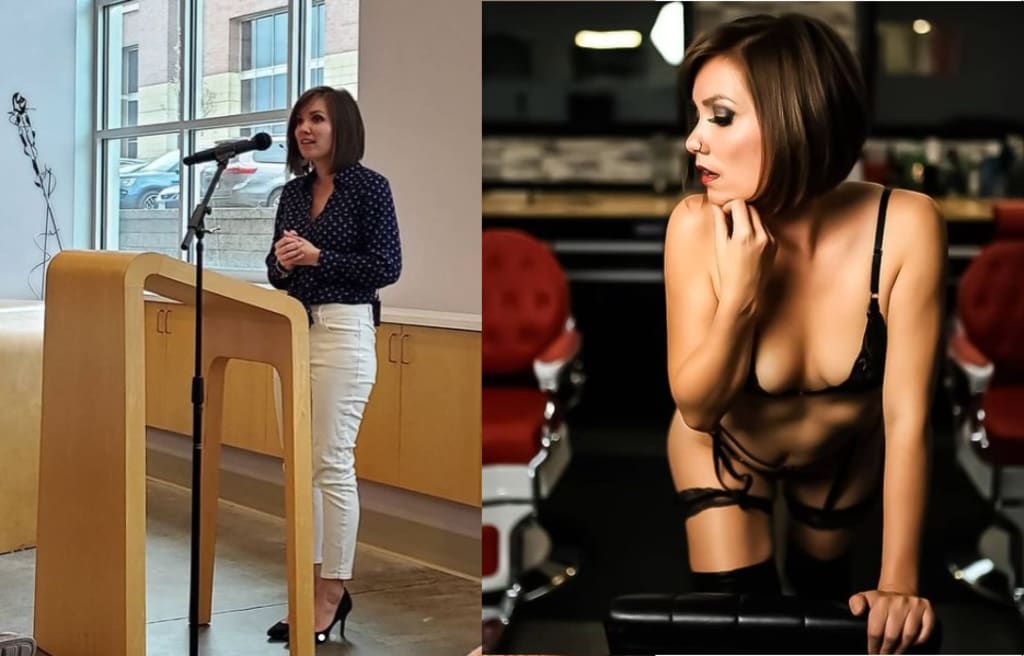 Nikole Mitchell's story is low hanging fruit to a reporter. 'My sexuality is sacred': Bisexual pastor-turned-stripper has never been happier (New York Post). Pastor turned stripper says her 'dreams came true' in end of year Instagram post (Daily Star). Church pastor turned stripper left husband and rakes in cash selling explicit snaps (Mirror). Bisexual pastor turned stripper discovers true joy (Toronto Sun). Former church pastor now makes $100K a month as life-coaching stripper (New York Post, again).
Nikole does have an engaging story. She met her husband John while teaching in Korea, quickly got married and started having kids. They moved to Minnesota where they joined a mega-church and Nikole was groomed to be a pastor. However, when she came out as queer, she no longer felt welcome in the church. Nikole would move to California and eventually get a divorce. She decided to pursue another interest she'd long suppressed--sex work. While headlines frequently refer to her as a stripper, she's not. You can't go to a strip club and see her dance. She's an online model. She created an OnlyFans account where, for $15 a month, you can follow this "Kickass life coach, provoking liberation through self expression." And see her naked, presumably not something most life coaches offer. The timeline of how this played out is not clear, in one interview she says she came out in 2016 and left the church in 2017, but she has a post of herself on IG from 2019 where she's speaking at a chapel (It's the one image you see of her with her clothes on). In case you're feeling sorry for her ex-husband, John would appear on The Rational Male, an online show that makes frequent use of whiny incel concepts, to complain about how feminism in the church ruined his marriage.
Nikole's Instagram page has 150k followers as of this writing, which is far more than a casual user and most wanna-be Insta models, but it's not actually that much. For example, Darshelle Stevens, an IG model who hasn't been the subject to multiple slobbering soft journalism pieces, has 573k followers. Top tier IG models measure their followers in the millions. Yet Nikole claims to be making $100k a month, this is unheard of. Most IG models have to relentlessly hustle just to get by; running twitch games, selling prints, doing sponsored posts. A common method is to offer sample pictures on Instagram and then try to get viewers to go to OnlyFans or Pateron to pay for the full set of photos, sometimes including nudity. However, just because you can get thousands of followers doesn't necessarily mean that you can convert those followers into paying customers though. For another example, Daniella Claire has 190k Instagram followers, but if you follow the links to her Pateron, you'll see that she only has 165 patrons--only 1 in 1,151 IG followers made into a paying customer. Daniella says that "If I hit 300 patrons, I'll quit my receptionist job."
So how the hell is Nikole (allegedly) making $100k a month? Well, it's not selling nude photos. She makes some money selling pictures and she seems to bask in the attention--which is fine. More importantly, the modeling establishes her brand--sexy, confident, liberated. And the brand is important for the real money maker, which appears in fewer headlines: the life coaching. Let's look at a post from January 11th:
You deserve a lot of money.

And you deserve it without working your ass off.

I know that might piss some people off, but we've really got to let go of this idea that the only way to make money is hustling and grinding til we're exhausted.

Because that doesn't ultimately serve you.

What it does result in is exhaustion, frustration, bitterness, resentment, fear that all of this was for naught, etc.

When there's a whole other way to experience and call in money!

I'm not saying to not have tenacity.

I'm not saying give up the moment things get hard.

I'm saying, what if making money can be easier than what we were taught?

What if making money was more about alignment and flow, than hustling and grinding?

What if making a lot of money gets to be the result of being the fullest expression of yourself?

What if making a lot of money gets to be the result of being an energetic match for it?

What if making a lot of money is more about ALLOWING yourself to receive than it is about trying to take it from someone?

What if you could make money while you sleep?

Would you allow yourself to have that kind of relationship with money?

Or would you shut it down, scoff, and return to your hustling and grinding ways?

I'm telling you... I'm making the most money I've ever made, and I'm working the least I've ever worked.

This didn't happen by accident.

This happened by design.

And I want to teach you how to do the same in your life!

I've opened up a one time training on how to make a shit ton of money being the fullest expression of yourself. While the focus is on Only Fans creators, it honestly is for anyone who's ready to up their game with money.

It's for you if you're ready to make more money without clocking in more hours.

It's for you if you're ready to stop censoring yourself and start living your truth.

It's for you if you're ready to stop living in fear and ready to step into the light.

It's for you if you're ready to live life on YOUR terms and no one else's.

Join me on Thursday, Jan 26th, at 11am PST, for the call of a lifetime.

Sign up in my bio!!
Most people will find the idea that they should have a lot of money without working agreeable, but suggestion that if we have good "alignment" then the money will just flow to us should make you suspicious. Also, in other posts, she talks about working very hard to get where she is. That said, it would be understandable to look at this and think, "If half of what she is saying is true, I'll pay $15 dollars to hear it." But to get on that call, it's not $15, it's $297. To listen in on a phone call with other people.
Let's look at another post by Nikole from December 12, 2020.
Today we said goodbye to a member inside my mastermind.

(They didn't die; they are just no longer part of my mastermind😊)

And it was such a holy and beautiful moment.

We took time to share what we loved about this person, say our goodbyes, and send them off with all the love and energy in the world.

With one of my clients even saying to them, "I'm gonna cry, you fucker." 😆

That's how deep we love each other.

That's how much we care about each other.

That's how close we become in this container.

🔥We fan into flame each other's deepest and wildest dreams.

🙏🏾We hold space for each other's unfolding, having massive respect for the courage it takes to undergo a transformation.

❤️We are tender towards each other's fears because we know what it's like to face the odds and pressure that surround you in your rising.

💪🏾We call each other out when someone is playing small and not fully living out their purpose, passion, and calling.

💫We find solutions and create options when there seems to be no way - because there is ALWAYS a way.

🤑We make more and more money the more unleashed we become - because how could it be any other way.

The power and beauty of this container is captured in my mastermind's clients own words:

- I don't get this vulnerable with anybody. Only with you guys!

- I feel the safest here.

- Our souls get naked here.

- I always get exactly what I need on these calls.

- Of course you say exactly what I needed to hear in your opening meditation.

- The stuff you say Nikole, it just speaks to me!

- What a fucking revolution last night!

It's also where clients say:

- Fuck you, Nikole 😆

- Nikole be calling us out tonight

- Holy fucking fuck

- I'm a badass bitch

- Worship my pussy 😏

My mastermind is unlike any other container out there.

It's where dreams come true, friendships are born, money is made, and lives are transformed.

And now, for the first time in months, I have ONE spot open in my mastermind.

Who will the lucky person be?😎

$1997/mo with a 3 month commitment.

You can leave anytime you want after that.

(Most people stay;)
When Nikole says her "mastermind is unlike any other container" I don't doubt it, because she's clearly describing a cult, with a $6,000 entrance fee. Did that one spot fill up? Well you can still sign up for her private mentorship which is only… $2,000 a month.
Here's another post, from September 13, 2020.
"I have to become so fucking rich because I have so much money I want to give away."

This was one of my main motivations in getting rich/er.

And it's true.

There is so much money I want to give away (what I give now is amazing but I want to give even more!), so many lives to empower, so many generations to impact, and a legacy to create.

Money has the power to heal, transform, and uplevel the lives of generations to come, and I am here to do just that.

I am here to give wealth a good name.

Everyone who steps into my orbit knows what I mean.

Spend 5 minutes with me and you'll leave feeling so pumped up, so alive, and so unstoppable, that your life will never be the same.

And I don't say that lightly.

When you meet someone who is so free, so empowered, so grateful, and so alive, you immediately want what they have.

Because you know that kind of presence, energy, and power doesn't come from some external source. It comes from the infinite, invisible, eternal source itself, and it's fucking contagious.

The same is available to you.

You CAN have your dreams come true.

You CAN land your dream job.

You CAN make a shit ton of money.

You CAN become the star you were born to be.

Hold that vision.

Do the inner work.

Put powerful support in your corner.

AND YOU WILL FUCKING MAKE IT.

[...]
And it goes on like that. The first thing to note is that she says she wants to give her money away, but I haven't seen anything about charities she supports and she seems like someone who would only give money if she could do it with a giant novelty check in front of a camera crew. The next thing to note is that a theme is appearing from these posts: she is basically selling revised prosperity gospel.
For the uninitiated, prosperity gospel is the idea that god wants you to be rich. For those of you who skipped Sunday School, this is not what the Bible says. But it has been heavily pushed by televangelists like convicted felon Jim Bakker and his wife, camp gay icon Tammy Faye Bakker. Prosperity gospel asks that you show your faith by giving your money to god, who will then return that wealth to you tenfold. Saving your money to pay rent? That shows a lack of faith in god! Turn those savings into "seed money" and god will provide! Of course, by "give the money to god" they meant "give the money to the Bakker's." Nikole's revision of prosperity gospel was to replace "god" with "the universe."
The Bakker's managed to drive their ministry to bankruptcy while viewers of their show were tripping over themselves to donate their life savings. This was in part because of their extravagant lifestyle which they freely bragged about in the same breath as asking for donations. This was actually part of the pitch--prosperity gospel had worked for them. Nikole also wants you to know that she is rich and that she made $100k in December, but her numbers don't add up. She says she has 10 spots for her mastermind group and 10 spots for private mentoring, both costing $2,000 a month. Then let's generously assume she converts 1% of her 150k Instagram followers to paying members on OnlyFans at $15 a month, but remember that .1% is more realistic. If she's hitting all those numbers (and she was posting that she had openings in her mastermind and private tutoring till the end of the month) that is still only $62,500--and that's not even considering OnlyFans' cut of the revenue. So either her private mentoring and mastermind aren't as exclusive as she claims, or she is doing some "fake it till you make it."
I wanted to see if I could get the experiences of some of the people who had taken some of Nikole's classes, so I reached out to the community, and well, guess who responded.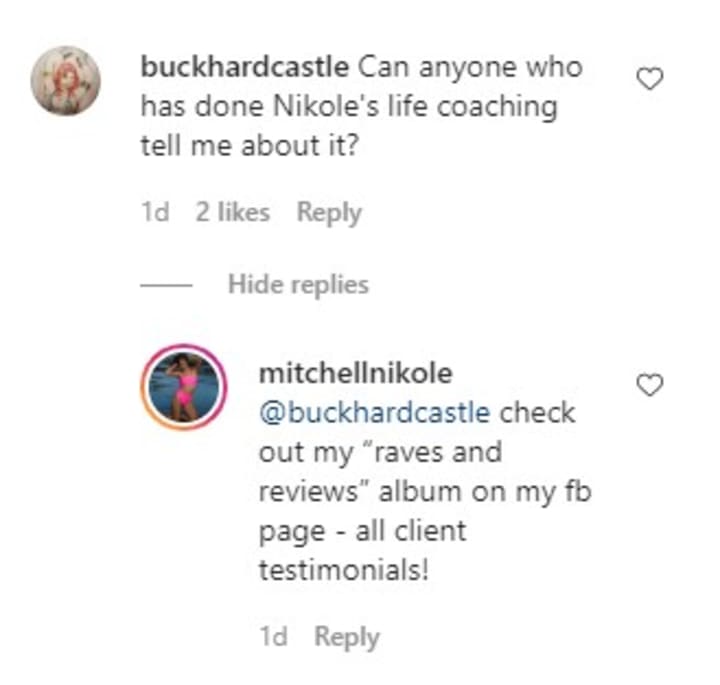 So I took a look at some of Nikole's "raves and reviews." First of all, they aren't reviews at all, but pieces of conversations with clients taken out of context. Here are a couple.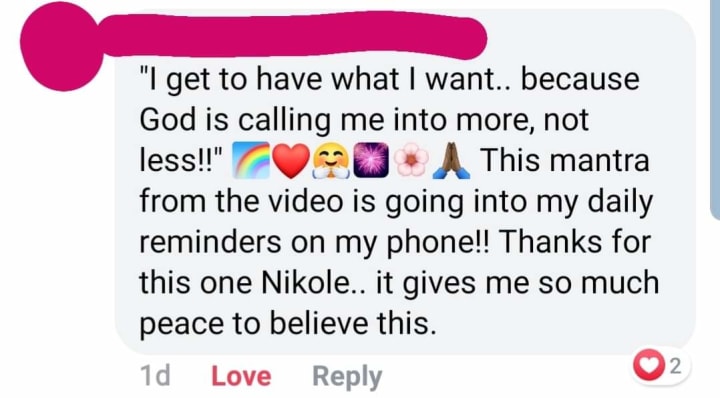 Oh, so Nikole just went ahead and told this woman that god wants her to be rich. She's not even pretending it is something else, she's just doing straight prosperity gospel bullshit.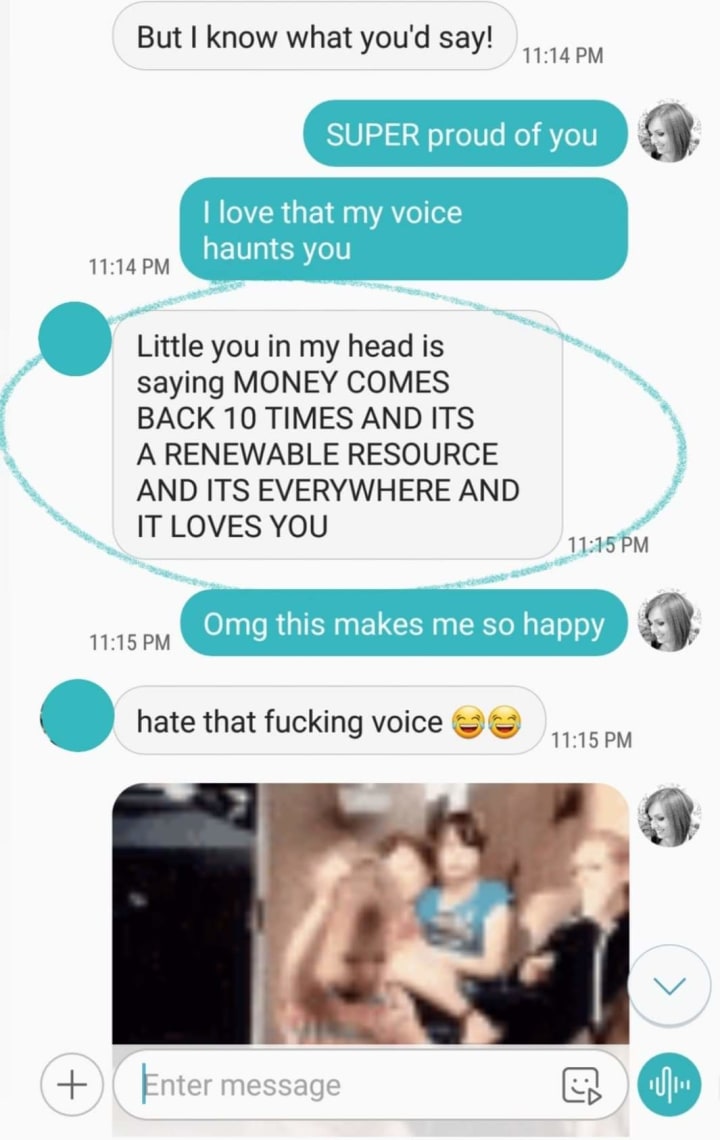 Yes, Nikole told a client that money would come back tenfold, again straight out of the prosperity gospel playbook.
Other "reviews" include people talking about getting more shifts at work and getting their tax refund as though these were gifts bestowed upon them by Nikole herself. While headlines describe her as a former pastor, Nikole has said that even though she's left Christianity, she's "still a pastor" and she definitely resembles a shifty televangelist. The nudity just serves as a distraction from the fact that she's pedaling an old scam.
Nikole tends to talk about the vague but amazing results she's had for her clients. But if you go back to some of her older posts, she tips her hand and reveals the weak sauce she's selling. From August 13, 2020:
I was going to wait til tomorrow to announce this but I can't contain my excitement any longer!

If there's one question I get over & over again in my DMs, it's "How the heck do you do it, Nikole?? How do all these good things happen to you? You always seem to get what you want."

I recently had a friend say to me, "Of course that would happen to you! You're the manifesting queen!"
And it's true.

I went from manifesting on occasion to turning manifestation into a way of life.

I carry this confident, certain energy within & around me that says, "I get to have what I want."

It sounds cocky, but it's not. It's a quiet, solid certainty.

Manifestation has become such a way of life for me that I EXPECT things to go my way or for things to be even better than I imagine.

And it's not just because I choose a better perspective when I don't get what I want (though I def do that).

I actually manifest higher & better all the time.
It's how I manifested 5 free trips in the past 18 months.

It's how I manifested being pitched for my own reality TV show.

It's how I manifested my Jimmy Kimmel segment.

It's how I manifested a full ride scholarship to both college & grad school.

It's how I've been interviewed & published around the world (4 countries & counting).

It's how I always get what I want.🔥

And I teach how I do it - & most importantly, HOW YOU CAN DO IT

[...]
She's just telling people they can be like her and *manifest* (wish) what they want into existence. She is saying in this post that she's getting everything she wants, but two months later she would be saying now I'm getting what I want (money) and I wasn't before. And look, if this honestly appeals to you, then buy a copy of The Secret. It's the exact same thing and it will save you thousands of dollars.
Or if you really want, your humble author will be your life coach. I'll only charge you $500 to tell you that you can have whatever you want, you badass bitch. And for an extra $500, I'll do the session topless.
celebrities
About the author
Served in the Peace Corps in Ukraine, 2005-07.
Viscount of Hyrkania and private cartographer to the house of Beifong.
Reader insights
Be the first to share your insights about this piece.
Add your insights