Painting in the rough
By Jessica Roderick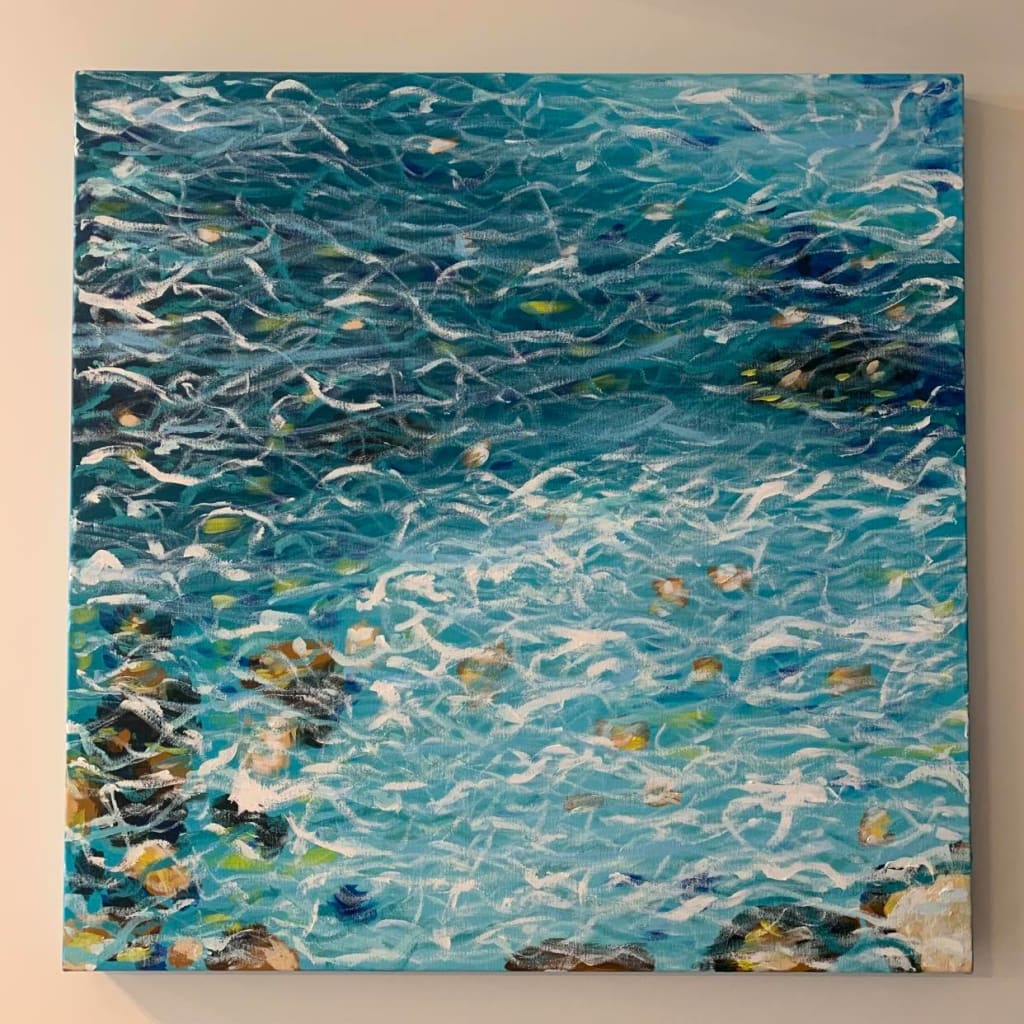 It all started one night when I was taking my rubbish to the basement of my apartment building. Propped up next to the industrial waste bin, was a lonely, tattered canvas painting ready to go to landfill. Thinking back to my high school art days, some 10 years ago, where I expressed my creativity though paint on a blank canvas and forgot about everything else that was bothering me, I thought to myself, it would be so good to paint again and it would be such a shame for this old piece of art to go to the rubbish dump.
I picked up the painting and inspected the wooden frame. The frame itself was made of pine and was in such good condition that I couldn't let it go. The old canvas was tattered and it was clearly painted by a child for some sort of weekend project. I decided then and there that I would keep this painting and repurpose it. The next weekend, I set about tearing the old canvas from the pine frame. There was no way I could re-use it. It had a hole in the canvas and had jigsaw pieces of a lion glued onto it.
Before setting off to my local art shop, I decided I would need to purchase at least the basic primary coloured paints, as well as black and white and some lovely ocean blue paints, paint brushes and some new canvas. I planned on painting an abstract shallow water seascape version of the print I had been eyeing off online for some time, but which was far too expensive for me to justify its purchase.
When I was at the art shop, I felt like a fish out of water. I asked the lady at the register if I could buy a small piece of canvas in addition to paints and paintbrushes. She said I could, but I would need to buy some stretcher bars and a proper artists staple gun to stretch the canvas over the second-hand pine frame. I was shocked at how expensive the artists staple gun and stretcher bars were.
She asked me if I had stretched canvas before, I felt embarrassed to say I had not. How hard could it be I thought? She suggested I purchase a pre-stretched canvas as it would probably be cheaper and easier if I hadn't done it before. However, I thought of my salvaged pine frame and felt I was up for the challenge. In my head, perhaps naively, I decided I would watch some Youtube videos on how to stretch canvas and would then go to the local Bunnings hardware store and purchase whatever the cheapest staple gun they had. I would make do without the stretcher bars and just pull the canvas as tight as I could get it.
After purchasing a craft staple gun from Bunnings, and watching several Youtube videos on how to stretch a canvas with only a staple gun, a measuring tape and some scissors, I began preparing the canvas and my frame for my painting. I placed the canvas on my dining room table and plonked the pine frame on top it. After measuring where to cut the canvas, so that I would have some extra canvas to wrap around the wooden frame, I took out my scissors and began cutting the canvas to size. Next, I loaded my staple gun with staples and started stapling the canvas several times to one side of the pine frame. Then, I did the same on each side, taking care to pull the canvas as taut as possible each time I pulled the trigger to shoot out a staple. Afterwards, I used my scissors to cut off the excess fabric along the line of staples on each side of the back of the frame. I had done it. I was pretty surprised at how good the blank canvas turned out, considering my lack of proper tools. I thought, now I've done this once, I could definitely do it again!
Then, it was time for the fun part. I took out my paint palette (which was actually a dinner plate covered in aluminium foil) and began mixing various shades of tropical ocean blue with my paintbrush. I started by painting the background with two hues of tropical blue, blending into one another. Then, I started painting in small pops of cobalt blue, bright yellow and various shades of brown and dark green to represent the rocks and sunlight peeking through the dappled shallow water. My painting was starting to take shape now. The finishing touch was to add in small flecks of white and to paint the waves with a very soft sky blue and white paint combination. My first painting in more than 10 years was complete and I was very satisfied with the result.
Since finding that lonely, tattered painting by the dumpster of my apartment basement, which reignited my high school passion for painting, I have painted several more seascapes. I love to paint seascapes as it calms me and transports me to the beach, which is a happy place for me. I will continue to paint as it takes me away from whatever stress daily life is bringing me at the time I put paintbrush to canvas. I have given several paintings to loved ones for them to admire in their home and so that they have a little piece of me with them.
If I win the Fiskars 'create your happiness challenge', I would love to use some of the prize money to purchase some proper tools to create my paintings.
art
About the author
Reader insights
Be the first to share your insights about this piece.
Add your insights